Donut Grow Up 1st Birthday Party
Tons of fun ideas to throw a Donut Grow Up party. All the details and pictures of our donut 1st birthday party!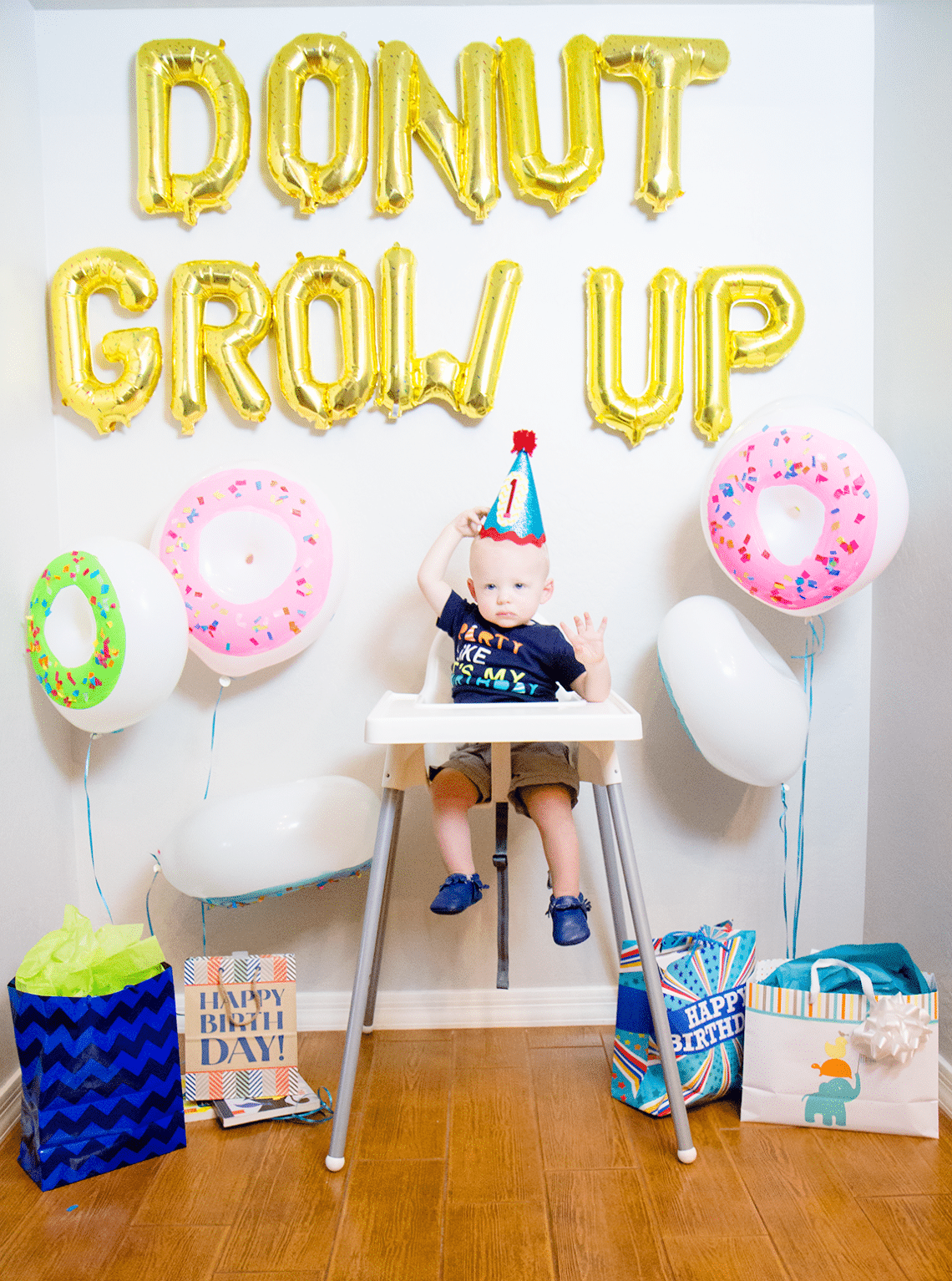 Donut Grow Up
Sometimes you just need a party theme that encompasses your feelings perfectly. I've had a hard time swallowing the first year of my baby's life is already here, and as much as I've tried to slow down and enjoy every minute of it, the minutes have just seemed to evaporate. This must be why a donut grow-up party theme felt so perfect.
Maybe it was all the years we waited for and prayed for this miracle baby, but we felt a big push to invite our very large families over for a themed party to celebrate our special boy and the joy he's brought to our lives this past year. I admit, his mom was in denial it was coming for about an entire month. Luckily I still embraced it eventually.
What can I say, when you know your child may be your only baby if the fertility treatment cards don't fall your way again, you just try to bottle up their littleness and hold onto it for as long as you can!
Donut Grow Up Birthday Party
We went with Donut Grow Up for the theme due to the cute factor and ease to throw this party together. If you're looking for a great first birthday party theme, a donut grow-up birthday party is a great way to go!
I knew some balloons, cake stands, and an order to our local bakery would do the trick to decorate this party!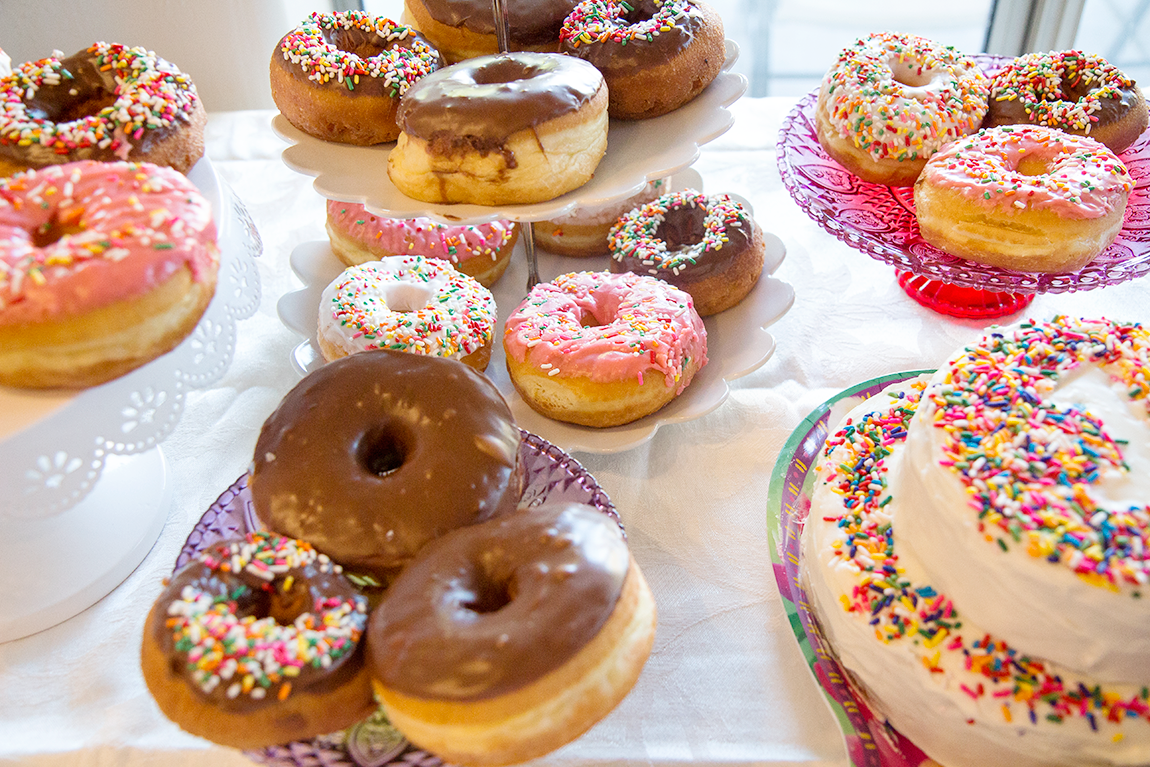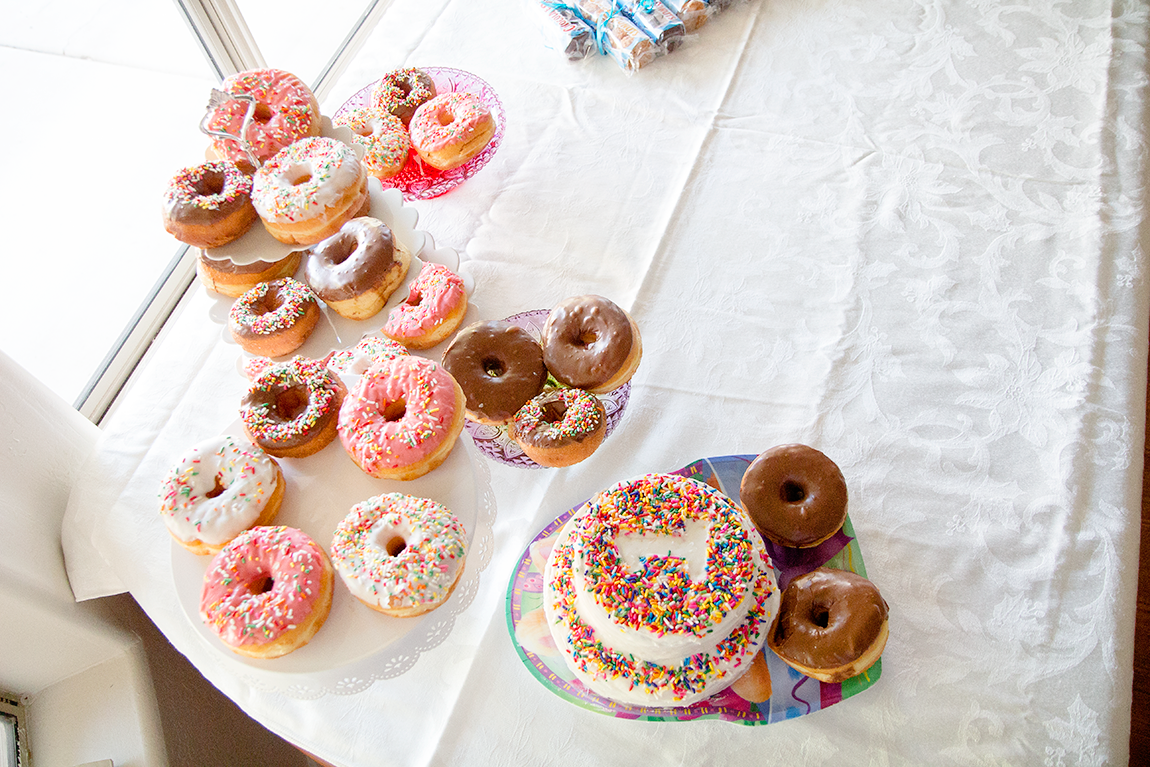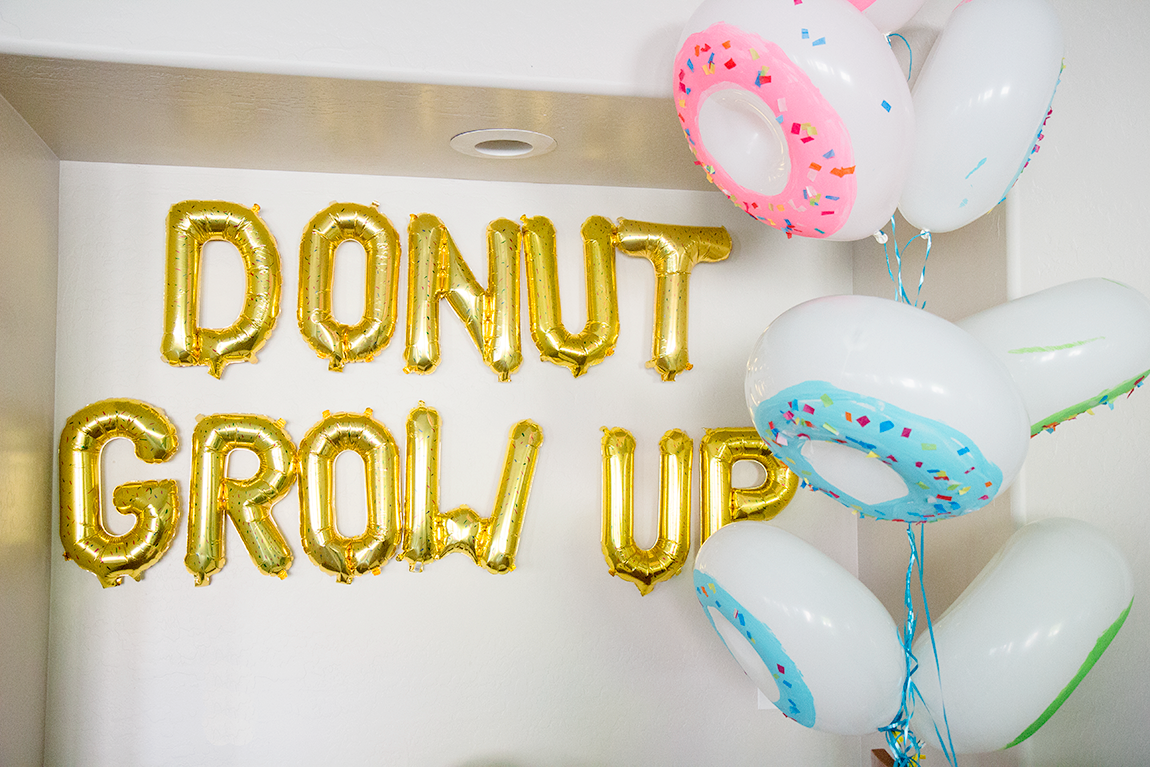 Party Supplies
Mylar balloons took center stage for easy decor. Here's what I bought to pull the party decor off:
– Gold foil letter balloons to spell DONUT GROW UP.
– Gold foil cursive ONE balloon
– Donut Shaped laytex balloon – purchased in white
– Craft acrylic paint, I used a bright pink, green, and turquoise
– Multi-color tissue paper, but into small rectangles
– Curling ribbon for donut balloons
– Helium tank (I just discovered these one-time use tanks- they are amazing!)
For the donut balloons, I followed this tutorial but decided to sprinkle the tissue paper sprinkles on while the paint was still wet and ditch tape. That worked like a charm!
I also had Sharpies on hand in hot pink, blue, and green, and we added some lines to the balloons to look like sprinkles. It was easy, looked great, and it took hardly any time!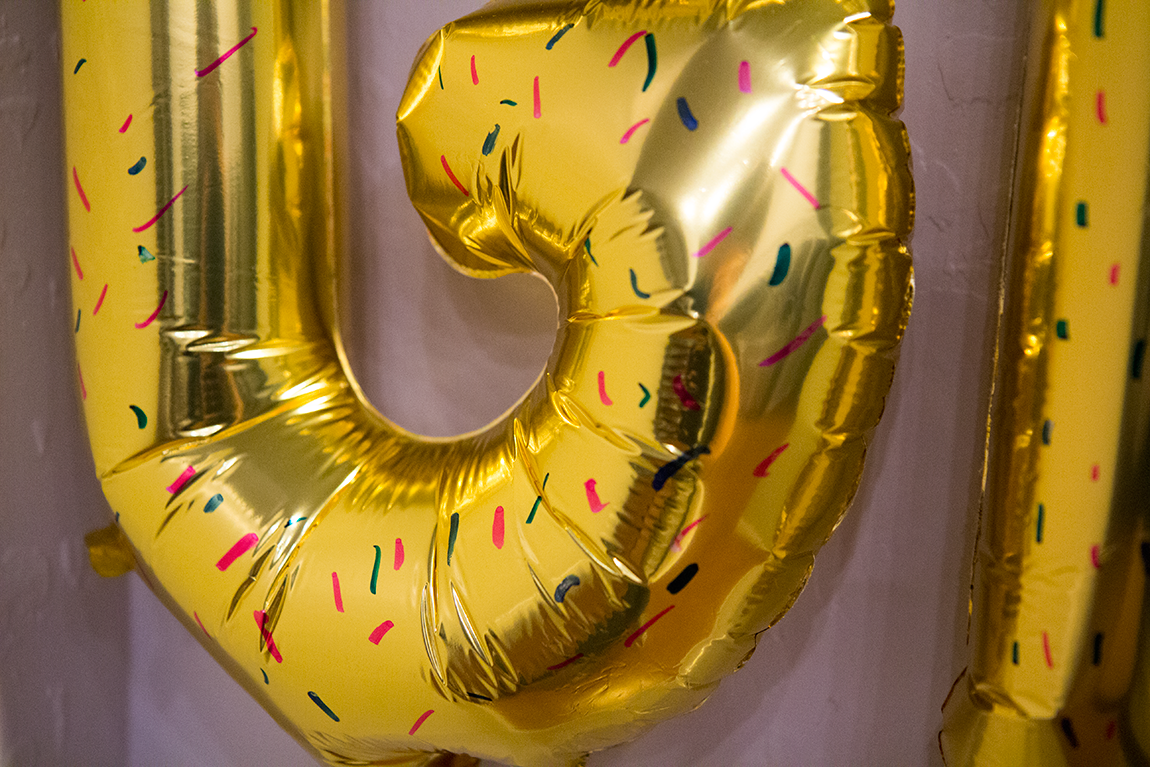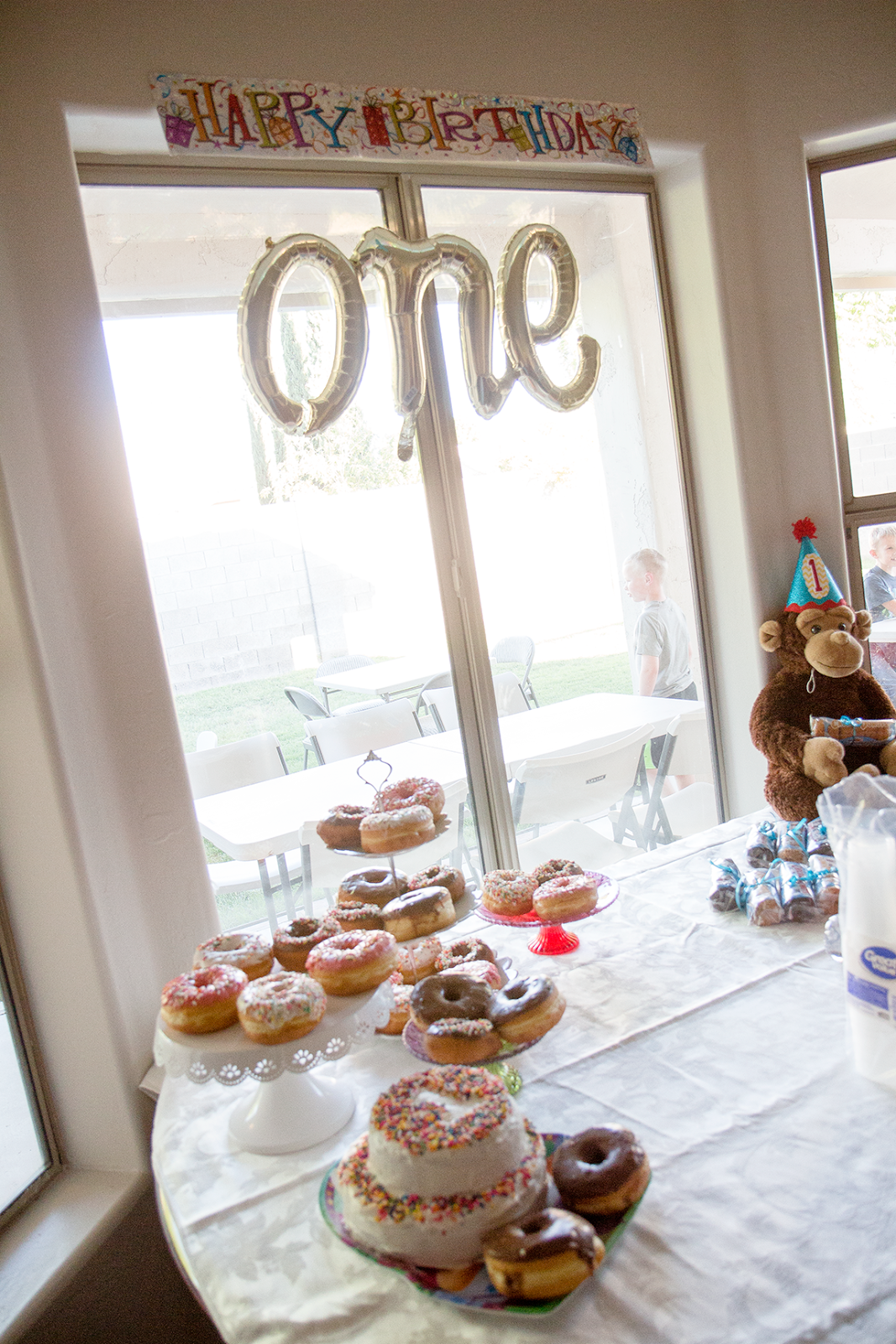 Since we have so many nieces and nephews we decided it would be great to buy several packs of mini-donuts for their dessert. This was a big hit! I couldn't believe how happy they were to grab one of these favors and enjoy easy-to-eat smaller donuts! We also gave them out as favors at the end of the party.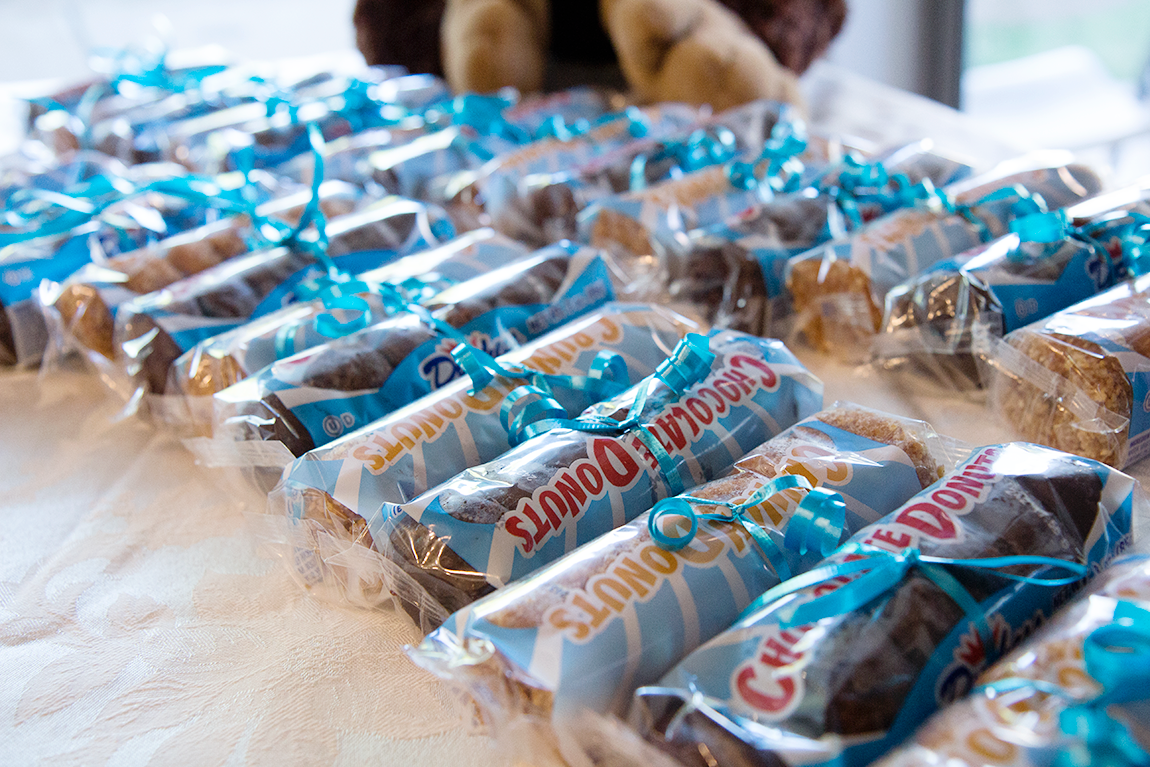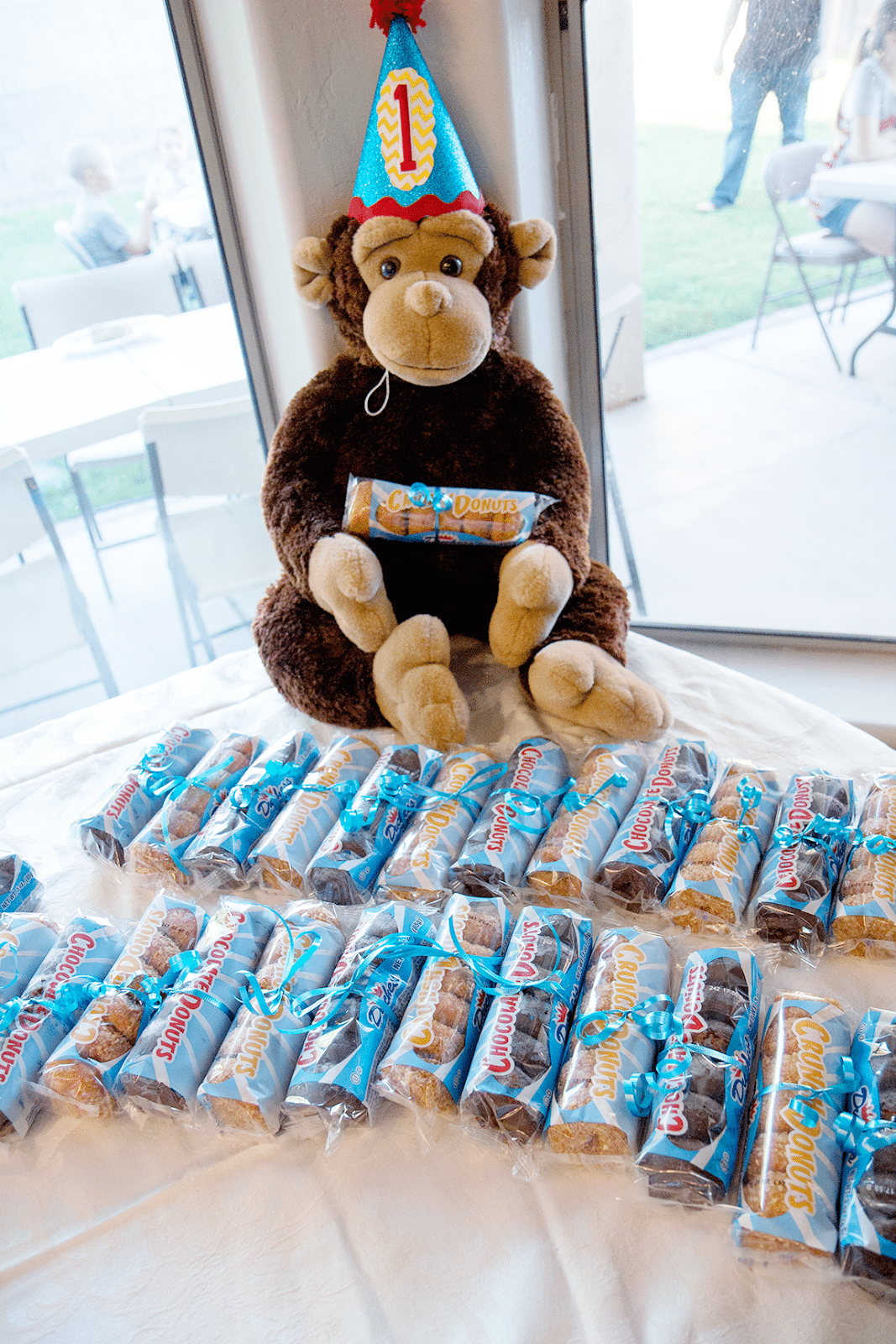 Donut Grow Up Cake
My mom made the cake for the cake smash and copied a sprinkle idea I had originally seen on Pinterest. Essentially, we wanted an easy cake that still looked like a donut. It turned out so easy, so cute, and so perfect to go with the doughnut sprinkles! It looks a little like a donut birthday cake, without much effort!
You could also great a donut grow-up cake with a bundt cake if you want a classic donut shape. There are a lot of options, and they all look like basic frosting and sprinkles!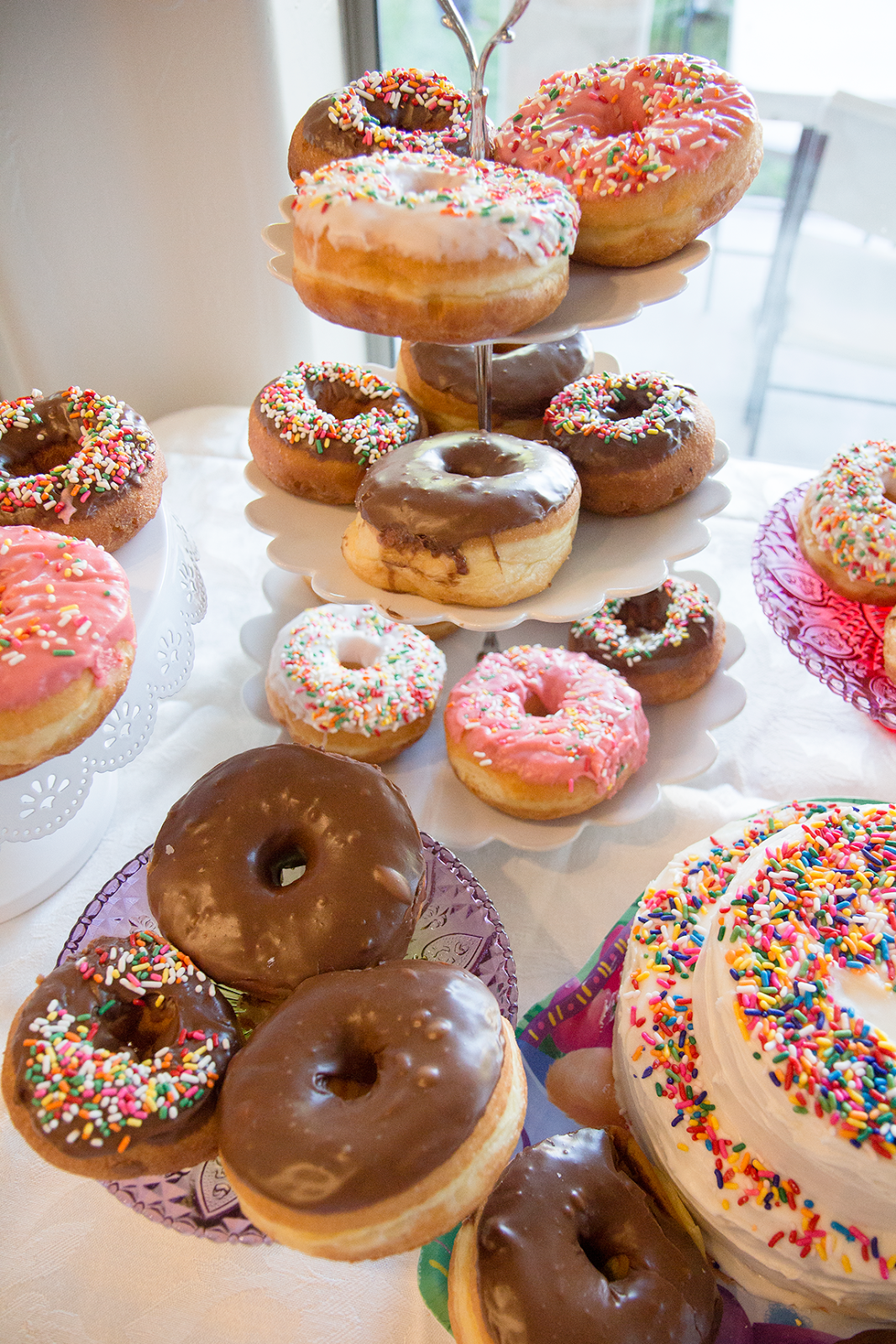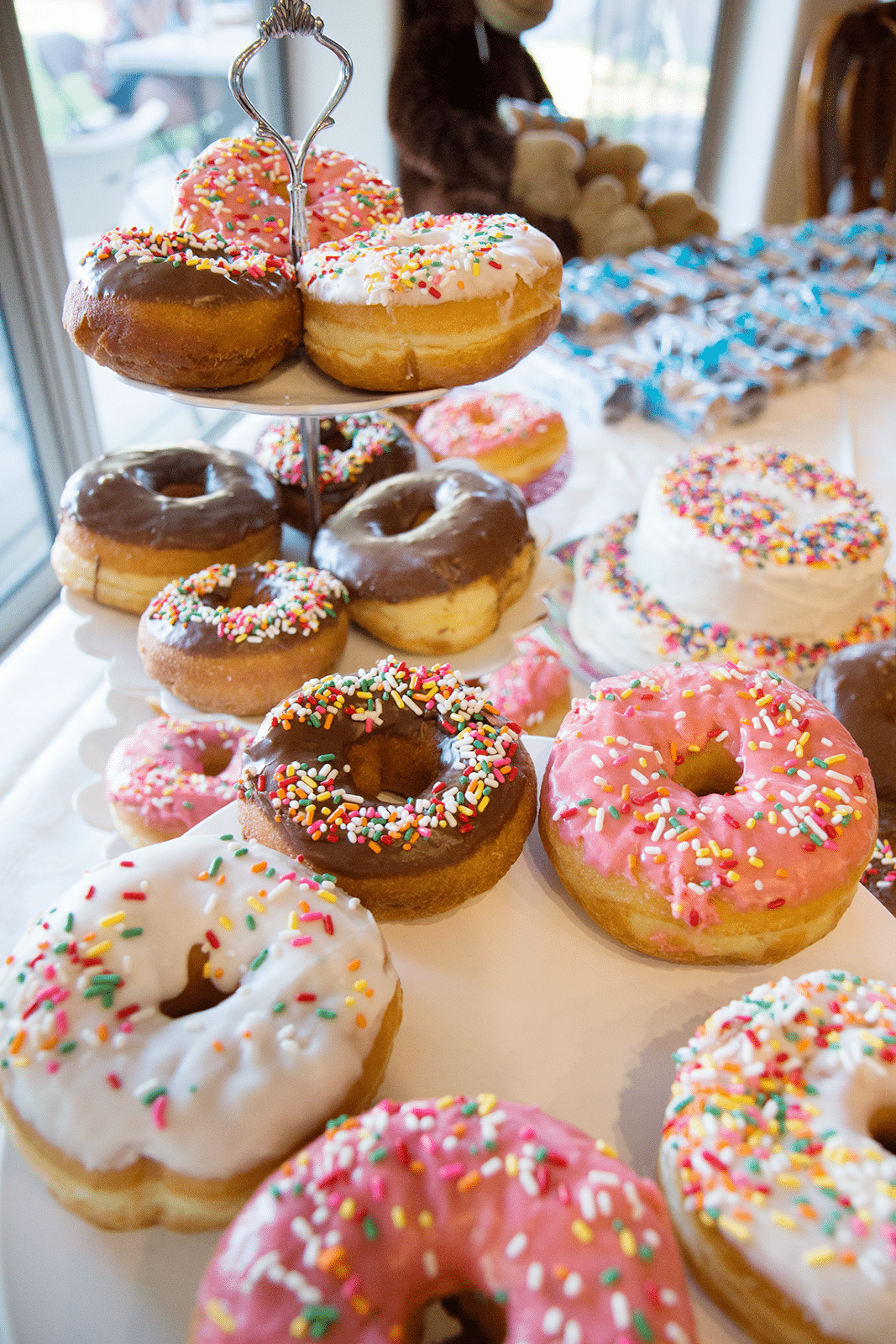 Donut Smash Cake
Once you have your donut cake, you're set for the best part of any first birthday party!
I have to admit I have a child who doesn't take after me and is a bit of a clean freak. He likes to have food spills wiped up fast. His diapers changed immediately (if he doesn't make it to the toilet with infant potty training), and he shakes excess food off his hands while eating.
I knew the donut cake smash would likely be tame. However, I enjoyed watching his awe of the cake and poking around to figure out layers and textures.
This was about as crazy as it got, taking a few bites right out of the cake. I'll take it, and I'm secretly pretty happy I have a fairly tidy boy!
Donut Grow Up First Birthday Party
His aunts, uncles, and cousins were so sweet to show up and bring him some great presents. He's a bookworm through and through, and almost everyone brought him a book. It's just one more thing I am loving about this perfect one-year-old and this phase- reading and bringing me books. If you need some great books, here are 20 books every new parent should own.
Add this bookworm phase to first steps, first words, and curiosity about the entire world, and I'm standing by this theme even more. Don't grow up little boy, I'd love to bottle you up and keep you in this darling phase forever!
Like this birthday party idea? You're going to love these posts too:
Peter Pan First Birthday Party
Baby First Birthday: 10 Reasons to Have a 1st Birthday Party
Get 365 Date Ideas!
We want to help you have the best date nights ever! Grab this FREE printable with 365 date ideas, a date for every day of the year so you never run out of ideas!