Toddler Gift Guide: Tried and True Toddler Gifts
Choosing the best presents for toddlers can sometimes be tricky. This toddler gift guide contains a robust list of tried-and-true toddler gifts that they will love and play with for years!

Choosing the Best Toddler Gifts
I make a mental shift when the 4th of July ends. This is the time I immediately begin to think about fall and the upcoming holiday season. Maybe it's my former teaching career's fault. After the 4th, I only had a few weeks left until I reported back to school and time was short! That's why we do our Christmas in July planning guide every year!
The first Christmas I spent as a new mom really rocked my world! It opened my eyes to just how hard and expensive it can be to pull Christmas together last minute. I noticed the markups on items I'd normally buy, and the limited stock had me a bit overwhelmed. We simplified holiday spending and cut back a lot, and somehow spent quite a bit more than usual on our Christmas budget.
I vowed after that year I was going to be better! I try to start getting Christmas together before the holidays hit. I'm always snagging sales and deals! We then storee items, and using Black Friday as an aide instead of a crutch for what I hoped I could buy.
We've changed our ways and have most of Christmas together months early this year- phew! But I'm making my list and checking it twice right now. I'm buying one major item a week to spread out the budget. All this is in hopes that I can spend December enjoying holiday fun instead of stressing and watching every penny.
So friends, while I'm up getting all OCD about planning and summoning my former project manager planning self, I thought I'd share our toddler toy favorites. If you're looking for amazing toddler gifts I think you'll love this toddler gift guide!
I'll be starting a Christmas gift guides with this post, and for the next several weeks I'll share several gift guides to help get shopping done early.
But really, if you're looking for a birthday gift for your child, a gift for a friend's party or you're not a parent looking to please a toddler in your life, I wanted to share all the great gift ideas for toddlers out there I can muster in hopes to help you pull off gifting with ease!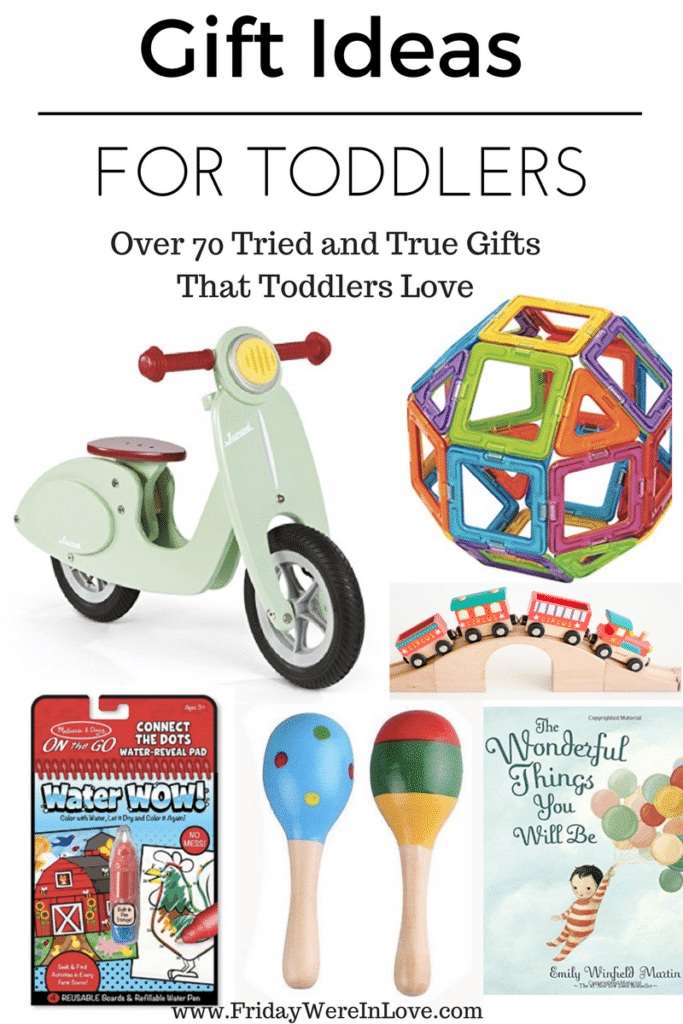 The best gifts for toddlers/Toddler Gift Guide
I have yet to meet a single parent who hasn't sworn by these things! They all tell me their kids loved them as babies and continued to play with them until they were pre-teens. That's a lot of mileage for one toy! The STEM loving family we are appreciates the building and imagination aspect, and the versatility that these offer to kids of all skill levels. They can get a little pricey, although there are smaller less expensive sets too, even with the price tag I've seen several family members have sets that look like almost new years of play later. I'll be honest, these were already purchased, and it's the main present our toddler will be enjoying either for his birthday or for Christmas.

I am all about helping my child get the wiggles out and have more active play. For his first birthday, his grandparents gave him a Scuttlebug, and to this day he still scoots about the house announcing he's "widing bike". If you have a short child or younger toddler I'd highly recommend a Scuttlebug! They work well indoors or outdoor.
If your child is tall like mine, I'd look into a tricycle. This RadioFlyer trike is on my wishlist, and likely what will be a major Christmas gift this year. But if you're looking for a great indoor bike option, this may be the cutest European scooter I've ever seen!

Melissa and Doug Reusable Sticker Pads. I found a dual pack of these on Amazon for a great price and I figured why not grab those in hopes of helping distract him during church. My vehicle loving child fell in love with the vehicle pack. He can pull off the large stickers and hold and play with them. All while he also is learning to create scenes.
This is great as a toddler gift because little hands are less frustrated with these pads. They can move them around if they put stickers in the wrong place. It's great for little and big kids alike, and it's a price point that's hard to beat!

A scooter and helmet are the big gifts for our youngest this year!
Similar to the reasons for buying a bike, a scooter is so great to help busy bodies stay active. It's a great item to take outdoors on family walks while they start to outgrow the stroller. This is how so many European children get around their walking city. I love that it helps him stay active and keep up while we go on adventures.

Best Presents for Toddlers

We got our tiny toddler this set last Christmas and it was the biggest hit ever! He ran in and shouted "Choo-choo!" and instantly started playing. We did this because we'd purchase a different set for our oldest who had hte same reaction! Years later, I don't believe there's been a day that he hasn't pulled out at least one car/train to play with. I love that boys and girls alike love these and figuring out how they work and how to play with them. And building the tracks is a skill older kids can enjoy that grows with them.

We're all about bath toys that encourage learning through play! Toddlers are problem solvers, and are figuring out how the world works, which makes educational bath toys even more fun! These Boon pipes that let them build and play with water, these Boon gears, and these Boon suction blocks are all on our list. Our little guy can build and play and study the properties of water to his heart's content. We also have these Munchkin animal squirters, and I love that he plays with them and says their names and what noise they make while he's in the tub.

We love games that help with learning and are toddler-friendly- something Fat Brain Toys specializes in! We have our eyes on Peak a Doodle Do and own and love Animal Logic for our almost-two-year-old this year. But the many great reviews of Fat Brain Toys and games have me wondering if we should add more to our list!

We invested in this basic set of wood building blocks for our baby's birthday last year, and it's a toy he's just loving more and more the older he gets. We also gave a set of Tegu blocks my kids play with endlessness! We've ADORED this little robot set! The magnets add a fun change! Even though they are a bit pricey they are so well made and such fun!

I have a niece who was born four weeks before my little man. It's been a joy having a season to watch those two toddlers play! They're both so imaginative, and it only affirms even more which toys are big hits to all toddlers. She got the most darling kitchen in the world last Christmas! Years later, it's what my kids run to. He pretends to talk on the phone, cook with her play dishes, and bake in the oven. We try to ignore sometimes it's stuffed animals he'd putting in the oven, oh toddlers! If you want your kid to learn to cook and be more familiar with food, a play kitchen is a must!

I'm going to shout out to Melissa and Doug once again for this one. I babysat a nephew years ago who was three and he played with this chopping playset for literally over an hour saying "I chopping! I chopppppppping!" with glee the whole time. We bought one long before we had kids and pulled it out whenever another kid came over. Also, the cute fruit version was the perfect two-year-old gift.
We're now a huge fan of the ice cream scoop set, the cookie set, the pizza set, the birthday cake set, and the Make-a-Cake Mixer set.

A set of these was gifted to a nephew by his other grandparents, and they started magically showing up in every house of each of my siblings. Not only are they excellent to practice the ABCs with, but they are also excellent for little hands to practice fine motor skills, to play with as figures, and they are just a really cool toy kids adore! The number set is darling too!

Great Presents for Toddlers

If you've been around these parts at all you know we're huge book fans, and adding a few to our collection is something I'm always happy to do. I wrote a post about our top 20 books that have grown with our child, and I'd highly recommend all of them as holiday gifts too! They are my favorite part of this toddler gift guide, they are a gift that keeps on giving!

There's nothing my toddlers loves more than playing with Play-Doh and accessories.
I am the first to admit I cringe a little at it. It can be a mess even when you know they've outgrown trying to eat it. It can be a mess, but it's also easy to contain with a plastic mat or tarp, and the sensory skills your child experiences are so good for them! Not to mention this has been a bestselling toy since it hit the market decades and decades ago. Having some accessories like cutters, molds, etc. only add to the fun even more.

Once again, not for the faint of heart. However, watching your child learn rhythm and experience the joy of sound is something so worth it! This can be a set of maracas or a bead shaker, up to a cute music set with multiple toys like this one or this extra cute one.

Duplo or Mega Blocks are so perfect for toddler fine-motor skill building!
The building, the working, the manipulating, all good things for little hands! I also love that these products have upped their game to accommodate different sets and different colors. Even if your daughter only plays with pink you're still good! But really, these are toys that get played with and are loved for years.

These are another item we've loved watching our kids play with! I had a set as a child I built and loved for years. I think even my Barbies had elaborate wood cabins built for them. It's a different type of building block, and this tin set is the perfect thing to add a bow to for the next toddler gifting event.

The list is endless here, but the water table we bought last Christmas has been a hit all year, the pushing lawnmower he loves and uses too! The bubble gun was a favorite and literally loved to death and then replaced by a bubble machine that makes him so happy. Sidewalk chalk is great to have on hand, even if you have to wait a few months to play with it. Butterfly nets to catch bugs, sand/dirt toys, and really anything that lets them enjoy the park or backyard is a good idea!


Cars, car tape, racing tracks, and vehicle toys. A simple set of cars is always fun for kids to play with at home or on the go. But we've fallen in love with this racing car tape that is easy to use and comes off surfaces without any issue for more imagination. And of course, racing sets, and racing structures are a big hit too! Our little guy has this Disney Cars set and these are played with nonstop right now.

Museum passes.

I can't say enough how great the gifts that keep on giving are! Seriously look into an annual pass to a local museum, zoo, or play place. It is something they can go to daily if you want. It's a big-ticket toddler gift that you'll both enjoy.

Toddler Coloring toys can be as mess-free as the Melissa and Doug Water Wow pads or the Color Wonder sets. Or this can be as simple as a new notebook just for them and a pack of crayons. I'd recommend a fatter crayon or set of mess-free markers and a special pad or coloring book just for them. Toddlers are all about the coloring right now, and the right tools are major hits!

Cozy Coupes are loved by little babies to kids who have to squeeze into one alike! I love the different types and color options you can find these days too!

This can mean a basketball hoop, a four-square ball, a bowling set, a new swing or slide, a mini trampoline, a t-ball set, etc. If they can be active and learn a form of sport! It's a good idea for active play and a fun gift to receive.

I love a skill-building toy, and two-year-olds love novelty with new items to explore. We love the Kiwi Crate service to let you get a new STEM activity box delivered each month, and there's an option for older toddlers. The Panda Crates are so good and worth every penny! What a fun thing to get a toy a month and to encourage STEM learning!
Lifestyle Images by Chrissy Blake
Like this Toddler Gift Guide? You may love these posts:
25 Stocking Stuffer Ideas For Toddlers
The First Weeks After Baby Essentials Checklist
Get 365 Date Ideas!
We want to help you have the best date nights ever! Grab this FREE printable with 365 date ideas, a date for every day of the year so you never run out of ideas!