Dinosaur Coloring Pages You Can Print From Home!
Printable dinosaur coloring pages: Keep kids busy for hours coloring + tons of dinosaur activities for a dinosaur unit to keep things fun and educational!
I know so many families are getting creative with ways to keep kids entertained during these quarantined times. We've tried to help with at-home activities for kids that they can do independently. And today, I'm so happy to release something we've had in the works for months! The timing couldn't better to hook you up with a printable coloring page that will keep kids entertained for HOURS!
I have a dinosaur obsessed child. I thought it would be a phase, but it's been going on for years! The Arizona Museum of Natural History family date he still talks about daily. And while we're in the middle of the remodel he told me he's missed his toy bins (full of dinos) the most. I too love dinosaurs and always have. My dad grew up in one of the dinosaur bone capitals of the world, so visits to see grandma and grandpa also meant visits to dinosaur quarries. I couldn't be more thrilled with my dino lover!
And since so many of you loved the oversized Christmas Coloring Page Play Mat, I knew it was time to create another version that kids could enjoy and do year-round.
Oversized Dinosaur Coloring Page
Presenting, oversized dinosaur coloring pages you can print from home! But of course, we've tried to hook you up in whatever way you can print this large dinosaur coloring sheet.
As a side note, we decided it needed a few more dinos and made a last-minute change to the play mats. What you see below is the exact files you receive. They are almost the same as pictured above, there are just more dinos for more coloring fun!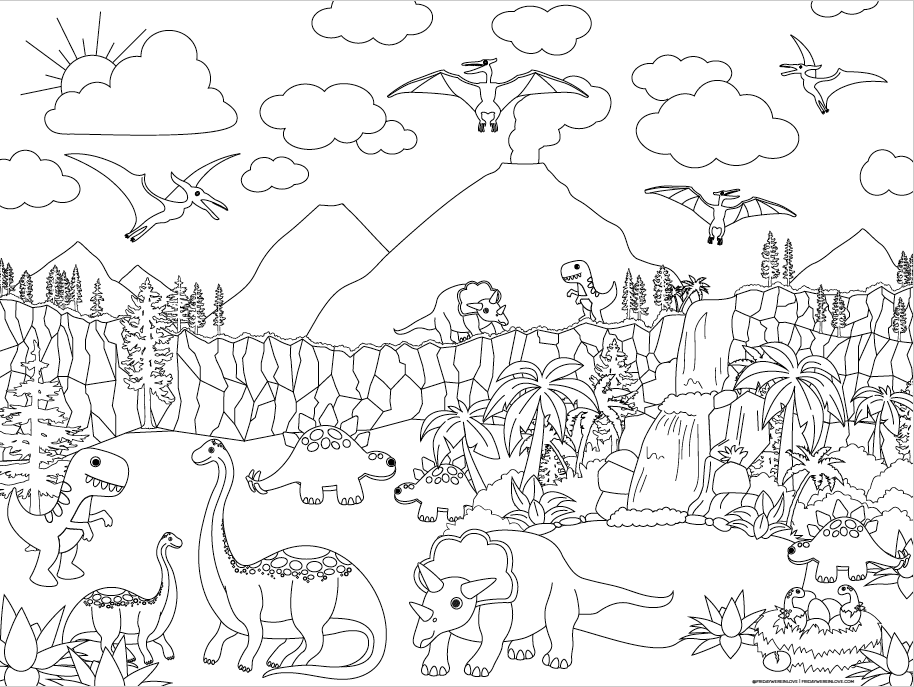 There's an option for an engineer print you can upload and print from Staples, Alphagraphics, or Office Max. They deliver and offer curbside pickup so you can social distance.
But, if you're truly staying home, there's a file to print the dinosaur play mat on four standard letter pages and tape them together. You'll still get a giant coloring page, it just takes trimming the cut line and taping the four pages together for a large coloring play mat ready to go!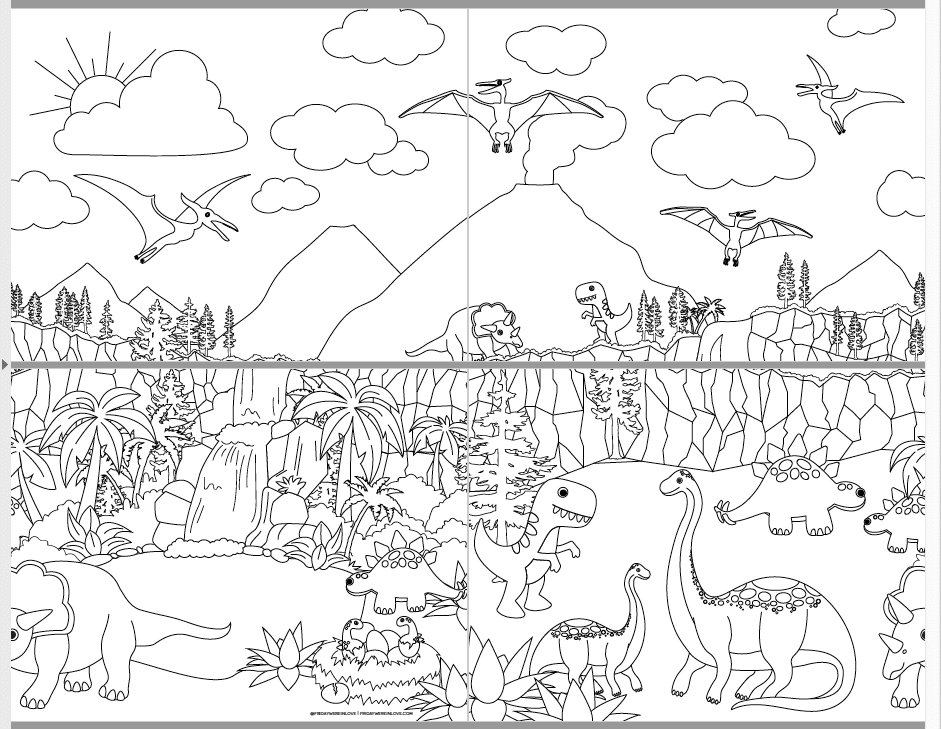 If you're working on science units right now, this is the perfect way to incorporate dinosaurs!
Here are some fun learning activities to use if you're looking to create a homeschool or education-based activity day.
Educational Activities to Use with the Dinosaur Coloring Pages:
Color all the preditors one color. Color all the herbivores in a different color of choice.
Name each of the dinosaurs by their scientific names
Read a Dinosaur book together before, during, or after you color
Based on the dinosaurs on the coloring page, which time period do you think these dinosaurs lived in?
Bury a toy dinosaur in sand, dirt, or any grain you can find in the kitchen such as rice. Have your little person dig for dinosaurs and talk about excavation and what a paleontologist does for a living.
Incorporate bodily-kinesthetic learning and have them walk like a t-rex, fly like a pterodactyl, break out of an egg-like a baby stegosaurus, etc.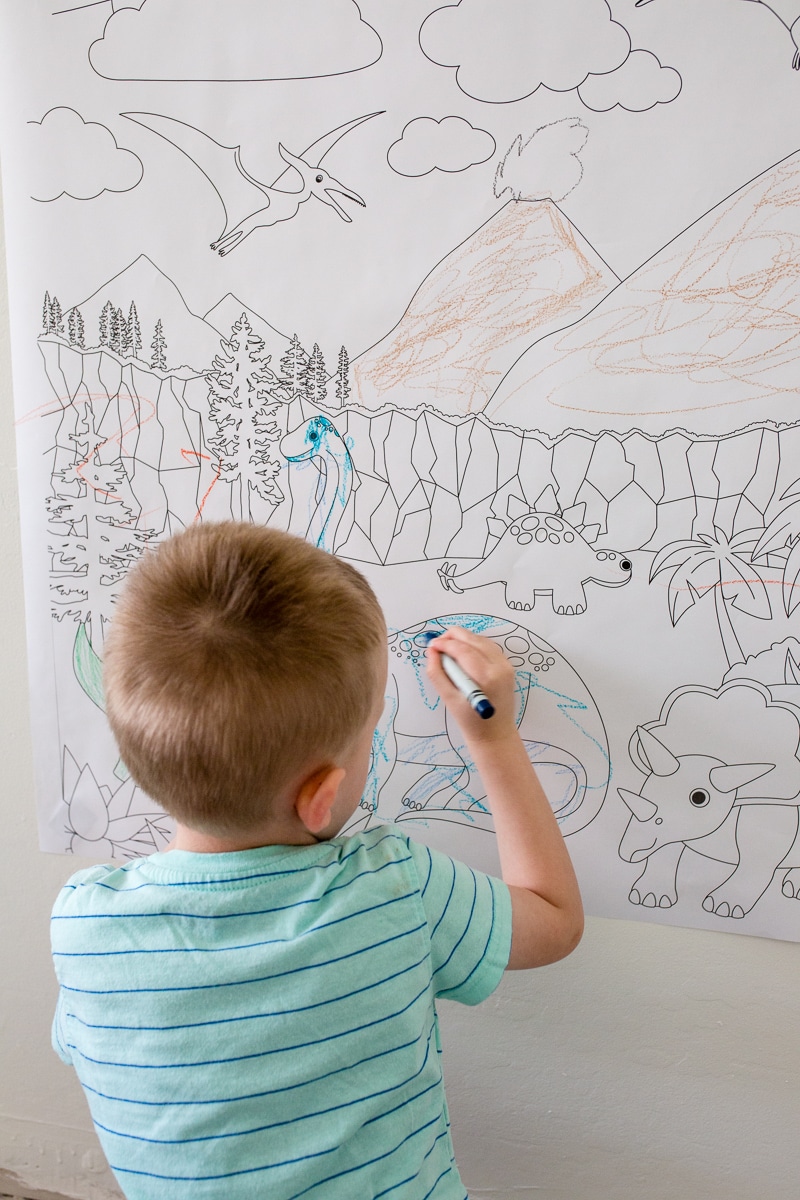 Also, if you're a parent or caregiver that just needs an activity for kids to enjoy for hours, this is a great one! Just snag the digital file. From there you can print at home, or you can have a large engineer print made for only a few dollars. It will work on full-sized engineer prints down to 8×11 pages.
Best of all, to help our families during this hard time, we're going to give the download away for free! All you have to do is share this post, or reshare my social posts on Instagram or Facebook. Make sure to tag @fridaywereinlove. If you're private, you'll need to send me a screenshot so I can verify your share! You can send me a message or come leave a comment here.
I'll send you a promo code to get the file for free in the Friday We're in Love Shop. That's a $5 activity pad that's yours totally free just for helping spread the word to families in need or some activities!
And tag me in your posts (@fridaywereinlove), I'd love to see your kids enjoying these free dinosaur coloring pages!
But if you're not comfortable sharing, it's the low price of $5, and you have unlimited printing options for your whole lifetime!
We hope this helps with a lot of stay at home time! And truly, we hope your kids have a blast with this giant dinosaur coloring page!
Like this post? You may like these ideas too:
Dinosaur Valentines Day Cards: Easy Last-Minute, Free Printable Valentines
Activities for Kids at Home (Quiet Time Activities so You Can Get Some Work Done!)
25 Beat-the-Heat Summer Activities to Do With Your Kids
Disney Plus Watchlist + Free Printable for Families
Get 365 Date Ideas!
We want to help you have the best date nights ever! Grab this FREE printable with 365 date ideas, a date for every day of the year so you never run out of ideas!