25 Beat the Heat summer activities to do with your kids this summer to keep cool, create memories, and have a fun summer together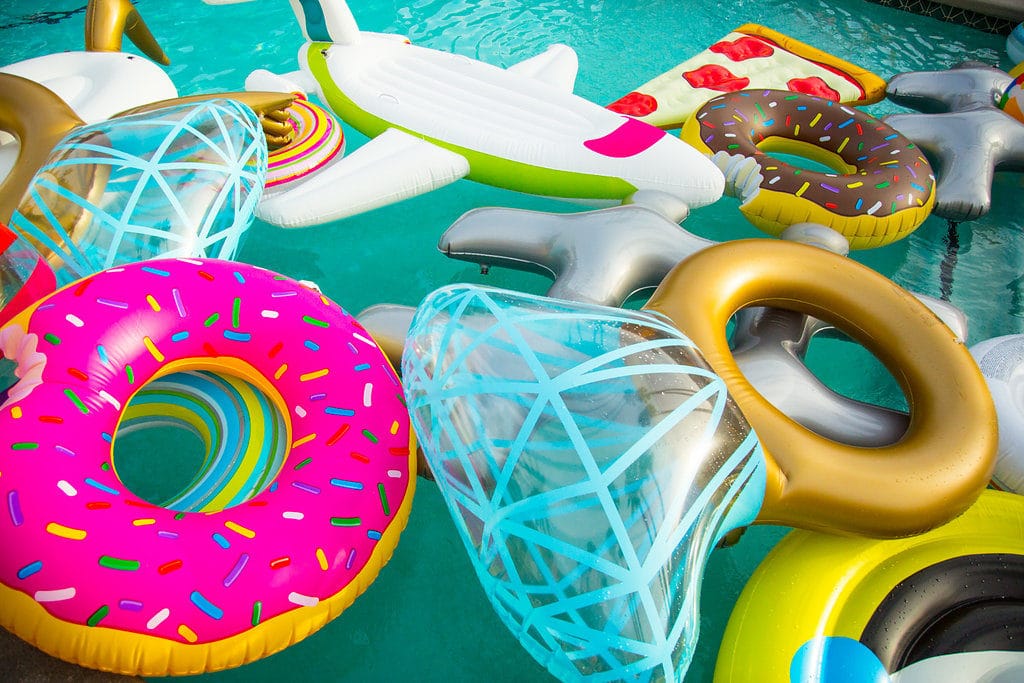 We love living in Phoenix six months out of the year, but the other six we are reminded that being sweaty isn't our favorite thing. Four of these months are particularly bad, and we really start to feel the cabin fever. To top it off, when kids are out of school it's a particularly hard time to keep them busy, so we've learned to keep a list of all the things we can do to beat-the-heat and enjoy quality time together during the summer with plenty of fun summer activities.
Beat the Heat Summer Activities to Do With Your Kids
Here are a few of our favorites:
Splash Pad Time- most cities have at least one totally free splash pad at either a mall, a city center, a park, or a large neighborhood community. Find yours and plan a play-date! I should also add it's fun to dive in as the mom. I know it's not the culture in every state, but when you're melting as the mom in Arizona, it is the culture! Be the fun mom and get out there and enjoy the time with your kids!
Summer Movie Series- check with your local movie theater, many do summer series where you can go see older movies on the big screen for super cheap! Enjoy their AC and some popcorn with your kids.
The Children's Museum- a place designed just for children to learn, play, and have a great time is the perfect splurge for a long, hot summer day.
The Water Park- go ahead, be the fun mom at least one day this summer and splurge on water park tickets.
Science Museum- There's something about dinosaurs, space, and geology that just makes you feel colder, and you can enjoy learning about them with your children in a large, air-conditioned museum.
Library Story Time- Check with your local library for story time hours, they typically do several for each age group and you can find the one that will be of the most interest to your child.
Music Class- This can range from free library events to formal music classes for your baby/toddler/child. Just Google it for your area, you should find several options in most cities.
A Trip to the Zoo. I know what you're thinking, that sounds like the opposite of beating-the-heat, but trust me on this one, most zoos either have earlier hours so you can go before it heats up, or they have a splash pad or water park attached to part of the zoo. Check your local zoo's beat-the-heat offering.
Story Time/Reading Time at Barnes and Noble- I was a bit shocked when we visited a few weeks ago and read our toddler several stories to have an employee come up and tell us how much our little guy would love story time. They usually do at least two a week, check your local store for times and other fun summer events.
Swimming Pool Day- In Arizona, this is every day for several families since about 1/3 houses has a pool. But for everyone else, there is typically at least one community pool in even the smallest of towns. We used to go once a month growing up, and those were the days of summer I looked forward to the most.
Frozen Yogurt Outing- there's just something about getting to fill your own cup and choose your own toppings with this better-for-you frozen treat. Find a day you need to get out and go during the heat of the day to slowly enjoy it together.

Photo by Photography-Hill

Summer Activities for Families

Chase Down the Ice Cream Truck. A cool treat, a nostalgic memory, and something sweet that is sure to cool you down after the chasing creates a fun mini-outing together.
Float the Local River/Lake. Buy, rent, or borrow the trendy cute floaties or an inflatable raft and go float your local body of water. Bonus points for a tree swing or dock they can repeatedly jump into.
Open Gym- check with your local gym, but most have an open gym day for families to come give it a try. Kids can enjoy basketball games, trying to run around tracks, and often rock climbing walls. Many gyms have childcare centers with fun activities too if you want to try one of those while you get in a workout!
Gymnastics Open Gym- along the same lines as #12, if you don't enroll your kid in gymnastics there's often a free trial class or an open gym day you can go try the trampolines and foam pits to your heart's desire. Take advantage and find a day to go this summer!
Aquarium Visit- hello dark spaces with air-conditioning that contain creatures kids of all ages are usually happy to stare at for hours.
Mall Food Court Lunch- it may not be your ideal meal, but often the option to choose any fast-food they want is a dream to kids! Let everyone get something from somewhere different and take turns talking about different types of food while you (or just your children) taste-test your spoils.
Indoor Trampoline Centers- is there anything better than wearing your children out so they go to bed early and sleep like champions? Indoor trampoline centers give them a day to jump to their heart's content, roam free, and truly wear themselves out.
Children's Arcade Center- before you get too afraid of the germ-invested areas, just note that anti-bacterial wipes were invented for a reason! Most of these centers have areas for kids of all ages, even baby areas, so you can take a child of any age and find games just for them.


Activities to do When It's Hot

Make Popsicles- it's cheap and easy and you can get so creative with summer produce, juice, and yogurt. Let your kids learn about where each item comes from, create a work of art, and enjoy a cool treat together when they're frozen.
Gymboree Classes- we've taken a few, and we can't get over how much fun an indoor art class someone else gets to clean up can be, or how much fun climbing and playing to music is. There are classes for newborns to kindergarteners, and you can usually do two for free if you want to try it out.
Host a Water-Balloon Fight- It's amazing how hundreds of balloons and a group of kids can keep everyone cool, everyone active, and everyone tired by the end of the day.
Visiting the Rink- one of my favorite places to go when I'm over the heat is ice skating, but you could do roller skating too if it's your heart's desire. Many have toddler-assisting devices so it's pretty easy to accommodate children of all ages.
Visit the Bookstore- Let your kids earn the money to buy a book and take them for a fun outing to choose their book. Work ethic, summer reading, an educational activity, and a day of fun in the air conditioning to beat-the-heat.
Slip N' Slide/Sprinkler Party- There's something so fun about a day in the backyard or at the park playing in water that isn't a pool. If you don't buy a slide you can easily purchase a large plastic sheet from a local home store and create the fun cheaply for an exciting day at home.
Like these beat the heat summer activities? You May like these family-friendly activities too:
Palm Springs for Kids: Family Friendly Things to Do in Palm Springs
Mom and Me Date at The Little Gym
Enchanted Island at Encanto Park Family Date
Beyond Dinner and a Movie
FREE BONUS!
Grab Our 5 Ways to Keep Your Love Alive and Make Date Night Fun. The BEST date ideas in your inbox weekly.