Printable Summer Reading Log
Grab the free printable summer reading log! It's a fun way to encourage reading during summer vacation and a great way to keep track of the books read and encourages summer reading fun!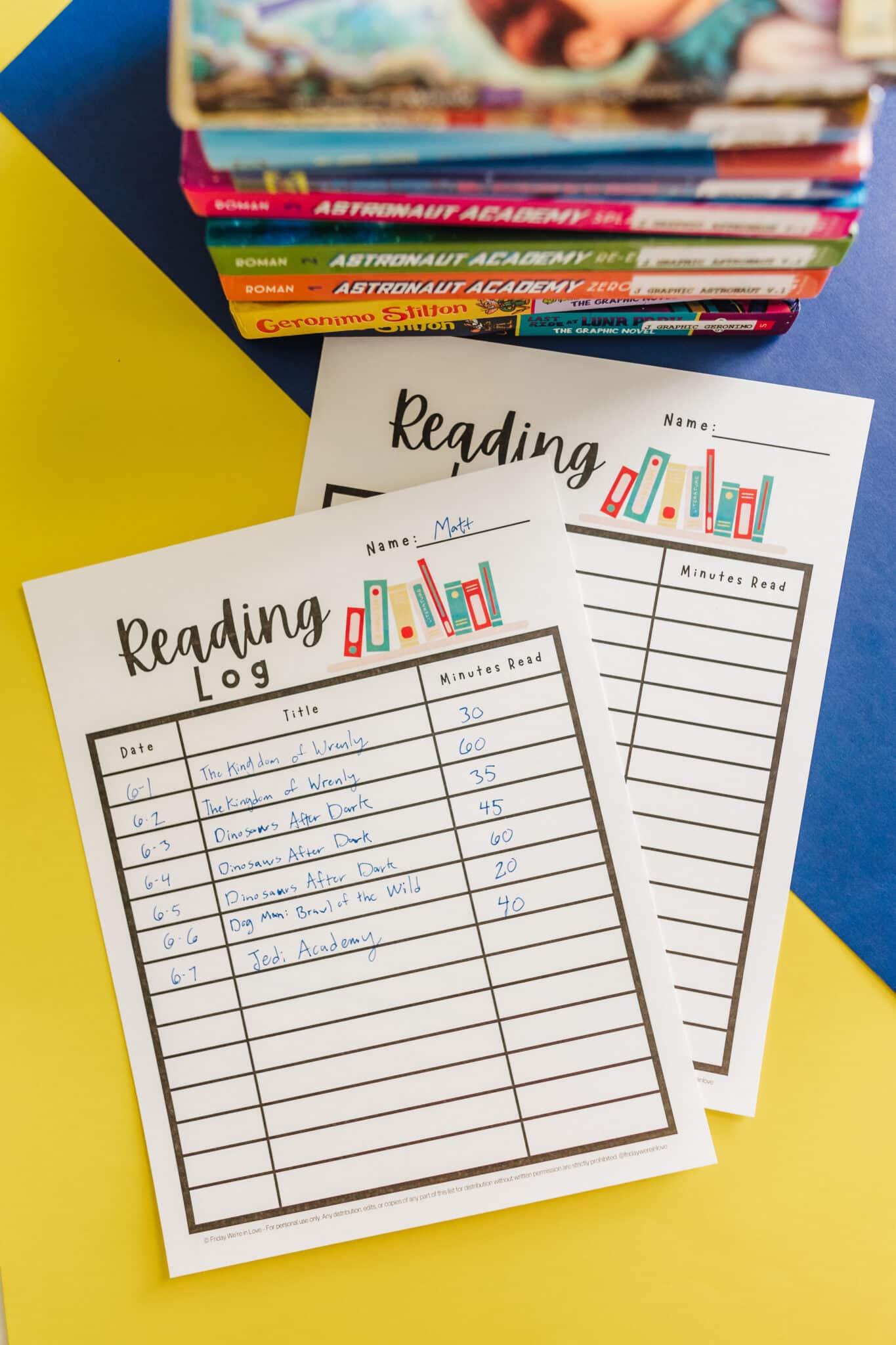 Summer is a time for fun and relaxation, but it is also important for kids to continue learning and reading during their break from school. Our printable summer reading log for kids is designed to make reading fun and engaging, while also providing an easy way to track your child's progress and celebrate their reading achievements.
It's the perfect pairing with a summer reading challenge at the local library, as a reward system to make reading part of the summer routine, or just to keep track of reading progress during summer break. Last year my son got really into summer reading activities at our local library, and I knew an easy summer reading tracker would have been a huge help to continue to motivate him. It's truly fun to see the number of books read, new books discovered, the time spent, and how much reading happened before the new school year!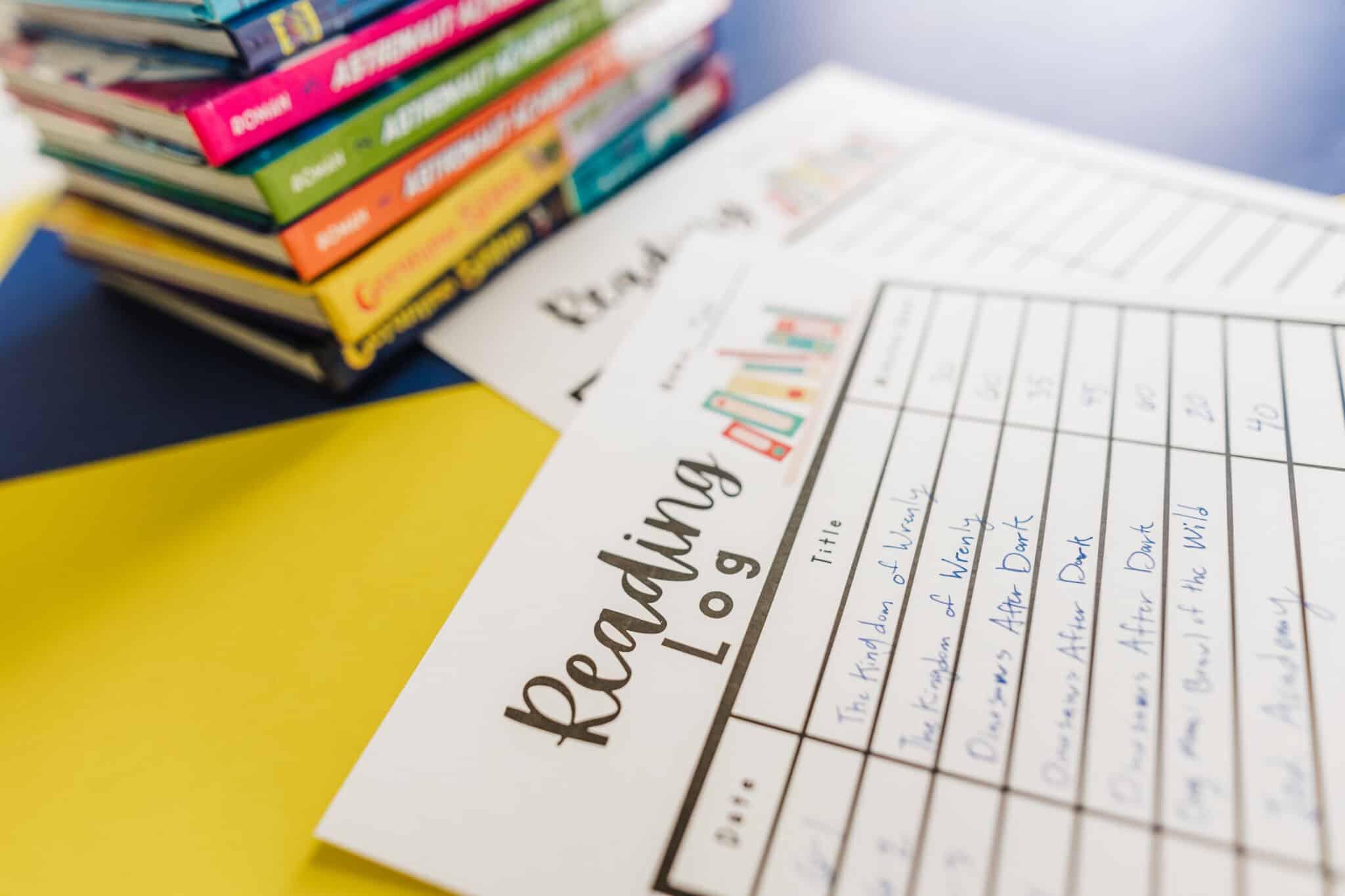 With our summer reading log, you can set reading goals for your child and watch as they work towards them throughout the summer. Whether your child is a reluctant reader or a bookworm, our printable reading log is the perfect way to keep them engaged and motivated all summer long.
Grab the Free printable summer reading log here!
This is a simple reading log designed to work for new readers, seasoned readers, and readers from 1st grade to middle school, and even high schoolers and adults can utilize this free reading log!
The Benefits of Summer Reading
Summer reading is important for children of all ages. Not only does it help them maintain their reading skills and avoid the dreaded summer slide, but it also expands their knowledge, improves their vocabulary, and develops their critical thinking and comprehension skills.
Setting Summer Reading Goals
Setting summer reading goals is an excellent way to motivate your child and help them stay on track throughout the summer. Here are a few tips and strategies for setting achievable reading goals and keeping your child engaged and motivated.
– Set a Time Goal
​- Set a Page Goal
– Plan Incentives and Rewards for Goals. Think fun things to do, a big celebration at the end of the summer, or something simple like an ice cream run.
– Pair the Reading Chart with chapter books or other favorite books to help kids pace reading and stay motivated
– Incorporate trips to the library and bookstores throughout the summer season
– Ask a children's librarian at your school or your local library to help you find book ideas
– Remember to be realistic and keep it positive- it shouldn't feel like a chore or punishment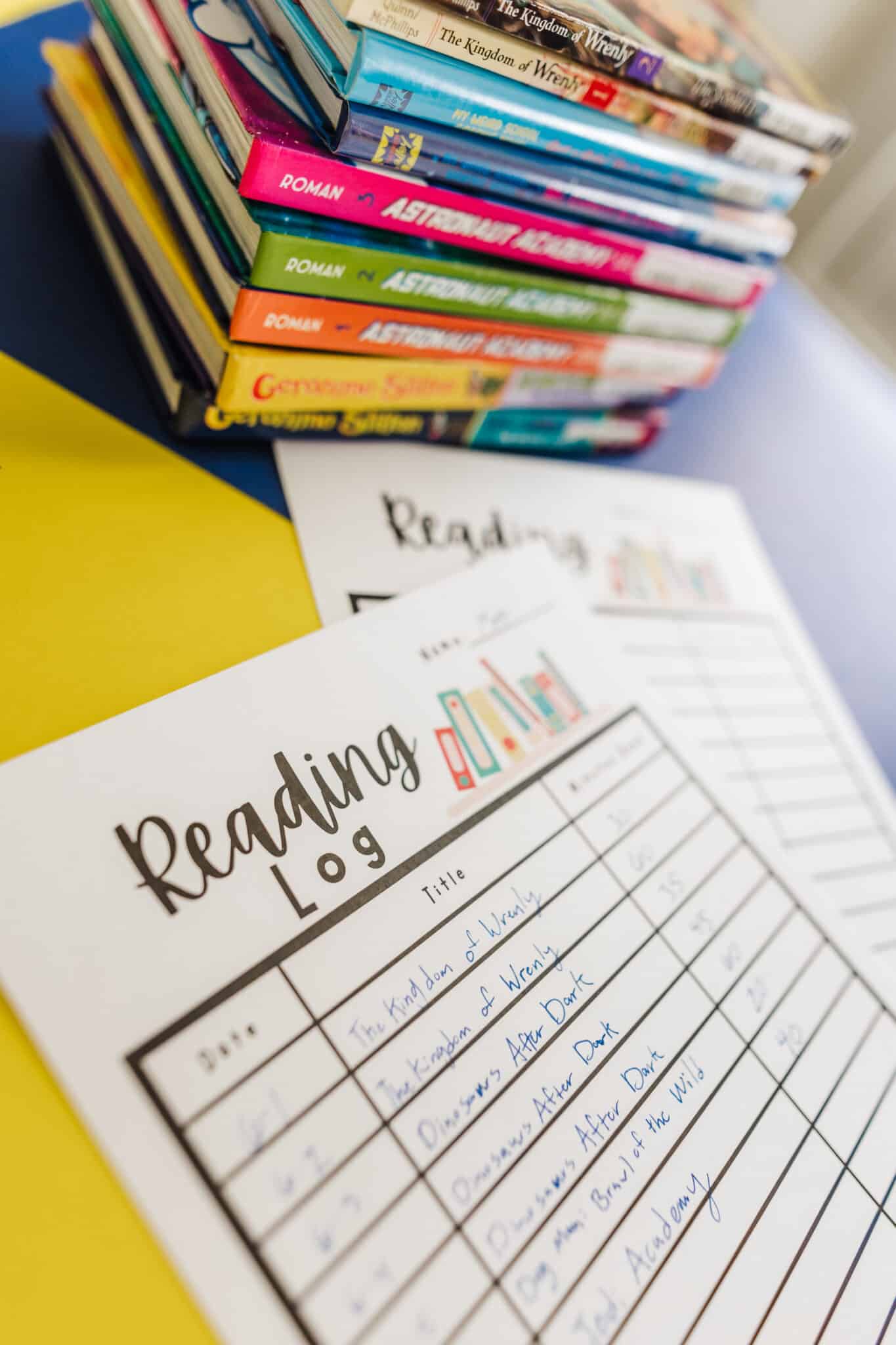 Using the Summer Reading Log
Our printable summer reading log is easy to use and perfect for tracking your child's progress throughout the summer. Or better yet, let them use the daily reading log to track themselves!
Just simply record the date, the title of the book, and the minutes read. You could also sub out the minutes read for the number of pages read. You may go through the whole sheet in a month, or on a daily basis depending how many books are read.
I'd recommend printing a few of the free summer reading logs per person so you have minimal prep work, and you're ready to go with free summer reading log printables whenever you need another one! You could also laminate the free printables and reuse them all summer.
I'd recommend using them in your summer routines, and encourage kids to set a time goal or page goal each day. They help kids and parents keep track of summer reading, and give a sense of accomplishment for achieving those goals.
Fun Reading Activities for Kids
Reading doesn't have to be a chore! Here are a variety of fun and engaging reading activities for kids, including reading games, book clubs, and more.
Create a Reading Challenge
Let's gamify reading and help kids develop a love of reading! Creating a reading challenge can be a great way to keep your child motivated and engaged throughout the summer. Creating a fun and challenging reading challenge can help keep your child excited about reading all summer long.
Summer Reading Programs
Summer reading programs are a great way to encourage your child to read throughout the summer. Libraries and Barnes and Noble offer some of the best summer reading programs available with really fun incentives. And best of all, they're free!
Finding the Right Books
Finding the right books for your child can be a challenge, but it is essential for keeping them engaged and motivated. Check in with librarians, Amazon book lists, and feel free to ask their peers for great book recommendations. It makes a big difference!
Making Reading a Family Activity
Reading is more fun when the whole family gets involved! It's easy to make reading a fun and engaging family activity. We love doing a read-a-thon day at least once a month. Also, there's something magical about family read-aloud, where you spend time tackling a book together. Or, you could make a family book challenge and work towards a grand prize together!
Celebrating Your Child's Reading Achievements
Finally, it's important to celebrate your child's reading achievements and acknowledge their hard work and dedication throughout the summer. I know I mentioned it before, but it deserves a little more emphasis! Keep things positive, light, and fun by celebrating your child's reading accomplishments, including rewards, certificates, and more.
FAQs
1. Why is summer reading important for kids?
Summer reading helps children maintain their reading skills, expand their knowledge, and develop critical thinking and comprehension skills.
2. How can I encourage my child to read during the summer?
You can encourage your child to read by setting achievable reading goals, providing a variety of engaging reading materials, and making reading a fun and rewarding experience.
3. What are some fun reading activities for kids?
Some fun reading activities for kids include reading games, book clubs, and reading challenges.
4. How can I find the right books for my child?
You can find the right books for your child by considering their reading level, interests, and recommendations from librarians, teachers, or other parents.
5. Are there any summer reading programs available for children?
Yes, many communities offer summer reading programs for children, which provide incentives and encouragement for children to read throughout the summer.
6. What are some benefits of reading as a family?
Reading as a family helps improve communication and bonding, expands knowledge and vocabulary, and provides a fun and rewarding activity for everyone to enjoy.
7. What should I do if my child is struggling with reading during the summer?
If your child is struggling with reading during the summer, it's important to provide support and encouragement, consider a tutor or reading program, and keep trying different approaches until you find what works best for your child.
Enjoy Including Reading in Your Summer Activities!
Our printable summer reading log for kids is the perfect tool for keeping your child engaged and motivated to read throughout the summer months. With a variety of tips, strategies, and fun activities, you can ensure that your child maintains their reading skills and expands their knowledge while still enjoying their break from school.
Be sure to use our printable reading log to help your child become a confident and enthusiastic reader, setting them up for success both in school and in life.
Like this free summer resource? Be sure to check out these posts too:
150+ Summer Activities for Kids with Free Activity List Download!
Summer Camp Ideas At Home: Camp Mom Series
Get 365 Date Ideas!
We want to help you have the best date nights ever! Grab this FREE printable with 365 date ideas, a date for every day of the year so you never run out of ideas!