Fun Family Activities: 52 Family Date Ideas to Do This Year
A huge list of fun family activities that you can do together for family entertainment! These family dates help build memories that will last forever!
We love a great couple's date, and go out once a week: hence Friday We're in Love. But we've learned that fun family activities have a huge space in our hearts too! We often invite our kids along with us once a month for a formal family date night.
Fun Family Activities
Some things are just more fun with little people enjoying the fun family activities we have planned. Consequently, we've learned to try to spend one night a week having fun as a whole family with some wholesome recreational activities. But also, we spend a little cash on intentional fun activities as a family on that monthly family date night.
Fun family activities are so important to us that we're trying to fit them in about once a week. That's 52 weeks in a year, and sometimes it feels overwhelming to come up with family dates every week. That's why I always make lists and reference them for those weeks you could use some more family fun.
I was recently invited to come to teach a church group about family activities, and it was so fun to share our list of ideas! After compiling 52 family date ideas for a fun family activity each week of the year, I couldn't keep this list to myself!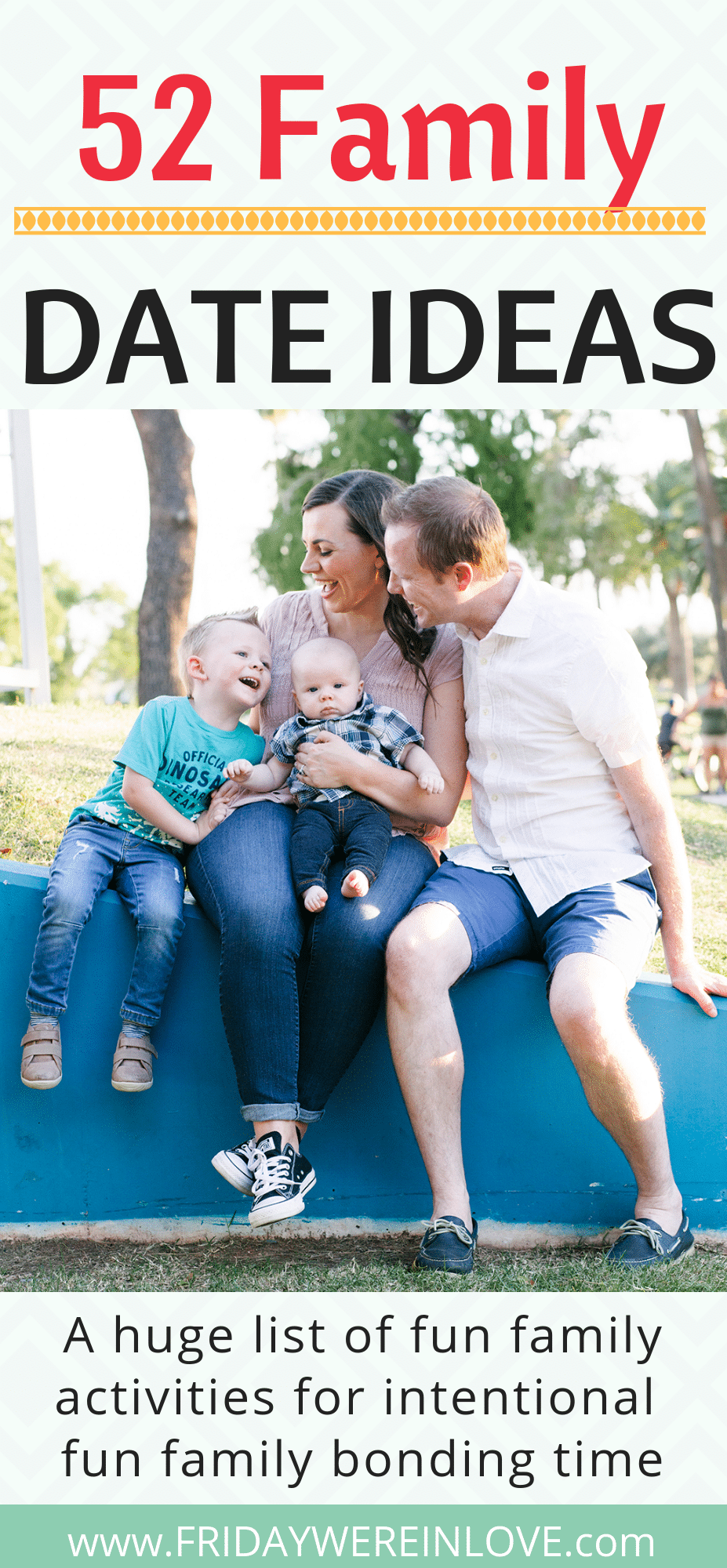 52 Family Date Ideas to Do This Year
Jump Centers: there's often a Groupon or a family discount night to help you all jump your hearts out!
Arcade Nights: find a cheap arcade and play old school games together
Head to a rock climbing gym and practice so
Take turns choosing your favorite restaurants and head out to dinner fully supporting each family member's choice
Create family movie night traditions: make or buy pizza, and enjoy a movie night together
Enjoy movie night in the backyard on a laptop or projector. Here are 52 family movie night movies you'll all enjoy watching together.
Head to the zoo
Visit a farmer's market
Take a Home Depot creator's class
Play board games
Rent a cabin for the weekend
Have a water fight
Hit up the water park
Enjoy a family swim with games
Go out for ice cream
Visit a bakery and choose a dessert
Do an urban race/city solve
Buy a Date-Night-In kid's box
See a movie in the theater together
Do a family service project
Attend a high school play
Attend a high school concert
Find a "movies in the park" in your area
Attend a professional sporting event
Attend a high school or college sporting event
Go old school roller skating
Host an Iron Chef competition at home
Free Family Activities
Visit a college campus on a family preview night
Go Geocaching
Create treasures for other geocaching seekers to find
Have a photo scavenger hunt as a family
Host a family read-a-thon
Look up "national food days" (like donut day in July) and go celebrate
Go ice skating as a family
Play water balloon volleyball as a family
Find the most touristy thing to do in your city and go be a tourist for a day
Visit the Museum of Natural History (of one in your area)
Go to the state fair
Buy boxes of graham crackers and build "gingerbread house" style structures
Rent or borrow a kayak or canoe and head to the lake
Stand up paddleboarding
Rent paddleboats (seriously, try to find a swan-shaped or something quirky your kids will talk about for the rest of their lives!)
Head to a U-pick farm and pick in-season produce
Have a bonfire/s'more night
Take a day trip for a mini family vacation
Make sugar cookies and learn how to decorate with royal icing
Head to a family-friendly improv comedy show
Go to the thrift store and pick out outfits for each other to try on
Take a hike- but do it as a family.
One more note on these fun family activities, they are perfect to include in a year of experiences gift! If you want to create more fun as a family this year, download our free printable and choose your 12 favorites. It makes for the perfect gift your family will enjoy all year!
Like these Family Date Ideas? You May Like These Posts too:
Quality Family Time During the Busy Holiday Season
Family Picnic Ideas for An Easy Family Outing
Back to School Activities: Family Dates to Make Back to School Fun!
Get 365 Date Ideas!
We want to help you have the best date nights ever! Grab this FREE printable with 365 date ideas, a date for every day of the year so you never run out of ideas!