100 Couple Games for Your Next Game Night Date Night In
Looking for some couple games you can play with only two players? Need a fun game you can play for your next date night? We're sharing the best list of 99 game night ideas including several 2 player board games you can enjoy as a couple, plus fun group games and family games to round out your next game night in!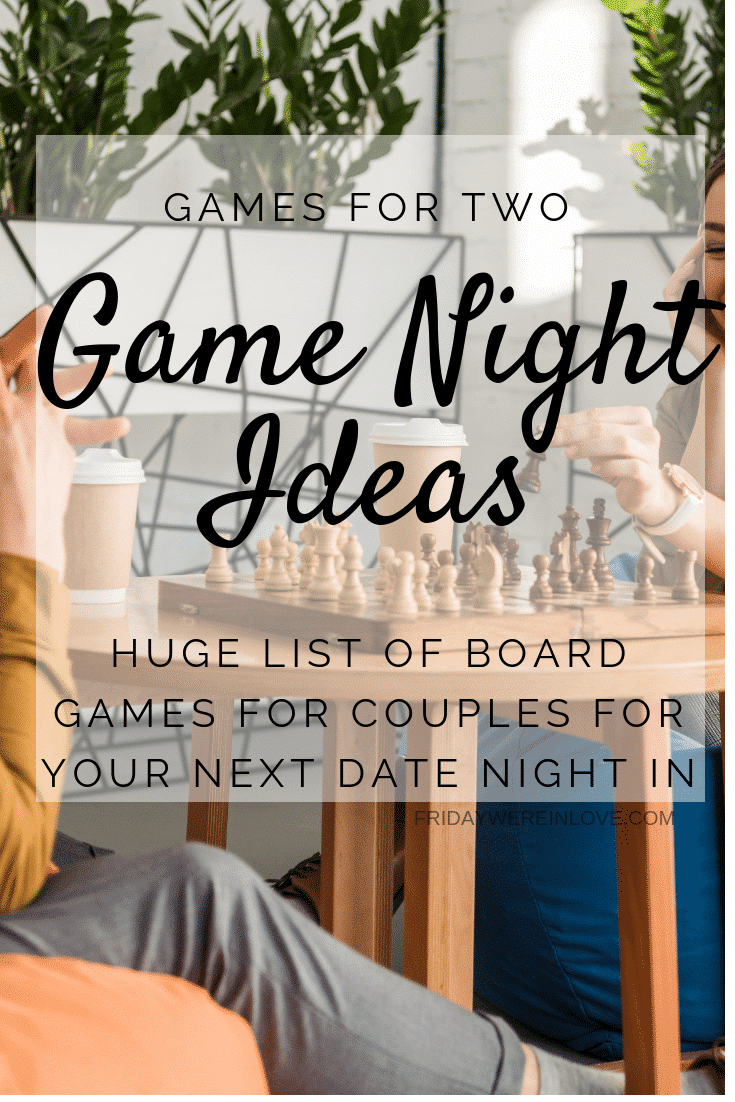 100 Game Night Ideas: Couple Game for Your Next Game Night In
Having a newborn has made us astutely aware of the need to find at-home date ideas. It's also made us very aware that couple games designed as adult games can be hard to find! Some games are perfect for fun group games as a double date. However, sometimes you need to find a board game for two you can enjoy together after the kids go to bed.
Never being the biggest game fanatics until now, we've reached out to several of our favorite couples who are all about games for two and are in the know about the best couple games you can enjoy as only two players. We also made to sure to ask their favorite group games too.
Make your next date night a game night with these awesome game night ideas. Whether you want a two-player couples game, a double-date game night, a group date game night, or your family, there's something in this list to fit the bill!
Group Games for Adults: Couple Games for Group Dates
Host a game night with other couples and try out these fun group games for adults. They mix up couple's game night and are always a hit for group dates!
Recreate Any Tonight Show! Game

. Love watching Jimmy Fallon get goofy with celebrities? Pick a game you found hilarious and recreate it for a group date night!

Pandemic

: The game where you team up to cure the world of disease.

Deer Lord!

: The Strategic party game where you try to trick your friends in goofy ways. (see our review of it

here

)

Superfight

:

This game answers the question to, "Who would win in a fight?" with all the crazy combinations

Secret Hitler

: a "dramatic game of political intrigue and betrayal" where you try to find the Fuhrer of them all

Off Limits

! Mobile App Party Game that's like Taboo but harder

Exploding Kittens

: the most backed in Kickstarter game ever

Apples to Apples / Cards Against Humanity:

A type of game where you hilariously mix-and-match categories. Level of appropriateness is your choice.

Bang

: A spaghetti-western themed game where you play sheriffs, outlaws, and renegades.

Mexican Trains & Dominos: the domino planning game with twists and turns


Game Night Games for Couples

Hanabi

: the top-rated "firework" building game

Codenames: A fun game of deduction – check

out our post

about it!

Keep Talking and Nobody Explodes

: A crazy phone app party game

Spaceteam

: A top-rated, "Fast-paced, Cooperative, Shouting Card Game"

Jackbox Games

Party Pack: A TV game where anyone with a phone can jump in (without a download) and play trivia-type games like our personal favorite "Drawful."

Unstable Unicorns

: The zany Kickstarter game where you make a unicorn army and strategize.

Murder in the Dark /

Werewolves

: The murder-mystery classic party game.

Checkers: A classic board game for two that everyone can enjoy

Chronology

: The game where you "create history" and predict timelines.

Truth Bombs

: the "explosively honest party game that helps you find out a b
it more about your friends" – sure to be an icebreaker for conversation.

Twister Ultimate

: a bigger mat to fit more people!


Escape Room the Game

: the board game that brings escape rooms to your home

Red Flags

+

Date Expansion

Pack: The game where you create a "horrible character" and need to convince your friends to date them. This will hopefully make you grateful for your spouse!




Games for Two People

What's your Number?

: The Party Game where you vote where you fall on a scale of 1 to 10 to its questions.

Pick Your Poison

: The game that takes "Would You Rather" up another level.

Heads Up!

: A cheap mobile app game that you've probably seen kids play in long roller coaster lines.

Phase 10

: The classic card game that requires 10 phases to get through to win.

Basically

Any of These Minute to Win It Games

. Check out YouTube for hours of inspiration and get hosting your own night of kooky games.

Goat Lords

: A hilarious card game where you compete to become "The Goat Lord"

BullS*** / BS /Cheat

: the card game where you try to trick your friends until you cleaned your deck.

Escape Team

: A Free Mobile App based on Escape Rooms

Betrayal on a House on the Hill

: Wildly raved on Amazon, this "horror" mystery Goosebumps type of game takes Clue to a new level.

Icebreaker Games: Playing with a new crowd? Try the Newlywed Game, Two Truths and a Lie, or something else. That will help you get to know each other better (or your spouse).

Taco Cat Goat Cheese Pizza

: Did that name pique your interest? Us too. The description says it's a fun social / party game and it has great reviews. It's on our "to try next" list.
Family "Date" Night Game Ideas
One of these games is sure to make your next family game night a blast!
Fun Family Games
Labyrinth

: the fun and easy maze game to play and play again with kids and adults

Googly Eyes

: the family drawing game with visual altering glasses

Parcheesi

: the classic game of "chase, race, and capture"

Scattergories

: the fun, fast-paced game of categories

Hedbanz

: the "award-winning, goofy guessing" game

Catch Phrase: the classic party guessing game

Totem

: the "Feel Good Game" that doubles and positive personal development

Clue

: the oldie but goodie mystery game

Watch Ya Mouth

: the hilarious game that stretches your mouth all funny. A smash hit with the kids for sure.

Just Dance Now – Mobile Phone App: No step pads or video consoles required!



The Best Games for Family Game Night

5 Second Rule

: the card game where you don't have to question sanitizing your food

Hungry, Hungry Hippos

: an oldie and goodie that's great with little kids too

Sing! Phone App

: Make your home a karaoke night without all the equipment!

UNO

: the classic color card game

Monkeys Up

: The family game where you flip, switch, and steal monkeys. Ages 6 to 60 will enjoy, a great kid-friendly social skill game.

Bears vs. Babies

: A monster-building, strategy family game.

Clash of the Cards

: the family-friendly battle card game. No card collection required.

Spirit Island

: Think Settlers of Catan, except you're stopping settlers. It's a top new game of this year.

Busytown

: Turning "Where's Waldo" into an action board game, this is a great option especially for those with younger kids.

Yard Games: take it outside with

bocce ball

,

cornhole

, and more!

Don't touch My Jewels

: A fun game similar to Rook and Spades.
Games for Two: Game Night Date Night At Home
These games for a couple are great options if you and your spouse are looking for something to do together. If you need couple games that for only two these are for you! Maybe your friends bailed on plans, or if you are really major couple board game and couple card game buffs. Either way, most of these are two-player games designed for a comfortable and fun night in.
Tabletopics

: the card deck that gets good conversations rolling

Bounden, Partner Dancing Game App

: a hilarious app where two people dance together holding onto the phone. Watch yourself get creative and may be entangled.

Jaipur

: a fast-paced, tactical game based in India and recommended by many editorial publications

Sprocle.com: Ok, so it's a website. But it's a library of great trivia games where you and your SO can see who really knows their stuff on a cult favorite.

Codenames: Duet

: the deduction game modified for two players

Hive

: an award-winning game "crawling with possibilities"

Wit's End

: the brain-teasing, riddling game with many categories and game styles

Bananagrams

: this twist on "scrabble" game travels well too

We Didn't Playtest This at All

: a fun, ridiculous game with a funny name

Mr Jack

: the Sherlock Holmes deduction game. Benedict Cumberbatch not included.

Patchwork

: an abstract, strategy game for two that looks a lot like a quilt.
Board Games for Couples
Lost Cities

: the two-player, exploration discovery card game

Battle Line

: the two-player, "capture the flag" card game

Dominion

: a popular, two-player tactical game

Jenga

: you can play this game as a couple, or you can add as many people as you want

Yomi

: a board and card game that recreates Streetfighter

Ubongo: Duel

: a bright, colorful, culturally inspired puzzle game

Carcassonne: The Castle

: a land-building strategy game critically recommended for couples by many publications

Yinsh

: a board game similar to checkers

The Metagame

: the game with 7 different ways to play – you'll get your money's worth with this one!

Squirrels!

: The Fast Paced Strategy Game that will keep you on your toes

Guillotine

: a "revolutionary card game where you get ahead"

Chess





2 Player Board Games

Onitama

: A simple, elegant game inspired by ancient Japan

Quarto

: an abstract, strategy game with beautiful wood pieces

Sagrada

: the tabletop game where you build historically famous glass windows. This game is for your art history friend!

7 Wonders: Duel

: a modified version of the award-winning original board game

Morels

: the two-player, strategy board game with some fungi

Kahuna

: This two-player board game gets you to compete for dominance of 12 islands along the Pacific. Rated a hot new hit this year.

The Fox in the Forest

: a very positively reviewed, beautifully illustrated 2-player "trick taking" card game.

Egyptian Ratscrew

: fun with a group, but also a great, speed card game for two people

Suspend

: if you love Jenga, you'll love this tricky, balancing rod game
Let us know what other board games, card games, or other games you and your significant other enjoy playing as couple games. We'd love more game night suggestions in the comments below! We can always use more couple games ideas!
Like these games for two couple games ideas? You may love these posts too:
8 Ways to Rock Couple's Game Night
Get 365 Date Ideas!
We want to help you have the best date nights ever! Grab this FREE printable with 365 date ideas, a date for every day of the year so you never run out of ideas!