Family Game Night may be one of the easiest ways to create family fun! Here's a list of family game night ideas to make it a night everyone will look forward to!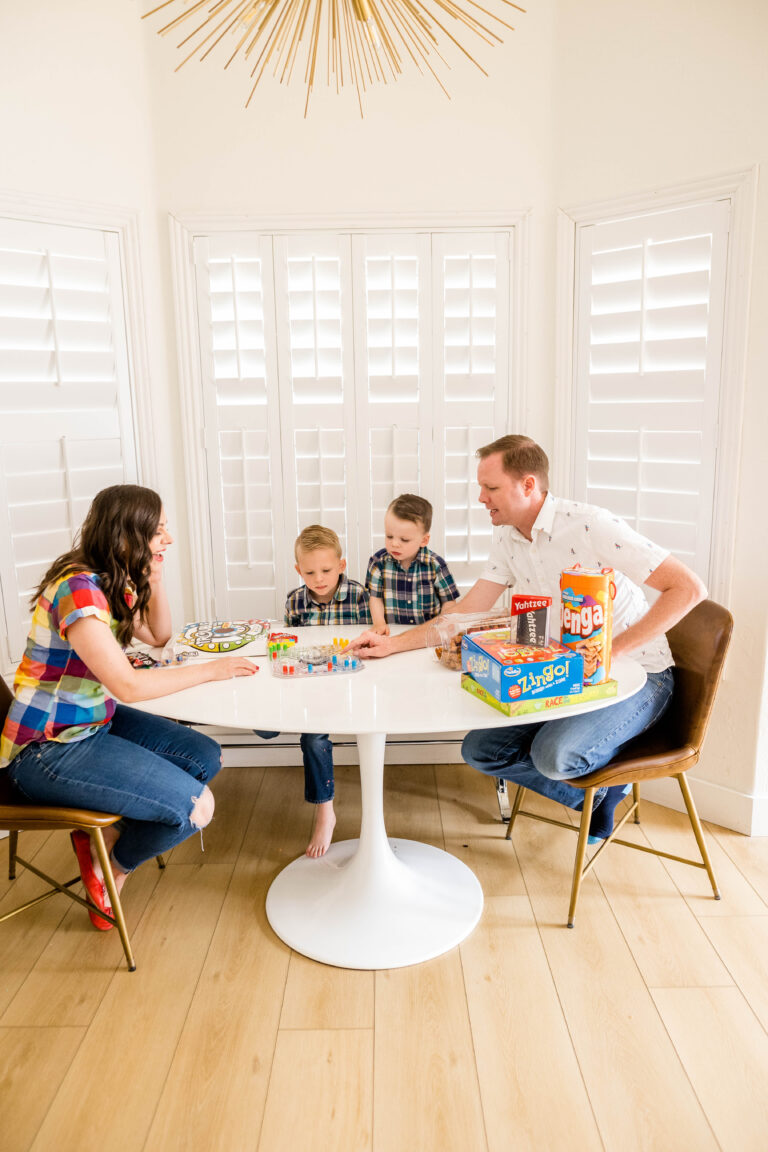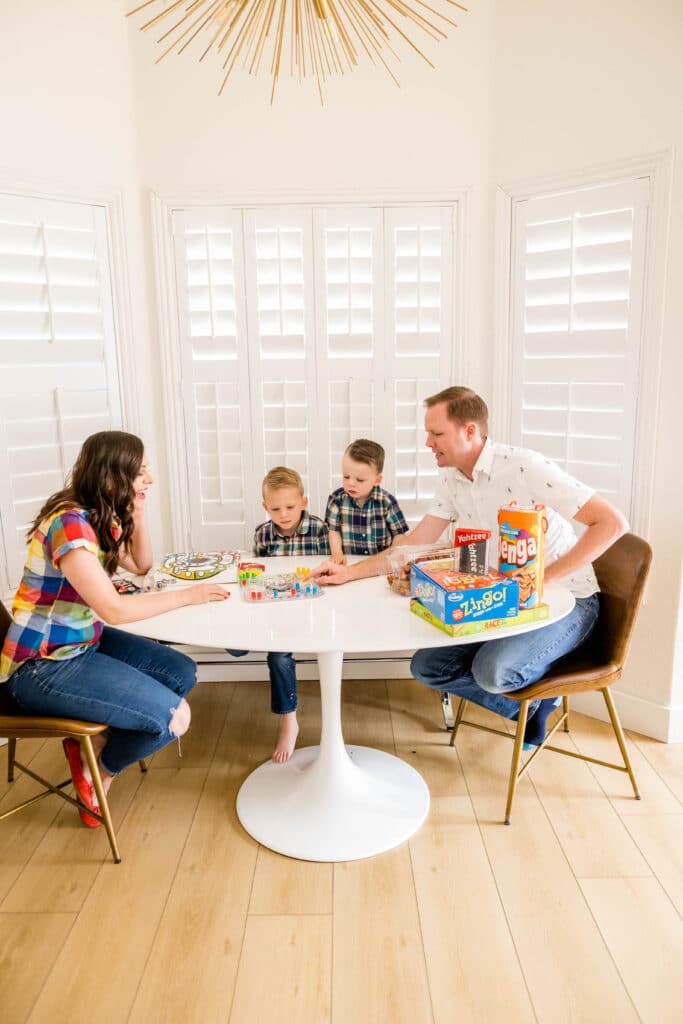 We are reaching a wonderful phase of parenthood where our children are old enough to play games. My five-year-old is downright obsessed and asks if we can have family game night several times a week.
I'm a firm believer in seizing the small moments with kids, like 10 minutes to play a game. But I'm also a believer in making simple activities feel extra special. There are so many family game night ideas that do just this!
Family Game Night Ideas
Make it a tradition

Find a regular time for game night! Maybe it's a few minutes after dinner once a week. Perhaps a weekend night when you can play for hours. Maybe the first Sunday of the month you do it. Find a regular time so it feels like a sacred tradition your family honors together.

Take turns choosing the game

My son would choose Trouble every day of the week if were up to him. Luckily sometimes it is, and sometimes it isn't. We like to rotate through who gets to choose. Sometimes we can fit in everyone's choice, sometimes just one. But rotating helps us all feel invested and interested at least some of the time.


Introduce new games often

There's something thrilling about experiencing a new game together! New experiences spark dopamine in the brain that helps you feel happy and bonded. Libraries often let you borrow games for free. There are endless amounts of games to play with playing cards. And we're firm believers games are perfect birthday and holiday gifts.
Related:
Board Games for Kids: The best board games for 5-10 Years Old

Create a great setup

When we did our kitchen remodel, I purposely chose a table I thought would be great for family game night! Your kitchen table, a large coffee table, or a comfortable space on the floor all work great!

Have snacks as part of the night

Activities at home become instantly more special when there are dedicated snacks. We usually pop some popcorn. I've also made charcuterie boards or grabbed or made a treat. Small or big, snacks make it feel a lot more fun.

Make food part of the tradition

We love that popcorn or a treat is a given. I know when my kids are grown they'll remark that popcorn from our favorite silicone popcorn popper reminds them of game night. We may change it here and there, but our traditional food is constant enough to make it feel extra bonding.

Set aside dedicated time

Maybe that's part of the tradition: Sunday night is game night. But you may need to actually put it on the calendar and give it dedicated time so it happens!


Turn off phones and leave them out of the room

I love this time to be totally present as a parent. My kids know I'm not when my phone is around. Whenever we invite teenage cousins over we also find it a huge buzzkill to watch them on their phones. I'm a firm believer that of all the best family game night ideas we can share, this one is the most important!

Find a game every family member enjoys

There's zero shame in playing the same game every time for years! When you find a great game you all enjoy, lean into it! Some of my fondest memories are playing RISK with my brothers or Trouble with my grandma. We loved those games, and they were enjoyed by everyone.
Family Game Night Tradition
During our year at home, we really leaned into we found this simple tradition is already creating lasting childhood memories for our children. It's something so simple I think we often overlook it as a fantastic family tradition!
So if you need a little more cheap/free family fun, it may be a great time to take these family game night ideas and start a regular family game night tradition!
Like these family game night ideas? You may like these posts too:
How to Make Family Movie Night a Tradition You'll All Love
Fun Family Activities:52 Family Date Ideas
Get 365 Date Ideas!
We want to help you have the best date nights ever! Grab this FREE printable with 365 date ideas, a date for every day of the year so you never run out of ideas!