Silicone Popcorn Popper: Easy Microwave Popcorn Popper Review + Instructions
Hello, easy microwave popcorn popper! Here's why you'll love a silicone popcorn popper (flavor, ease of use, money saver) + How to use one!
Two years ago, I had a friend recommend a silicone popcorn maker. My kids love popcorn, and we do a weekly family movie night complete with fresh air-popped popcorn. I kept the idea of buying and figuring out a silicone popcorn popper in the back of my mind.

When I saw an amazing Prime Day sale on Amazon, I decided it was worth trying. I purchased this model. This is a fairly inexpensive thing and I figured it was worth a try!
I am forever grateful for that purchase back in 2020! During our year of spending so much time at home with most of the world shut down, we watched more movies than ever!

Family Movie Night Popcorn
We do family movie night almost every weekend. Once a month we slip in a family adventure day\family date. But on our other weekends, we usually make our homemade pizza dough recipe and enjoy a family movie night together.
Both of our boys absolutely love popcorn! I defaulted to buying the packages of movie popcorn to make it home. Admittedly, I am a much bigger fan of a natural taste or a really gourmet flavor.

We've adapted it for family movie night popcorn, with a variety of flavors. It's been perfect for a movie day when I need to get more work done. And best of all, it's the perfect healthy and cheap snack that actually fills kids up! We use it often in the summer when my kids are ready to eat me out of house and home.
A Kitchen Tool That Won't Take Up All Your Space!
When I was toying with getting an air popper, but I didn't want to have to store one more appliance in my precious kitchen space. So when I saw the silicone popper that collapsed to take up hardly any space at all could be an option, I was super hopeful.
Over 200 bowls of popcorn later, we are just about its biggest fan!
10 Things to Love About a Silicone Popcorn Popper
It's easy to store – hello collapsable microwave popcorn bowl that takes very little room to store!
Size control: You can make a bigger batch or smaller batch
The popcorn is so easy to make!
It's really fast! You can have a snack ready in minutes.
Hello natural popcorn without additives
The popcorn is delicious with a much better taste than bags
You'll save so much money, particularly the more you use it!
It's easy to clean and it's dishwasher safe
The price tag is about what you'll pay for two boxes of microwave bags at a budget grocery store
There are a lot of different flavors and varieties (we'll be sharing some silicone popcorn popper recipes soon!)
Here's how to use a silicone popcorn maker.
Yield: About 6 cups
Silicone Popcorn Popper Instructions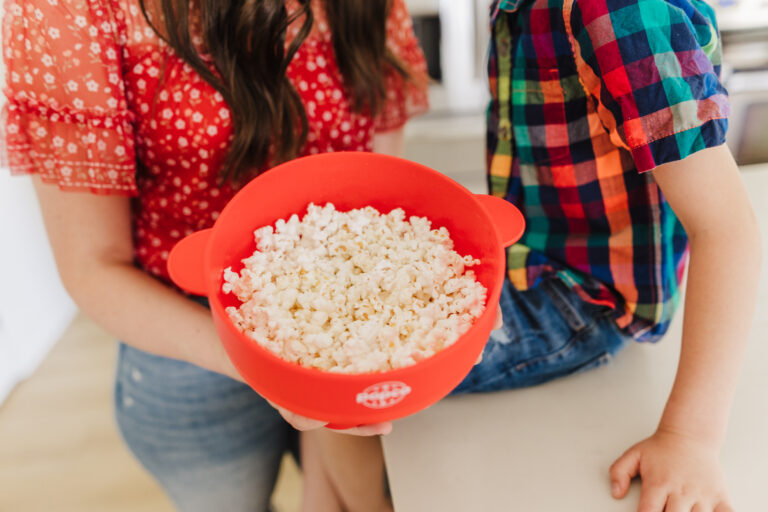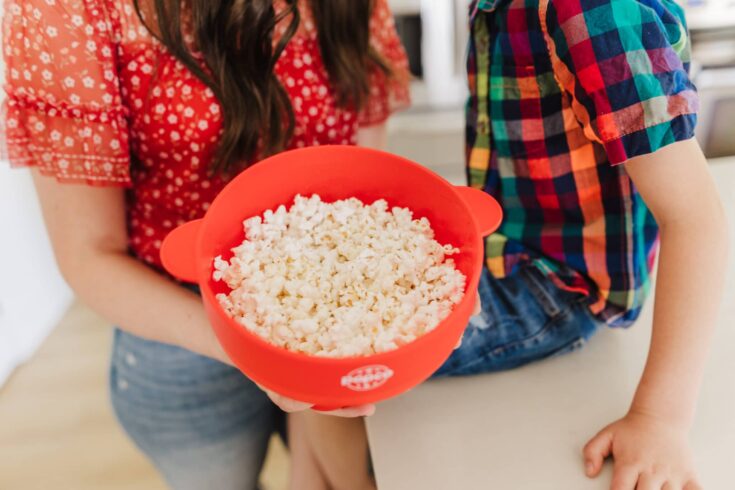 How to make fresh popcorn in a silicone microwave popcorn popper. The easiest recipe, lots of tips for success, and recommendations to get the most out of your silicone popper maker!
Instructions
Step 1: Open the silicone popcorn popper and determine your batch size.
Get your silicone popcorn popper and expand to full size. There are two lines at the bottom, the top is for bigger batches, and the lower line is for smaller ones. I'd recommend trying a smaller batch for your first use, just to get the hang of it and have more even popping capacity.

Get your kernels out to prepare for the next step.

Step two: fill kernels to the line for the desired amount.
Pour your popcorn kernels into the microwave popcorn bowl to the line for the desired amount. I'd recommend erroring on the side of just under the line than over.


Step three: Prepare butter/Butter Flavored Oil
Real butter tastes fantastic and works great for your first time! But I'd highly recommend getting some natural butter-flavored coconut oil. It's easy, vegan, and most people prefer the taste!
For butter: get 1-1.5 TBSP of real butter and slice into thin slices/smaller cubes. This helps it melt more evenly.
For butter-flavored oil: Scoop about 1.5 TBSP of butter-flavored oil for a small batch of popcorn.
Place on top of kernels and keep the lid off for the next phase.

Step 4: Melt the butter/coconut oil to evenly coat the kernels
Consider this a pre-cook step. We're just trying to melt the butter/coconut oil but not cook the kernels. Be sure to keep the lid off, and cook on high for about 30 seconds. The goal is to just barely melt the butter or oil. If you need more time, add 15 additional seconds.

Step 4: Season the Kernels
Once the butter/oil is at last mostly melted, remove the silicone popcorn popper from the microwave. Get a spoon and stir to coat kernels evenly with butter.
Add salt to taste (I do about an 1/8 tsp (5 shaker shakes) to start with) and stir again.

Step 5: Pop the popcorn
Grab the silicone lid. Put the lid on top of the bowl (loosely, and towards the top where it naturally falls). Every microwave is different, so be sure to read the note below. But for most, you'll want to pop for 3 minutes on high. *You can also use the popcorn button on your microwave and pop like a stand 3-ounce popcorn bag. If you're making a smaller batch, that timing is usually perfect.

IMPORTANT NOTE:
Listen until you hear kernels popping longer than 3 seconds apart, and stop your microwave. It's better to leave some kernels than having burnt pieces. You'll also get a feel for the perfect timing for your microwave. Some run hot and pop a little faster. Some may need an additional 30 seconds-1 minute to fully pop. But just be careful to avoid burning and ruining your batch.


Step 5: Final Seasoning and Enjoy!

Remove from microwave and taste to see if you need any more salt. Some people love to melt more fresh butter to drizzle on top. You can also add any other flavors/seasonings to finish your popcorn.

Serve and enjoy delicious fresh popcorn!
Notes
Please see the important note above in step 5.
I recommend starting with a small batch for your first trial.
Recommended Products
As an Amazon Associate and member of other affiliate programs, I earn from qualifying purchases.
Silicone Popcorn Popper Favorite Products
Check out this list of items you can order on Amazon to make delicious popcorn at home. Just add to cart, and they'll all load to your Amazon cart at checkout.
Like this idea? Be sure to check out these resources too:
Easy White Chocolate Popcorn
Halloween Popcorn Mix(Opens in a new browser tab)
The Best Family Movies for Family Movie Night
Get 365 Date Ideas!
We want to help you have the best date nights ever! Grab this FREE printable with 365 date ideas, a date for every day of the year so you never run out of ideas!