Front Door Makeover: DIY Spring Porch Refresh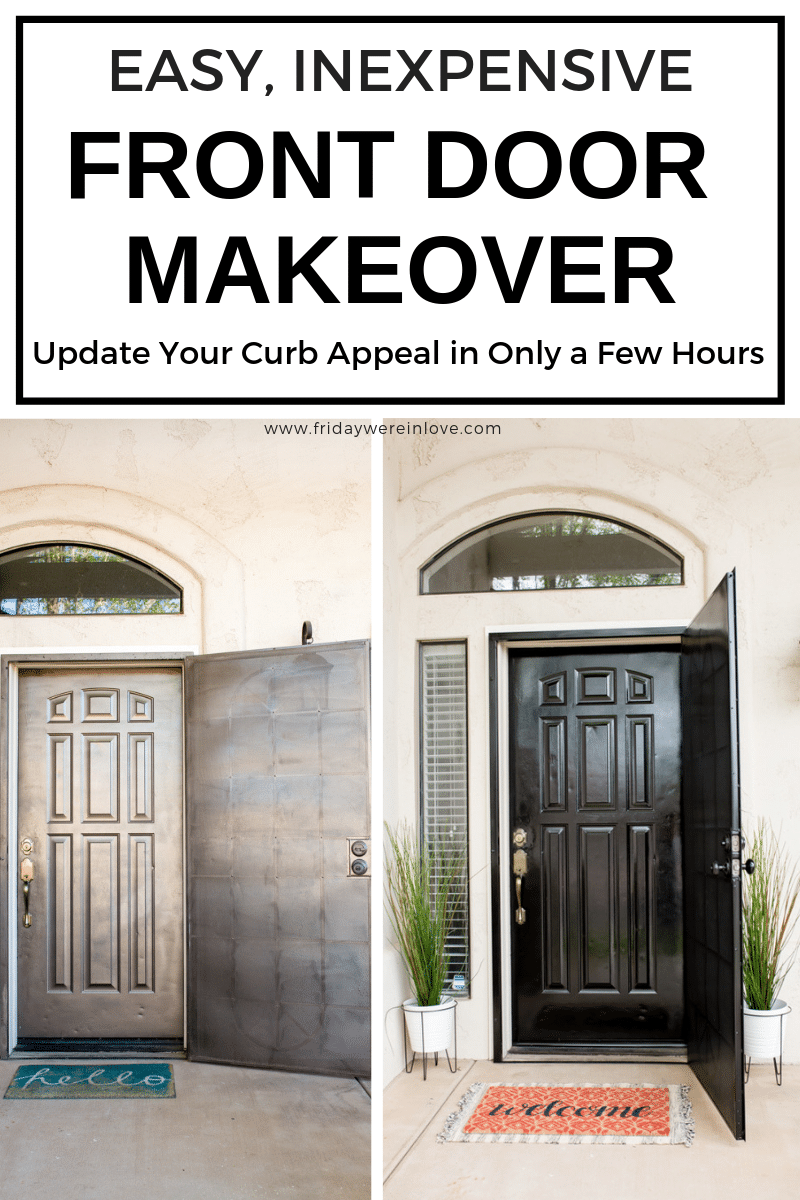 This post is sponsored by Lowe's. But our front door makeover plans, designs, and love of the front porch update are our own!
When we bought our home we learned a lot about its history. There have been two previous owners, one who lived in it the majority of its life. After this time and just prior to our purchase, it spent a few years as a rental. As we've dug into home projects we've discovered some things were lovingly and intentionally built. But on the flip side, there are plenty of things that were quick fixes for a rental or home sale that could use some work.
Our front door and front security door were certainly those things. The door is quite old, and well used and worn with lots of dings. I love to think of how many friends and small children came home through it! The security door was added for security and also to help the prior owner enjoy open doors when the weather is lovely in Arizona; something we like to do almost half of the year!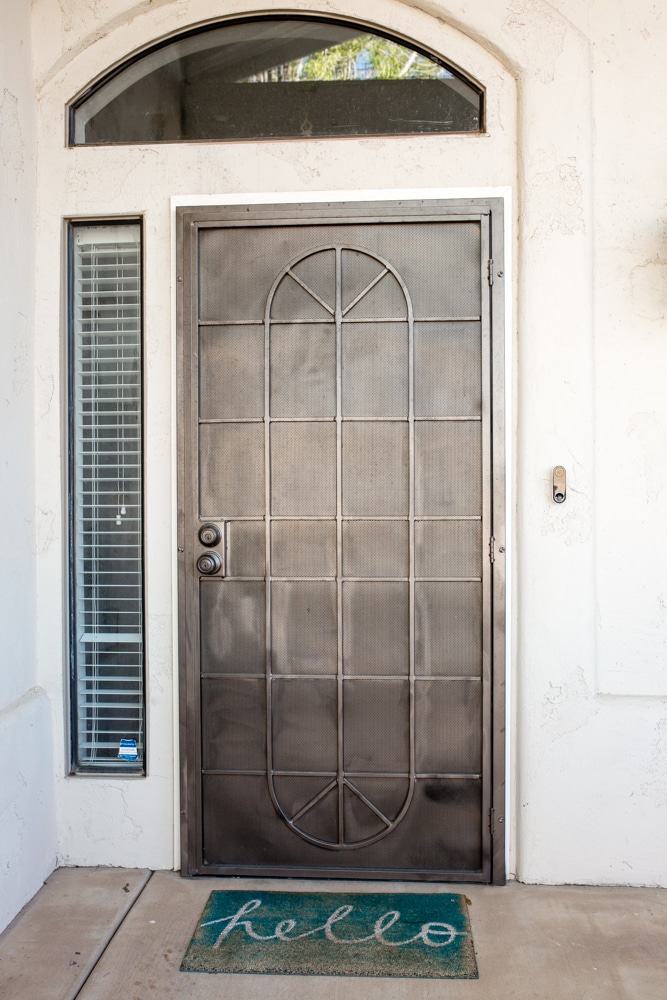 Updating an Old Front Door
A metal front door is fantastic for function. However, it's not known to be the most beautiful design element.
The beat up front door and the metal security door were spray painted a weather copper color by the previous owner. One that made things looks decent upon purchase, but wasn't quite the right fit or coloring for the door. Not to mention they haven't worn well. The colors started to fade in spots, and as the front mat started to wear down, so did the door's paint job.
We knew we wanted to keep it because you just can't beat the functionality. So, in an attempt to up the curb appeal, a fresh paint job was the most logical choice for updating an old front door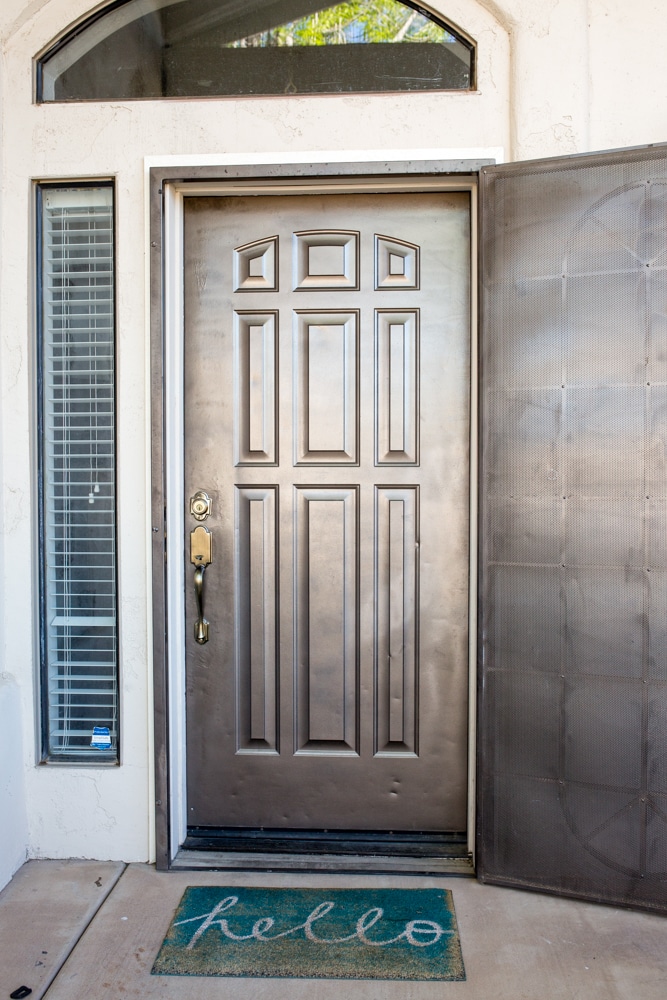 Here's the thing, even if they were excellent quality, it would still be time for a change. We have finally come to terms with our decor style. We are more modern people that love comfortable classics. I also love to add a little pop of color to keep things fun. Even if this door was in fantastic shape, I knew a little paint would go such a long way to modernize it and make the home feel more like our own.
I debated doing something really fun with the door color. I really love color! But a modern classic look won out because I know we can always refresh the front porch decor and add some bright colors there.
Black Front Door
I'm loving that black doors are in style right now. It's such a great classic modern update to a home. I knew against our grey-beige (greige?) house it would be just the update I'd love to come home to. Plus a black front door still lends to plenty of fun colors!
We knew a modern look would be achievable by painting two doors in only a few hours. Not to mention, the paint really makes such a big impact with little cost!
The more we thought about it, the more we knew spray painting a front door was the best choice. With the metal grates of the security door, we would be set to evenly coat each area. With the dinks and character of the older front door, we could evenly coat each surface with a thin layer of spray paint.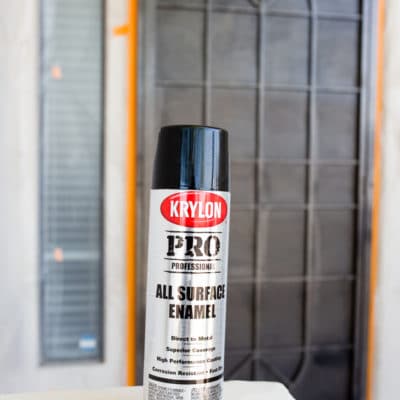 Front Door Makeover
As we did our research, we opted for the Krylon Professional All Surface Enamel Paint in Black from Lowe's. Living in Arizona means a lot of sun. It also means dust storms as well as heavy monsoon rains. The enamel means long wear, easy clean, and the ability to cover both the metal and the wooden door while maintaining the same look on each surface.
Setup was pretty easy for the security door.

How to Spray Paint a Front Door
We went ahead and used a plastic tarp and taped all around the area. This is one place you want to very careful of overspray. That can go several feet beyond your area, and you don't want to have to repaint the porch or the house. Some careful taping and a tarp in all areas worked perfectly.
From there it was even spraying in uniform lines slowly and carefully until the door went from dingy brown metallic to a crisp black front door.
One coat looked good, but we opted for two for an even richer look.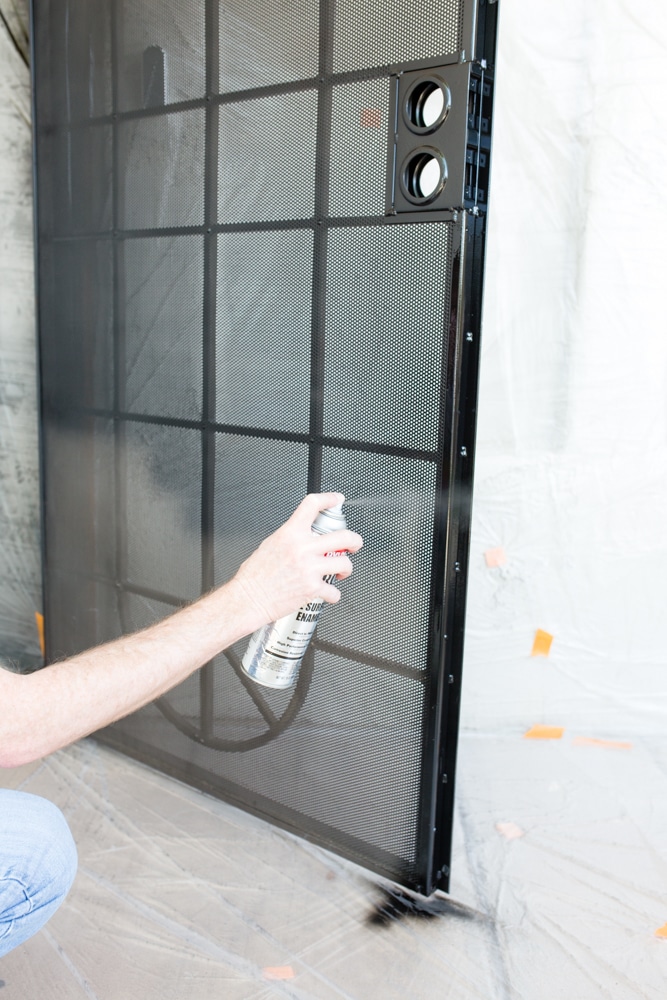 For the main door, we knew it would be easier to remove it and paint it with hinges and hardware removed. So we went ahead and took it out back ready for its update.
Can you see the difference the first coat of paint made instantly? There were giddy squeals coming from the woman taking this picture. I couldn't believe what a difference a quick coat of Krylon spray paint could make!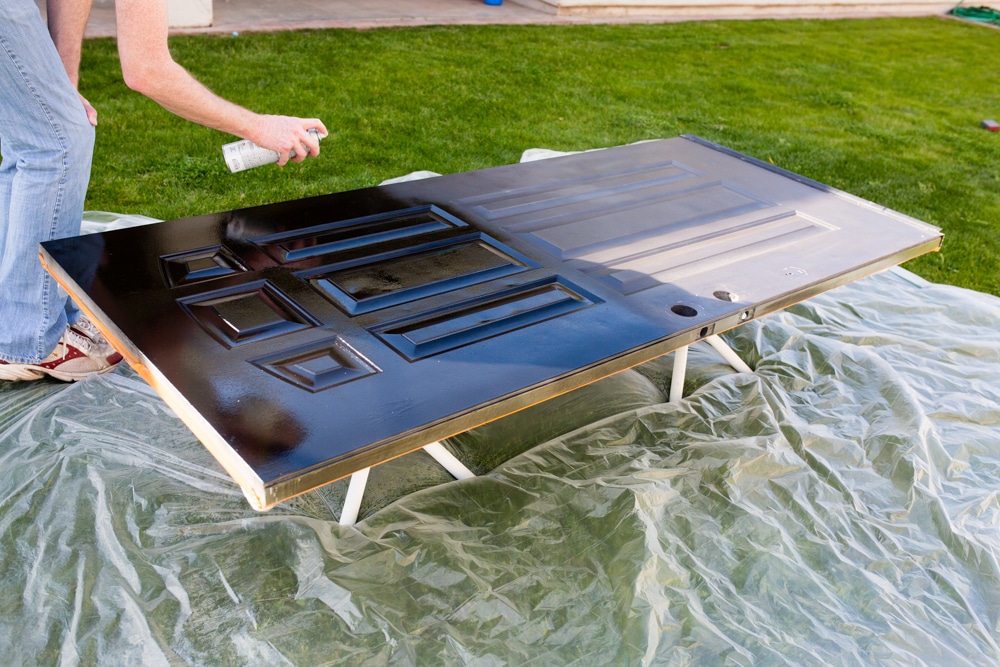 Painting the Front Door Black
Two coats of paint later and the door was finished, and dried really quickly! Like we took a small family walk and came home to a door ready to be hung. It was exciting how quickly we could see the results!
I've never really decorated the front porch. After three years in this house, I realized why. It's because it just didn't really feel like me. As soon as the paint plans went into action and I had a vision I knew I was ready to do something to spruce up the front porch.
I'm a bit of a minimalist with outdoor items. The elements can just beat them up and the heat of an Arizona summer is a very intense thing. But, a few items were definitely in order!
I asked on Instagram stories what color everyone thought I was painting my door, and most people said red, turquoise, and navy. You are my people, and I'd love any of those colors! We actually toyed with navy for a while before settling on black. Guess what really sealed the deal, finding most of those colors in a welcome mat and knowing I could still use them just fine with a black door.
I'm loving the trend to add a larger thin mat with some texture behind the welcome mat. I bought a turquoise mat and this red mat knowing I could play around with the color. That was enough for me to feel like it was my front porch while still feeling more modern and classic.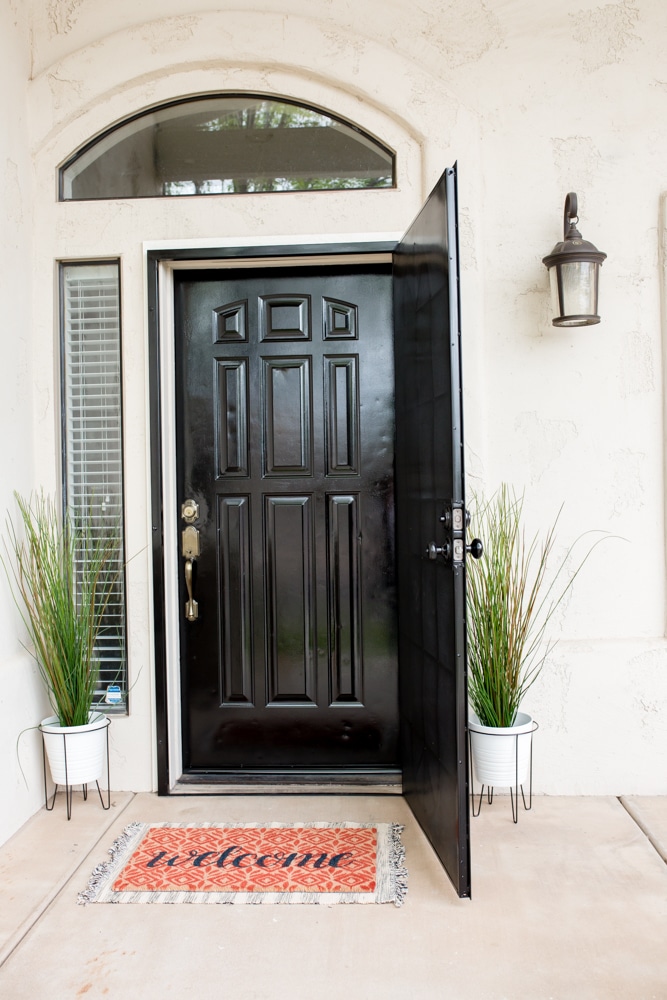 DIY Porch Refresh
I knew a planter or two may be a good idea as well. A smaller grassy plant that my toddler could still see who is at the door through the window combined with some modern lines were just in order.

Curb Appeal: Front Door Makeover
Overall I couldn't believe how only about four hours total, six cans of spray paint, and some elbow grease spray painting made that big of a difference!
We went from a porch that could use a little love, to one I smile at every time I drive home!

If you're looking to up your curb appeal this spring, I can't recommend a few cans of Krylon Professional Spray Paint from Lowe's enough! It changes everything and updates any front door into a front door makeover you'll love.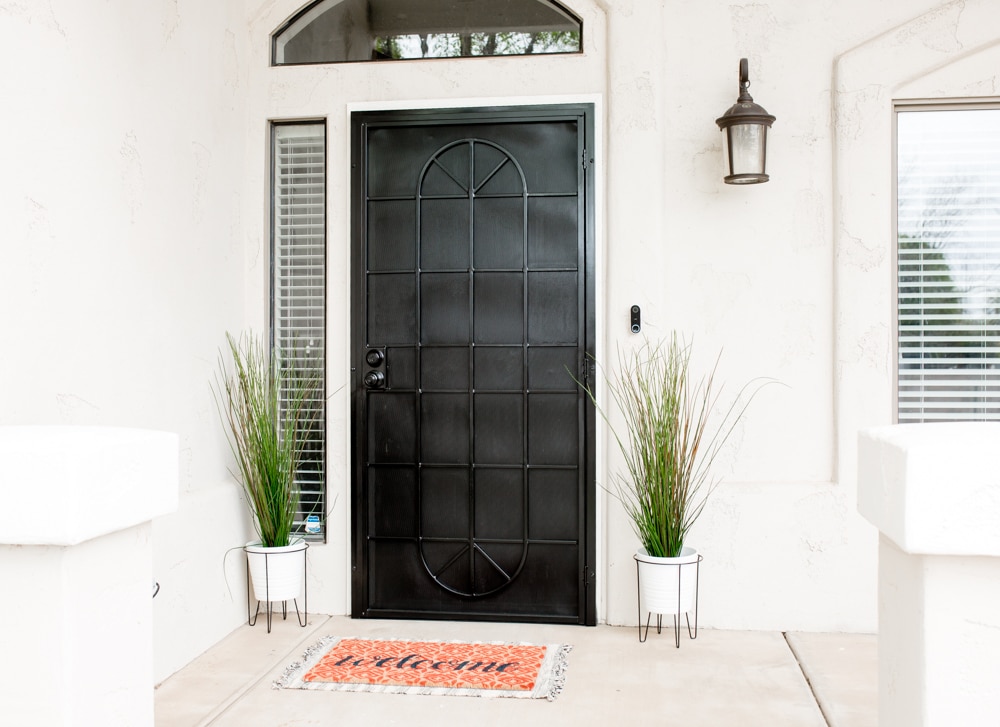 Like this front door makeover? Here are some other posts you may love too:
DIY Affordable Gold Picture Frame Hack
Easy Way to Get Your Home Ready for Spring
Creating a Romantic Backyard Date Space
Get 365 Date Ideas!
We want to help you have the best date nights ever! Grab this FREE printable with 365 date ideas, a date for every day of the year so you never run out of ideas!