52 Fun At Home Date Ideas that are just as much fun as a night out! These stay at home date ideas set you up for date night in every week of the year!
When our baby was born about a year and a half ago, we found ourselves in the hardest date night situation. We couldn't leave the baby at home. Also, we couldn't take our toddler out on the town. If we tried to leave just him, he'd cry traumatized that his whole family was abandoning him. Jacob and I had to get very real about date nights at home.
Rethinking DAte Ideas At Home
There was one afternoon we went out while grandparents had both of the kids and he remarked how good this felt. Jacob said something really interesting to me when I started planning date nights in. He admitted to me that date nights in don't really feel like a date night to him. Even if we do something cool, even if we set the mood, even if it's super intentional, it just doesn't do it for him filling the date night bucket.
I totally get that! Clearly, we're let's get out and see the world type people. But we also had kids whose needs meant we needed to stay in. In the long run, it's so much cheaper than therapy we joked!
The problem was, at home date ideas seemed hard to come by. We've been asked to please share ours since we started Friday We're in Love. I always knew the day would come we'd have enough to make a list of fun date night ideas at home I could be proud of. So many seemed so cheesy, and I had to really get creative to find good ones I hadn't heard of before that we knew we'd both be excited about. I started working on this project two years ago!
Well, I took this as a challenge accepted! Let's ditch your typical date nights at home list, and come up with some truly unique and original date ideas to do at home.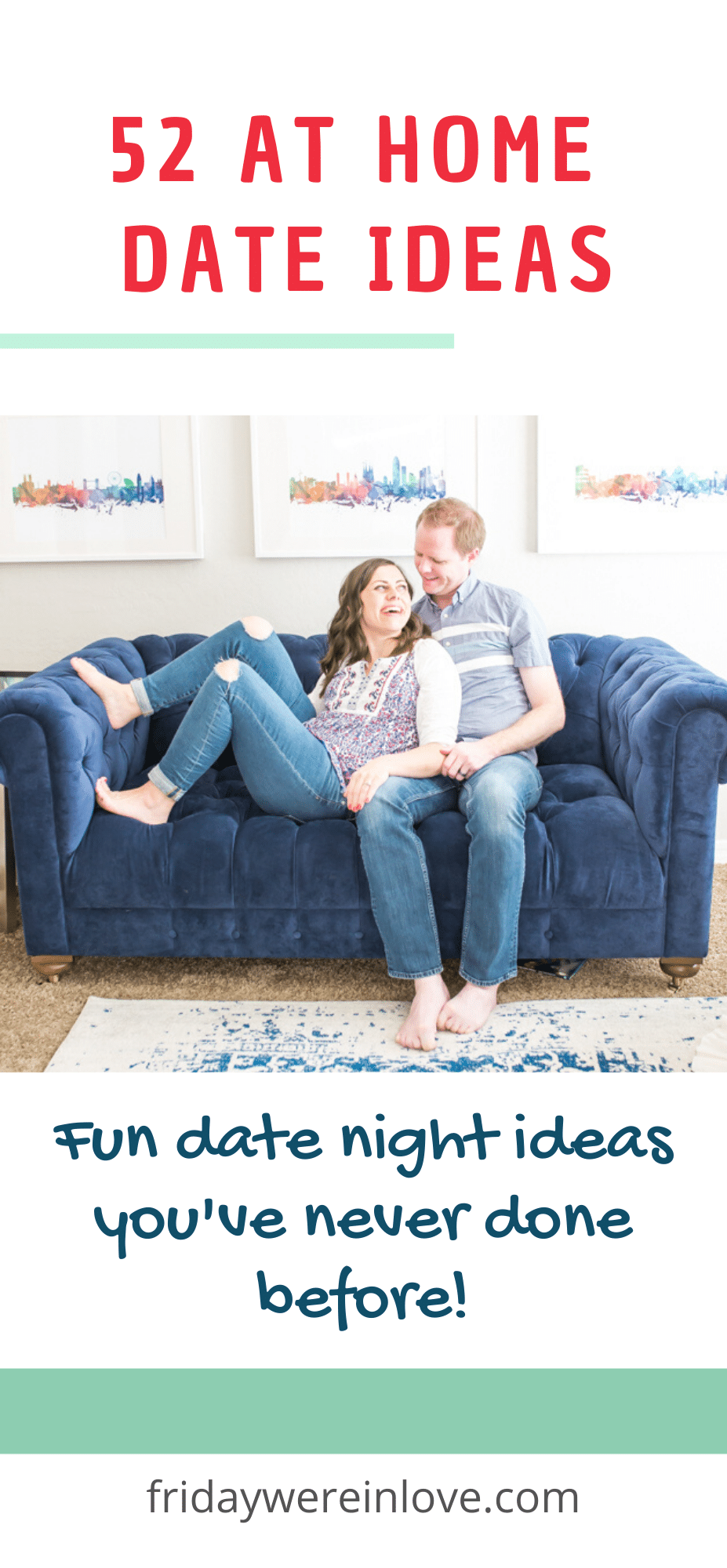 At-Home Date Ideas
Cook a romantic dinner for two
Here's our favorite way to plan a meal and make a Gourmet Cooking for Two Date Night happen.
Set up a backyard movie night
We love our projector and outdoor screen that makes backyard movies so easy! But a laptop and blankets are really all you need!
Have a funny Youtube videos date night
Try a Date Night in Box or another Date Night Box for Couples. Plus if you use this link and the Happily promo code: FRIDAYWEREINLOVE you can try one for 50% off
Stargaze in the backyard
Have a fondue picnic
Take the 5 Love Languages quiz and read excerpts from the book
Try a 23andMe kit for a full DNA-based genetic analysis. Review your results and share your discoveries.
Play a board game or card game for two. Our couples' games list will help you find the perfect one for you!
Have a chocolate taste testing night with a box of fine grade chocolates
Create a s'mores bar and roast marshmallows in the backyard, over the grill, over the stove, or in the toaster oven.
Do an escape room at home. Grab this at home escape room game.
Create a charcuterie board and enjoy a slow dinner full of conversation
Recreate a famous painting with an at-home paint night kit
Have a sexy game night in
Take The Couple Checkup quiz and discuss communication, intimacy, finances, romance, etc. with easy ideas to make some simple changes to improve marriage
Have a jigsaw puzzle night
Carve pumpkins together. I've had friends carve Christmas pumpkins instead of Halloween. Find a time of year pumpkins are in season and come up with something creative.
Bake and decorate sugar cookies. Go fancy with royal icing art, or do something quirky like our zombie sugar cookie date night.
Draft New Year's Resolutions together and take time to plan the things you want to do this year


Stay At Home Date Ideas for Couples

Built a romantic fort, and have a romantic fort date with activities of your choosing
Get a copy of Do You Know Your Husband and Do You Know Your Wife and enjoy sharing your quiz answers
Have a read-a-thon style date either sharing a book together or each choosing your own novel and snuggling up for some quality reading time.
Decorate for the holidays. Decorating the tree, setting up the lights, and decking the halls are a fantastic festive date!
Find a handful of TED talks and listen to several inspiring messages. Discuss your favorite parts of each for a truly intellectual date night.
Get a bunch of glowsticks and have your own neon dance party. It's like a legal rave at home.
Create a couple's bucket list. Get your dreams on paper and make them happen!
Have breakfast in bed, even if it isn't traditional breakfast time.
Take the Strengthsfinder 2.0 quiz and share your results and how you plan to build on your innate strengths.
Rent or borrow a Wii and play interactive games together
Find Your Enneagram types and talk about how that impacts your life and relationship. Trust me, you can spend hours on all the resources out there!
Cook dinner together, and try eating it blindfolded.
Have one partner make dinner blindfolded. The other can guide their hands through the motions. It's kind of like the famous Ghost scene without having to buy a pottery wheel. Just be careful with knife handling blindfolded!
Do a "Drive-In Movie Night" in your garage. Set up a movie to watch from your car.
Get a gingerbread house decorating kit, decorate gingerbread houses. Note, this now happens more often than just at Christmas time! Many companies make a seasonal version for each holiday. You can also stash one and celebrate Christmas in July or at any other time!
Build your own structures out of graham crackers and frosting. Much like gingerbread house decorating, but the sky is the limit with your design and structure. Also, here's how we made this into a group date, and built the graham cracker roller coaster of our dreams.
* If you have gluten allergies in your family, this works with popsicle sticks too!
Heat things up with a Love is Art kit. My friend Kayla swears by this one!
Look up massage techniques and give each other massages at home
Buy Nerf guns and have a nerf gun war throughout the house
Play a round of bocce ball in the backyard
Have a water fight with squirt guns, water balloons, or spray bottles
Set up a tent in the living room and have an indoor campout.
Get an adventure book for couples. Scratch off an adventure to do together. They all make excellent date nights! Spoiler alert, we have a date night sharing this product coming very soon, but I couldn't wait to share it with you!
Have a homemade pizza night. Here's our favorite easy homemade pizza dough recipe that comes out perfect every time and freezes like a dream if you want to make it in advance. Try getting fancy with toppings and making your own gourmet pizza or original creation at home.
Try to beat an entire video game together in one night.
Recreate your first date at home. First of all, order takeout or try to recreate what you ate. Then, come up with an at-home version of what you did.
Have a movie marathon. Find a trilogy you love (or think you'll love) and watch all three movies back-to-back.
Have another couple over for a double date dinner party
Set goals together as a couple. Come up with goals by category: we like to do financial, spiritual, physical, and mental goals. It's fun to come up with a set together. It's a fantastic New Year's date idea, but there's never a wrong time to dig in and set some dreams up for success together.
Taste test date night: round up all the different places that make one type of dish or dessert in your area, and bring them home for a taste test date night in. Rate each on flavor, texture, presentation, etc. For example, you could buy several donuts in your area and spend the evening playing food critic.
Roll your own sushi. A sushi rolling kit and a few ingredients will make you feel like you're out at a restaurant in no time! You can also customize your sushi if you're not a traditional fish fan. Get creative, mix it up, and enjoy preparing the ultimate hipster date night at home.
Make a TikTok Video. If you aren't on TikTok, you should change that! I'm FridayWereInLove there too- come find me! It's fun, it's goofy, and anyone can try their hand as a videographer! They make it super easy, and all you need is a phone. Look up one of the trending challenges and you'll find something fun to create yourselves.
I had to limit myself to only 52, which makes me excited for round two of this series!
So, friends, I hope you find you can go on a date every weekend, even without a babysitter. And there are so many fun at-home date nights to be had!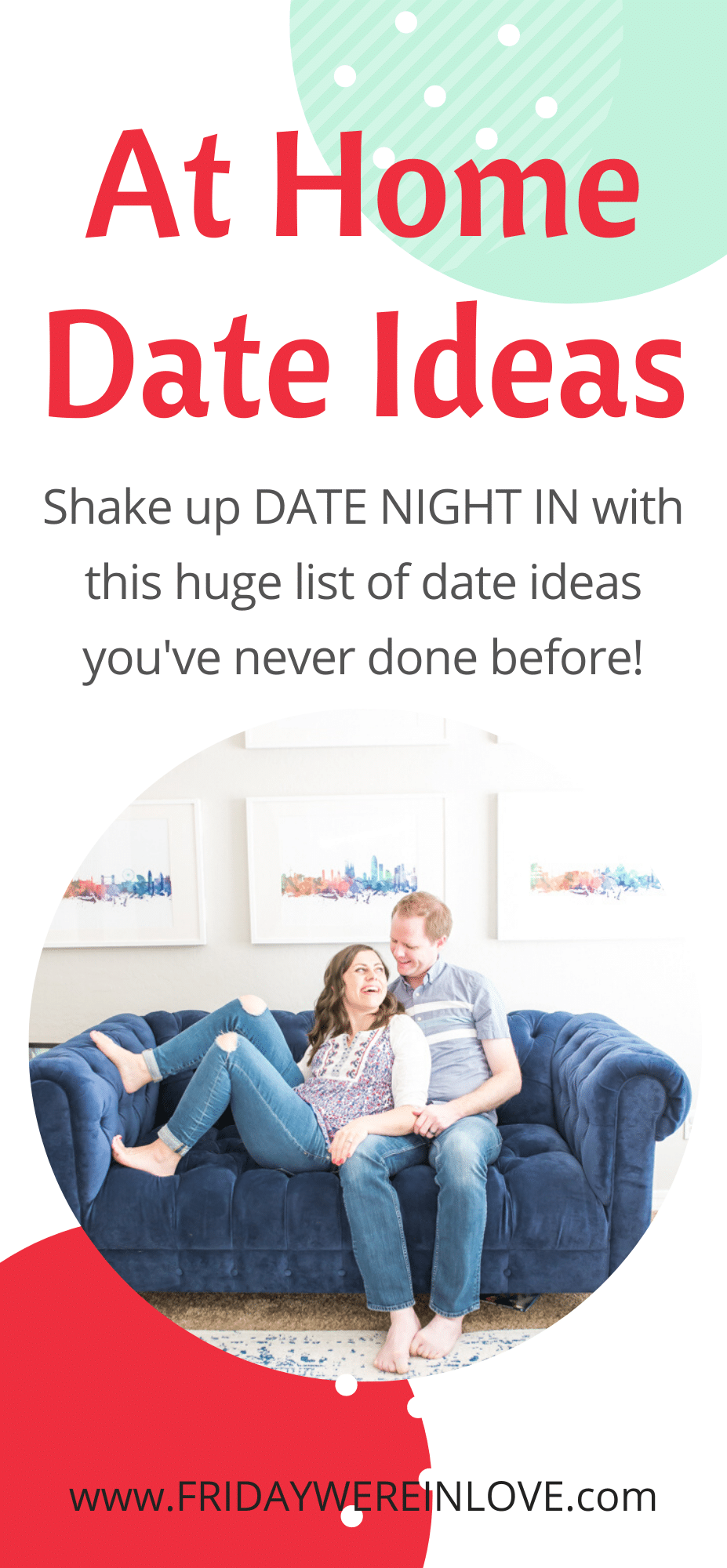 Like these at home date ideas? You may like these posts too:
Date Night Subscription Boxes for Couples Round-Up + Review
Date Night Gift: A Year of Dates + Free Printable!
Stay At Home Date Ideas for Couples
Get 365 Date Ideas!
We want to help you have the best date nights ever! Grab this FREE printable with 365 date ideas, a date for every day of the year so you never run out of ideas!