Date Night Gift: A Year of Dates + Free Printable!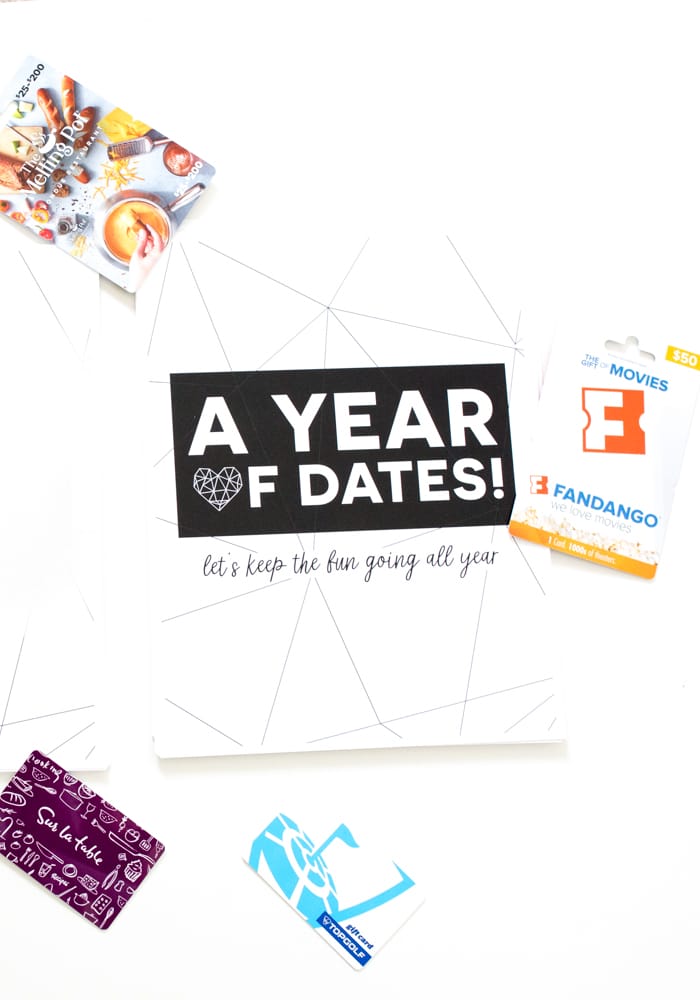 We have a huge announcement and some exciting news! This has been several months in the making, and we can't wait to help you with the best couple's gift idea that has made a huge difference in our relationship! I'm talking the ultimate date night gift: a year of dates plus a free printable to gift it yourself!
Date Night Gift
As a couple who loves to try new things and made a goal to go out on a date once a week, giving each other fun date nights is one of our favorite things! Every birthday, Christmas, anniversary, and sometimes for no reason at all, we love to give the gift of experiences. A date night gift of at least one date to look forward to is just our jam!
But our first Christmas married I had a friend spark an idea and I asked her if she'd be okay with me blogging about her brainchild, gifting a year of dates. I was so excited to share 12 months of dates with my own take on it. She said yes, we both watched our posts go viral, and the rest is history!
A Year of Dates
I can hardly believe it's been almost a decade since that first year of dates gift. My husband Jacob loved it so much I've given him a form of it every year. He's even surprised me and gifted me a version of the year of dates date night gift! We've done this so often and blogged a few of our gifts. But I've always wanted to do more to help others plan their own gift and make it easy and fun so more couples can get out and date! And today's the day I get to share the dream and tools to make this happen!
For all the info, watch the movie below! It's a quick explanation of what, how, and all the resources to make your own!
What is the Year of Dates Date Night Gift?
It's essentially 12 pre-planned, pre-paid date ideas you gift your significant other. They unwrap not just one present in the moment, but an experience gift that you enjoy together all year long!
There's a lot of ways to do it, you can gift monthly dates, quarter dates, or plan 52 Dates to Do This Year, it's all up to you!
Does it Take a Lot of Money to Create This Gift?
The short answer is, it certainly can! However, the budget you set is entirely up to you. We may like to gift each other big dates that wouldn't be in our normal date night budget, but even as a date night blogger, I still pull in a few cheap date ideas or free date ideas to make the budget for this gift work.
The good news is, even if you don't have the means for splurge date ideas, you can include all free date night ideas and the gift is still a wonderful and thoughtful present!
Feel free to go big with big spender date ideas, or keep this gift as a free gift idea. The budget is entirely up to you!
I'd also add that assembling it can also add up, but I'm so excited to share our completely free printable you can use to make the assembly and the gift itself look fantastic without any extra costs! Skip to the bottom of the post to grab your free printable!
Does it take a lot of time?
It takes a lot of thought, which can take a lot of time! But we've shared over 1,000 dates here on Friday We're in Love, and spent a lot of time categorizing by type, price, etc. so you can find the perfect date for you each month.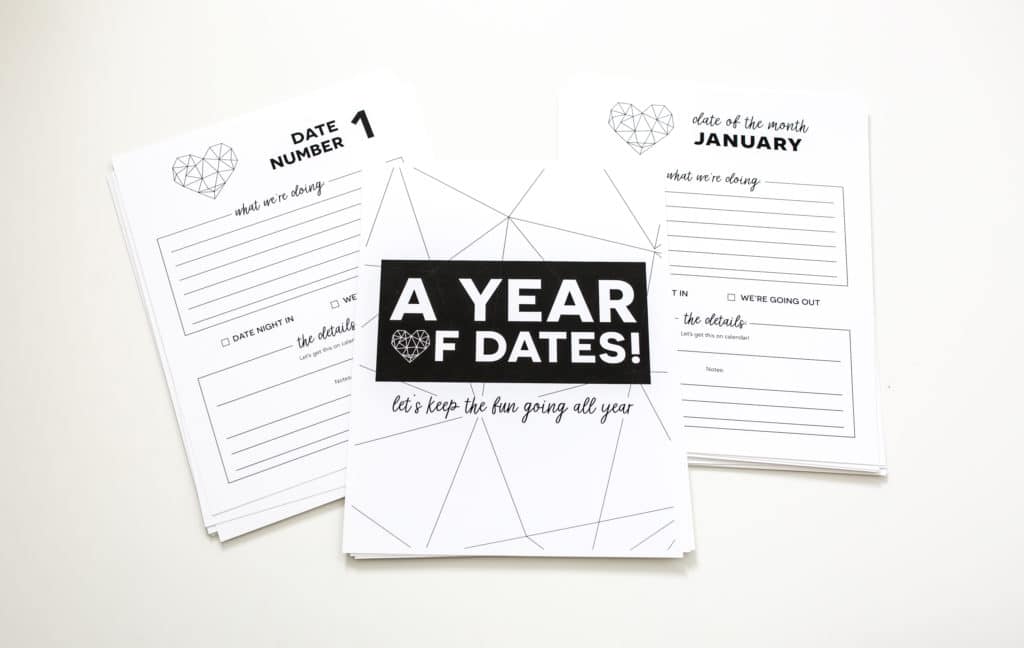 Also, here's the REALLY exciting part.
I've given a version of this gift over a dozen times between Christmas, birthday, and anniversary presents. I have so many tips and ideas that I couldn't fit this all in one post. So over the next 12 weeks, we're going to be sharing a Year of Dates posts every week to help make this super easy on you! That includes tips on how to plan, how to budget, date ideas lists at all budgets, how to present the gift, and so much more!
Also, we want to help you make date night happen all year long! We'll be doing several giveaways for pre-paid date nights you can use as a part of a year of dates gift. We're talking awesome dates we've done ourselves or are dying to do ourselves. Stay tuned on Instagram for more information, I promise these are amazing giveaways you don't want to miss out on!
Year of Dates Free Printable
Today I'm so excited to announce we're launching a free printable to make it as easy and cheap as possible to print your own Year of Dates gift template without sacrificing style or design.
It's designed in a crisp black and white to keep printing costs low, and easy to print from home. The professional design is meant to work on all types of printers. Also, it is a blend of masculine and feminine design so it's gender-neutral for anyone wanting to give the gift of dates!
All it takes is deciding which version you'll need.
The Month Format: Perfect for those giving one gift each month! It sets you up to share your date for each month of the year in chronological order.
Numerical Format Year of Dates Printable
The Numerical Format: Perfect for those who might not give the full 12, but still have plenty of dates to give this year! It's also fantastic if the timing of the date doesn't matter, and you want a little spontaneity with your gift. But if you're a number lover who still wants to gift 12 dates, we have 1-12 all ready to go in this printable too!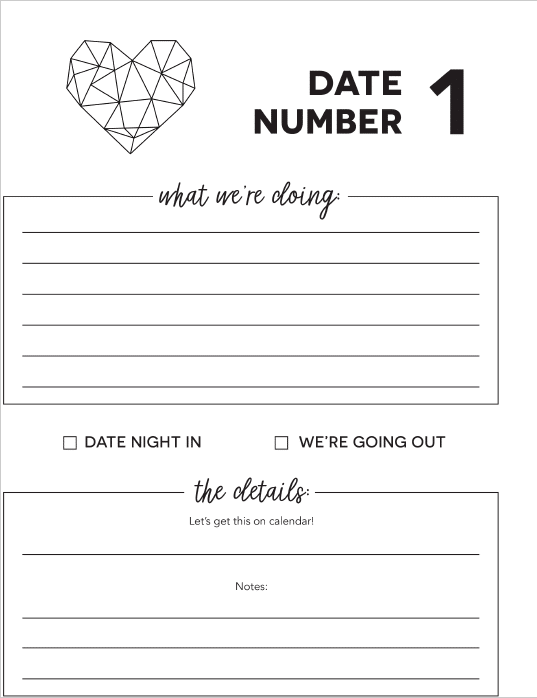 We'd love to see every couple give the gift of date nights this year! We'd love your help sharing and getting the word out! Please tag us on Instagram and Facebook @fridaywereinlove
And feel free to push the Pin-It Button and share on Pinterest too 🙂 Let's spread a lot of love this holiday season and let people know they can do it completely free!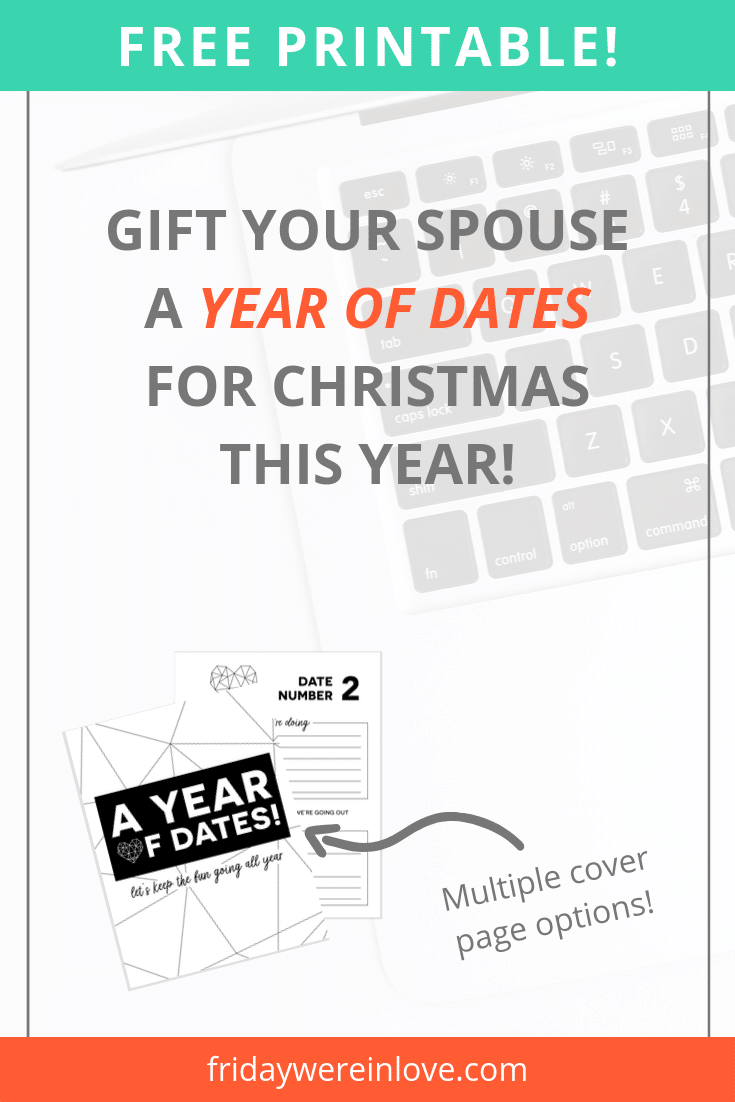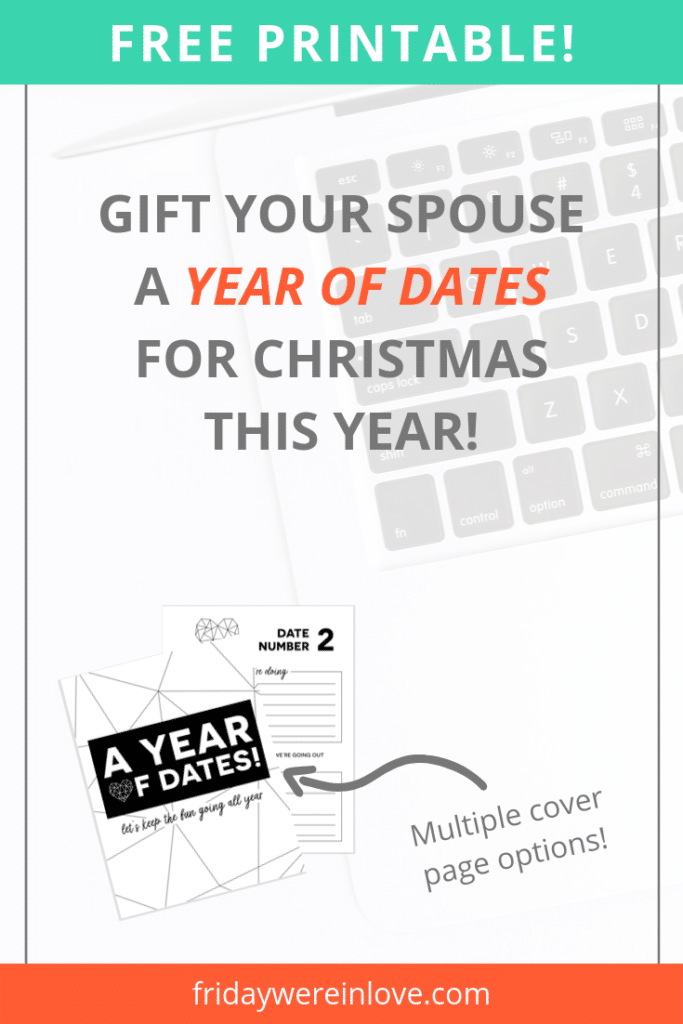 Like this date night gift post? You may like these posts too:
Dates Worth Repeating: 10 Dates We've Loved So Much We've Repeated
Get 365 Date Ideas!
We want to help you have the best date nights ever! Grab this FREE printable with 365 date ideas, a date for every day of the year so you never run out of ideas!