Stocking Fillers: The Formula That Makes Stocking Stuffers a Breeze!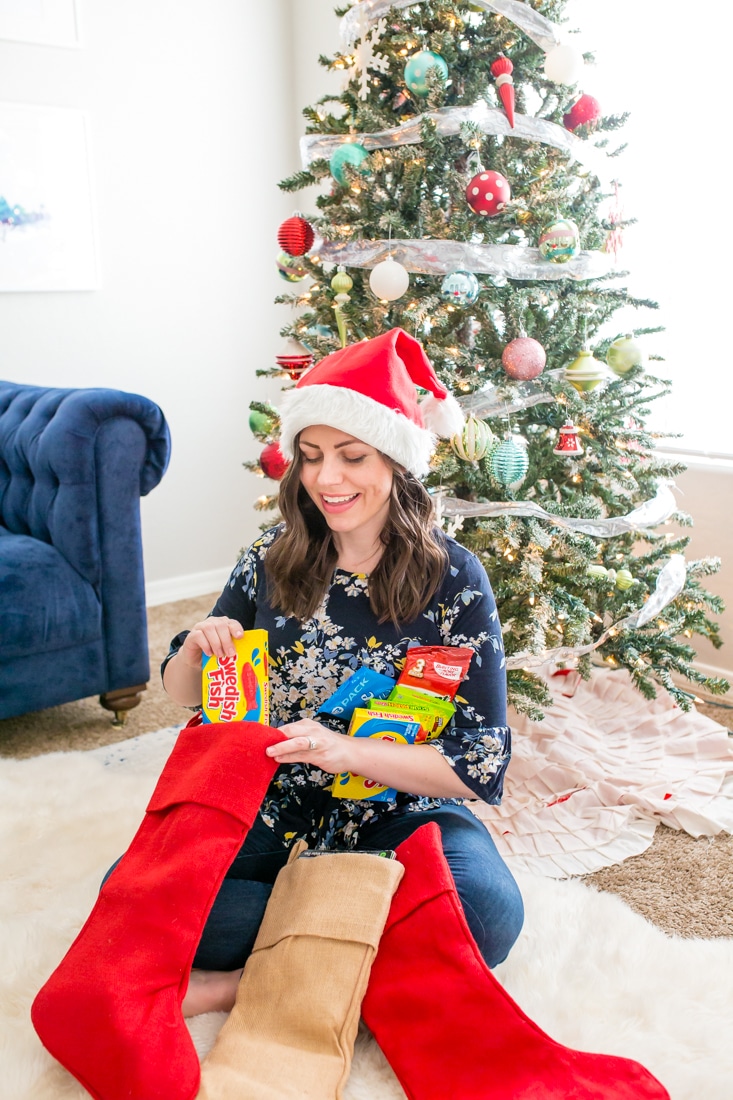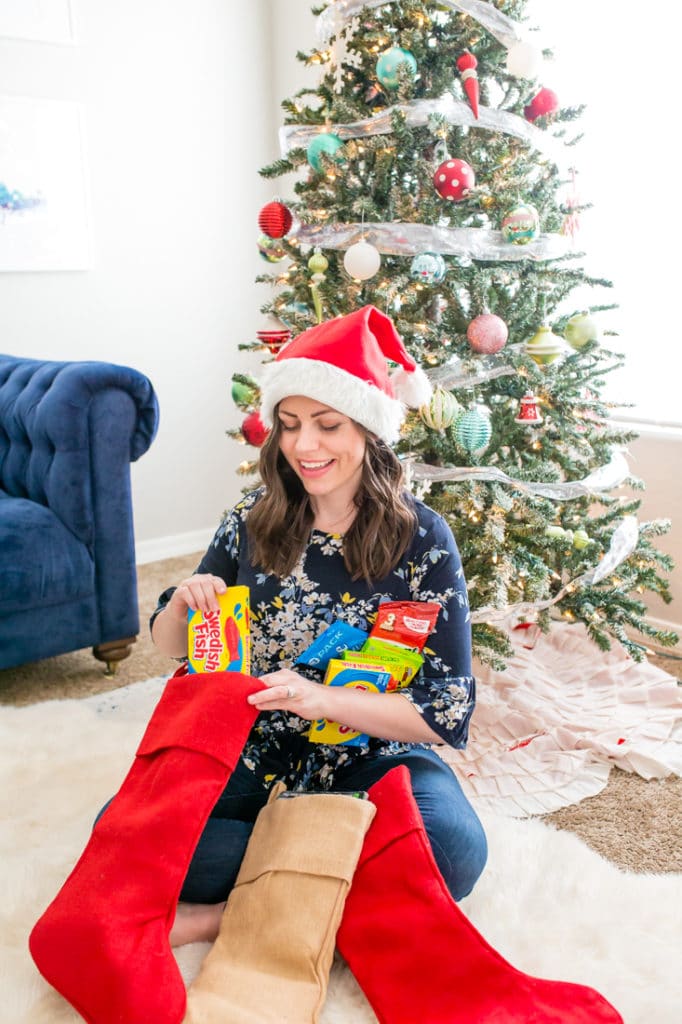 This post is sponsored by Mondelez, who makes some of our favorite stocking fillers!
Admittedly, as a former project manager, I usually plan life for six months in advance. And when it comes to the holidays, it's no exception! I love to make lists, find deals, and get started as early as July. However, there's one thing I seem to always neglect and end up needing to plan and purchase for last-minute: stocking fillers that become stockings my family will love. Stocking stuffers somehow end up being the last thing on my mind and on my list.
I've had years I've completely stressed this searching last-minute. There are years I've failed for a pretty empty and less fun stocking. On the inverse, there are years I spend too much and stockings overshadow larger gifts I spent so much time and thought on.
So through my trial and error, I came up with a simple stocking stuffer formula. I keep it simple, but impactful. And I always seem to strike gold with every family member no matter what their age!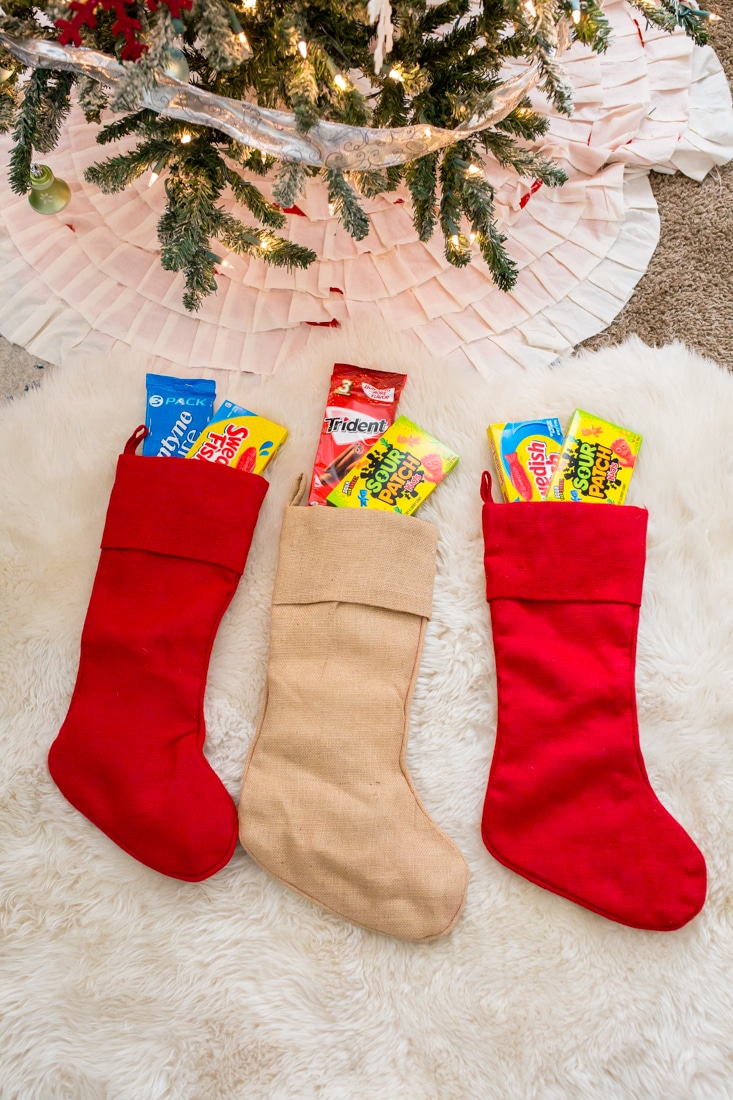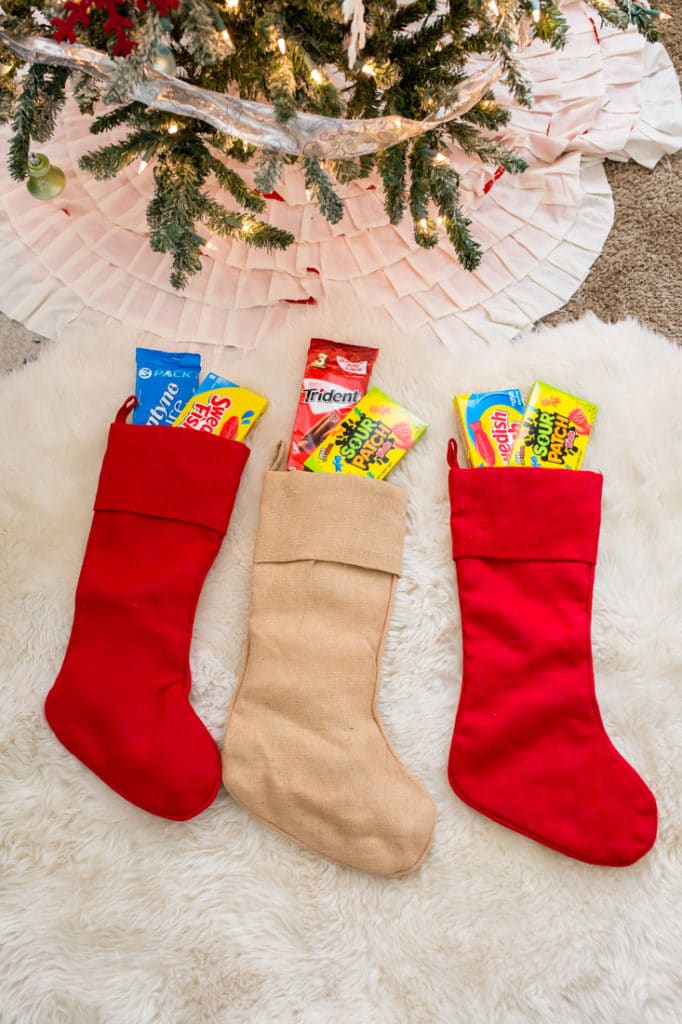 The Formula for A Perfect Stocking: What to Put in a Stocking
Here are the seven easy Items to Include as stocking fillers.
Start with Food
A Treat!
I always think of the legend of how stockings started: kids would hang washed stockings to dry by the fire, and Santa would leave a treat inside. It started with just a treat! And trust me, the right treat can mean striking gold!
A few years ago we had my sister's family for a family gift exchange and gifted movie tickets and movie theater candy boxes to take with them. My nieces and nephew were so excited as older kids and teenagers, they asked if they could open their favorite candy box immediately. I was so surprised that this inexpensive treat was the biggest hit of the whole gift!

My son and husband are obsessed with Sour Patch Kids. I'm a fan of Swedish Fish, a close second for my son! I think most people will agree these two favorite candies are some of their favorites, and they make a great stocking stuffer!
For kids, we grab 2-3 boxes of candy. They work great for a family movie night that week!

For adults who might not eat as much candy as children, we grab some gum. Some cinnamon Trident for me, and some classic Dentyne flavors for Jacob. One candy plus a 3-pack of gum fills the top perfectly and is a hit with teenagers and adults!
An Orange/Apple
Sometimes you just need to fill the toe perfectly. One piece of fruit does the trick perfectly!

Gifts to Include As Stocking Fillers


Something Practical They Need
Almost every year I by my husband his favorite after-shave lotion. It fits perfectly in a stocking, and it's a nice item to restock or keep a backup of.
For adults, it's often a toiletry item. I'm always happy to see my favorite dry shampoo or a new makeup remover cloth in my stocking.
For kids, we love the following ideas: new socks, new underwear, hand sanitizer with a fun holder for their backpack, fresh pencils for school, or an accessory to go with their Christmas church outfit, etc.
Something Fun That You Know They Might Not Buy Themself
My son probably wouldn't use his allowance for a new travel coloring book or a new set of crayons. But I know he loves these items and he will use them!
For kids, this can be a small toy, art supplies, or a new book.
For adults, a book is always a great idea! My husband is a master at finding a new piece of jewelry I'll wear often. Also, I love nail stickers, bath bombs, or a new travel lotion to keep in my bag.
I often get my husband a small tool, a new grooming kit, or some air fresheners for his car.
A Gift Card
I love to grab a gift card to my husband's favorite lunch spot near the office. He's great at grabbing a pedicure for me. We also love to grab an experience for our kids. It can be inexpensive like a small treat, or you can get a family date for them to look forward to.
I've found something to look forward to that is tailored to them is always a hit!
Assembling the Perfect Stocking
It's easy to build your perfect stocking once you've gathered the supplies.
First, stuff the fruit item in the toe. It's the perfect size and shape.
Next, add in the fun items. I like to put these near the bottom so they are the last thing to be opened. They create a fun surprise!
After that, place the gift card and practical item near the middle and the top.
Finally, finish it all off with your favorite theater candy box like Sour Patch Kids from Walmart, and you have set yourself up for the perfect stocking everyone will love and use!
You'll end up the perfect stocking fillers that work for everyone!
Like this stocking stuffer formula? Be sure to check out these posts too:
Stocking Stuffer Ideas for Wife 
25 Stocking Stuffer Ideas For Toddlers
Date Night Stocking Stuffer Ideas(Opens in a new browser tab)
(Opens in a new browser tab)(Opens in a new browser tab)
Get 365 Date Ideas!
We want to help you have the best date nights ever! Grab this FREE printable with 365 date ideas, a date for every day of the year so you never run out of ideas!