A huge list of cute date ideas for your next date night. If you're ready to pull off a romantic comedy-style date in person, these cute date nights are for you! Plus tons of bonus date night ideas lists to help make your next date night perfect!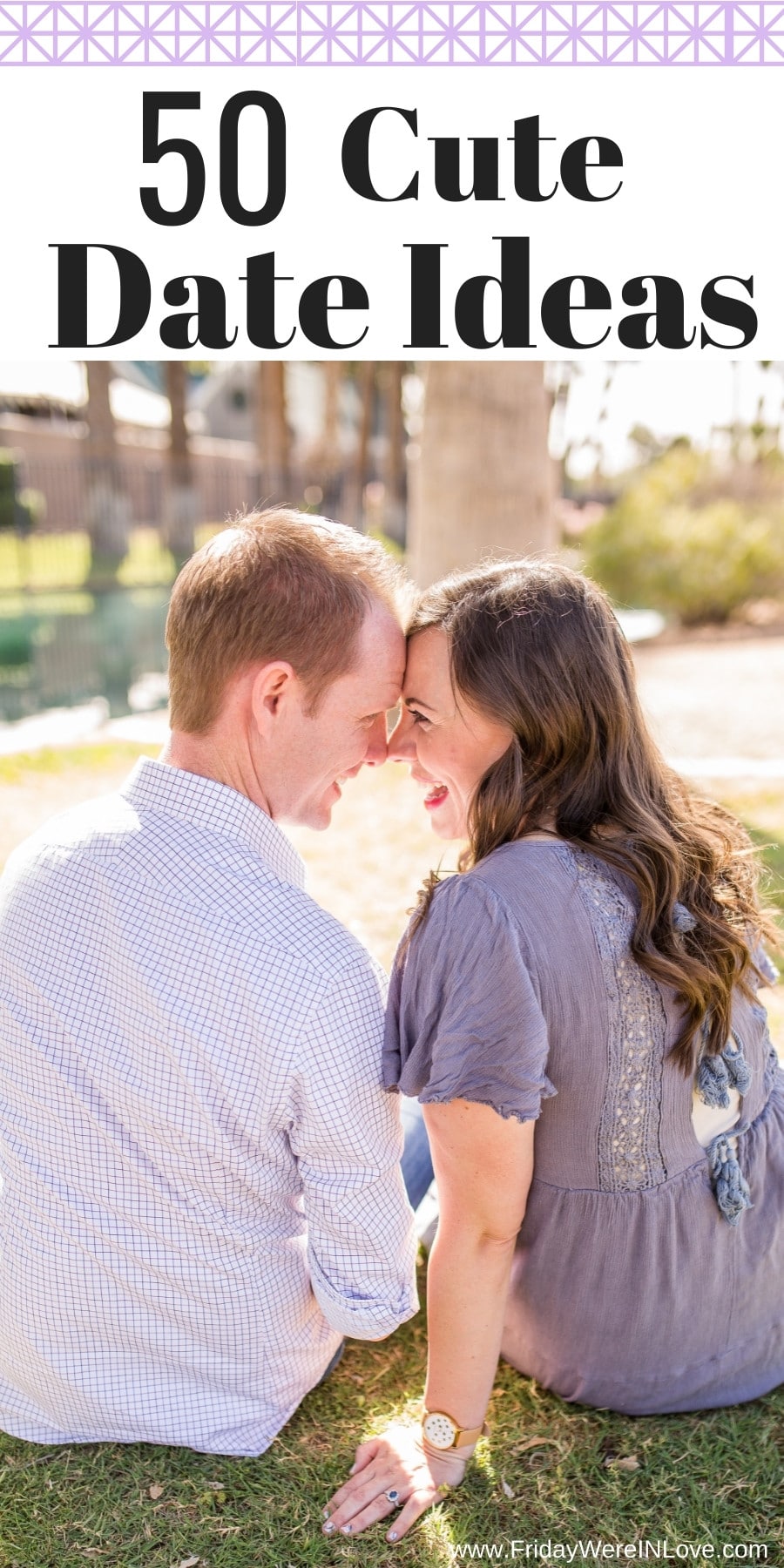 Sometimes you just need a sweet experience together to really tune up the connection. There's nothing like a cute date idea to do that! I'm a sucker for date ideas that make me feel like I belong in a movie or sitcom. Those are the date nights you tell your friends about and get the "That is such a cute date idea" response!
Cute Dates to Go On
Sometimes when I watch romantic comedies I'm in awe of the cute dates written into the script. If you've ever been a romantic and have hoped to experience one of those cute dates yourself, this list is for you!
For anyone looking to live out their sitcom-style date night, we have tons of cute date ideas to make your life feel a little more magical this weekend.
These cute date ideas will have you feeling like you've stepped into a romantic comedy on your next date night!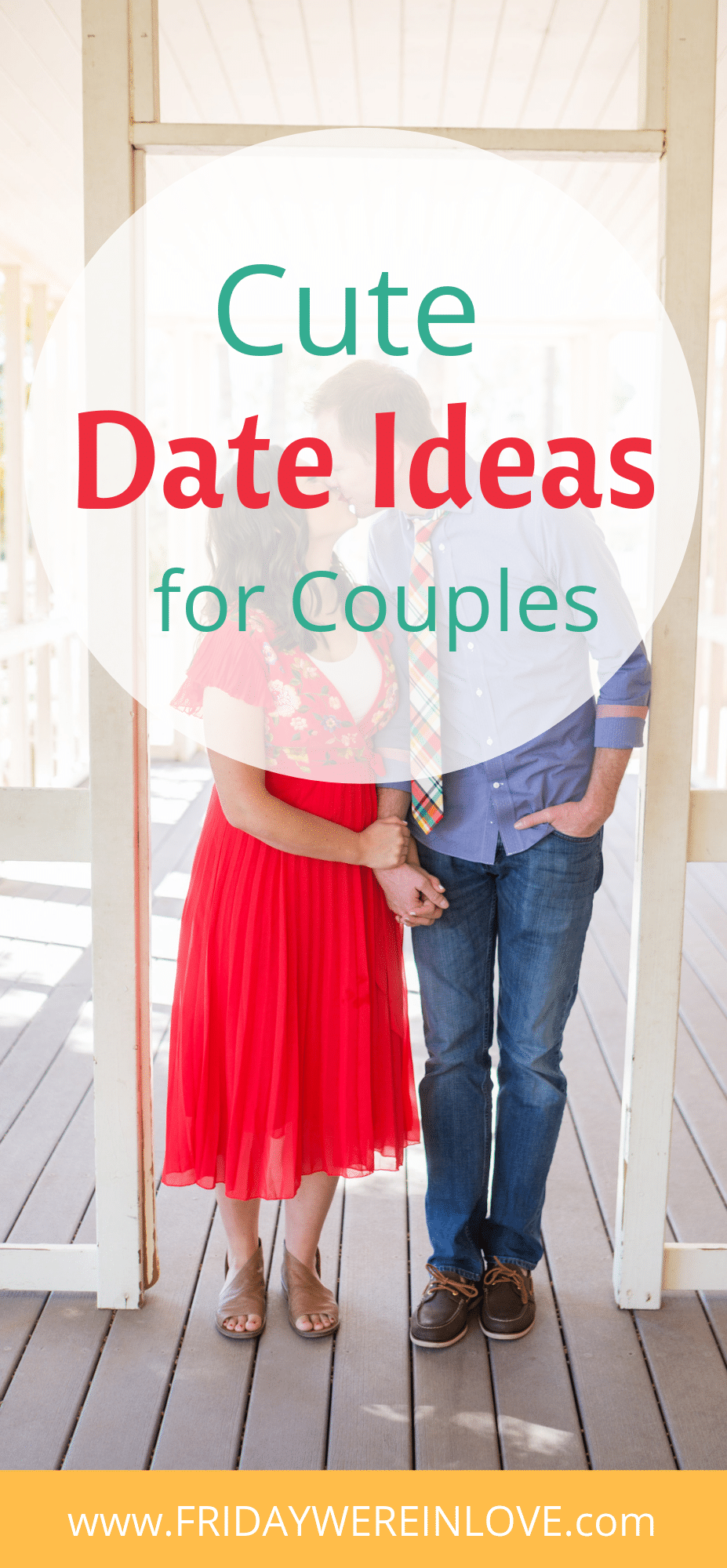 50 Cute Date Ideas
Have a romantic sunset picnic. You could also do a sunrise picnic brunch.
Relive your first date together with the same activities
Go out for ice cream at the cutest, most picturesque ice cream shop in your area
Visit your cutest coffee shop in town and enjoy a low-key cute date. Bonus points if you make it right by the front window, just like the romantic comedies do!
Plan a full menu and make a romantic dinner together
Go stargazing in the back of a truck or with the help of an inflatable air mattress
Tour a local candy factory/candy shop. Be sure to take home a box of candies to sample when you leave.
Visit every photo booth in town and take a bunch of old-school film strip photos together
Visit your local art gallery together
Create something together with a Date Night Box. These are an entire cute date night in a box that shows up at your doorstep.
(You can try one of our favorite boxes for 50% with code FRIDAYWEREINLOVE)

Cute Date Ideas to Make You Feel Like You're in a Romantic Comedy

Volunteer at an animal shelter. Brace yourself, most romantic comedies end in an adoption!
Go to the old-school arcade
Find a romantic spot to watch the sunset together. Think rooftops, on top of hill, out in the country, or anywhere that gives you a special view of the sun setting.
Cuddle to your favorite romantic comedy.
Go miniature golfing
Ride go-karts together and have races around the track
Go antique shopping together at your best local shops
Pretend you're getting married and make a fake registry together. Bonus if you're already married, and want to make a pretend do-over!
Download a movie and head out to a remote area with plenty of blankets to go watch it together. Don't forget the popcorn and maybe even some takeout

appetizers to

enjoy while you watch!
Have a chocolate-tasting date. Get a box of chocolates and take turns closing your eyes and feeding each other an undisclosed chocolate. Take turns guessing the flavor and see who wins at guessing the most correctly.
Mix up movie night: try a drive-in movie date or "dive" in movie at the pool.


The Cutest Date Night Ideas

Go out for a brunch date to a hipster location and split meals.
Play would you rather for couples. You'll have a great time laughing and getting to know each other. Be grab our free would you rather dating questions download here!
Take a line dancing class together and get your country groove on
Visit a sporting event and try to get on the kiss cam. Seriously, a sports game and talking while you cheer on a team can be the ultimate cute date night!
Fly a kite
Go pick local produce on a u-pick farm day
Bake and decorate sugar cookies together
Rent a tandem bike for the day. Talk about a cute date you can't help but Instagram!
Order one of every flavor of dessert at a local bakery and have a taste-testing night complete with rating cards
Volunteer at a homeless shelter or soup kitchen
Make a time capsule together of everything trending right now
Take a pottery-making class and make a work of art for each other. Bonus points if you play Unchained Melody and channel the scene from Ghost.
Find out a place your date has always wanted to visit, and plan a night enjoying food and entertainment from that location
Hold hands and take a long walk around a park
Visit a botanical garden or floral festival for a sweet day together and a cute date idea you'll always remember
Set up a tent in the backyard and make s'mores together on your campout
Go on a scavenger hunt together
Go roller skating and be sure to dedicate songs to each other
Rent paddleboats for a romantic stroll
Have a game night. Grab a few of your favorite board game options (yes like Monopoly or Settler of Catan) and play board games. Check out our Couple's Game list of over 100 great games for two!
Create bucket lists either separately or to do together as a couple and share your top ideas
Read a book together taking turns reading pages or chapters
Have a Top Golf date night. Enjoy a little friendly competition with a really user-friendly range that makes for a cute date night out!
Visit an old-school arcade and play arcade games.
Do a seasonal zoo lights date night. It's a great place to hold hands, and enjoy a lot of entertainment with a romantic sparkle of twinkly lights
Attend an open-mic night. Many bookstores, restaurants, and bars offer open-mic nights. You'll find hidden talent, pop songs, poetry, and a lot of unique entertainment.
Have a thrift store date night. Go choose outrageous outfits for each other to try on. Or at least try to find something from your high school era and set the mood like you are high school kids ready for a date night from that era. Bonus, It's one of those cheap date ideas you'll laugh about for years! Also, no need to buy anything, you can make this a free date idea just by trying clothes on!
Go bowling for date night. Make this quintessential date even cuter with different rounds. Try having to spin before you bowl, bowling with your eyes closed, or doing a round with the opposite hand. There are a lot of ways to shake up this date and turn it into a very fun, and very cute experience you'll laugh about together!
Take a romantic walk on the beach. Or by the river, around the park, you know, whatever pretty nature-type location is near you will do. But a scenic walk to talk and hold hands is a fantastic free date night!


Romantic Date Ideas

Head to the fair and ride the Ferris wheel
Set Up A Fondue Date Night with your favorite cheese dip and bread. And don't forget the chocolate fondue and Strawberries for dessert!
Have an aquarium date. You'll be amazed at how relaxing this date night is! It's also one of those dates that is perfect for first-date ideas, and seasoned couples love it as well!
Have a 5 Love Languages Date Night. Read The 5 Love Languages and discuss what you can do better to help your spouse feel loved. We have a free printable activity to help walk you through this date!*
Do an ice skating date night. This is one of those quintessential winter date ideas that people love to do at Christmas. However, we love a ice skating dates in the summer to cool down on a hot day! It's a great date that turns up the romance with a little hand-holding and a lot of connection! And yes, hot chocolate is always a good idea no matter the season!
Take a dance class. You can learn to salsa, tango, ballroom, or even learn hiphop. It's connecting and intimate! Not to mention, it's become one of those great at home date night ideas thanks to how many amazing companies offer dance classes for those looking for at-home date ideas!
Cook a new recipe together. We love using the Adventure Challenge Dinner Dates Book with a scratch-off date night challenge included. Between the activity, the good food, and maybe dinner with some romantic candles, it's the perfect romantic date night!
Do a sunset boat cruise. You do get bonus points if a romantic dinner and fancy appetizer options are included!
Build a camp fire. There's something about snuggling up around a camp fire and roasting s'mores together that makes a bonfire night a great date!
Have a romantic fort date night in your living room. Grab your favorite blanket, and some sheets, and set up a movie night viewing space that gets you off the couch. For an extra romantic touch, add some twinkle lights. You can check out our romantic fort date night for some inspiration!

May you find your favorites and have some of the cutest date nights ever!
Like these cute date ideas? You may love these date night ideas too:
365 Fun Date Ideas: Dates Every Day of the Year
Perfect Anniversary Date Ideas
Get 365 Date Ideas!
We want to help you have the best date nights ever! Grab this FREE printable with 365 date ideas, a date for every day of the year so you never run out of ideas!