Make date night at home feel like a date night out with these fun car date ideas! 15 excellent date night ideas to make fun and memorable quality time happen with a date night in the car.
We've been doing pretty well with this at home date ideas gig the past month while social distancing. I think a billion home remodel projects have kept us distracted and full of lots of quality time together. But last week, it all hit me hard.
I love my children, but we're in a very chaotic time of life with a rambunctious toddler who loves mischief. Add in the preschooler who asks at least one billion "why questions" a day, and it leaves us both pretty tired just parenting every day. This week happened the be the week I snapped and realized what I really need is a date night on the town away from kids.
But we're doing our part to stop the spread and stay home so that just meant it was time to get creative. I wanted desperately to feel like I had a night out, while staying on my own property. And then it hit us, for date night we're heading to the car for date night in the car. We can stay safely away from others, and we can still feel the physical change away from our darling little people. Even if the baby monitor will still be in the car with us and we're only a few feet away.
So for any other parents ready for a date in the car, we have your back with a list of several car date ideas you can do from the comfort of your own garage or driveway!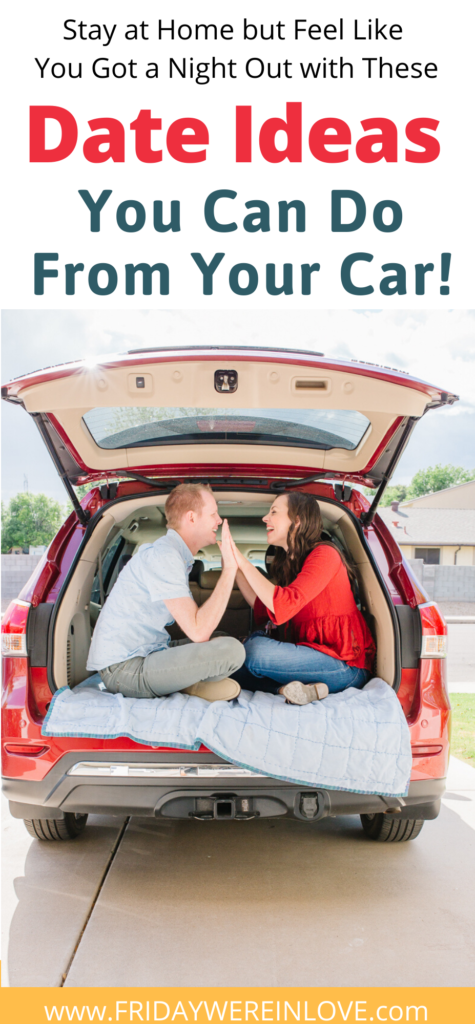 15 Car Date Ideas
Grab takeout and pretend it's a night out.

Itching to go out to dinner? This will help you feel more like you've done just that! Send one party to get some takeout (and support a local business). Then dress up like you're headed out on the town and jump in the car for dinner and quality conversation.


Watch the sunset together.

Park your car where you have the perfect view of the sun setting. That may just mean turning the car facing away from the driveway. Watch it go down slowly cuddled up in the front seat, on the hood, or through an open tailgate. It's a great excuse for a romantic sunset picnic too!

Stargaze

We are such fans of a stargazing date night. It's so easy, it's so romantic, and it's so free! With less traffic, there's less pollution and smog. That is leading to some fantastic views of the stars. And a sunroof or lying down on the hood of a car makes for a great viewing location.

Enjoy a movie together.

It's as simple as bringing a laptop, tablet, or even a phone to the car. Snuggle up in the backseat and enjoy your new location shaking up movie night together.

Date Night In the Car

Have a picnic in the trunk.

Admittedly this works best if you have an SUV or a truck bed. But you can still open up that trunk space and set up a small blanket to enjoy a picnic in the most unusual location you'll never forget! Plus, you could do this weekly with a different dinner item and have endless car date ideas based around food.


Drive-In Movie.

If you can physically go to one and social distance, that's great. But I have seen so many people get creative with a projector and a white sheet! Plus how great is this cell phone compatible projector? You can also physically move your television outside in safe viewing distance from your car. Get creative! Find a way to set up a drive-in movie right where you are!

Play Cash Cab

If you haven't seen the Cash Cab game show, you can still play along! The idea is an unsuspecting group gets in a cab and is able to answer trivia questions to earn money. You can easily recreate this with their Cash Cab at-home game, or any other trivia app. Be sure to keep track of how much you would have won/lost during your date.

Go Glamping

Remember those carefree college days where you could go camping spontaneously and sleep in a car? Get ready for a grownup far more comfortable date night glamping. Put those backseats down, open the tailgate (if you have one) and set up a comfortable glamping spot for two.

Scenic Drive

If you don't have kids to stay in the driveaway for, find a scenic drive in your area. Go look at nature, big city lights, or historic sites in your community.

At Home Dates From Your Driveway

Sidewalk Chalk Scenery Around the Car

Can't drive through the places you'd like to go? Draw a few scenic locations around the car and talk about where you'd most like to visit if you could road trip anywhere right now.


Watch Scenic Drives via YouTube

This may make you raise your eyebrow, but have you been to a Disney Park and been on Soarin' Around the World? This is exactly what the ride does! You just pretend you're seeing amazing places. Go ahead and "take a drive" through several national parks, Champ de Elysees in Paris, or any other site you'd love to vicariously visit from your parking spot.

Create the Ultimate Road Trip Playlist Together

Pull up Spotify, Apple Music, or Prime Music. Create your ultimate road trip playlist together. Make sure you listen to it and talk about why each song earns a place on this playlist.

Play A Competitive Round of Name That Tune

Turn on the radio and see who can name the song/artist playing first. Keep score! Make sure you know who the true music trivia winner is.


Play a Board Game.

Board games are absolutely hysterical to play in a car, there's a lot of adjusting and making things work. Card games are equally fun and funny! If you need some good couple games we have a huge list of date night games for couples.

Group Date Zoom Call

You can talk loudly, laugh loudly, and not panic about waking kids up from the car! Find your best friends you love going out with, and set up a group date Zoom call from your cars.
And if all else fails, take yourself back to high school/college days and go make out in the car. Or nap. We won't judge you either way!
Like these car date ideas? You may like these date ideas too:
The Best Date Night Subscription Boxes for Couples
Outdoor Movie Night: A Fun Way to Upgrade Family Movie Night
Couple's Journal: Reviews, Options, and Why Couple Journaling makes a Great Date
Stay At Home Date Ideas (You Can Do During Quarantine)
Get 365 Date Ideas!
We want to help you have the best date nights ever! Grab this FREE printable with 365 date ideas, a date for every day of the year so you never run out of ideas!