Virtual Date Ideas: Facetime Date Ideas and Zoom Date Ideas for Group Dates and Distanced Couples
Looking for some virtual date ideas? Here's a roundup of Facetime date ideas / Zoom date ideas for a fun remote date for group date nights or couple date nights at a distance.
It's a time we're all craving human connection, but group dates and blind dates are still on pause for most people. Yet virtual date ideas can feel tough to come by. As we've spent some time finding ways to connect with friends, it's been a really welcome way to connect and socialize! As life moves past this phase, we hope to continue to incorporate virtual group date nights forever! They truly help it feel like you're connected to those you can't physically be close to.
Additionally, we have several single friends who have put dating on hold for almost a year now. As they venture back into online dating, many are doing it virtually. Finding some great virtual date ideas aren't only perfect for right now, thanks to technology, they may be a fun way to connect forever.
Facetime Date IDeas / Zoom Date IDeas
These remote group games are a perfect way to social distance and reconnect with your couple pals.
Have an Iron Chef Competition:

Find an ingredient everyone has in each others' home, create a new dish to eat with each other, present to friends over Zoom after the designated time, then give each other scores on presentation (or how delicious it sounds) for the winning team.

Read a Book then Discuss it Over Zoom in a Book Club:


You can either give a book in advance, or each couple can read a book and share it with the group so you can get more ideas on what book to check out next!

Create and Draw Portraits of Each Other:

Hop on a group video call and sketch each other. Bonus points: use Google doodle or some other simple art program to doodle other friends and couples in your chat room. Or, if you have a creative group of couples, add a theme to your sketch of each other (i.e. as a superhero, a cartoon, or from memory).

Take a Special Fitness Class Together:

Get moving if anybody in your group date is a fitness instructor, otherwise turn on a YouTube fitness class of everybody's interest and sweat together. It's easy to Zoom in and set the Youtube screen shared as the host. Then, the rest of you can enjoy laughing at each other trying to rock your fitness night in.

Watch a Reality Show or Award Night with Bingo :

Fill out bingo sheets for a favorite show that the group likes (think sports, sitcoms, reality dating shows, etc…), then play until either everybody reaches bingo or somebody gets a blackout. Drop off a prize at somebody's front door if you want to incentivize a win.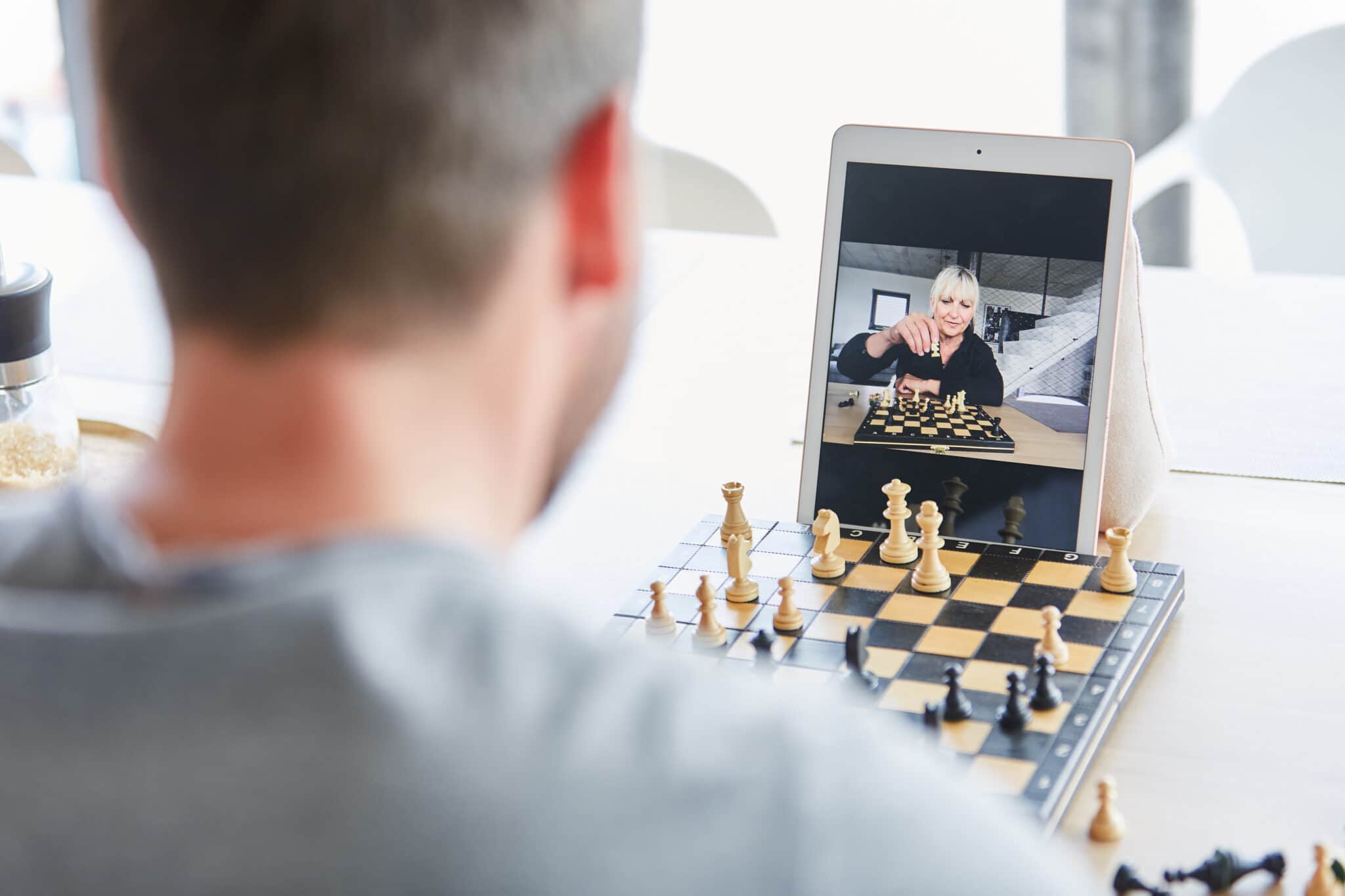 Virtual Date Games
Play Jackbox.tv games via Zoom or Hangouts:


This is a great option that requires only one person to own the game in order to play with everybody else. You can pick a party package that appeals to you, but some of the games include Fibbage, Drawful ( a Pictionary-inspired game), and more. These are fun, sometimes cheeky games that are fun, especially for adults. Here are Jackbox's instructions on how to set it up: (https://www.jackboxgames.com/how-to-play-jackbox-games-with-friends-and-family-remotely/)

Stream Remote Play for Co-Op Multiplayer Games:

If you miss playing Dance Dance Revolution, Guitar Hero, or Mario Party on the couch for a group date, here's a great gaming alternative for virtual party game lovers… Steam Remote Play. Download, demo, and/or purchase a game that appeals to your gang and game on.
(For more information, check it out here: https://store.steampowered.com/remoteplay)

Play Card Games Remotely in Cardzmania:


You can host a "table" with your friends and play a variety of classic card games like Klondike, Blackjack, Spider, Euchre, and more. If you want to step it up a notch – have everybody join a side video call and dress up for a fancy casino night. https://www.cardzmania.com/games/

Play "Heads Up" in Houseparty:


"Heads Up" is a fun party game that picked up in the last few years thanks to its mobile app. Now you can play it remotely in the video call app Houseparty. To get it, download the Houseparty app and click on the dice icon on the top right to play. Other games available include Trivia, Quick Draw, and Chips and Guac!.




Like these virtual date ideas? You may like these posts too:
Social Distancing Activities for Couples: Social Distancing Date Ideas
Quarantine Date Ideas
Stay At Home Date Ideas for Couples
Get 365 Date Ideas!
We want to help you have the best date nights ever! Grab this FREE printable with 365 date ideas, a date for every day of the year so you never run out of ideas!