Looking for Halloween Date Ideas? We've got you covered with the perfect Halloween date night that ranges from cute to creepy, scary, to safe- and everything in between so you can find the perfect Halloween activities for couples to fit your plans!
I have a thing for Halloween. In fact, it is probably my favorite holiday. It's a night you can be anything you want to be, there's candy involved, and the slight adrenaline rush from being a little scared goes a long way. And have you read the study that the adrenaline rush helps you feel more in love and attracted to someone? I think that alone calls for a few scary dates, and even if you're a chicken like me even a mildly scary date is in order with some Halloween date ideas.
I love this season so much and love to extend the holiday out as long as I can! Personally, I get ready to start having Halloween dates in September because there's just so much to do and I really want to do all the things, all the time. So here are 20 Halloween date ideas to start now and do up through the 31st, or longer if you just can't get enough of a little scare in your life.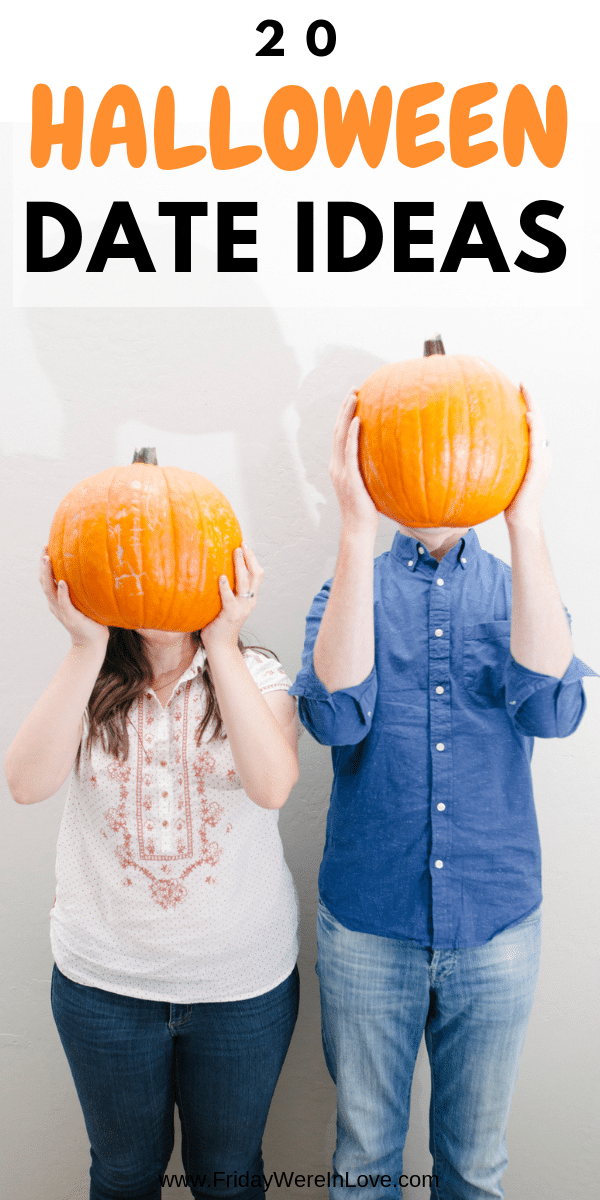 21 Halloween Date Ideas
Classic, fun, and you can easily do one if you're on a budget or make this a full group date.
2. Visit a haunted house/attraction-
You can do this in person or there are virtual tours too! This is one way to get the adrenaline rush!
3. Make caramel apples for a date night.
Apples are In season. Plus a caramel apple date is perfect for the non-scare loving crowd. Bonus points, it lends to lots of conversation.

4. Go to a corn maze
A corn maze date is perfect for a day date or a night date. Plus you get a bonus if it's haunted if you want to feel that "We should make out after this" feeling.

5. Fall Festival Date
Pumpkin fest? Chili fest? Headless Horseman fest? There's something unique wherever you live, and they range from family-friendly and cute to seriously creepy. Find one in your area and buy tickets early so it's on the calendar!
The Best Halloween Date Night Ideas

6. Go see a horror movie.
There is always at least one thrasher horror movie in theaters, and if that isn't your thing, there's almost always a thriller or kid's version of a horror movie to see.

7. Rent a movie at home.
I hate these horror flicks, but hello cuddle time (which I adore)! This is the classic trick I noticed early in my teenage dating career that's code for "I'm looking for cuddle action" when I'd have a date. And it's something I still try to put up with at least once a year to make my husband happy even though I won't be okay in a dark room alone for three months after.

8. Plan and/or make Halloween costumes.
Start with 150+ Couples Costumes for inspiration!
We're lucky we always have a couple's party to look forward to where everyone goes all out, but even with nowhere to go the big night, it's still fun to take some pictures. We've had a few years pre-marriage with just us, and we still enjoyed dressing up together.

Halloween Activities for Couples

9. Make cookies and decorate with Halloween themes.
Did you see our zombie cookie night? I will hold onto those cookie cutters forever even if we move to some small apartment in Europe someday. I love them, and the cookies were hilarious! Check out these fun Halloween sugar cookie kits!
10. Take a laptop to a creepy location and watch a scary movie
Need some location ideas? Think woods, an abandoned warehouse, your unfinished basement, a cemetery. It can be a classic movie.
11. Enjoy a vintage Halloween movie.
We're a bit obsessed with Hitchcock after being invited to a friend's Hitchcock movie night. It was low-key with plenty of creepy-themed food, It's the right amount of scary and fun, and it's a great free/cheap date that's so fun to do alone or as a group.
Related: Halloween Movie Night Group Date
12. Bonefire and S'mores Date
Channel your youth camp experiences and find a place to build a bonfire and share ghost stories. S'mores and creepy tales are still just as fun as adults!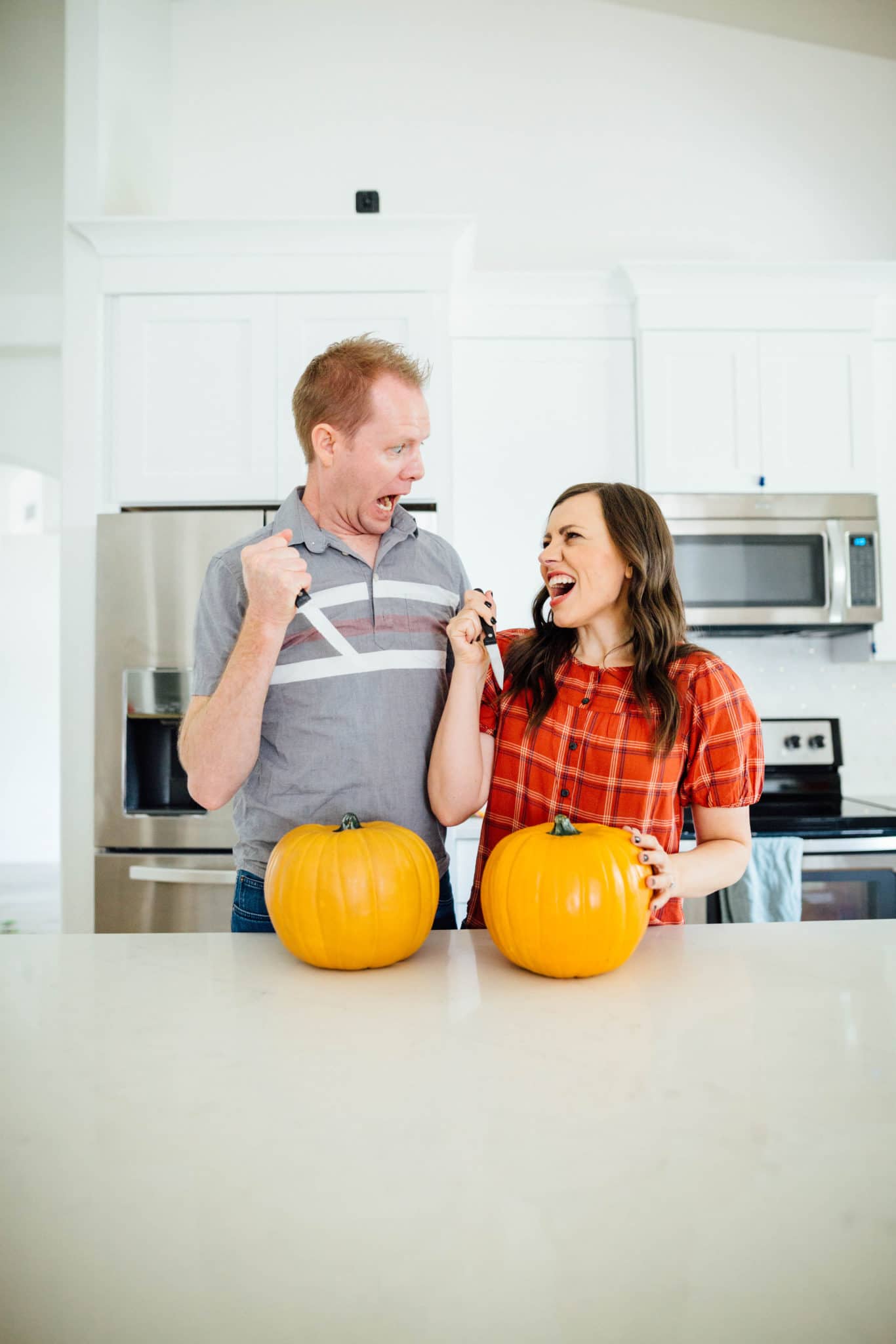 13. Listen to a creepy story podcast
There are so many fun podcasts in the thriller, mystery, and even horror story generes. Once again, think of a cool location to visit. (Find some HERE)

14. Make a Halloween-themed meal together
It's a great time to try dinner in a pumpkin, creepy looking food, pumpkin chili, pumpkin cookies. etc. Did I mention anything pumpkin? I have an obsession, and if you need inspiration feel free to check out my Pumpkin Obsession Pinterest board.
Halloween Plans for Couples
15. Halloween Play
Most local theaters do a Halloween/horror play, look into tickets! I promise you'll find something creepy.
Related Post: Halloween: Local Theater Brings On the Creepy
16. Visit a Local "Haunted" Place
Find the urban legend in your area and go there. I can't tell you how many places were supposed murder sights in the mountains I grew up in. In Arizona, we have a few ghosts towns with ghost tours only about two hours from Phoenix, and everywhere has something. Look up the story, re-tell, and go visit that site!
17. Attend an amusement park haunted night.
These range from cute to seriously scary. But a night of zombies chasing you while getting your thrills on rides is definitely an all-around adrenaline rush!
Related: Six Flags Fright Fest
18. Have a cemetery picnic.
I'm all about being respectful with this one so know your boundaries, but watching the sunset in an appropriate spot is just creepy enough to make it a perfectly romantic and scary Halloween date.
I love that Dia De Los Muertos Festivals are getting more and more popular and that the makeup is becoming a bigger trend for Halloween costumes. They are all kinds of fun, and you can go casual or dress up.
Plus, they make Halloween feel peaceful and are a sweet tradition to honor ancestors.
20. Pull a Halloween Prank
If you're terrible people like we are, go scare those you love. We love jumping out of piles of leaves, dressing creepy to visit our parents, setting up scary decor, etc. And our plastic skeleton with a clever skeleton name is our favorite for a harmless prank. Sometimes it's just fun to be on the other end of terrified and laugh a lot.
21. Decorate a Halloween House
Graham cracker gingerbread houses are always fun for Christmas, so why not make a haunted house version? We've found cute haunted house decorating kits that make it so easy!

Anything else you've done for a Halloween date night that we've missed? What other Halloween activities for couples do you love? I'd love to hear your creepy date experiences!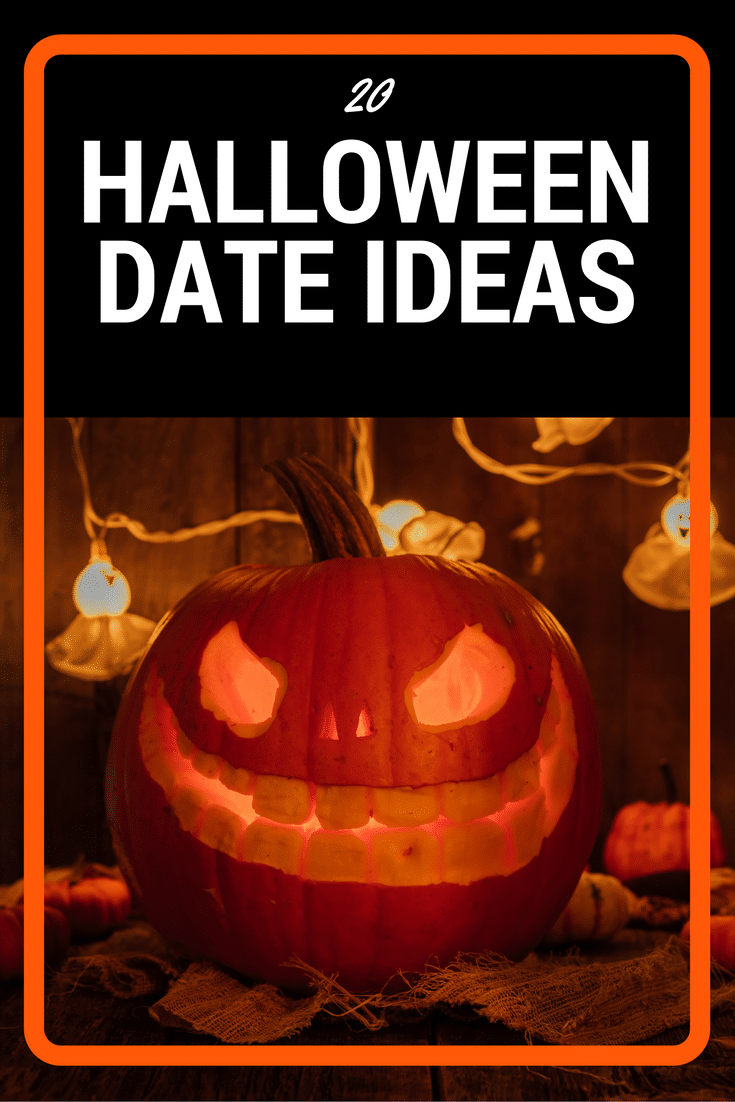 Like these Halloween Date Ideas? You may like these posts too:
Escape Room the Game Amazingly Fun Date Night At Home
Disneyland at Halloween Time- 8 Reasons Why It's The Best Time to Go
Get 365 Date Ideas!
We want to help you have the best date nights ever! Grab this FREE printable with 365 date ideas, a date for every day of the year so you never run out of ideas!