Dracula Play: Halloween Play Date Night
Did you know there's a Dracula play? It's a fun Halloween date night, and a Count Dracula Play makes for the perfect creepy Halloween play!
Halloween Date Night
Lots of our dates we find by buying Groupon deals. When we see a two-for-one deal for a holiday play totally $12 we couldn't resist! It's particularly fun during the Halloween season.
Supporting Local Theater
Local theater is often a small risk. You can usually pay very little and typically end up with a high quality performance. We usually come out pleased with the price we pay. This was why seeing a Drucla play at a local university was a great idea! If your local theater, university, community college, etc. decides to try a Halloween-themed play, I'd highly recommend it for a Halloween date night!

Dracula at GCU was surprisingly good!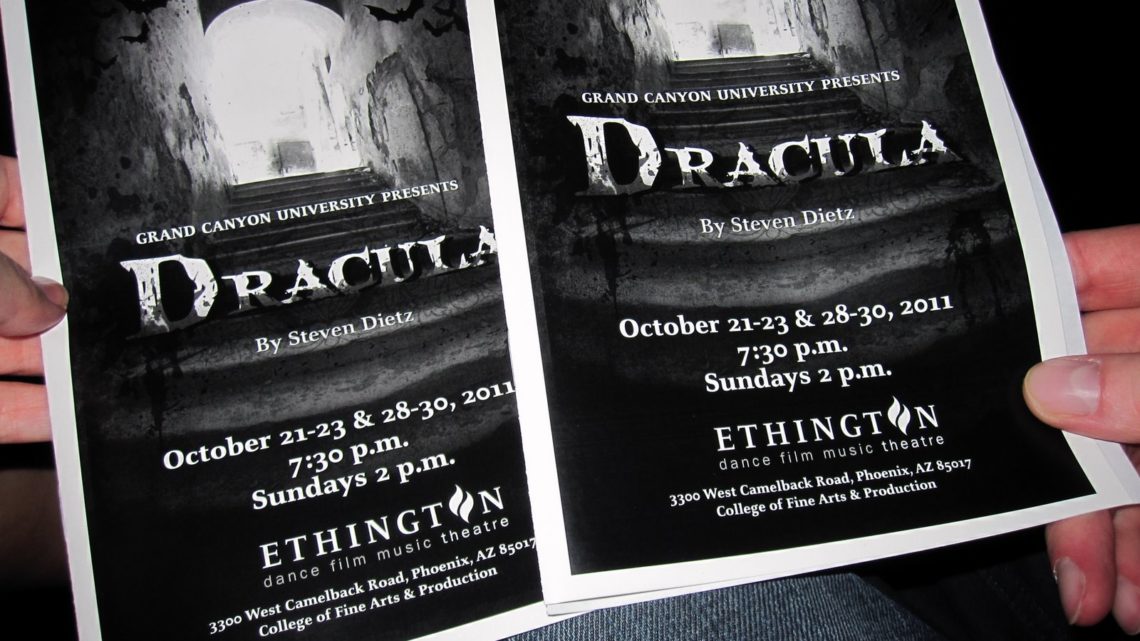 Dracula Play: What to Expect
Experience the chilling thrill of Dracula the Play, a performance that takes theatergoers into the heart of Bram Stoker's classic horror story. When you go to see Dracula the Play, anticipate a riveting blend of suspense, Gothic atmosphere, and timeless storytelling.
The actors transform into familiar classic Dracula characters. The set design is sure to astound with its eerie depiction of Transylvania and the Count's mysterious castle. This production cleverly balances the narrative's macabre elements with an undercurrent of dark humor,
You'll likely find a little suspense and horror mixed with humor! This offers an enthralling theatrical experience that will keep audiences on the edge of their seats. Prepare yourself for a night of engaging performances, compelling dialogue, and hauntingly beautiful stagecraft when you see Dracula the Play.
Of course, every director will have their own take, and no two shows will be exactly alike.
We even had a few scares with unexpected sounds and movements- just the right amount of creepy for sure. We came out happy!

Moral of the story: Sometimes the $12 you pay for a play really can pay off for a fun and interesting date!
Like this fun Halloween Date idea? Be sure to check out these posts too: