Where to Donate Halloween Candy
A roundup of places to donate Halloween candy, and practical ways to use up extra Halloween candy in a fun way! Be resourceful and help others with these too much Halloween candy tips!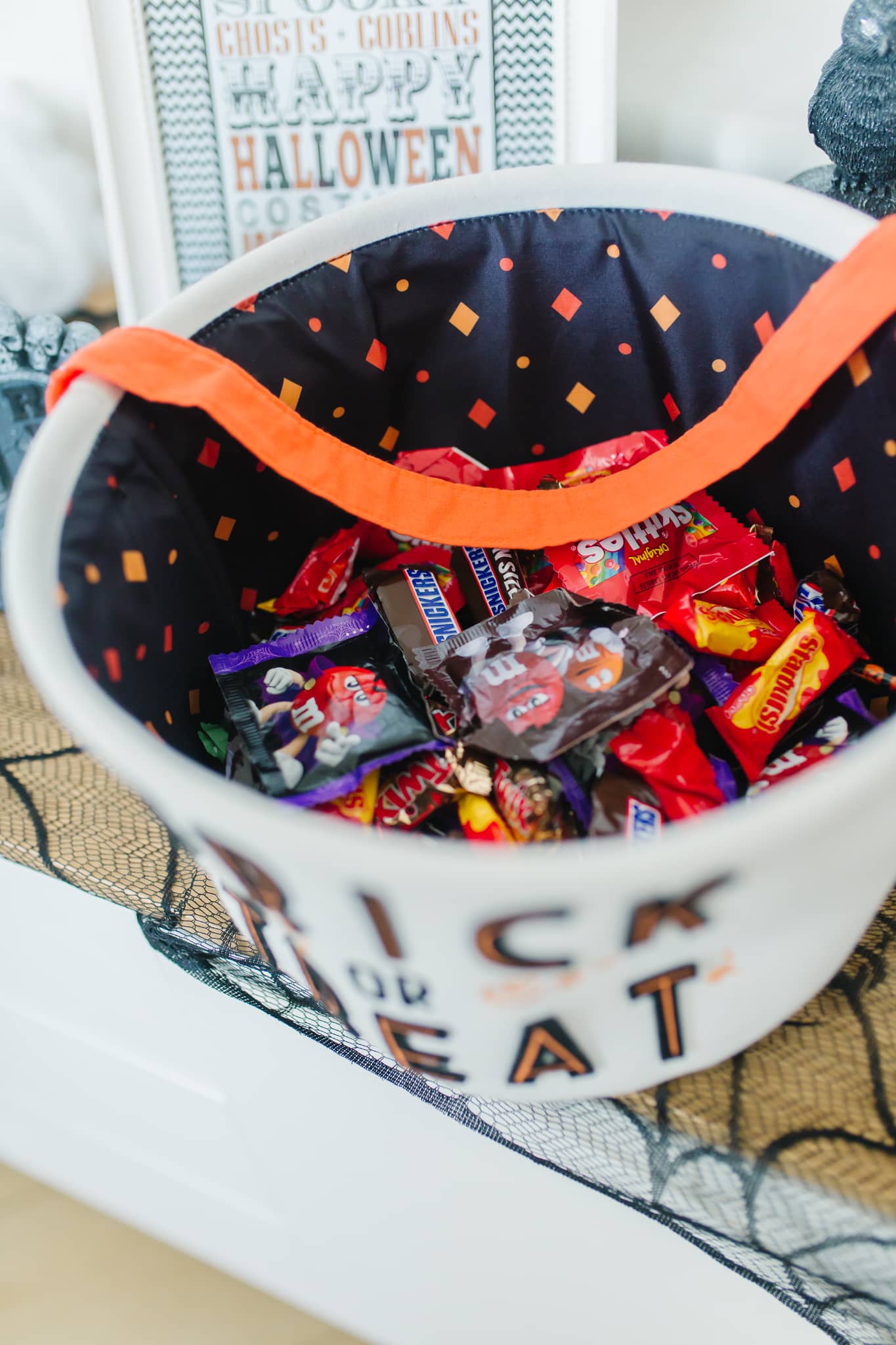 Are you coming up from trick-or-treating and realizing there is too much candy in your home? If your kids' Halloween candy is taking over your house there are so many good causes to donate to, and resourceful ways to use it! Here are the top ways to put that candy to good use, and places to donate Halloween candy.
Personal Ways to Use Leftover Halloween Candy
Keep it for family movie night.
We do family movie night almost every week. And it's just extra fun when we use our silicone popcorn popper and add a few treats. Leftover candy
Ice Cream Party.
Do you know what's always a crowd favorite? An ice cream bar with lots of toppings. We love to do this during Thanksgiving week during family gatherings. Grab the candy bars, gummy bears, and anything you know people may like as an ice cream topper, and get ready for a fun ice cream night!
Gingerbread houses.
We love doing a graham cracker gingerbread-making party when it's the most wonderful time of the year! It saves so much money to reserve some kids' Halloween candy for this fun Christmas date night or family party. Plus, you can make a really awesome gingerbread house with tons of different candy varieties!
Holiday Season Treat Bags.
Do you give treats out to friends, classmates, neighbors, or teachers? Maybe keep a few for holiday gifting!
Stocking Stuffers.
Why not save yourself a little cash and grab some treats to reserve for stocking stuffers? I like to find red, green, silver, and gold-wrapped candy (like Kit Kats or Yorks) and hide a bag to hook up the man in the red suit.
Related: Stocking Stuffer Ideas for Kids
Send it in care packages.
Do you know a college student that could use a delicious treat pick-me-up? Is a friend going through a hard time? Sometimes a little care package during treating season is the best kind of pick-me-up!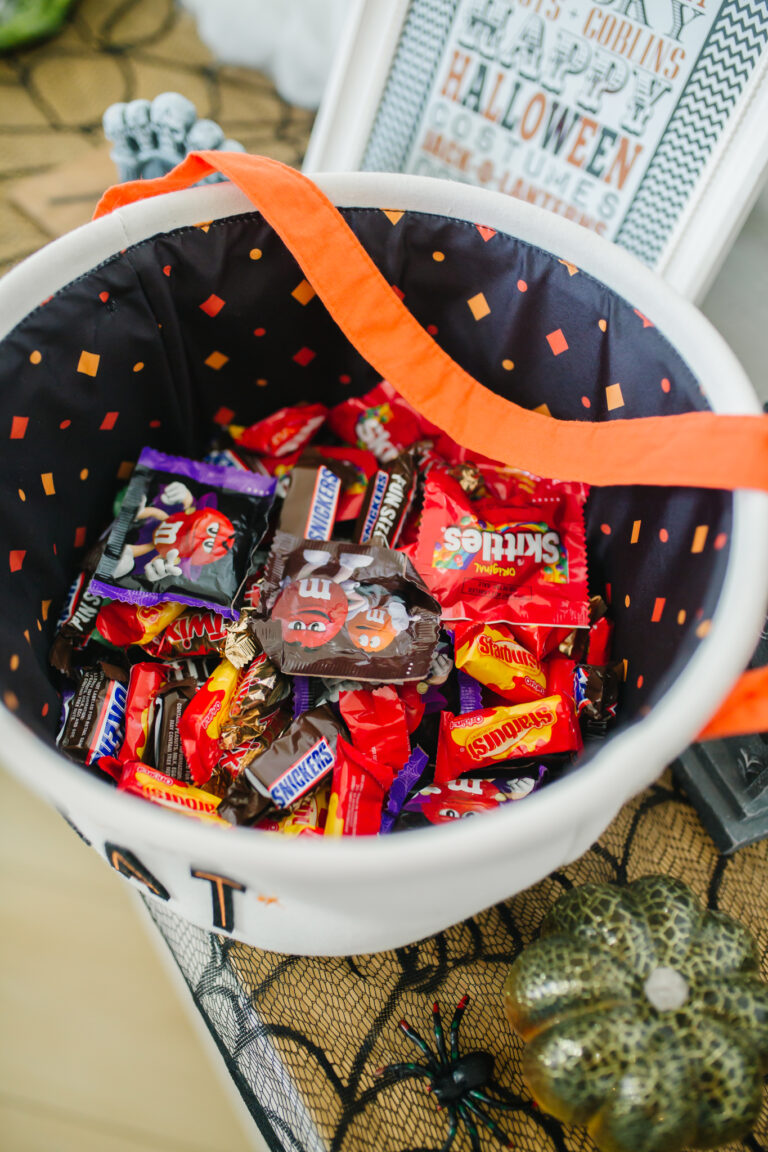 Where to Donate Halloween Candy: Charitable Organizations
Halloween Candy Buy Back Program.
This is a great platform to do some good and make a little cash! You can actually sell your unopened Halloween treats and they'll donate them to charities for you. Use their zip code search to find participating buyback locations in your area.
Operation Shoebox.
Operation shoebox collects candy donations all year! But they're a great place to send your excess Halloween candy. They take the leftover Halloween candy you ship and send them to members of the military in care packages.
Soldier's Angels Treats.
The Soldiers' Angels Treats organization takes pounds of candy each year and delivers them to troops abroad as well as local military unit personnel. It's a great way to support a good cause! And their website has a search tool to help you find local businesses for donation sites. Did I mention it's tax deductible? The Soldiers' Angels is one of the most reputable programs!
Operation Gratitude.
This charity takes your excess candy and turns it into care packages for service members. First responders and U.S. Troops and military members receive candy through this organization. *They are pausing for 2022, but we hope they'll be back in the future!
Local Halloween Candy Collection Program Options
Dentist's Offices.
So many dental offices will take or even buy extra Halloween candy to help donate to charities or just help their patients cut down on cavities. Do a quick local search and see what creative exchanges your local dentist and dentists' offices are offering.
Schools.
As a former teacher who had to front the bill for any supply, let me tell you how much schools appreciate goodie bags from parents! Email your school or kid's teachers and ask if any could use your extra candy bags! Those sweet treats are often put to great use and are extra appreciated!
Local Food Pantries.
If you've ever volunteered at a local soup kitchen or local food pantry you know how appreciated any food donation is! Take Kid's Halloween candy excess or your leftover bags and dropoff sites and let those less fortunate enjoy some of their favorite candies too!
Local Homeless Shelter.
So many will gladly hand out a sweet treat, and hygiene kits, and provide a bed and shower. Call your local community center and see if there are specific shelters or locations to drop off leftover candy.
Ronald McDonald House Charities.
This charity helps severely ill kids and families. There isn't a universal candy drop-off area, but local chapters are usually happy to put candy to good use cheering up sick children and families. They'll gladly take unwrapped bags of candy to cheer up families in need!
Like these Leftover Halloween Candy Ideas? Be sure to check out these posts too:
Thanksgiving I Spy Free Printable