Kids School Lunch Ideas You'll Both Love
Looking for each kids school lunch ideas you'll both love? Here's a bunch of school lunch menu ideas that you'll both love! Enough kids lunches to get you through an entire month of school without the same old sandwich.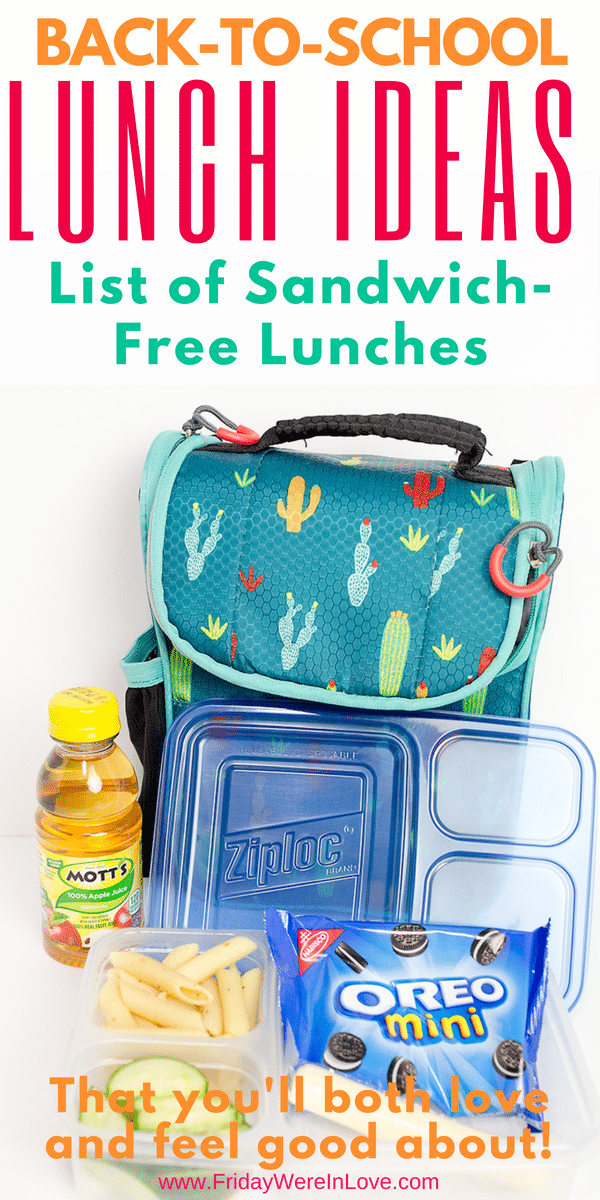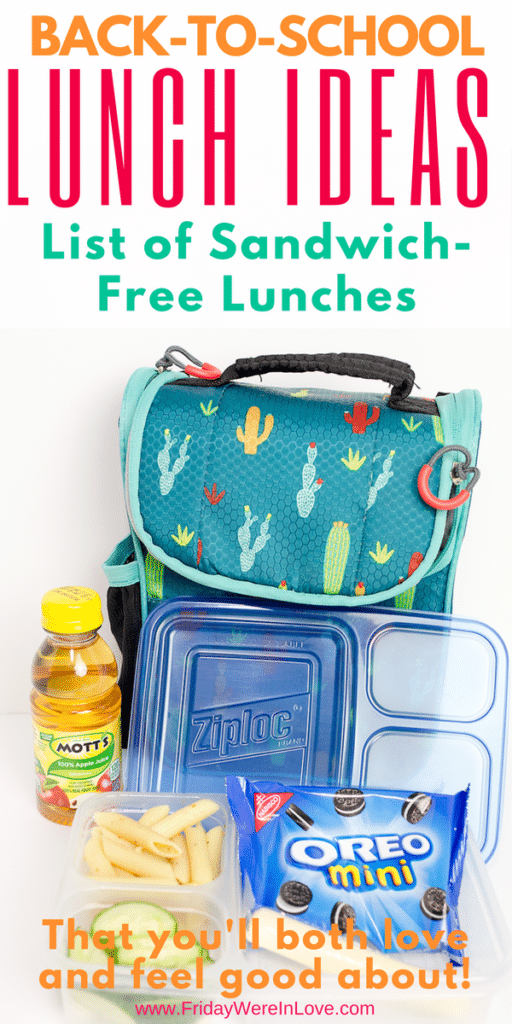 It's happening friends, I'm officially joining the ranks of moms who pack lunches. We're set for preschool, and there will be social lunchtime in which I will be prepping kids school lunches for. This phase creeps on you fast and holds on strong for several years, doesn't it?
Bless my own mother's heart, she packed six lunches for many years. But I remember having a love/hate relationship with my lunchbox since there was little venturing off from what the regular lunch was. By the end of the year, the same sandwich day after day still has me still a little averse to a certain lunchmeat as an adult.
That's why I'm all about opening up the conversation with your kids about kids school lunch ideas you'll both love and incorporating variety. Healthy school lunch ideas and easy school lunch ideas are at the top of my list. But having a few fun options to think outside the normal sandwich goes a long way!
Kids School Lunch Ideas
Cold pasta, string cheese, cut up veggies, and a treat.
I love the recipe we shared last year. Italian dressing plus cold pasta is always a winner for my little guy! I also love how easy it is to make a gluten free pasta for those with allergies. A little protein, some veggies, and carbs for lots of energy make a fun mix up for lunch!
Pinwheels with crackers and applesauce.
There's something about a tortilla with cream cheese that dresses up the lunch meat and makes it more fun to eat. It's a great variation on a sandwich, and it's a fun shape for kids to enjoy some protein too!
Crackers, cheese, and lunchmeat
You can buy these premade on busy days, but you can easily make them too. Kids love building their own cracker sandwiches, and I've found they eat them a lot better too!
Lunchbox / Easy Bento Box

Kid School Lunchbox Ideas

The hummus dipper plate
I know my kid isn't the only one who eats better when he can dip! Get their favorite hummus, and include plenty of items to dip. Including pita bread or chips, cheese sticks, fresh-cut veggies, or crackers.
Chicken nuggets, cut fruit, and some popcorn
Even cold, my child is a fan of chicken nuggets! I few nuggets with some dipping sauce, fresh fruit, and the crunch of popcorn are always a hit.
Pancakes, yogurt, and fresh fruit
Breakfast for lunch is always a good idea! I love making our oatmeal buttermilk pancakes for plenty of hearty goodness and nutrition. Plus they are great cold! A yogurt to go, fresh fruit, and some pink top it all off for a fun changeup.

School Lunch Ideas You'll Both Love

Cut chicken sausage, pita chips, fresh fruit, carrot sticks
It's amazing how delicious chicken sausage options are these days, and my preschooler gobbles them up! A little chip and produce balance makes this a great kids school lunch option they'll love!
Quesadilla, guacamole, chips, and fresh fruit
Oh, the excitement of finding your favorite thing to order at a restaurant in your school lunchbox! Plus this easy lunch can be made in advance and severed a few times in one week.
Cold pasta salad, carrot sticks, and a treat
It's pretty easy to add some cut-up cheese and pepperoni with salad dressing to pasta, and let them enjoy a hearty lunch that isn't a sandwich! Some veggies plus a treat round this kids school lunch idea out well!
Muffin, hard-boiled eggs, string cheese, and yogurt
Another almost breakfast, but the sweet taste of a muffin plus the protein of an egg will keep them going all day long!

Sandwich Free Kids School Lunch Ideas

Veggie sushi, fruit sushi, and crackers
Let them enjoy some easy veggie sushi rolls, plus some sweet fruit sushi rolls too. A crunch cracker gives a little texture variety they will love.
Meatballs, cold pasta, fresh veggies
It's pretty easy to find any version of meatballs you're comfortable serving. Add their favorite kind of pasta, and a sauce container for a little Italian inspiration in their school lunch.
Soft pretzel, pepperoni, cheese, and a treat
You can make these or buy them pretty easily, but a soft pretzel with a protein complimenter is a great twist on the typical sandwich.

Nut-Free School Lunch Ideas for The Back to School Lunchbox

Mini bean and cheese burrito, fruit, and a treat
It's easy to wrap one of these up and add a few fresh items to the side for a fun school lunch option.
Make your own pizza
There are so many bread options like crackers or mini flatbread rounds. Add some sauce, a container of shredded cheese, and pepperoni for your own take on pizza Lunchables.
I feel like with these kids' school lunch ideas you can mix in a sandwich once a week too, and you'll have enough variation to last about one month. You can even get fancy and let them buy lunch once a week to extend further! But these easy school lunch menu options should leave both mom and kid pretty happy with the back-to-school lunchbox this year!
Like this parenting post? You may like these too:
Stylish Mom Outfits- and My Favorite Shopping with Kids Hack!
Get 365 Date Ideas!
We want to help you have the best date nights ever! Grab this FREE printable with 365 date ideas, a date for every day of the year so you never run out of ideas!