Halloween Box : A Fun October Box to Celebrate Halloween All Month!
The October Box: A Fun Halloween Box to Celebrate All Month Long. Tons of fun and easy Halloween box ideas to make the entire month of October feel festive and fun!
Making Halloween Fun For Kids
When I realized this year was going to make my favorite holiday look different, I went into instant problem-solving mode. My kids love Holidays. I think all kids do!
I didn't want the magic and fun of the holiday season to be any less memorable even if it was going to be different. So i started brainstorming fun things to we could do. That's why I shared our 50 Fun Halloween Activities list with free BINGO printable to help families find more fun!
As I started to assemble plans for a blackout (that's 48 activities!), I realized it would generate a lot of excitment to let my kids unbox the fun early in the month. I started ordering Halloween pajamas in August, and starting looking for some fun activity books I could order online. We always add a few new books to our holiday book collection, and it was all too easy to grab a few fun crafts.
Before I knew it, I had a little lump of fun items for each kid, and it hit me that a Halloween box would be the perfect way to celebrate the season!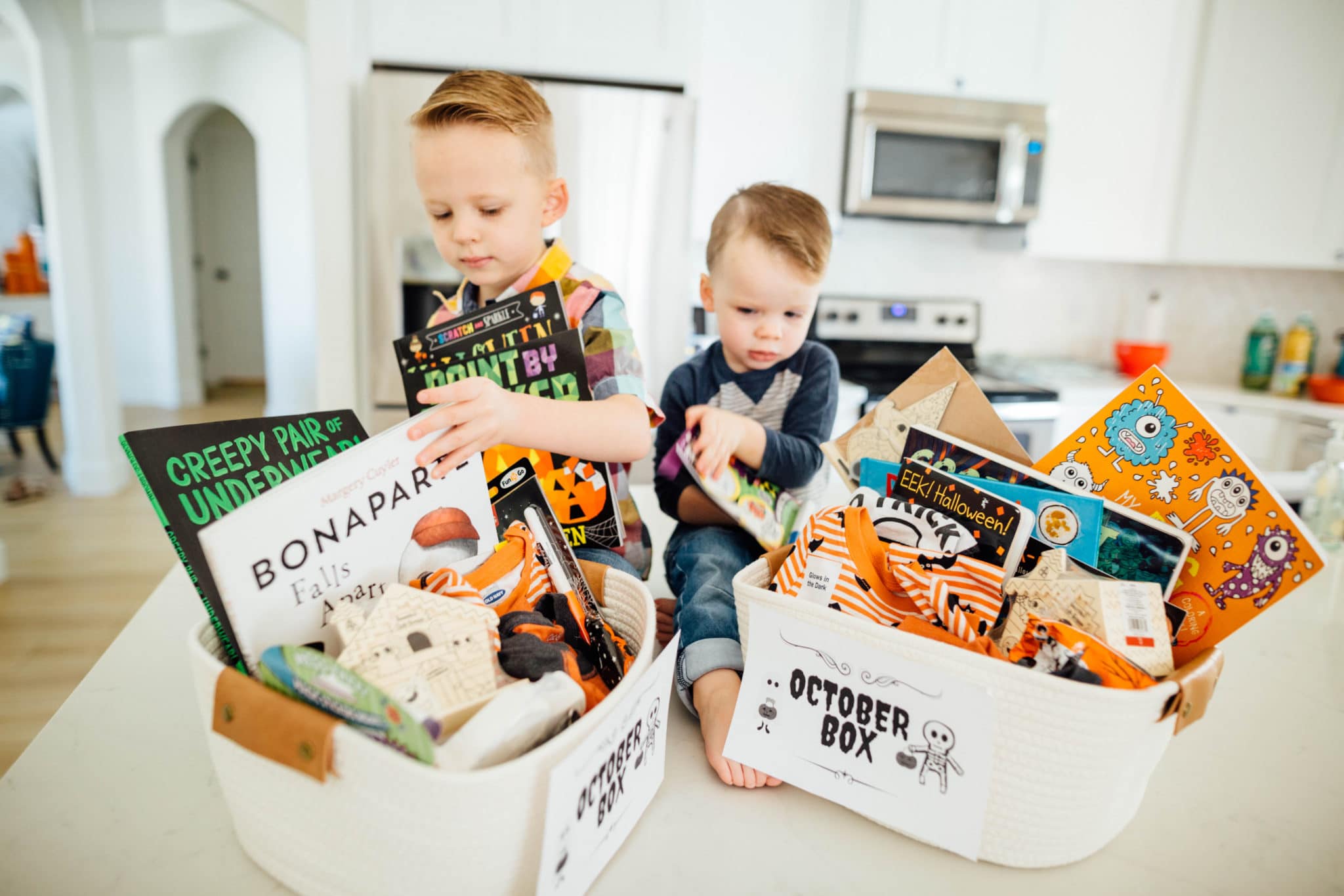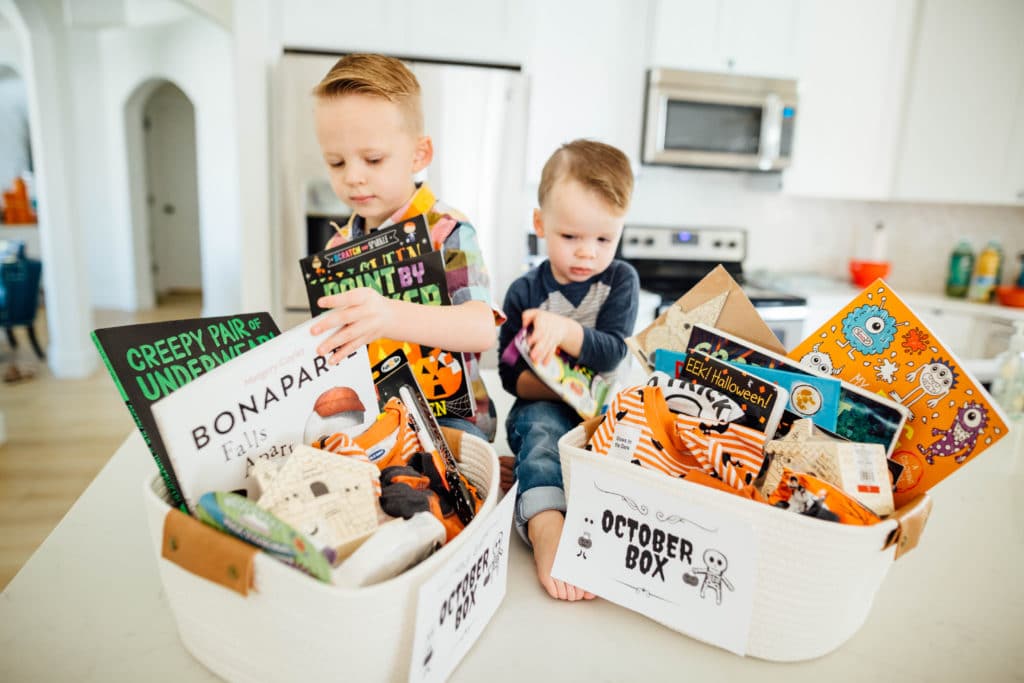 What is a Halloween Box?
It's a box or basket of fun items to help celebrate the holiday all month long!
I found this woven rope basket and it was the perfect size to hold a few fun items.
Also, I created a cute design printable you can tape to the box you decide to create. You can get your Free Printable Here:
What fun items do we include in a Halloween box?
You can truly do anything that fits your family and budget!
I have an entire section of ideas with direction links on MY AMAZON STOREFRONT to make your shopping experience easier!
But let me share a bunch of our favorites and what we included in our October Boxes this year!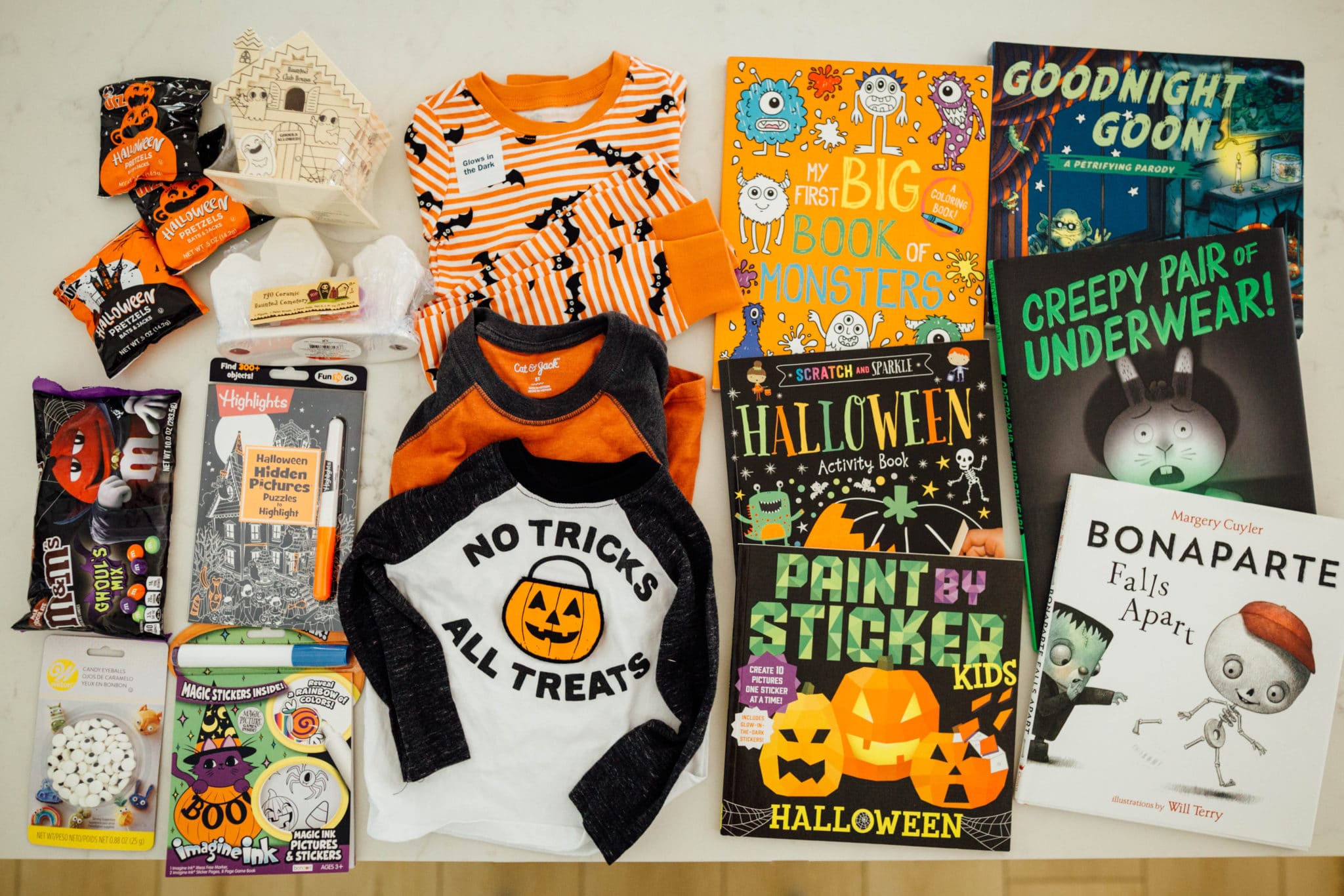 Something Festive to Wear
I am a massive fan of Halloween pajamas! They are a really easy way to be festive without spending a lot. Plus there's nothing like glow-in-the-dark pajamas kids can wear all season. So many people use them as part of a costume or under a costume. I think it's one truly perfect item for a Halloween box kids can enjoy on repeat!
I shared a huge roundup of Halloween pajamas for kids in this post, and so many of them ship super quickly!
Halloween Shirt/Festive Shirt
When I found these orange and gray baseball shirts for my boys, I knew they'd be fun all season and well beyond! Last year, my mom found a cute skeleton shirt my son loved and wore all season. Target often has a line of great Halloween shirts for kids and adults too! Like Halloween pajamas, it's something to enjoy all season and wear and enjoy during festive Halloween activities.
Halloween Fun Activities and Crafts
Halloween Books
We have a full list of the best Halloween books for kids you can find in this post. For this year I included some we've loved and checked out from the library regularly. For my older son that includes Creepy Pair of Underwear, and Bonaparte Falls Apart. They are both excellent books you'll love reading on repeat and owning!
For my baby, we included Eek! Halloween and 10 Trick-or-Treators. A cute board book or two is perfect for toddlers!

Halloween Activity Books
I love keeping my kids occupied with fun learning, art, and activity books. When you can find a great Halloween themed activity book that provides some screen-free fun,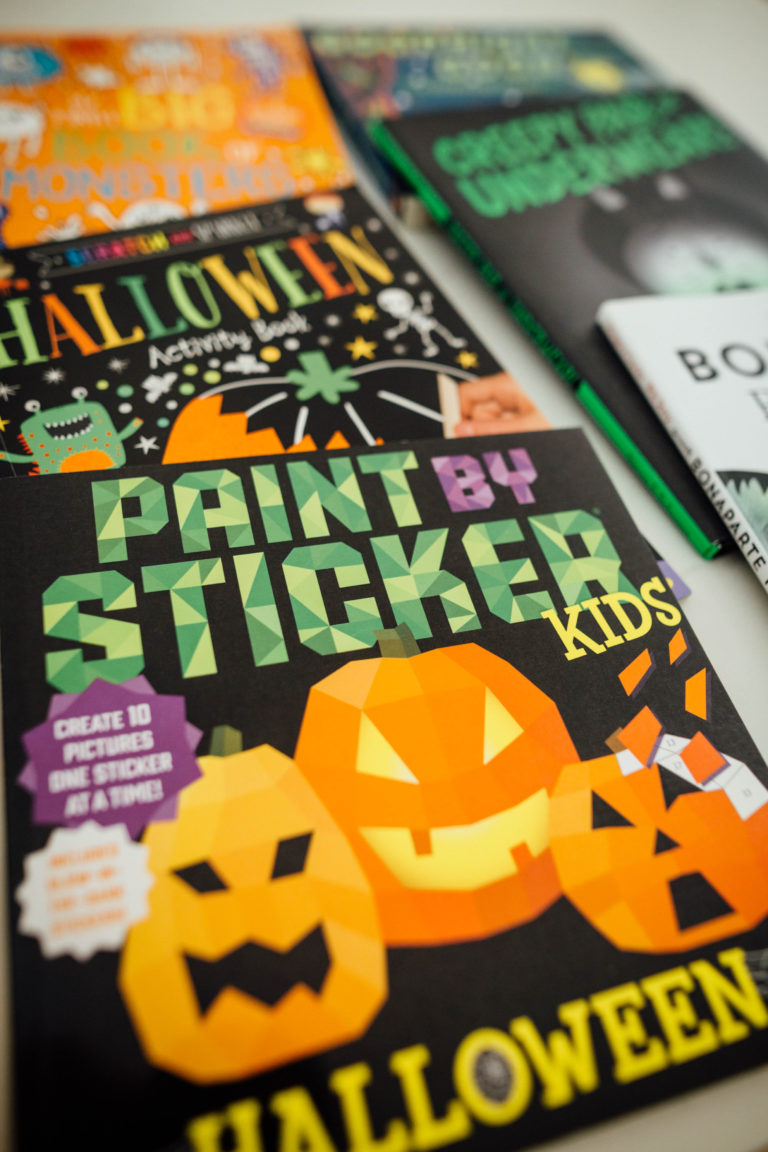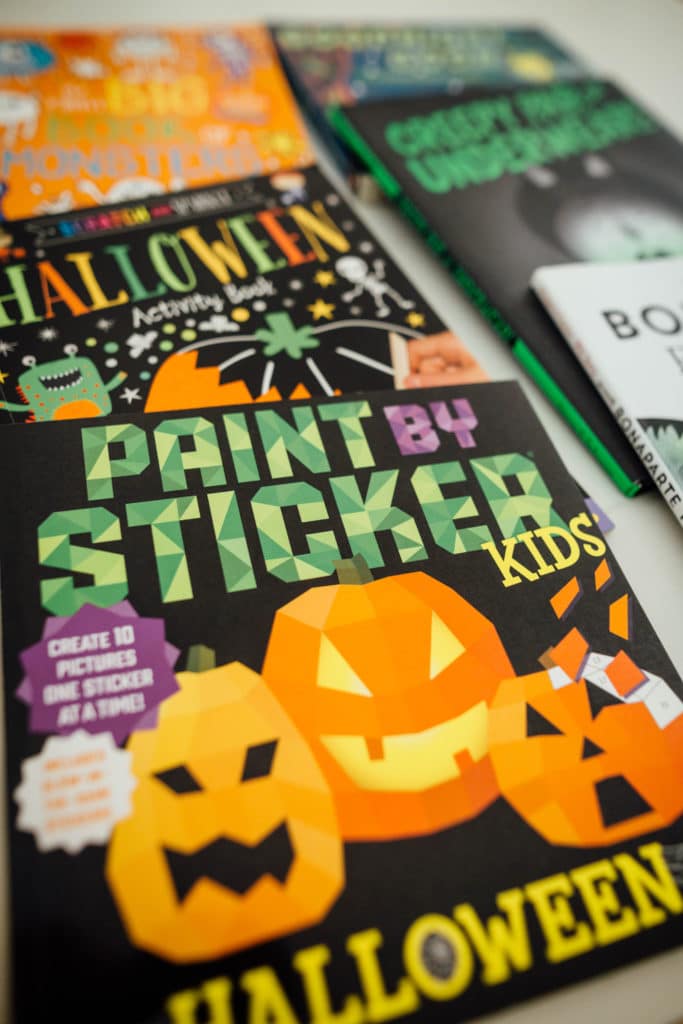 Here's some of our favorites:
Halloween Crafts
I start looking for these easy items at the Target Spot early in the season. It's a great place to grab several items for about $3 apiece. But I've also found amazing stuff for better deals at Joann. You can shop online and find tons of cute, simple Halloween crafts/projects for kids to do!
I'll also share several cheap, easy Halloween crafts for kids in the coming week, so stay tuned!
Family Fun with Halloween Experiences
Halloween Movie Night
Feel free to gift an actual DVD your recipient will love. However, there are so many great Halloween movies for kids on Disney+, Amazon, etc. You could also do an Amazon gift card or Fandango gift card to cover the cost of a rental.
That bonding time together is something kids just cherish, and it's so easy to give some popcorn or a movie to enjoy!
Festive Treats/Baking
We're suckers for our favorite chocolate chip cookie recipe. I added a bag of Halloween M&Ms to my kid's Halloween boxes ready to make an easy and favorite festive treat.
You could add a recipe card, an ingredient, or a printed picture to a Halloween box letting your kids know a festive item will be created together.
Pumpkin Carving Kit
Plan a fun pumpkin carving night in. A few tools and patterns set you up for a fun activity to enjoy together!
This is by no means an exhaustive list. However, you want to celebrate and create some excitement for your kids or significant other is up to you! Feel free to go all out, but you can also pull one of these together for only a few dollars.
Photos by: Chrissy Blake
Like this post? We'd love to have you pin it/share it!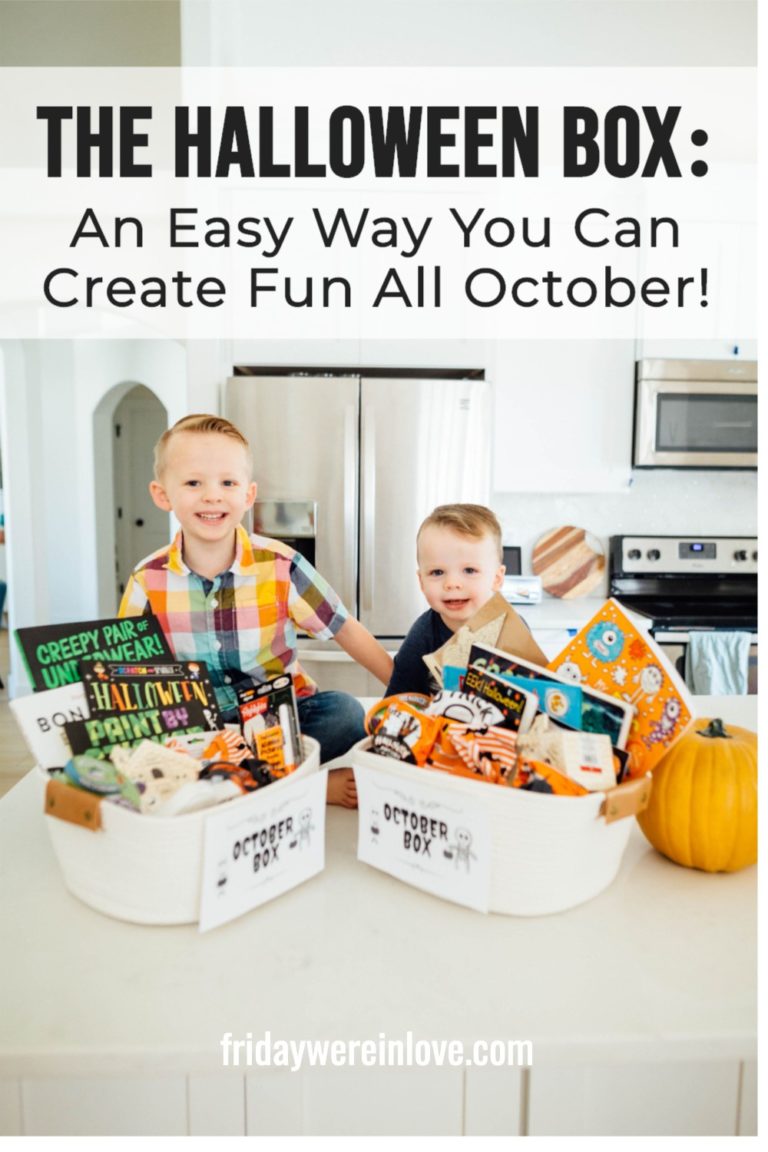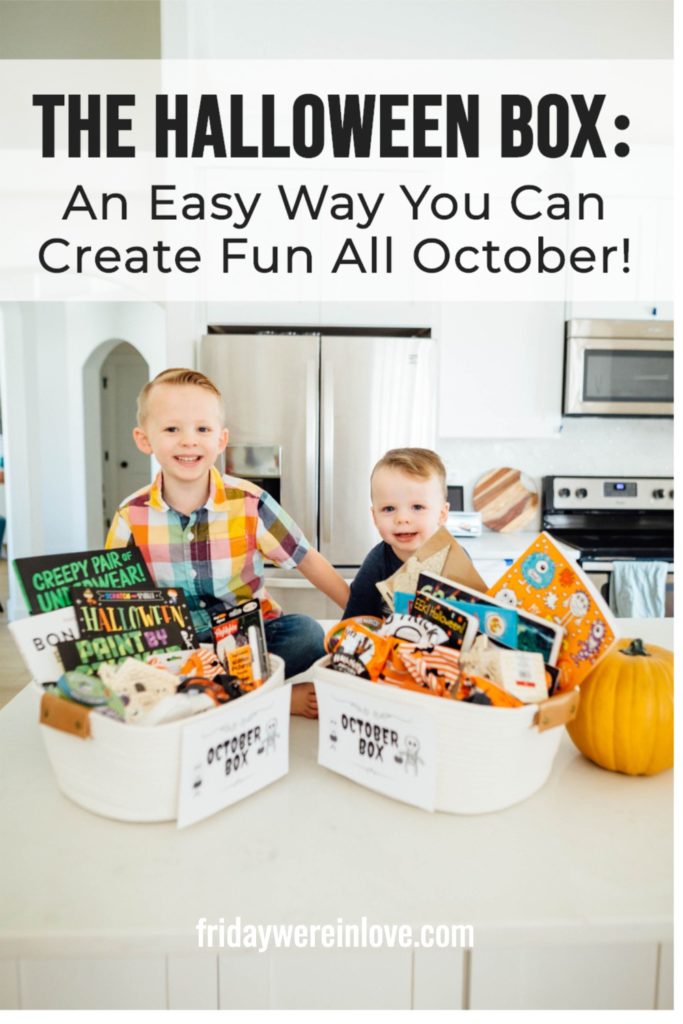 You may like these posts too:
Halloween Activities: 50 Ways to Celebrate and Have a Fun Halloween