Pumpkin Carving Cat Patterns
Carve the perfect cat pumpkin with these FREE pumpkin stencils! Grab these cute pumpkin carving cat patterns ready for you to download completely free!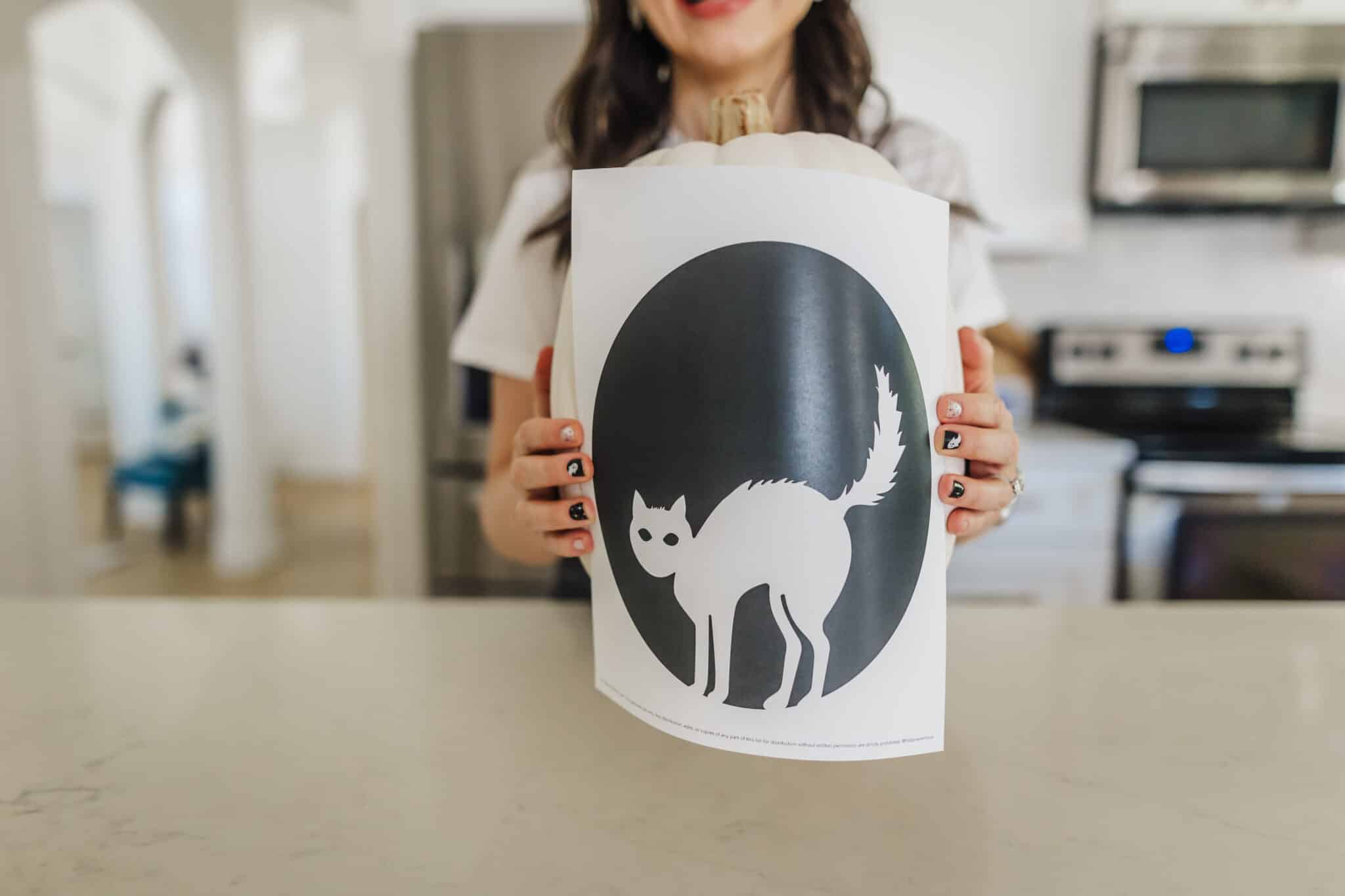 It's pumpkin carving week, and that means it's time to round up the free pumpkin carving stencils! And is there anything more iconic than a classic black cat? Grab these pumpkin carving patterns for the purrr-fect cat-themed Halloween FREE pumpkin carving patterns!
This is perfect for a Halloween date night or for a pumpkin carving Halloween activity for kids!
Why Cats Make the Perfect Pumpkin Design
Cats of any kind – be it real or cartoon characters – bring about a certain charm that no other design can. And Cat pumpkin stencils work well for any skill level of pumpkin carver!
The cat's eyes, when carved right, illuminate beautifully. Also, whether you pick a small pumpkin for a cute cat design or a large pumpkin for more detailed cat stencils, the end result is always a masterpiece that embodies the Halloween spirit.
We're here to support you as a cat lover, but even if you're just a Halloween lover, a cat pumpkin design is a great way to go! I love Binx from Hocus Pocus, and Jack o' Lanterns with the glowing moon behind a carved cat is always a winner!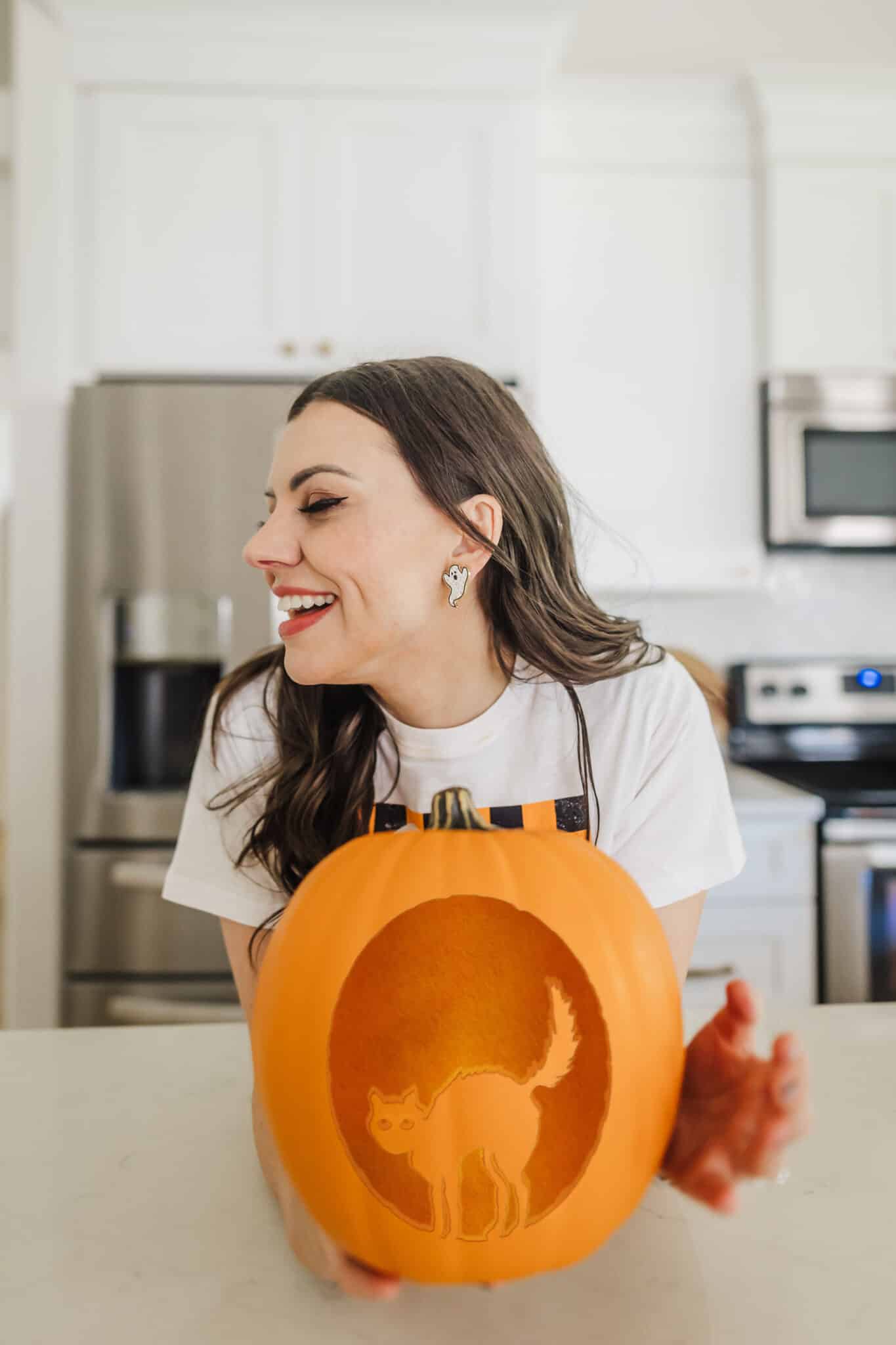 Cat Silhouette Printable Pumpkin Stencil
We're here to hook you up with a stencil design you can easily download the digital download PDF files at no extra cost, and get ready to carve this spooky season! Just enter your name and email and we'll send the cat pumpkin carving stencils right to your inbox!
​*Our free pumpkin stencils are for personal use only.
Pumpkin Carving Step-by-Step Instructions
Step 1: Download the Cute Cat Pumpkin Carving Patterns
Grab our completely free stencils in the form above.
One note: Many email clients auto-download when you confirm your email address. Check your downloads folder for the PDF file for the printable pumpkin craving templates in one file.
Print Your Halloween Pumpkin Templates
Once you have our free patterns, it's time to print! We recommend you go with what you love! But you may also want to consider the skill level of your carver. Simple design options and easy pumpkin carving ideas for beginners. We try to keep young kids in mind with each of our templates! But a few may need a pumpkin carving kit with a few smaller and specialty pumpkin carving tool options. Just keep in mind what type you'd like and if you have a more advanced or beginner carver and their carving skills.
We also recommend printing what you need on regular copy paper. Thinner paper is better for easier carving and catching the smaller details of a template.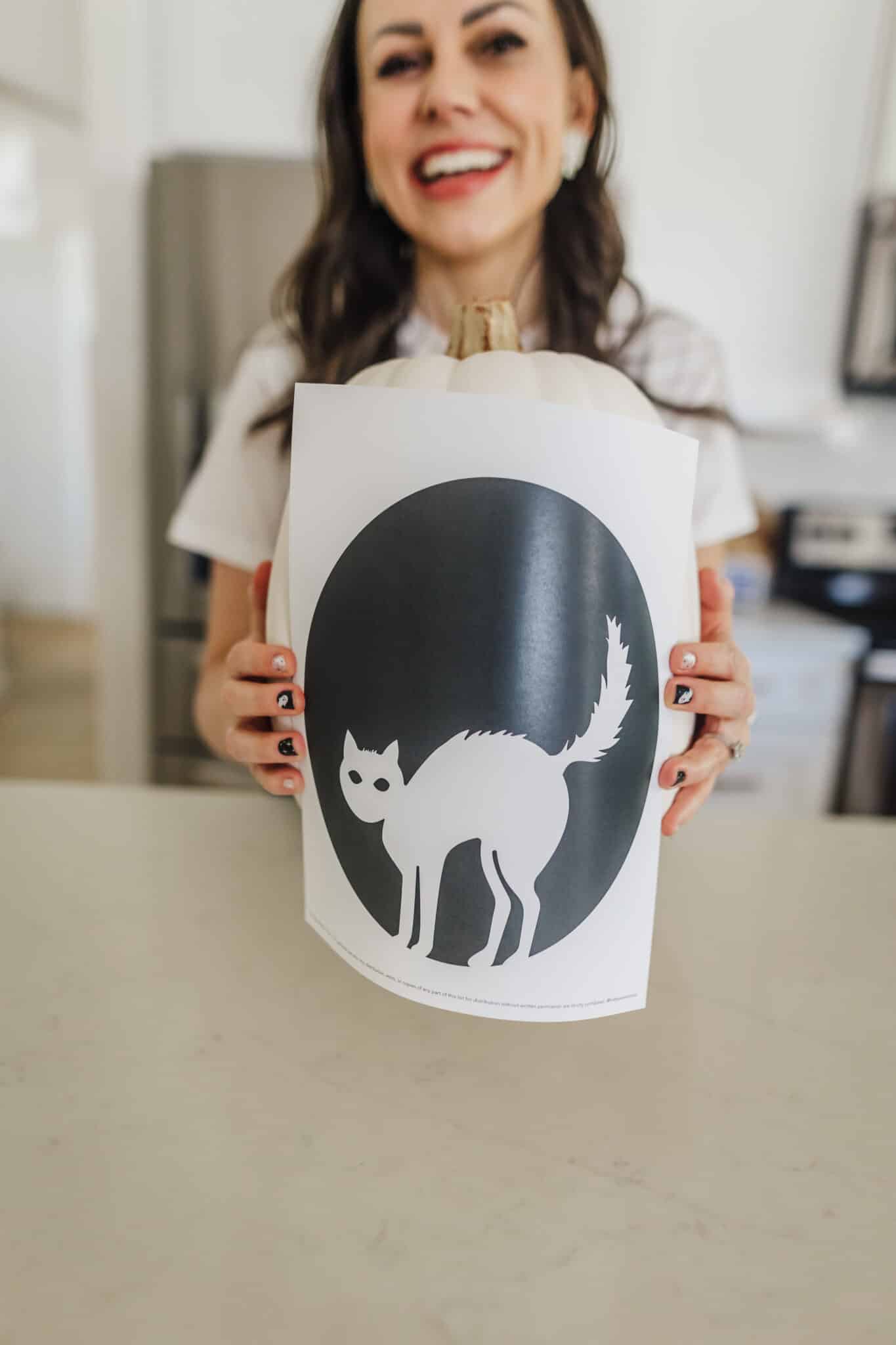 This would also be a good time to turn on our Halloween Songs for Kids Playlist to set a fun vibe!
Prepare Your Pumpkin
If you ordered a craft pumpkin from the craft store, your prep work is done! If you're carving a classic real pumpkin picked from the patch. be sure to clean, scoop, and prepare your pumpkin for carving.
Tape your Pumpkin Face Stencils to Your Pumpkins
A great way to keep your design in place is with simple tape! It's a good idea to place your design perfectly in place and avoid the common mistake of letting it slip all over your pumpkin. Grab that roll and get it firmly set exactly where you want it.
(Optional) Use a Toothpick to Imprint Your Design
This is one of my favorite ways to make carving even easier and more precise! This trick works particularly well with real pumpkins! We've found the best way to make pumpkin carving patterns even easier is to imprint them on the pumpkin. Poke several tiny holes with a pumpkin over the design. That way you have it imprinted on your pumpkin and it makes carving even easier. From here, you're set with your pumpkin's design and you can remove the paper.
Carve Your Favorite Halloween Image!
Use a sharp knife if you're an adult, or a kid-friendly safe knife if you're having a Halloween party with the entire family. If you like to get fancy, grab one of your favorite best pumpkin carving tools you have on hand. Follow the imprints, or the taped paper if you skipped this step, and carve your design.
Don't forget to carve a small hole on the bottom that's just big enough to add your light and light up the inside of the pumpkin.
Add Your Light
We recommend using flameless candles. A simple battery-powered tea light keeps things safe and well-lit to show off your cool design!
Display Your Cat Pumpkin for the Halloween Season
Is there anything better than a small pumpkin patch of carved pumpins on Halloween night? And Hello kitty, with this free cat pumpkin carving template, you'll have the most amazing pumpkin!
We hope you enjoy our cute designs for your next pumpkin carving date or family activity! Don't miss out on our Jack Skellington Pumpkin template or scary face patterns templates either! And tag us on social media @fridaywereinlove if you use them!
Be sure to check out these fun Halloween printables too!
Bat Pumpkin with Free Printable Templates
Mummy Template Printable Craft
Handprint Halloween Activity for Kids