A huge roundup of Hocus Pocus shirts! Including cute non-cheesy options to wear for a Hocus Pocus or Hocus Pocus 2 viewing party!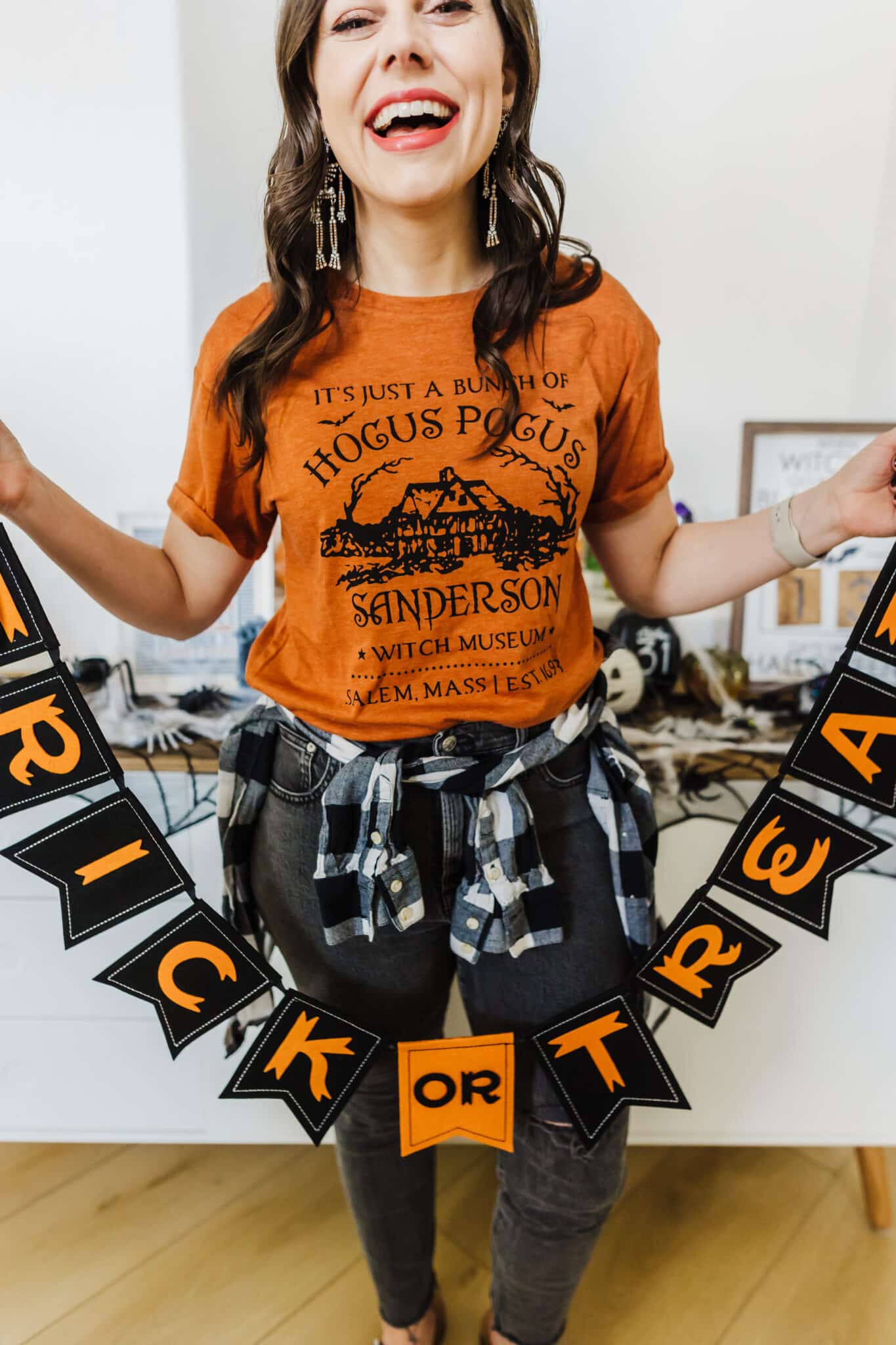 Hocus Pocus 2 Release
As Disney fans and Halloween fans, you know we were so pumped for Hocus Pocus 2. Dare I say, I liked it better than the first one! But either are a fun watch, and even more for the Halloween season!

I remember seeing the first Hocus Pocus as a child. I thought it was a little scary but still liked it a lot. And then I watched it again as a teenager, and decided it was a Halloween classic! It's definitely worthy of a Halloween movie night at least once a year! But we loved the postive feel and less scary vibe to Hocus Pocus 2. the Hocus Pocus sequel is a great choice if you have younger kids!
Since we share a lot of Disney content here on the blog and Instagram, I have been lucky enough to meet a lot of Disney creators. They are so kind and so creative. Last year, Jacob and I received an invite to attend a Hocus Pocus 2 viewing party from one of them. I knew it would be a great Halloween date night!
Movie Viewing Outfit
This sent me on a tailspin to find a great Hocus Pocus shirt to wear to the party. I know many attendees will go all out and dress as the Sanderson sisters. So, I figured the least I can do is rock a Hocus Pocus t-shirt!

Let me tell you, I found the perfect one! This shirt is SO comfortable, soft, and well-made! It's the soft cotton shirt you could sleep in! I give it a 5-star customer rating, and it's got free shipping! It runs a hair big with a more unisex sizing fit, so I'd size down if you like a more fitted shirt.

I've worn it twice already and have actually been stopped in public to inquire about it. Our friend Chrissy who takes a lot of our Halloween pictures bought one the moment she saw me. Like, pictures don't do this one justice, it's so good! It's the best of all my Halloween purchases! I bought the brown that's more like burnt orange, and I'm ready to add to cart the dark gray!
That's what I'll be rocking for our Hocus Pocus viewing date night (and all season)! It has a loose unisex fit and it's almost magic how well these tees fit! But I wanted to share all the other great shirts I found along the way! These are all excellent new products to add to your Disney Hocus Pocus collection!
Hocus Pocus Shirts
I love more classic and cute shirts with a subtle Disney vibe. Consequently, I was so pleased to find tons of excellent Hocus Pocus shirts that fit this style perfectly!
If you need a cute Sanderson sister shirt or Hocus Pocus shirt to rock some Hocus Pocus merchandise, for a Disneyland trip, or just a festive tee for Halloween, we have you covered! Here are tons of great graphic tee Hocus Pocus shirts perfect for the season!
And of course, there are even more options from independent sellers who sell through Etsy. You can find low – high-end items in all product types- you just may not get free two-day shipping
But here are a ton of favorites with so many cute styles that give a bigger size range (xs-plus size).
Disney Hocus Pocus Hoodies/Sweatshirts
DIY Hocus Pocus Shirts
If you love making your own apparel, you may love making your own Hocus Pocus t-shirt! If you have a Cricut (or a friend does), grab some heat transfer vinyl, and use one of the popular quotes or characters as inspiration.
You can also buy Hocus Pocus .SVG files galore to make your shirt even easier! Check them out here!
Movie Themes Saying and Character Inspiration
"It's just a bunch of hocus pocus"
"Another glorious morning, it makes me sick!"
"Sisters, All Hallow's Eve has become a night of frolic, where children wear costumes and run amok!"
"Come, we fly!"
"Amok, Amok, Amok!"
"I smell children!"
Winnifred Sanderson
Sarah Sanderson
Mary Sanderson
Billy Butcherson
Witches broom
Binx the black cat
The Book of Spells
The Black Flame Candle
I hope this helps you get prepared to feel like an honorary Sanderson sister (Winifred would be so proud!)! And also to have the perfect seasonal shirt that you love!
Like this fun Halloween post? You may like these posts too:
Halloween Shirts and Cute Halloween Inspired Clothing Roundup
50 Halloween Activities for Families with FREE Printable!