The Best Family Costume Ideas for 3 With a Baby Boy
Get Halloween ready with these Family Costume ideas for a family of 3 with a baby boy. If you have two parents and a baby, this roundup of cute family costume ideas for 3 with a baby boy is for you!
We joked before we had kids that perhaps the top reason to have a baby is to enjoy baby Halloween costumes. They are just too cute, and you'll cherish those first Halloween costume pictures forever! Perhaps the only thing cuter than the baby costume is when mom and dad can join in on the fun and turn the costume into a family costume with a fun theme. The moment I found out we were having a boy, I started brainstorming family costume ideas for 3 with a baby boy. Obviously many work for a girl too, but since we're a boy family, we wanted an easy way to include a boy with our couples costumes.
So get ready to express some creativity and have a spooktacular time together! With baby's first Halloween (or 2nd or 3rd), it's the perfect opportunity to go all out and craft the perfect family Halloween costume. Here are some of the best costume ideas with a baby boy.
---
Cute Mom Dad and Baby Costumes
The Princess Bride Family Ensemble
For those who love romance entangled with adventure, "The Princess Bride" offers a charming family costume idea. Mom can be the beautiful Princess Buttercup, dad can suit up as Westley, and your baby boy can be an ROUS (rodent of unusual size), a mini Inigo Montoya, or even the adorable Vizzini with a tiny bald cap! If you have a fourth family member, even a pet, they can play the role of the lovable Fezzik.
Wild Things Kingdom
Inspired by the beloved children's book, "Where the Wild Things Are," you can have wild things and Max costumes for the entire family.
Baby Shark Costume
If your home has been buzzing with the tunes of "Baby Shark," then this is family costume idea you've been waiting for. Transform into the adorable underwater family with Mommy Shark, Daddy Shark, and, of course, your baby boy as the viral-worthy Baby Shark himself! This would be an adorable Halloween costume that will surely get all heads turning and maybe even some singing along.
Farm Animals
I am a sucker for babies dressed as animals! We've chosen every costume theme around our baby in a cute animal or dinosaur costume. Dad can either be Old McDonald, or Mom can be Little Bo Peep. Also, you can all dress as farm animals in any appropriate animal costumes which makes for adorable Halloween costumes for young kids. These are easy to find in stores, but it's also a good idea to do DIY family costumes on the cheap! You'll need some duct tape, felt, and a DIY mom (or dad) to bring this cute family Halloween costume to life.
Little Red Riding Hood and the Forest Family
Take a walk on the whimsical side with the Little Red Riding Hood theme. Mom can don the iconic red-hooded cape as Little Red Riding Hood herself, while Dad gets to play the role of the Woodcutter, axe and all. Your baby boy can be the cutest 'little wolf cub wrapped in gray faux fur, or if you prefer a lighter spin, he could be a mini version of Grandma complete with little spectacles and a bonnet.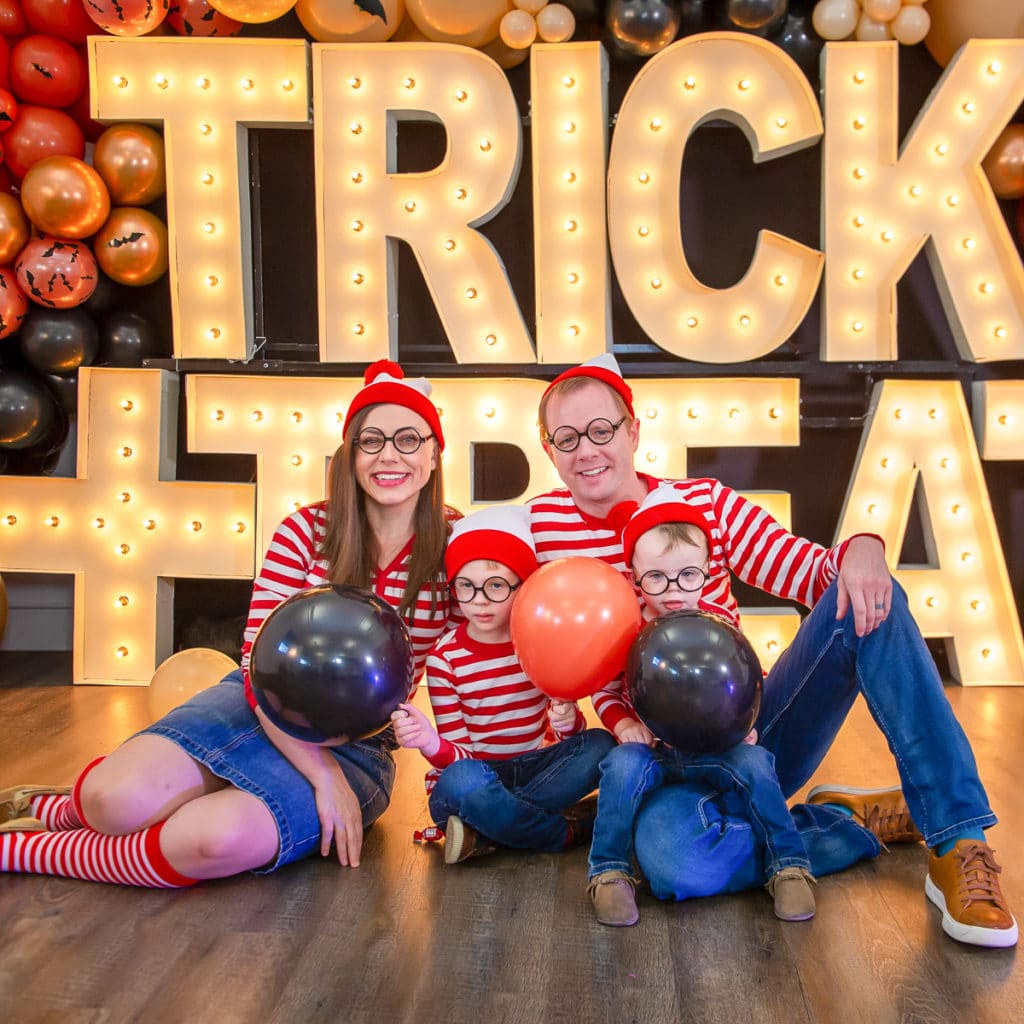 Where's Waldo Family Costume
If you're looking for a family costume idea that's both iconic and interactive, look no further than "Where's Waldo." Mom and Dad can wear the famous red-and-white striped shirts, beanies, and glasses, while your baby boy becomes the most adorable mini Waldo.
The beauty of this idea is in its simplicity and its wide recognition. It's an easy DIY costume involving striped T-shirts, blue pants, and red beanies. Plus, you'll have a great time playing hide-and-seek with family members and friends. No one will have trouble spotting the cuteness of your family, especially your baby boy, on Halloween night. It's one of our favorite DIY costume ideas, and we have a full Where's Waldo Costume DIY Halloween costumes post to help you make it easily yourself!
The Beekeeper Family Costume
For something a bit different but incredibly cute, consider going as a family of beekeepers and bees. Mom and Dad can wear beekeeper suits or simpler white outfits with veils, while your baby boy can be the most adorable little bee in the hive.
If You Give a Mouse a Cookie: The Storybook Family
For families that cherish bedtime stories and imaginative play, the "If You Give a Mouse a Cookie" family costume is a charming idea that brings a beloved children's book to life. Mom can dress as the little boy from the story, complete with overalls and a baseball cap. Dad can take on the role of the mouse, donning some cute mouse ears and a little backpack. Your baby boy would look absolutely adorable as a tiny cookie.
Classic Disney Characters
The Little Mermaid
Is your little girl obsessed with Ariel? Dress her up as the Little Mermaid while Mom becomes Queen of Hearts and Dad takes on the role of King Triton. Your baby boy? He'd make the cutest Flounder or Sebastian!
Mary Poppins
If you're looking for a more classical touch, Mary Poppins is a great idea! Mom as Mary, Dad as Bert, and your little girl and baby boy as Jane and Michael Banks, or even little penguins—practically perfect in every way!
Snow White and the Seven Dwarfs
Transform into the iconic Snow White, Prince Charming, and for the baby boy – a cute little Dopey! Bonus points if you get to a pumpkin patch for some whimsical photos.
101 Dalmations Costume: Cruella de Vil and her Dalmatians
Mom can channel her inner Cruella de Vil, while dad and the baby boy can be adorable Dalmatians. Or of course, dad can easily be Jasper or Harris. This one's a cute idea with a touch of mischief.
Peter Pan
Fly to Neverland with Peter Pan, Tinker Bell, Smee, Captain Hook, or John or Michael. There are so many fun combinations, and it's such a classic costume and a great option for both a baby boy and a baby girl with mom and dad.
Winnie the Pooh: The Hundred-Acre Wood Family
Wander into the whimsical world of the Hundred Acre Wood this Halloween with a Winnie the Pooh-themed family costume. Mom could be Kanga, Dad could step into the role of Tigger, and your baby boy would make an absolutely adorable little Pooh Bear.
The Tangled Family: Rapunzel, Flynn Rider, and Pascal
Step into a world of magic and wonder with a family costume inspired by Disney's "Tangled." Mom can let down her hair as Rapunzel, Dad can be the charming Flynn Rider complete with a satchel, and your baby boy will be the star of the show as a tiny Pascal the chameleon.
It's a perfect family Halloween costume for Disney enthusiasts, capturing the whimsy and adventure of the animated film. A flowing purple dress for Mom, a blue vest for Dad, and a green onesie for your little one can make the costume come alive. This is an adorable option that will have you snapping photos all Halloween night long.
A Whole New World with Aladdin, Jasmine, and Abu
Dive into the fantastical world of "Aladdin" with Mom as Princess Jasmine, Dad as Aladdin, and your baby boy as the adorable monkey Abu. For a fun twist, you could also incorporate a magic carpet stroller cover or carry around a genie lamp prop!
This costume is a hit for the whole family and a great way to introduce your baby boy to the magic of Disney from a young age. With colorful costumes and playful accessories, you can make this Halloween a "whole new world" for your family.
The Emperor's New Groove
For families who love a good laugh, the characters from "The Emperor's New Groove" offer a unique family costume idea. Mom can be Pacha, Dad can take on the role of Emperor Kuzco, and your baby boy can be the cutest little llama you've ever seen.
It's a hilarious and underrated Disney film that allows for creative costumes. We did Kronk, Yzma, and a baby squirrel with our newborn one year. It was such a fun way to be a favorite character from the funniest Disney movie! Plus, it's bound to get some hearty laughs and nods of approval from those in the know.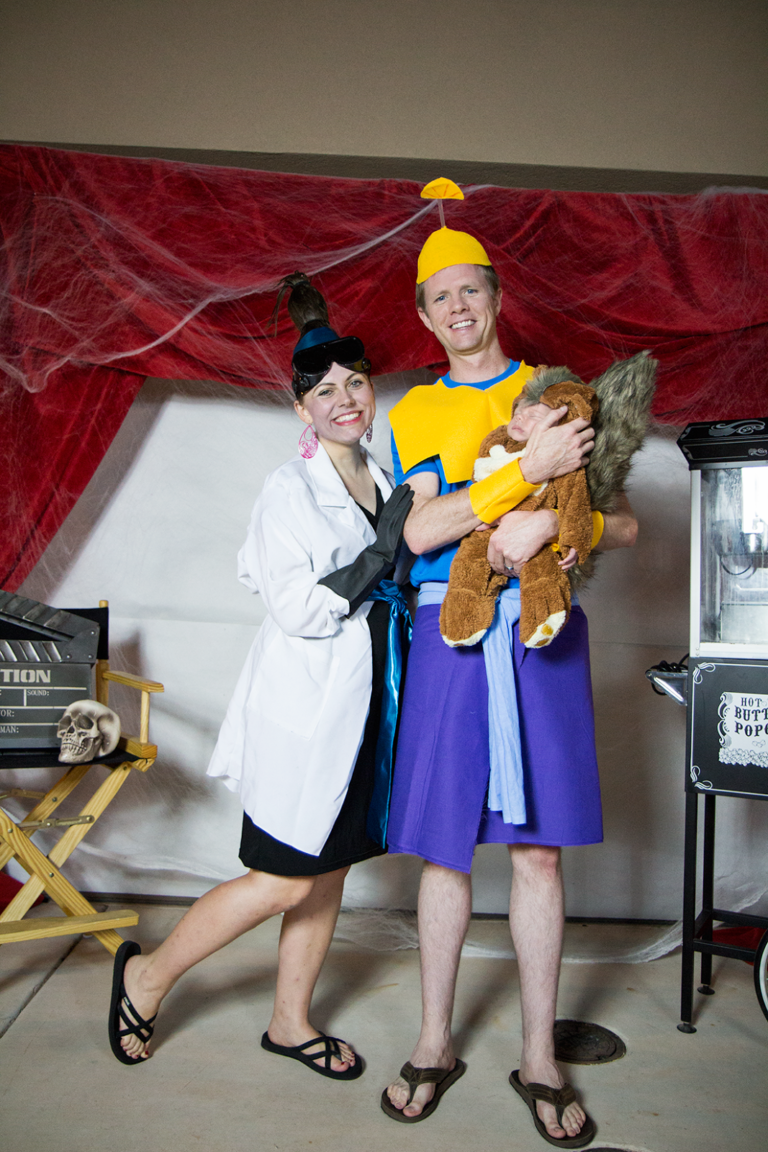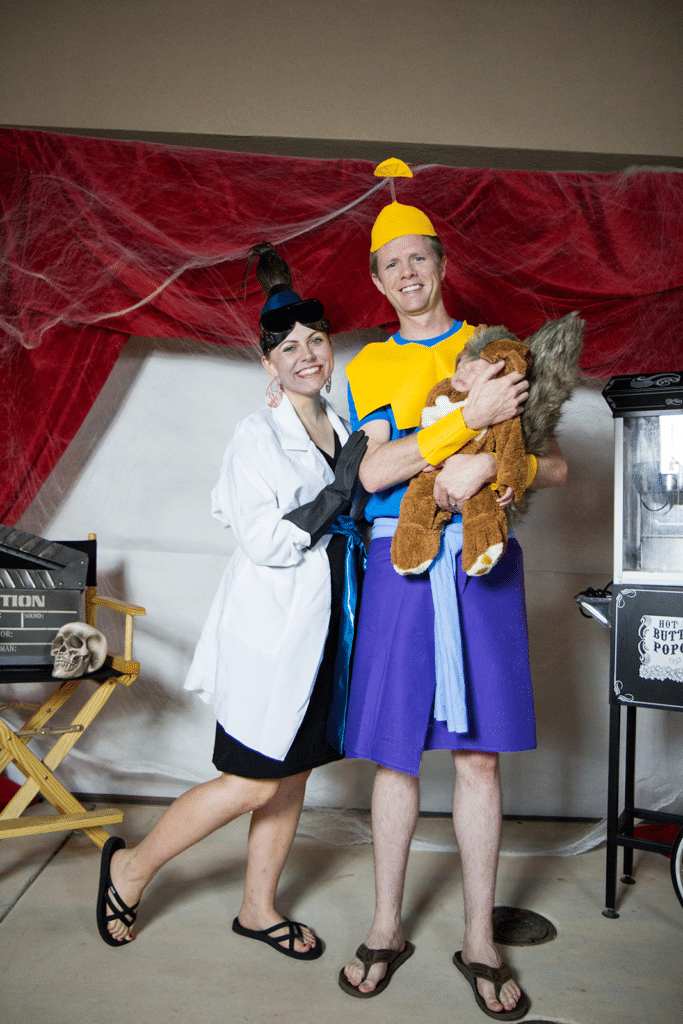 Ratatouille: Linguini, Colette, and Little Remy
Here's a culinary twist for Halloween—how about going as the talented crew from "Ratatouille"? Mom can be the skilled chef, Colette, Dad can be Linguini, and your baby boy can make an adorable little Remy the Rat.
This is a fun idea for food-loving families and provides a perfect opportunity for some DIY costumes. Chefs' coats, kitchen props, and a tiny rat costume for your baby can make for an absolutely delightful ensemble.
Monsters Inc: Sulley, Mike, and Boo
Lastly, for a monstrous amount of fun, consider the lovable characters from "Monsters Inc." Dad can be Sulley with a furry blue getup, Mom can be Mike Wazowski with a big eye and green outfit, and your baby boy can be Boo in his adorable monster disguise.
The Monsters Inc. family costume idea is both cute and nostalgic, perfect for families with young kids. Soft, furry fabric for Sulley, a green spherical outfit for Mike, and a simple baby-sized monster costume for Boo will make you ready to go door-to-door in monstrous style.
---
Adventurous Group Costumes
Harry Potter
If you're a family of Potterheads, Harry Potter costumes are your best bet. With mom as Hermione, dad as Harry, a little girl as Ginny, and the baby boy as Dobby, you'll be such a cute group! You could also do two wizards and an owl for a cute group costume! Either way, you're all set for a magical Halloween night.
Star Wars
May the Force be with your family! Dress as Princess Leia, Han Solo, and for the baby boy, a cute Yoda or even a mini Darth Vader. We did a Jedi Family Costume and it's one of my favorite costumes we've ever done!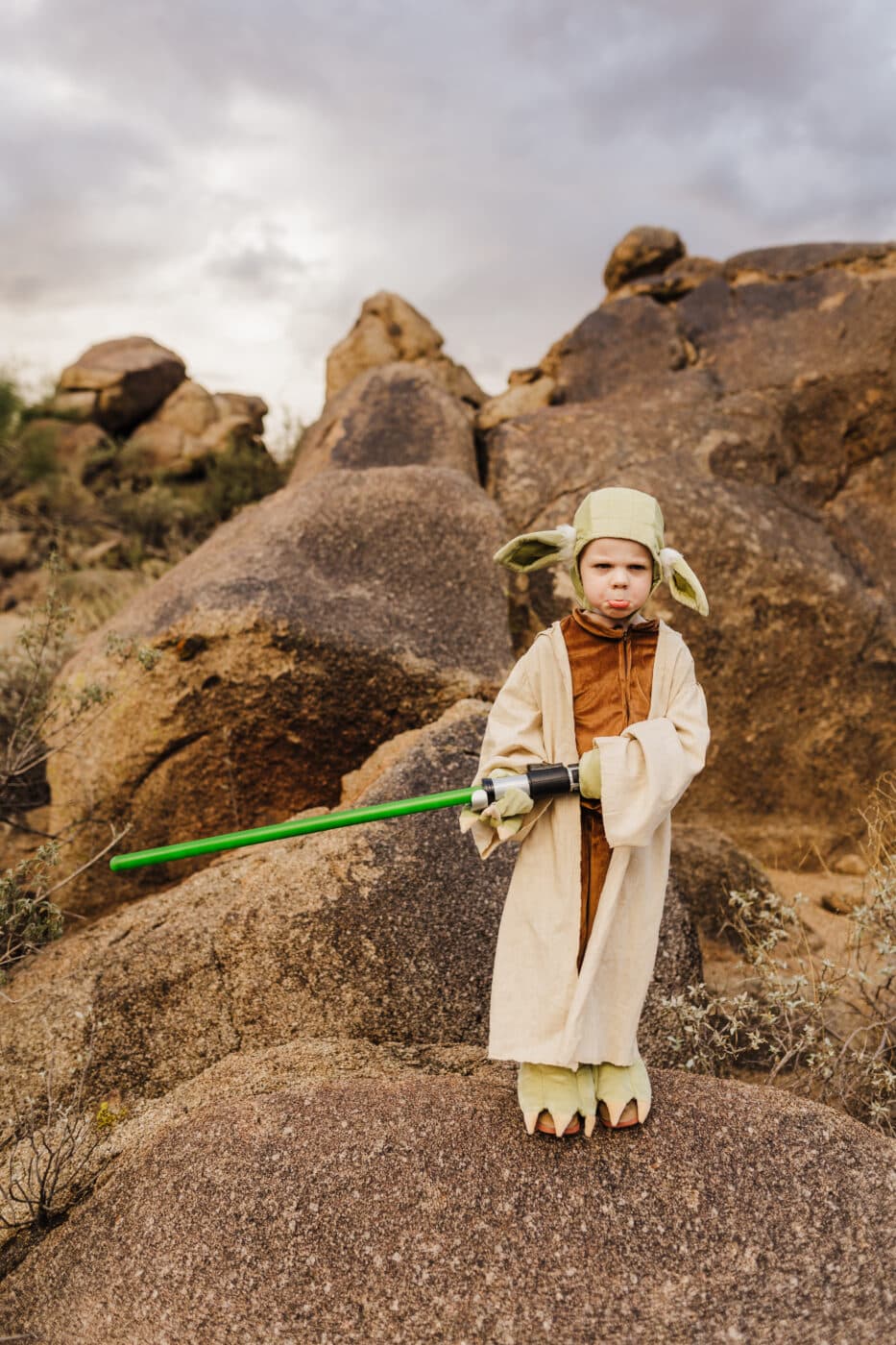 Mario Brothers and Princess Peach
For video game aficionados, what could be a more iconic family costume idea than the Mario Brothers? Dad can don Mario's signature red cap and blue overalls, while Mom rocks Princess Peach's royal gown. Your baby boy will make an adorable Luigi with a green cap and mustache pacifier! Bonus points if you incorporate props like a Super Star or even a little go-kart for a full Mario Kart experience. 
Space Costume
Take your family Halloween costumes to new heights—literally—by choosing a space theme! Mom can don the suit of a NASA astronaut, Dad can be a daring space explorer from another galaxy, and your baby boy will look out-of-this-world cute as a tiny alien or a miniature astronaut.
This costume idea is truly stellar for families fascinated by the cosmos. It allows everyone to showcase their love for space, exploration, and the unknown. You can opt for store-bought astronaut suits or go the DIY route using white clothes, some patches, and a bit of hot glue for the adults. For your baby boy, a simple green onesie can serve as the base for a cute alien costume, complete with felt antennae!
An added bonus is that this family costume can be as educational as it is fun. It presents a perfect opportunity to talk to older kids about space, stars, and perhaps even the science behind rocket launches.
The Pirate Family Costume
Shiver me timbers, it's a pirate family! This is a fantastic option for families looking to sail the high seas this Halloween—or at least pretend to! Mom can be the fearsome pirate queen, Dad can be the grizzled ship captain, and your baby boy can be the adorable little first mate or even a tiny parrot sidekick.
---
Favorite TV Show and Movie Costumes
The Addams Family
The Addams Family costumes are a fun idea and perfect for the whole gang! Mom can be Morticia, Dad as Gomez, and your baby boy as Pugsley.
Willy Wonka
Your family will look sweet in Willy Wonka-themed costumes. Parents as Willy and Veruca, and the baby boy as a cute Oompa Loompa—what a creative family costume idea!
Wizard of Oz
A cute costume idea that never gets old is the Wizard of Oz. With a little creativity, some hot glue, and fabric, you can turn yourselves into Dorothy, the Scarecrow, and the Tin Man, with your baby boy as the Lion. If you have a larger family or want to add in grandparents, it's about the perfect family costume!
The Greatest Showman Circus Team
Join the circus for Halloween night! Parents can be P.T. Barnum and the trapeze artist, while the baby boy can be a little lion or even the young version of P.T. There are a lot of characters and options, and they come out darling! Last year we saw a few families turn it into a group costume. It's always a favorite group Halloween costume that work well with three or more!
The Great Pumpkin Charlie Brown
For a throwback to a childhood classic, consider going as the lovable characters from "The Great Pumpkin Charlie Brown." Dad can take on the role of Charlie Brown himself in his iconic zigzag-striped shirt, Mom can be Lucy with her blue dress and saddle shoes, and your baby boy would make the cutest Linus, complete with a blue blanket- or Snoopy. You can even carry around a small faux pumpkin to represent the elusive Great Pumpkin!
Jurassic Park Family Costume
For the adventure-loving families out there, why not go all out with a Jurassic Park-themed Halloween? Mom can dress as Dr. Ellie Sattler in her signature pink shirt and blue shorts, while Dad can take on the role of Dr. Alan Grant, complete with a hat and bandana. Your baby boy could be the cutest little dinosaur to ever roam the Earth, perhaps a baby T-Rex or a tiny Velociraptor.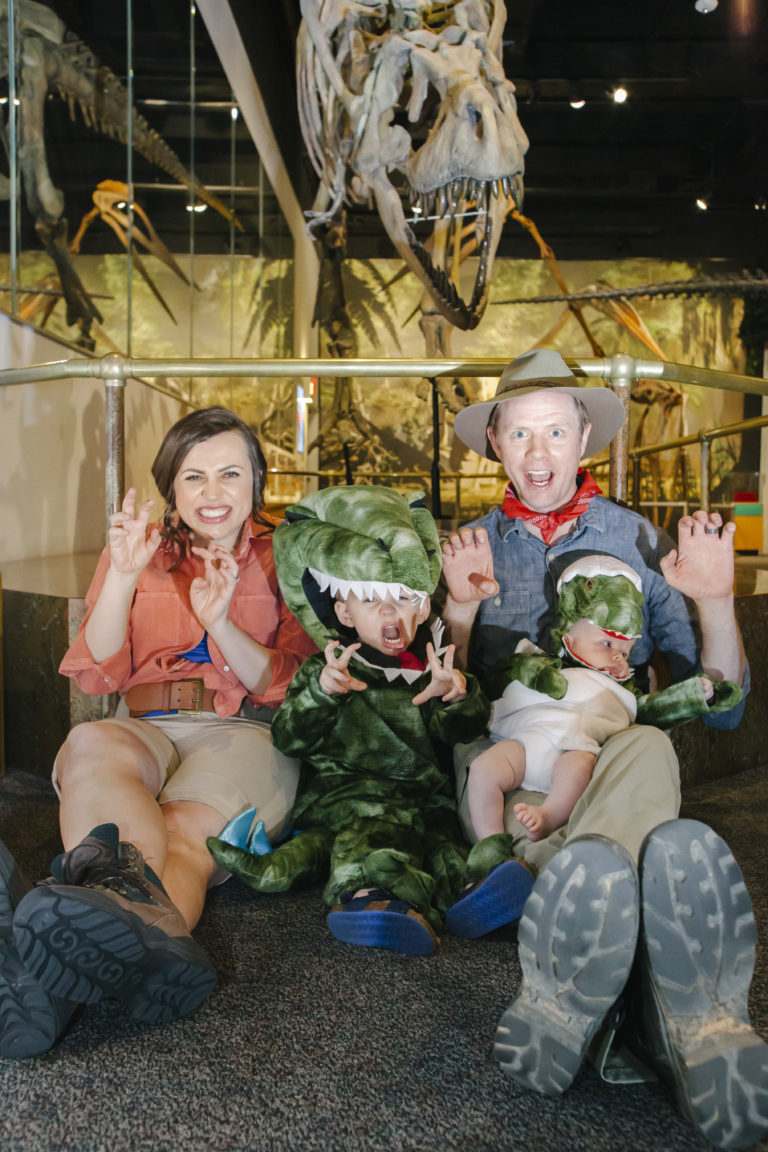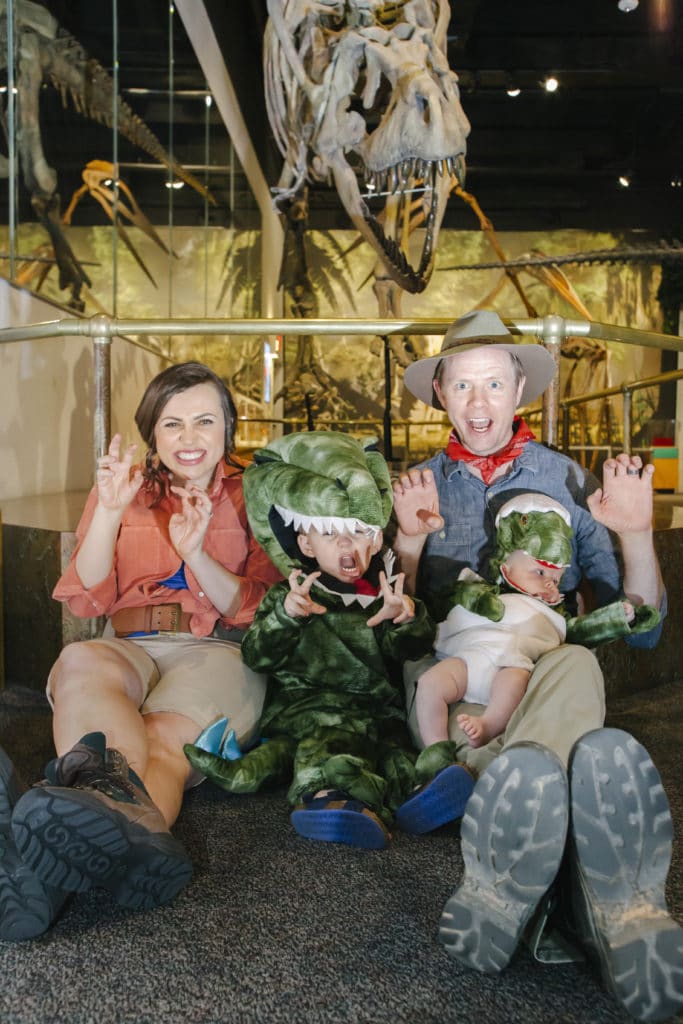 Ghostbusters: The Spooktacular Family
Who you gonna call this Halloween? How about the Ghostbusters family! This iconic 80s movie provides a fun backdrop for a family costume. Mom and Dad can don the signature beige jumpsuits, complete with DIY proton packs, while your baby boy could be the cutest little Slimer or Stay Puft Marshmallow Man.
Bluey: The Heeler Family Adventure
If you have young kids, you're probably familiar with the charm of Bluey, the Australian Blue Heeler pup who loves adventures. Mom can be Chilli (Mom Heeler), Dad can be Bandit (Dad Heeler), and your baby boy could be a cute mini Bluey or his little sister, Bingo.
This is an especially good idea if you have a dog—dress him or her up as one of the show's many canine characters for extra fun. You could either find these costumes in stores or craft them yourself using colorful clothes and a little imagination.
E.T. the Extra-Terrestrial: The Out-of-This-World Family
A classic that's touched multiple generations, E.T. provides a plethora of family costume options. Mom can dress as Mary, the caring mother, Dad can go as Keys, the sympathetic government agent, and your baby boy will steal the show as a snuggly, adorable E.T.
Pokemon: The Gotta Catch 'Em All Family
For the families that love Pokemon, this is a no-brainer. Mom can be a Pokemon trainer, Dad can be Ash or another beloved character, and your baby boy can be the cutest little Pikachu you've ever seen.
Creative Costumes
Ice Ice Baby
Yes, you read that right. Dress up in '90s attire, and with some simple T-shirts and a little faux ice (made from plastic), you can be Ice, Ice, and Baby. This is a viral-worthy costume and is an easy DIY family Halloween costume.
Bank Robbers and a Bag of Money
If you have a little baby who likely won't be walking, this is such an easy costume! Add them to the baby carrier and cover it with bag with a money sign. Have Mom and Dad dress like bank robbers. We have a bank robber costume tutorial that would be the perfect costume for both parents!
The Hot Dog Vendors Family
Are you craving a unique family costume that's a bit out of the box? How about dressing up as hot dog vendors for a deliciously good time? Mom and Dad can wear vendor aprons complete with fake condiment bottles hanging from the sides. Your baby boy would make an absolutely adorable hot dog in a bun, complete with ketchup and mustard detailing! Mom and Dad can even be the ketchup and mustard bottles as a fun alternative!
Shark Attack
Dress your little man up as a shark in a shark costume for toddlers. Mom and dad can dress like lifeguards with a little fake blood. This is a simple costume that often wins prizes for the best family Halloween costumes!
The Chefs: A Culinary Family Experience
For families who love to cook—or just eat—why not go as a team of chefs? Mom and Dad can wear traditional chef whites. And your baby boy becomes the cutest sous-chef in a mini chef's hat and apron. You could also have baby be a lobster, or other item commonly prepped by chefs.
Cookies and Milk Costume
If you're looking for a fun and different family Halloween costume, consider going as cookies and milk! Mom and Dad can either be two milk bottles, or be different types of cookies—chocolate chip, oatmeal raisin, or whatever your favorites are. Dress your baby boy as a cute little milk carton, or turn him into a cookie. This is one of those easy DIY family Halloween costumes you can make with a cardboard box.
---
Family of 3 Costume Ideas FAQs
What are the best costumes for a large family?
For a large family, Disney family Halloween costumes like Aladdin or Toy Story characters (think Buzz Lightyear and Woody) offer multiple roles for everyone.
How can I make easy costumes for a baby?
Baby costume ideas can be as simple as using pajamas and adding a few accessories. For example, a Winnie the Pooh costume can be easily made with yellow PJs and a red T-shirt.
Where are the best places to shop for costumes?
Popular movies and TV shows often produce ready-to-wear costumes that can be found in specialty stores or online.
---
Best Family Halloween Costume Ideas
Whether you're a DIY mom or prefer ready-made costumes, a little planning can go a long way in making your Halloween unforgettable. With your little creativity, you can have fun family Halloween costumes. Enjoy your little guy's first Halloween (or second, or third), and make it one for the books!
---
Remember, the most important part of any Halloween celebration is spending quality time with your loved ones. So, whatever you choose to be, make it a Halloween to remember!
Happy Haunting! 🎃
Like this Family costume idea for 3 with a baby boy roundup? Be sure to check out these posts too: