Create Halloween memories with Halloween costume pictures. These before Treat-or-Treat pictures of kids in costume help you document the year and with a free Halloween printable!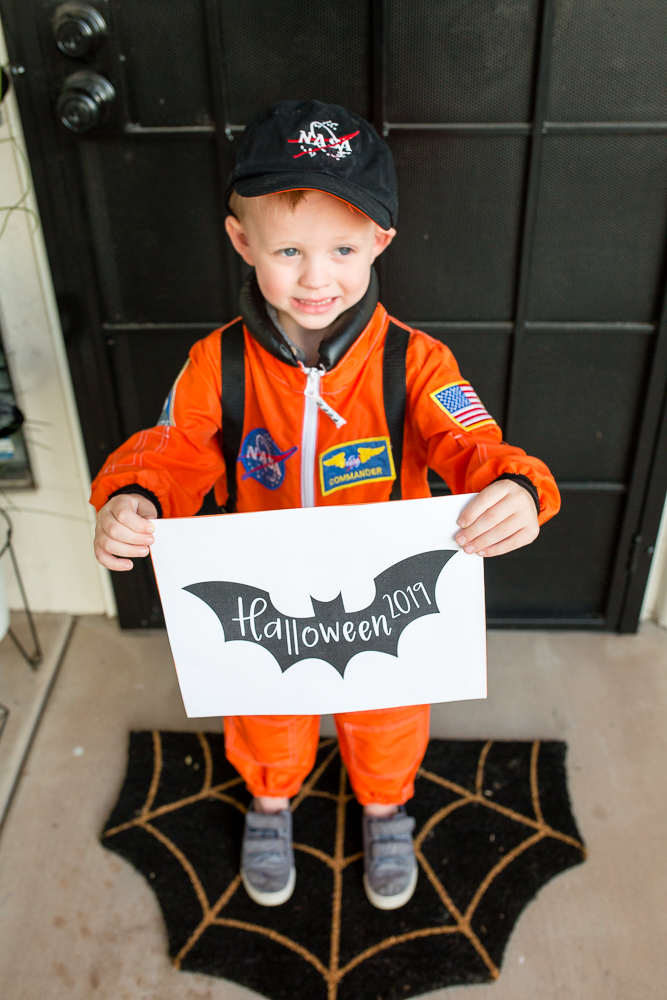 Halloween Memories
I have joked with my husband for years the main reason one has children is to dress them up for Halloween! There is just something so darling about a toddler in any type of costume playing dress up and bounding around about candy.
We clearly go all out with our Halloween Costumes for Couples and Family Halloween Costumes each year. I can hardly wait for Friday when I share this year's big reveal!
Halloween Costume Pictures
I know not everyone is as extra to do a professional photoshoot in costumes. However, I think most parents love a good snap of their kids dressed up before trick-or-treating. Social media is just so fun that day, and I think everyone enjoys seeing the cute and clever costumes with those cute smiling faces. They create forever Halloween memories you can smile about each year!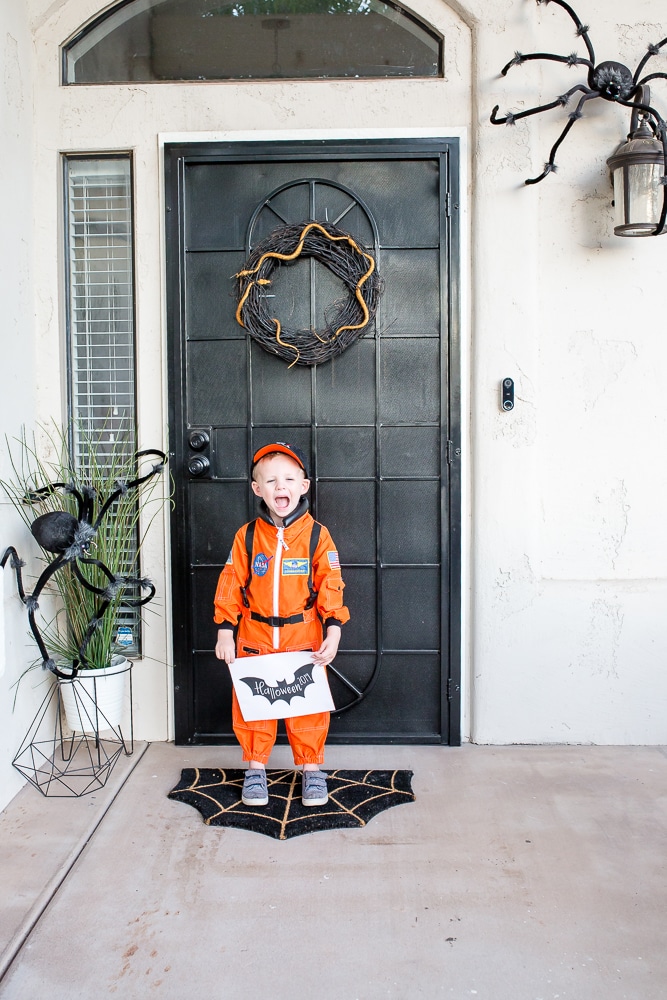 This is only my fourth Halloween with children, and luckily I can still keep all the years and pictures straight. But now that I'm an adult, my mom who loves Halloween even more than I do has a hard time remembering the year and the ages of the Halloween pictures she took of her own children. I know the day will come that I mix up the years and the costumes too. Even with digital images and folders, it would be so nice to keep them all straight and in order.
Then it hit me- what if we did the first day of school style picture? The internet is crawling with cute pintables announcing the year and/or a child's grade to help everyone remember and document the day. What if we came up with a Halloween version with the same concept?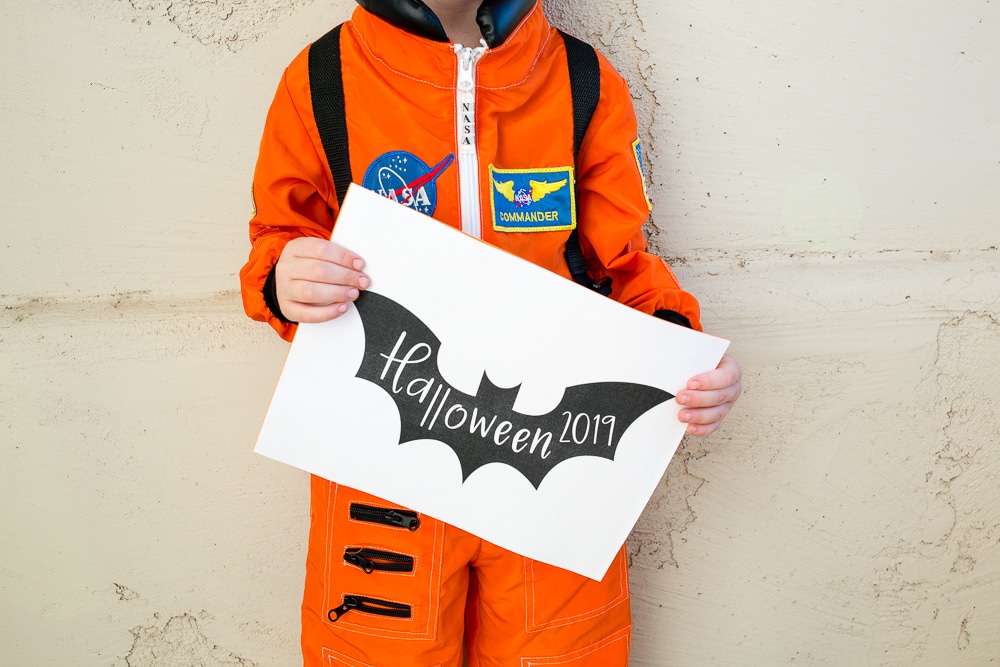 Free Halloween Printable for Halloween Costume Pictures
All it takes is dressing your children up in their Halloween costumes, your front porch, and our free Halloween picture printable. Voila! The year is documented with a little style and a lot of fun!
Now I'll always remember 2019 as the year my four-year-old fell in love with space and rocket ships.
Plus, one day I play to make a photo book and print out our Halloween costumes through the years. I can always remember our family costume, and the bonus costumes my son likes to wear to preschool/school outside of our family costume. This free Halloween pictures printable will make it so easy to keep the years straight and build that book I'll treasure forever!
Want your own free Halloween printable? Grab this year's download here: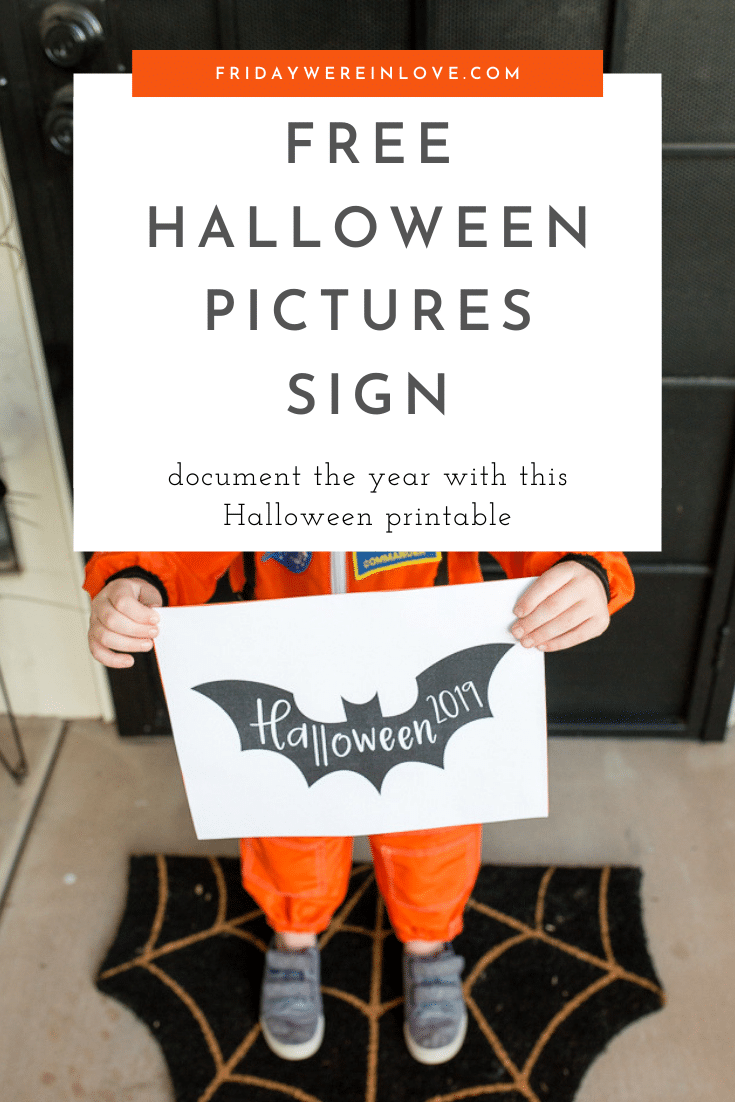 Like this Halloween Idea? You may like these posts too:
Halloween 2017: Family Halloween Costume Reveal
Get 365 Date Ideas!
We want to help you have the best date nights ever! Grab this FREE printable with 365 date ideas, a date for every day of the year so you never run out of ideas!