Create cute Halloween goodie bags with this cute FREE Halloween printable download! These Halloween treat bags are perfect for trick-or-treating, class parties, or passing out at a trunk-or-treat!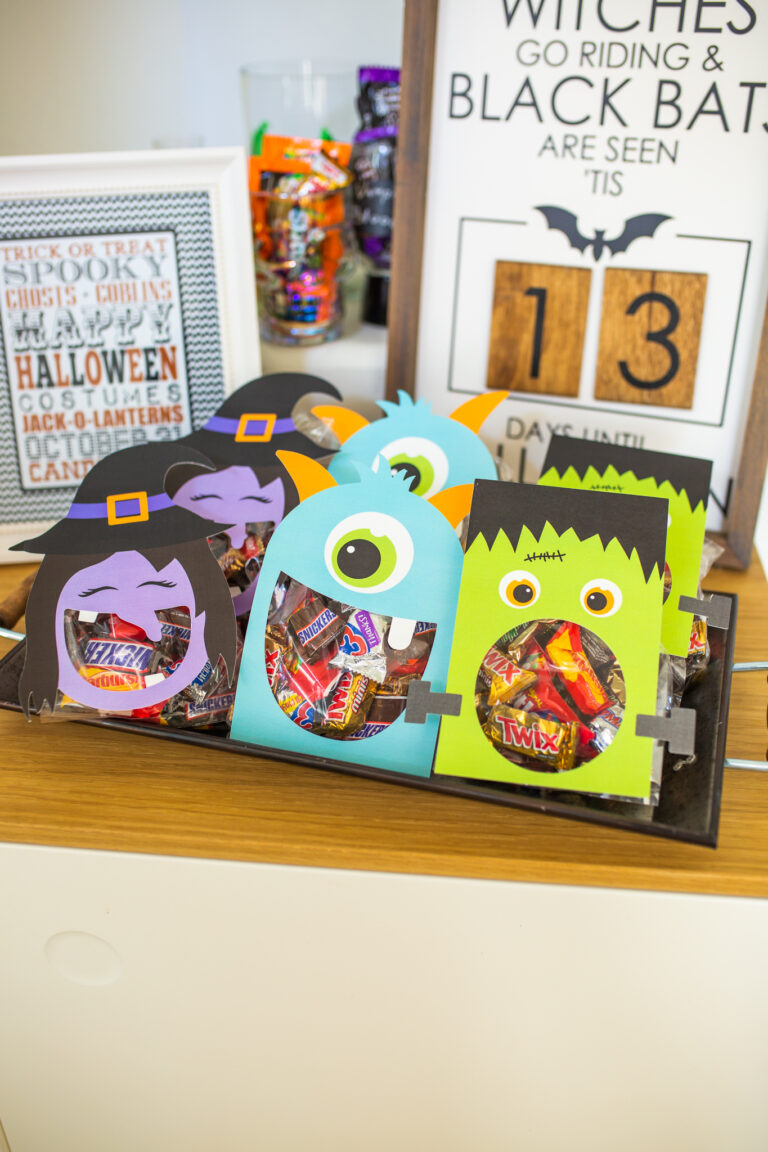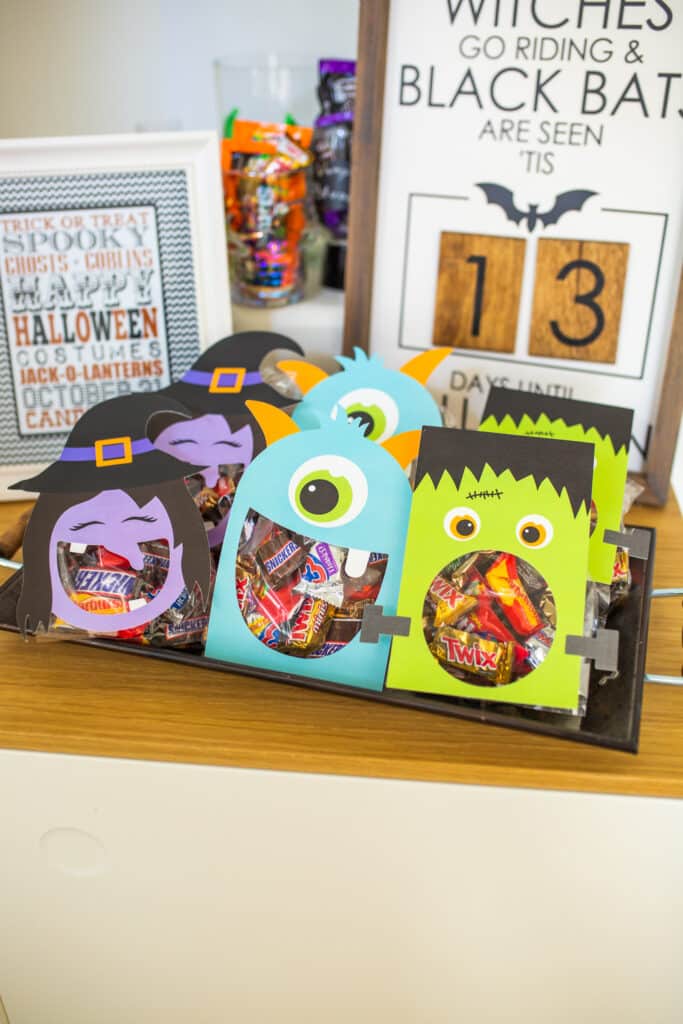 Do you know those occasions when you want to pass out a Halloween goodie bag that's a little more than just a piece of candy? We have you covered with a fun and simple Halloween treat bag option perfect for the Halloween season!
These are so easy and so cute! Plus, it doesn't take much to craft these goodies with our free trick-or-treat bag printable to set you up with darling party favors for your next Halloween party!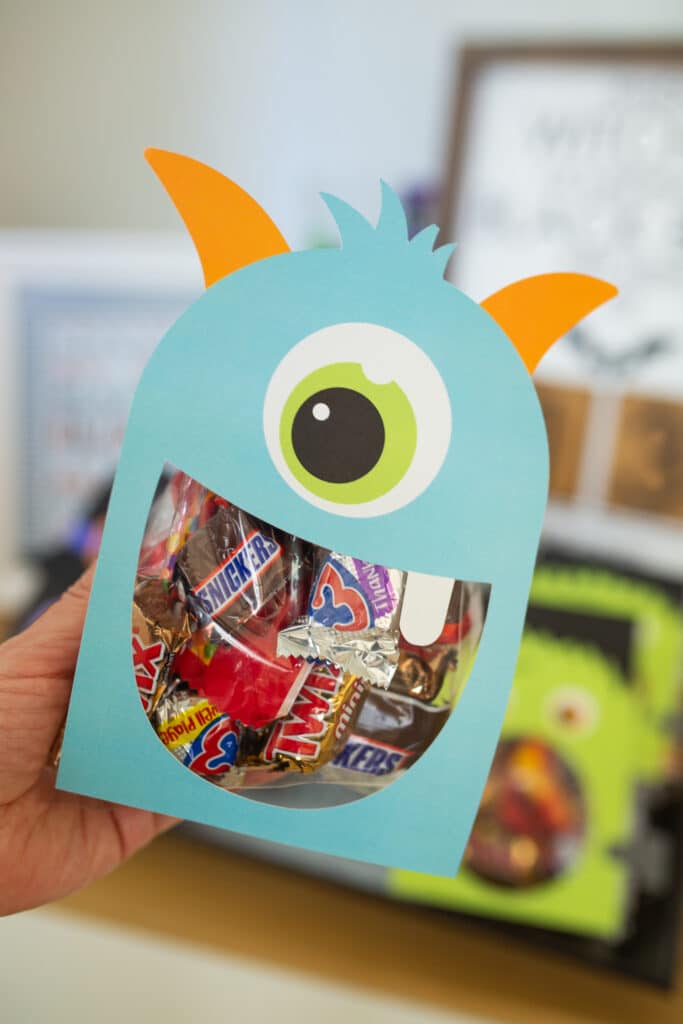 How to Create a Halloween Goodie Bag:
Supplies:
Bags. Grab the clear cellophane bags to really make the Halloween goodie bags pop. But you can add these to paper bags or a clear plastic container or treat boxes quite easily!
Halloween Candy, Cookies, or other sweet treats. We love to grab our favorite candy varieties and give options.
Scissors
Tape/Double-sided tape
Our FREE Halloween bags templates. You'll get a cute Frankenstein, a cute monster, and a witch to make
Download the FREE Goodie Bag Printable HERE!
Directions:
Step 1: Download the printable on card stock and cut along the lines. You can also use a cutting machine if you have one. It makes these Halloween treats so simple! But don't worry, scissors work great too!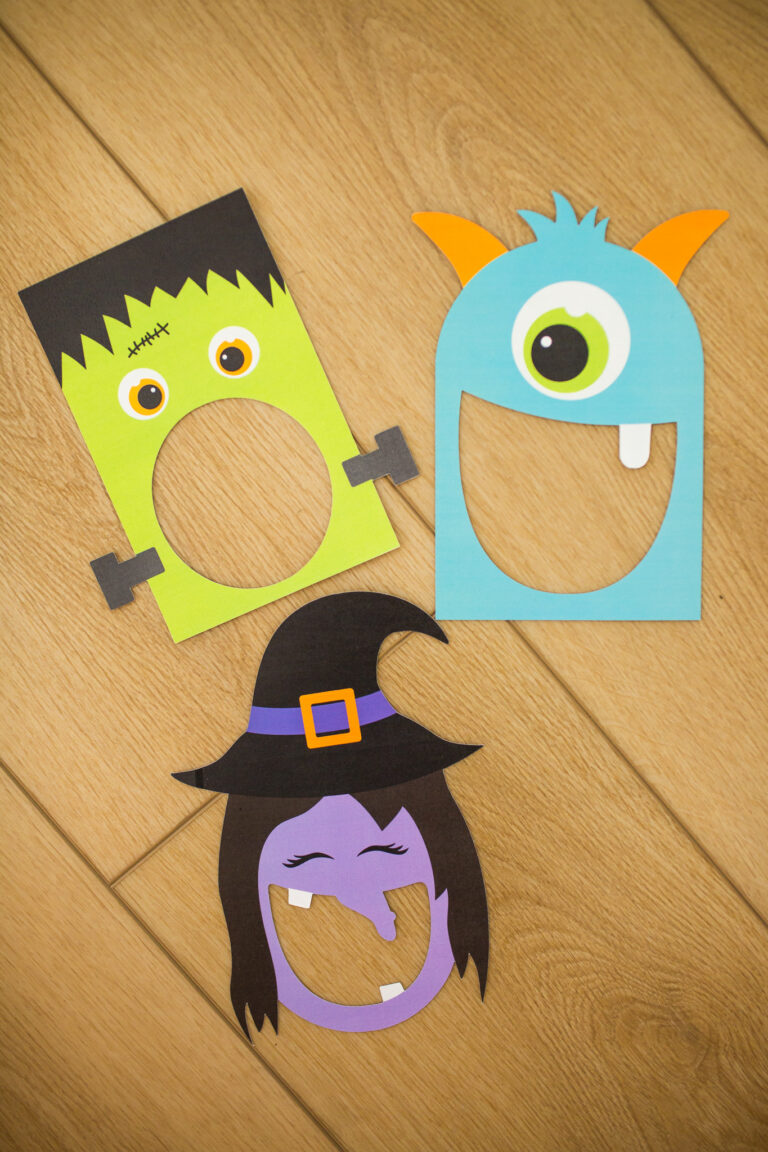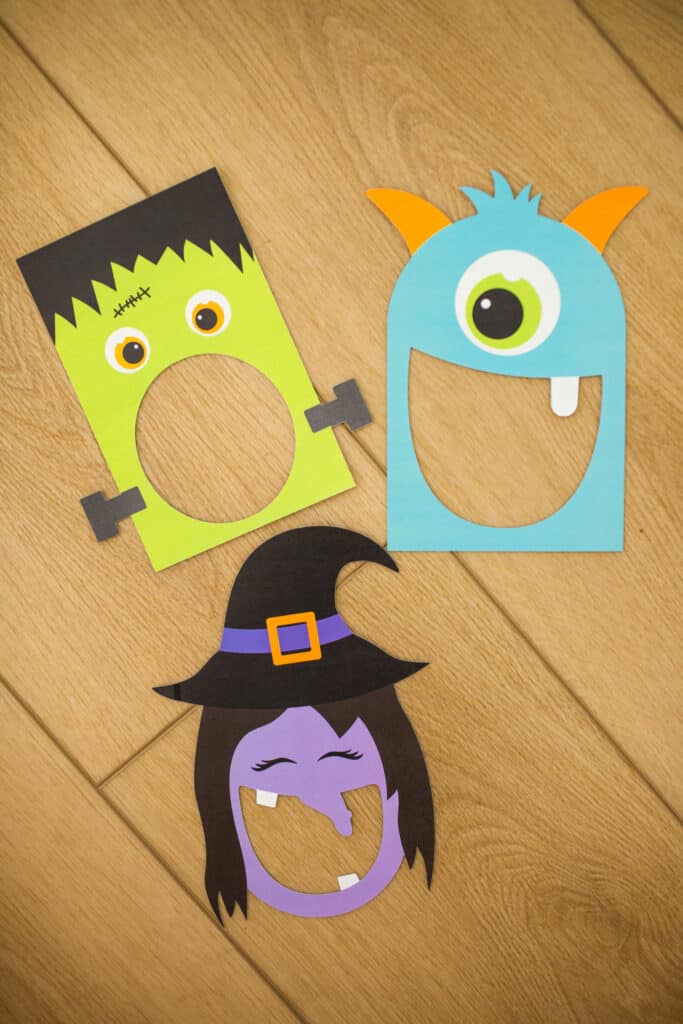 Step 2: Fill your cellophane bags with your treats or gifts for your trick-or-treaters. I like to do this first because you can shape it and position how you like without worrying about the printable. Plus, you can make it the perfect size and adjust the printable position to adapt to your liking!
Step 3. Close off your bag of sweets with ribbon, a zip tie, tape, stickers, or a twisty tie. Basically, you can get as creative as you want, just tie it off so party guests, kids, or trick-or-treaters can grab them and go!
Step 4. Tape your cut-out printable to the front. Double-sided tape works best. I'd also recommend taping in a few areas so it stays on through all of Halloween night (or the duration of the party).
That's it! Hopefully, you now have the best Halloween treat bags to impress each kiddo and help fill up their Halloween bucket quickly!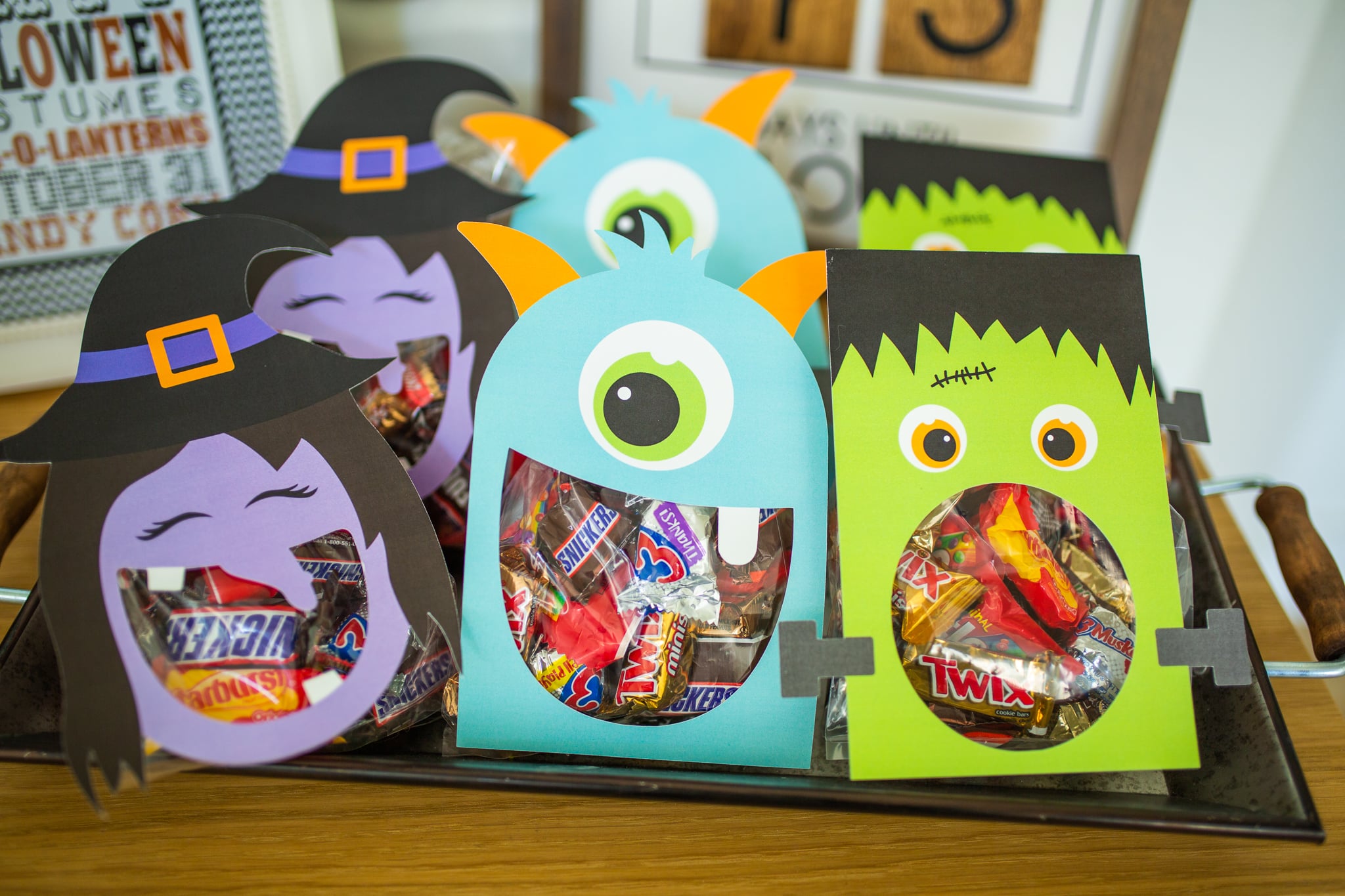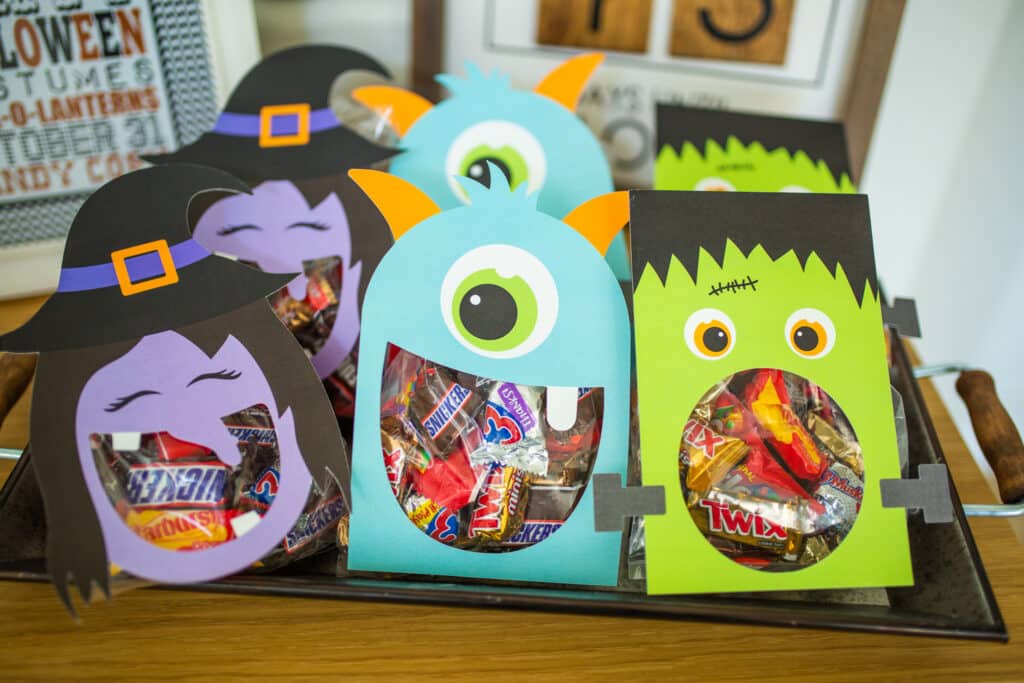 Optional Variations:
Include small toys
Add school items for class parties with an October flair: i.e. jack-o-lantern pencils or erasers shaped like ghosts
Use these with a "You've been Boo-ed" neighborhood treat chain.
Create Halloween Donuts and deliver them in these goodie bags.
Fill a bag with gummy worms, candy corn, or candy pumpkins for a cute aesthetic look that's plenty spooky.
Choose the best Halloween candy from chocolatiers or gourmet treats and create more adult-type bags.
I hope this helps with some inspiration and makes creating Halloween goodie bags easy and fun!
Like this fun Halloween idea? Be sure to check out these posts too:
Scary Pumpkin Stencils: Free Printable!