The Easiest Halloween Donuts
The easiest Halloween donuts! How to make cute monster donuts with vampire teeth Halloween treats.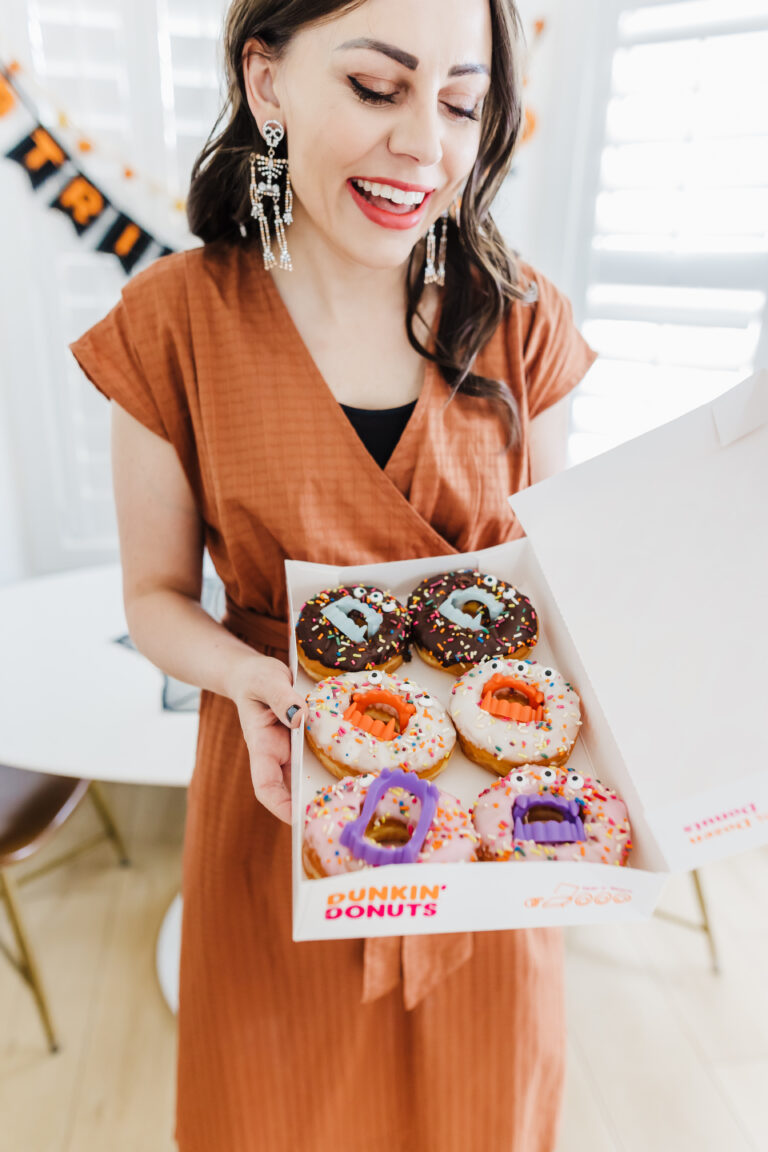 It's officially the week in October when we kick off all the Halloween parties. From our annual Halloween costume party to class parties for kids, it's time to bring the spooky treats and celebrate!
While we love the classic Halloween cookies and candy, there is something about a donut for a dessert that feels so perfect for a Halloween gathering or even a Halloween breakfast.
These easy Halloween donuts are so cute, so easy, and you can pull them together in minutes!
Yield: 12
The Easiest Halloween Donuts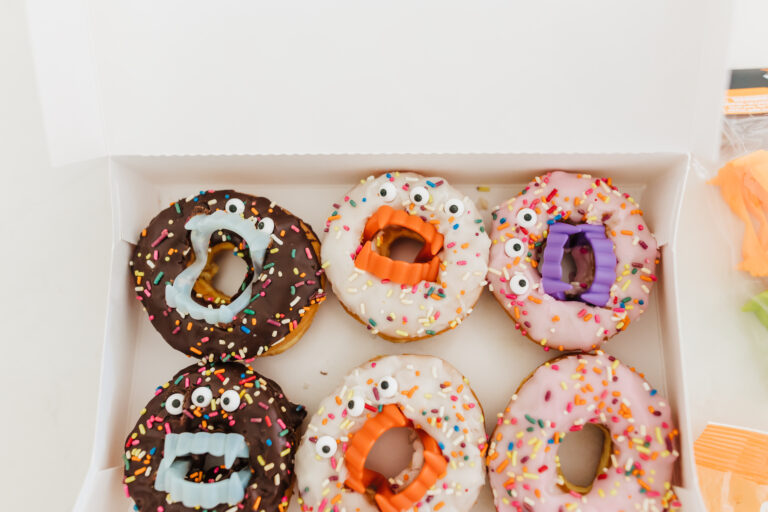 The easiest Halloween donuts: make these cute vampire donuts for your next Halloween gathering!
Materials
Optional Ingredients
Extra icing for added color! A little neon orange icing, purple icing, green icing, chocolate icing, and melted white chocolate make a cute drizzle and pop of color. It's easy to pipe on frosting or drizzle candy melts, and they go such a long way!
Edible Gel. Many people love to purchase red gel to help attach the back of each eye to the donut. You can also put a dot on top of the eyeball or as a drizzle of blood coming out of the bottom fangs on the vampire teeth.
Tools
Instructions
Grab a set of plastic vampire teeth and push them together so they look closed. Wedge them down into the middle hole of the donut. You'll want to push them down as deep as they'll go so they'll wedge nicely into the inside sides of the donut and stay put!
Grab candy eyes to place on the donut. You can do two, three, or many for a fun monster donut effect! If you're going to vampire donuts, I'd grab two. These will stay put better with some frosting or edible gel. Add a small dot on the back of the eye to help it stay in place.
*If you buy a fresh box of frosted donuts, you can likely skip this step and the frosting will hold the eye in place if it's not too hard just yet. You have limited time, but if you're ready, it's easy to get them to stick to the fresh frosting!
Notes
Grab Donuts (or Doughnuts) that are round with a hole in the middle.
Get a variety! You can certainly grab dozen original Krispy Kreme donuts or a Krispy skreme box. However, mixing up a variety gives the effect of a variety of monster donuts. So long as they're round with a hole in the middle, they'll work great! Here are some ideas for Halloween donut varieties that work!
Halloween Donut Varieties: A traditional glazed donut, a chocolate glaze donut, a frosted donut with black frosting or chocolate frosting, a vanilla frosted donut, all work well! We went with strawberry, vanilla, and chocolate frosted donuts. The closer you get the Halloween, the easier it is to find other fun colors and flavors like pumpkin or maple for the Halloween season that all work well. Tip: many bakeries have the most variety available Saturday mornings. And whether you go chain store, local bakery cake donuts, or grab a quick box at the grocery store is entirely up to you!
Make Your Own Donuts By all means feel free to whip out a bunch of pantry staples, that donut batter, a donut pan, and your favorite Halloween donuts recipe! This can add a lot of complexity and certainly time to your Halloween donuts. But if you're up for it, I'm here to cheer you on!
That's it! You're done! See I told you these were the easiest vampire donuts out there! Plus you'll have something totally Instagram-worthy that came together in minutes!
Enjoy your Halloween donuts, and your smug way to look like a Pinterest mom with minimal effort!
Like these Halloween donuts? Be sure to check out these posts too:
Halloween Box : A Fun October Box to Celebrate Halloween All Month!
Halloween Family Films with Free Printable
Mommy and Me Halloween Costume