Christmas Pajama Party Ideas
The easiest and perhaps the most fun holiday-themed party is a Christmas pajama party! Here are a ton of fun Christmas pajama party ideas to celebrate the Christmas season!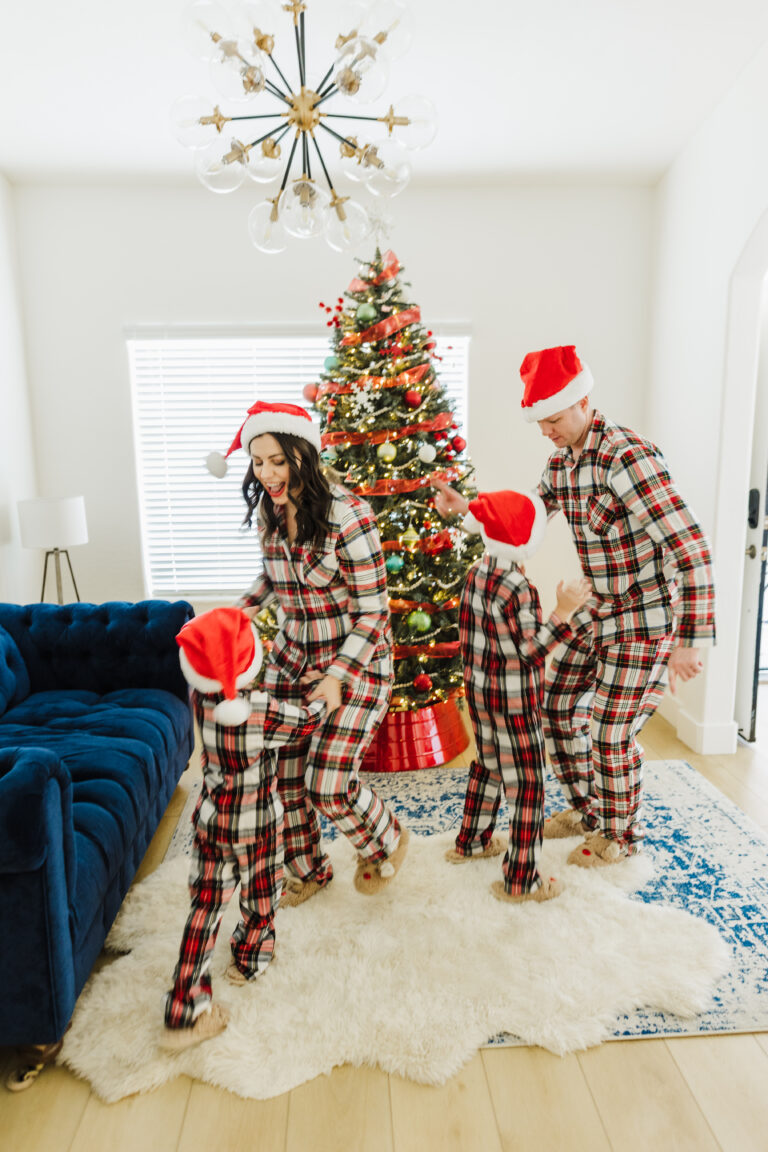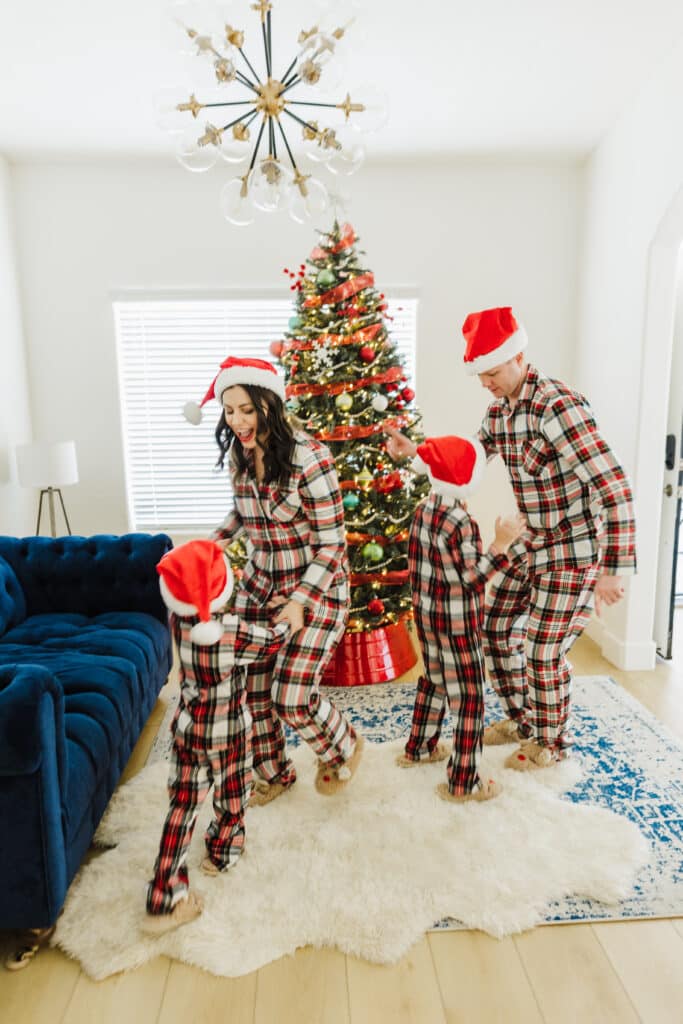 Grab those Christmas PJs and get ready for holiday season pajama parties! Everyone loves this fun way to have a good time in festive comfort!
There are a lot of ways to host a holiday pajama party, and there's no wrong way to do it! Get ready for a great time with a fun pajama party theme this Christmas! And we have you covered with tons of Christmas pajama party ideas to plan the perfect party that works for small groups, larger groups, or even a family night!
Christmas Pajama Party Ideas
Hosting the best pajama party is surprisingly easy! Welcome to low-key Christmas party themes that encourage loads of fun and encourage less perfection. Whether you live in a dorm room or you have a large venue, this is a great way to help party guests enjoy some fun in their comfiest attire!
Here are the main areas to consider when planning a Christmas pajama party.
Easy Hosting Tips
Food
Fun Activities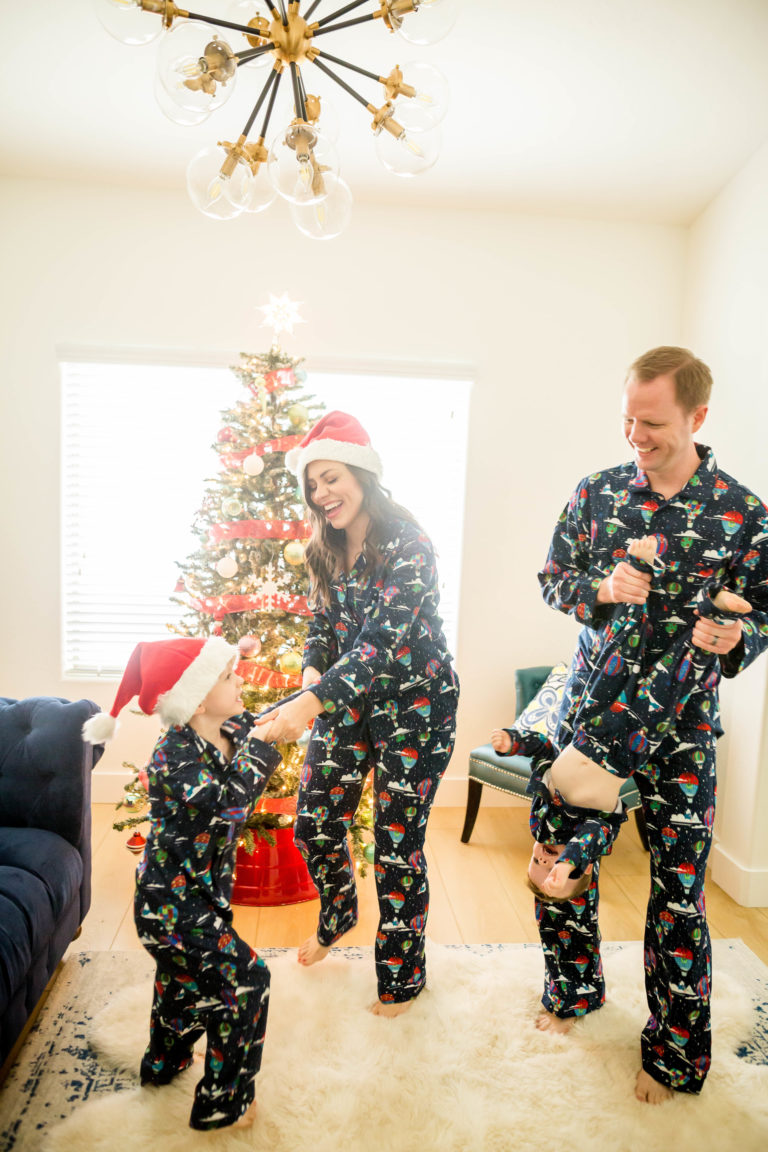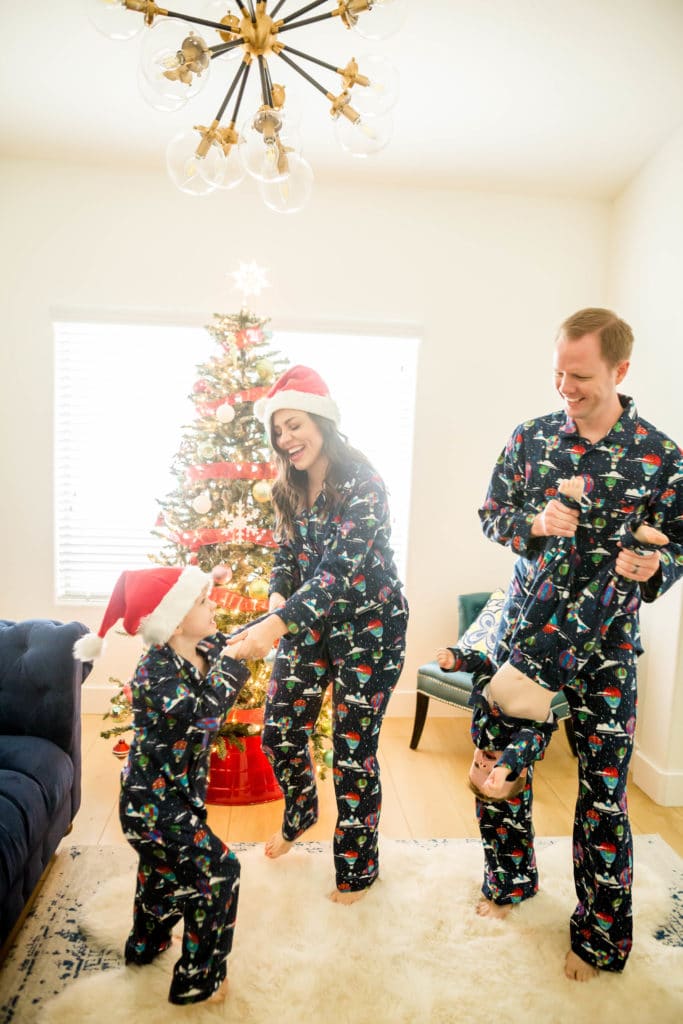 Hosting Ideas
Guests
Are you planning on including kids? Is this a small gathering, or a big one? Do you want a group of single adults? Is this a couple's party? There's a big difference between a family party and Christmas pajama party ideas for adults. So choose your guest list, and base the night around the size and guests.
Invitations: Timing and Simplicity
Send out invitations with a few weeks' notice if possible. However, I attended a fun party with a holiday pajama dress code in college with little notice and it was still a lot of fun! But just in case you want a great turnout, you may want to give time to help guests arrange busy holiday schedules. Also, many will use this as an excuse to buy new pajama sets or flannel pajama bottoms.
If you can send them out a few weeks in advance, you're set! If you only have family coming, I'd give at least a week's notice on the fun theme so they can grab their matching Christmas pajamas in case they need to!
It starts with the Christmas pajamas!
Need some places to find great Christmas pajamas? Check out these posts: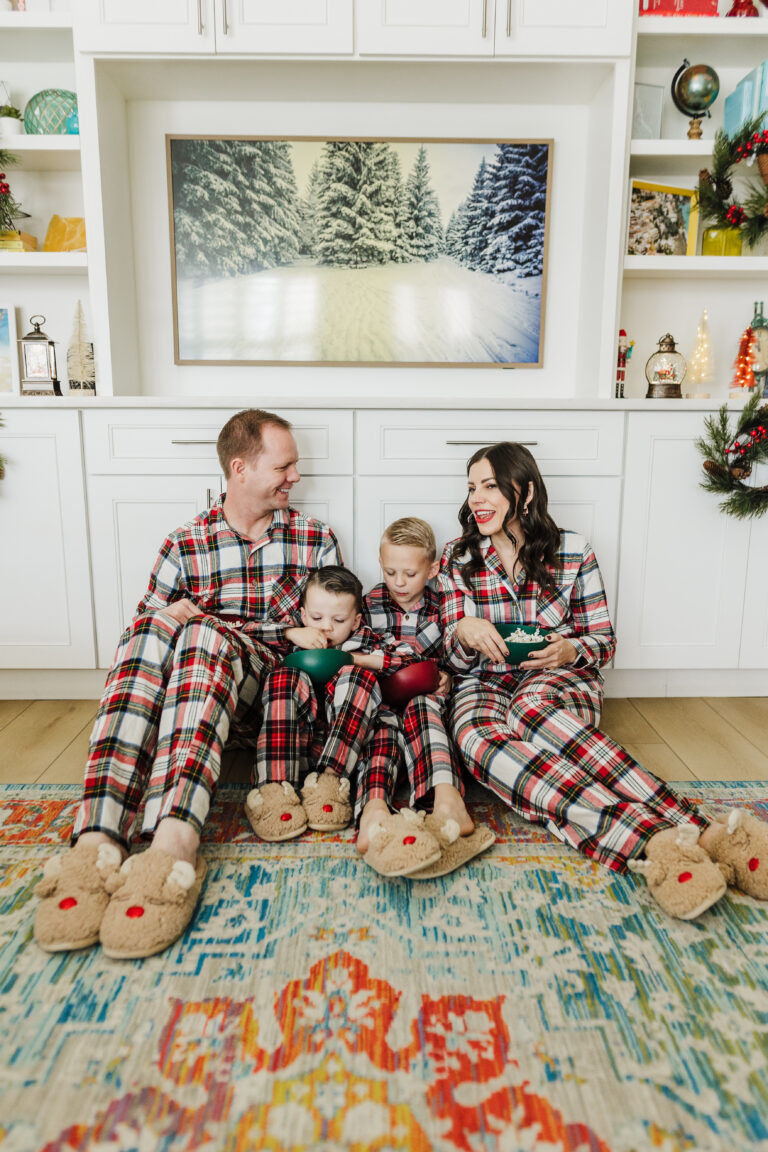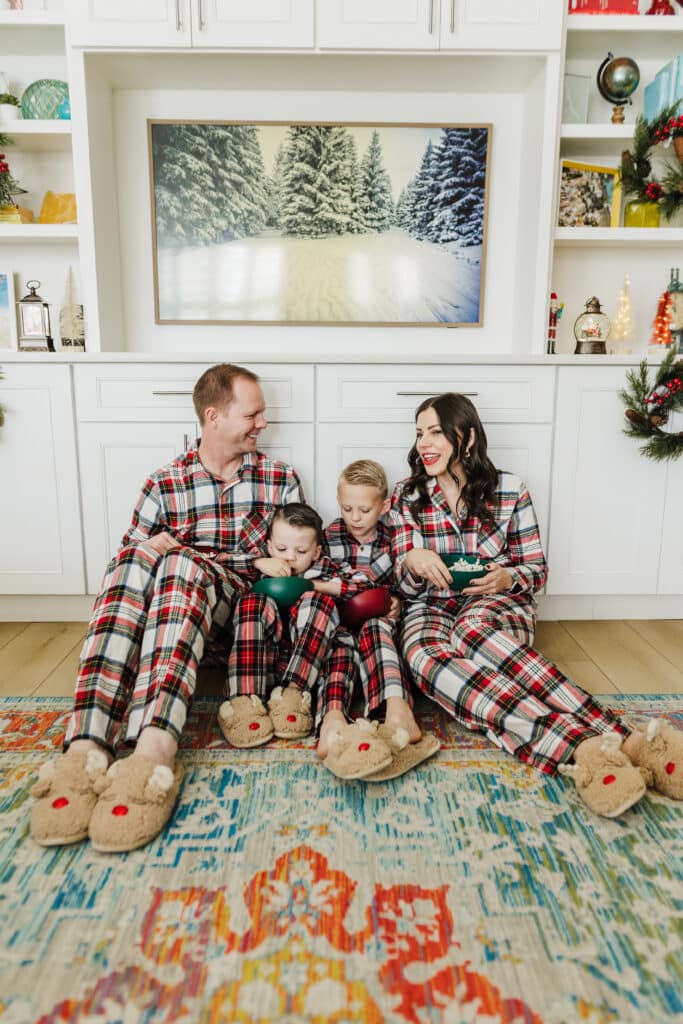 Christmas Pajama Party Pajama Ideas
Pajama Party Family Holiday Traditions
If you're ready for a fun idea to do with your own family, ditch the formal invites and series plans, and turn it in a tradition and experience for all of you to enjoy! Many families love to do a Christmas Pajama party on Christmas Eve. But you can certainly declare a day of winter break pajama day and spend the time watching your favorite Christmas movies, playing board games,
Don't Skip the Christmas Music
Make sure to create a Christmas playlist perfect for the tone of the party! You can do all vintage music, fun upbeat party music, classic sounds like jingle bells that kids will know, or a mix of everything!
Decor
I'd worry more about planning a fun night than going overboard with the decor! If you already have a Christmas tree with lights, I'd say you're in great shape!
But if you'd like to add a few more inexpensive Christmas decorations to the mix, here are a few fun ideas:
Work those strands of Christmas lights!
Twinkle lights make everything feel magical and it's extra fun for a holiday party. Grab some Command hooks and deck the halls or ceiling with a little Christmas magic.
Create a statement wall out of wrapping paper.
I love the inexpensive hack of decorating with wrapping paper. We did this for an ugly sweater party as newlyweds, and we've reused it for different activities that needed a festive touch. Make a full backdrop, do layers with ribbon to look like giant presents, or just wrap your door!
Hang paper snowflakes.
This inexpensive craft has been a favorite in the holiday decorations category for centuries! It's cheap, it's easy, and it gives a big impact! I mean why not make it feel like a white Christmas inside your home or party venue? You can make a lot and have them hang from the ceiling for a great idea that's so much fun to create.
Create Paper Stars.
My friend Merrick has a tutorial all about creating fancy stars out of paper, and I've always thought it was such a great party idea to dangle from the living room ceiling!
Make an Ornament Wall.
Grab your favorite ornament set, or go buy a bulk ornament set in different colors with the color scheme you're going for. Grab some command hooks and hang them in rows to create an ornament well. It's one of those simple ideas that are easy and turns out very classy!
Food
Hot Chocolate Bar
Everyone loves a good hot cocoa bar with flavor options! These are relativity simple, and we have a bunch of tips and ideas in our Hot Chocolate Date Night post!
Charcuterie Boards
Feel free to invite guests to bring their own snack board ideas! You can also assign a Christmas charcuterie board to a guest who offers to help. I think a simple cheese board/ cheese platter or a trending butter board with bread is always a hit!
Breakfast for Dinner
Christmas breakfast on Christmas morning only just is never enough! That's why it's one of the most popular Christmas pajama party ideas: and you don't even have to be a morning person to enjoy a fun holiday breakfast.
Serve Simple Breakfast Finger Foods
Who said you need an elaborate setup to host a party? Grab easy finger foods like bagels cut in quarters, muffins, and fresh fruit all make a lovely and easy spread! Or, use our breakfast cookies recipe for some easy and delicious ideas.
Order Pizza
Make life easy during this busy time of year, and have pizza delivered. I mean pizza and a pajama party just give all the sleepover party vibes you may be going for! You can also make your own pizza easily with our foolproof homemade pizza dough recipe.
Have an Ice Cream Sundae Party
There's something about ice cream that just belongs with an annual pj party- or even a casual pajama night. Grab some fun holiday flavors, marshmallows, crushed candy canes, and Christmas-colored candy with plenty of whipped cream for an excellent Christmas ice cream bar.
Fun Party Activities
Play Fun Christmas Games
If I've learned anything about parties for groups, it's that most people want plenty of time to talk and connect with a few fun activities to break the event up. A few fun Christmas party games are always a good idea! Additionally, they're often what guests/family members participate in and enjoy the most!
If you need some great holiday party games, try Christmas Minute to Win It games, or grab our Christmas Pictionary printable that's the perfect fun game for people of all ages.
Watch Christmas Movies
If you're doing this as a family, I'd make it a movie marathon! But with friends and extended family, a single movie with some food and a little social time is often the best party! Put out a throw blanket, and some pillows, and serve some popcorn for a perfect time!
I'd stick with either a new holiday movie, or go with classic favorite movies like It's a Wonderful Life, Miracle on 34th Street, or Elf. If you need movie ideas, check out our post on The Best Christmas Movies with Free Christmas Movies Checklist Printable!
Plan a Pillow Fight
Get the pillows ready, or ask guests to bring their own. This is about the top of the favorite things for kids if you're doing a family party.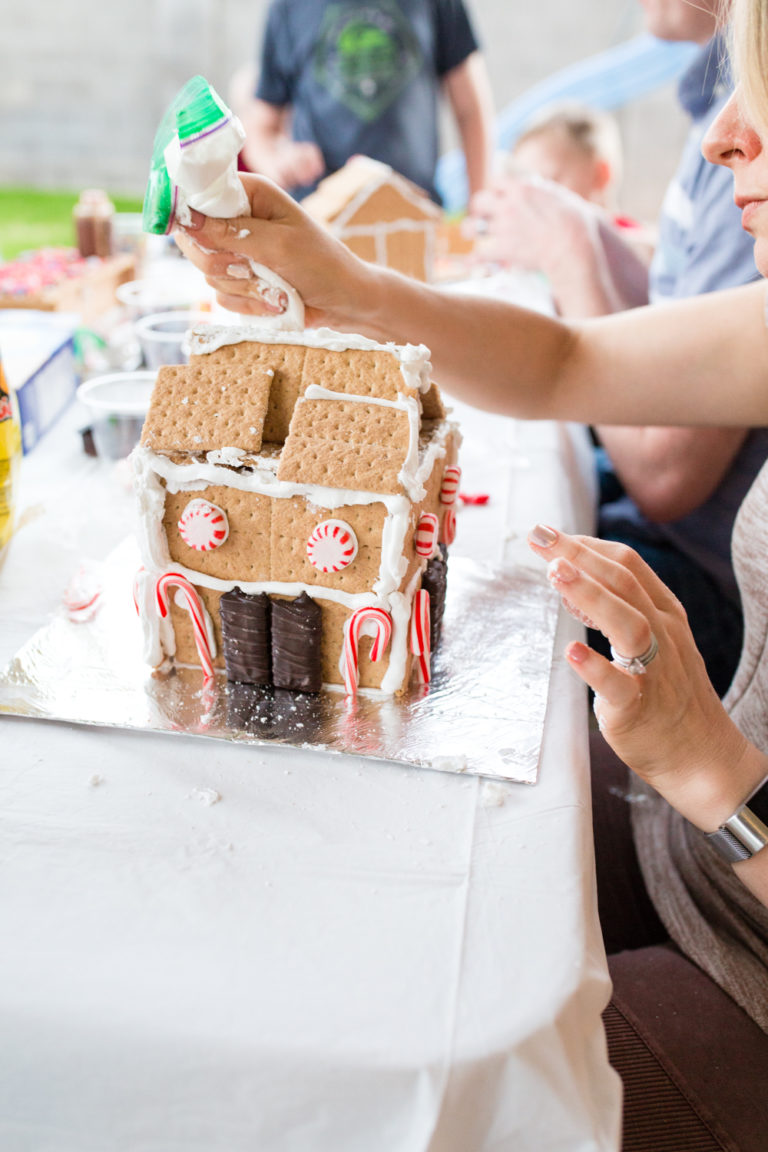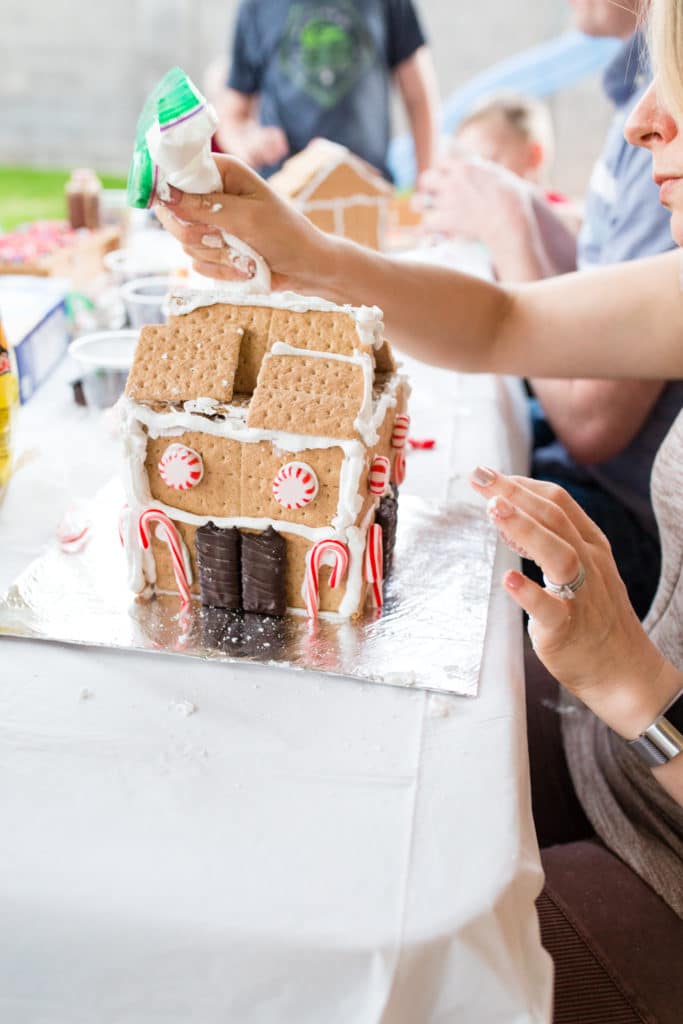 Make Gingerbread Houses
This can be surprisingly easy and a ton of fun! We have a ton of ideas and resources for hosting a graham cracker gingerbread house party and how to prepare and plan one so everyone has fun.
Set up a Photo Booth for a Photo Shoot
In the age of social media, who doesn't love a great photo opp when you're having a great time and dressed up or down for a themed party? We'd used wrapping paper against a wall for the easiest backdrop, and it's always a hit!
Cookies for Santa Station
Set up sugar cookies, frosting, and sprinkles all ready to use. You'll be amazed how much fun people have decorating sugar cookies for Santa!
Have a Cooking Competiton/Baking Competition
Provide ingredients and a few simple recipes for teams to make or bake. Be sure to choose someone to select the winning team! This game can be extra fun with Christmas treats, breakfast foods, or really good food that takes a little artistry (like cookies) to create.
Pajama Party Competition.
Vote on the best Christmas pajamas, the funniest, the cutest, etc. There's no better way to encourage pajama-wearing and enthusiasm than to turn the pajama holiday party themes into a competition or a game. Let guests vote, and make a big deal out of the winners.
Favorite Things Party
These have become extra popular for a girls' night or a couple's party. Have guests buy a set amount of the same item that happens to be one of their current favorite things. Many women love to do beauty products, clothing items, or favorite drinks. Many couples love to do kitchen gadgets, food items, or home goods. It's a fun way to learn about new products and your friends, and it works great in the roundup of Christmas pajama party ideas!
However you chose to do it, we hope these Christmas pajama party ideas help spark the perfect Christmas PJ party with family and friends this holiday season!
Like this fun Christmas party idea? Be sure to check out these posts too:
Christmas Bucket List + FREE Printable!
Christmas Activities for Families
Get 365 Date Ideas!
We want to help you have the best date nights ever! Grab this FREE printable with 365 date ideas, a date for every day of the year so you never run out of ideas!