Best Christmas Movies for Date Night
A roundup of the best Christmas movies for date night! Have a cozy Christmas date night in with these romantic Christmas movies you'll both love!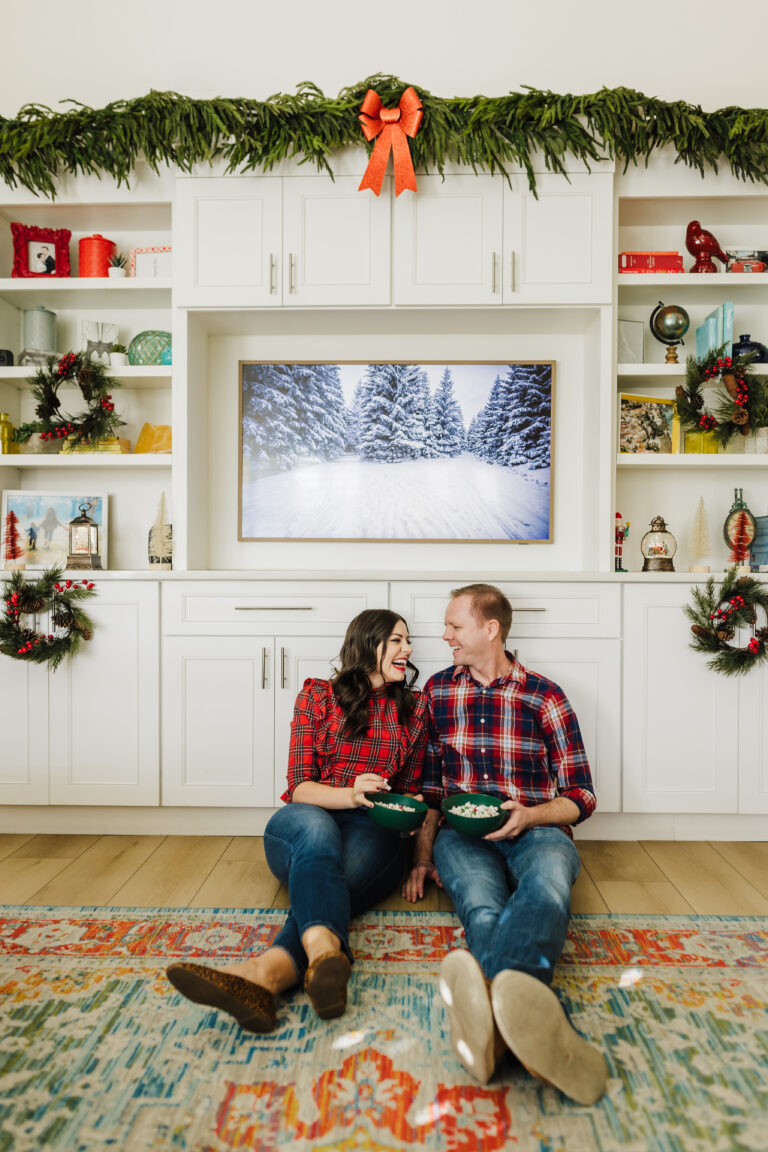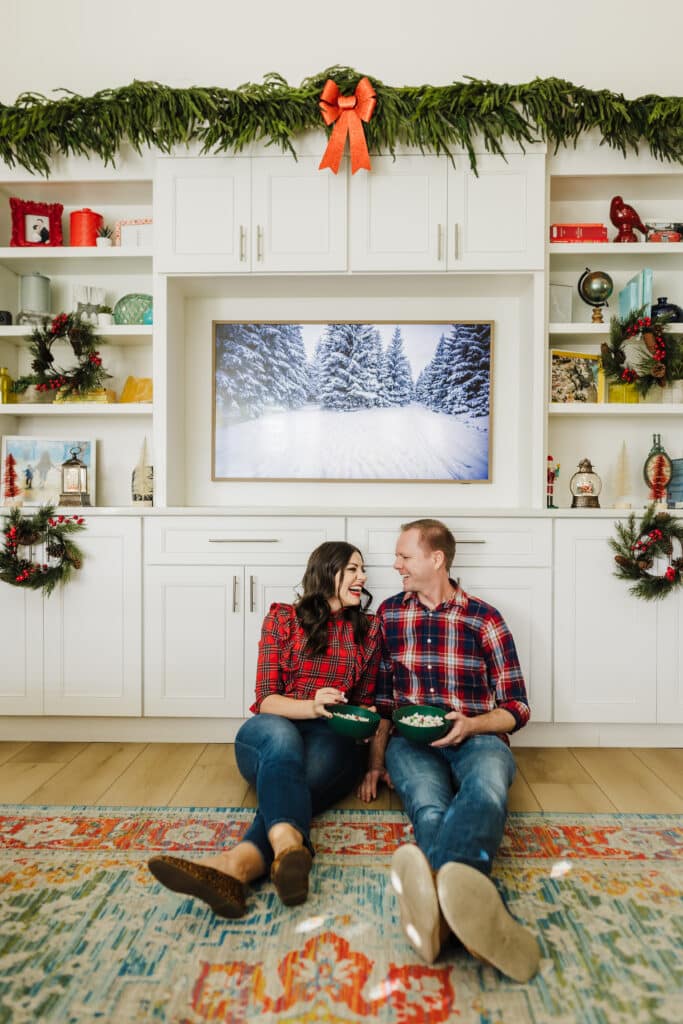 There's nothing quite like cozying up to your date during the holiday season and enjoying one of the best Christmas movies for date night together. Christmas and romance pair perfectly, and a holiday movie date night is always a good idea!
Grab some hot chocolate (see our Hot Chocolate Date Night post for ideas), make some Christmas popcorn, and gret ready for a cozy night for two! We're also here to encourage all the matching couple Christmas pajamas for the date. It's one of the best Christmas date ideas for very good reason!
If you need some help finding the best Christmas movies for date night, we have you covered with this list of the top-rated movies perfect for a romantic Christmas movie viewing party.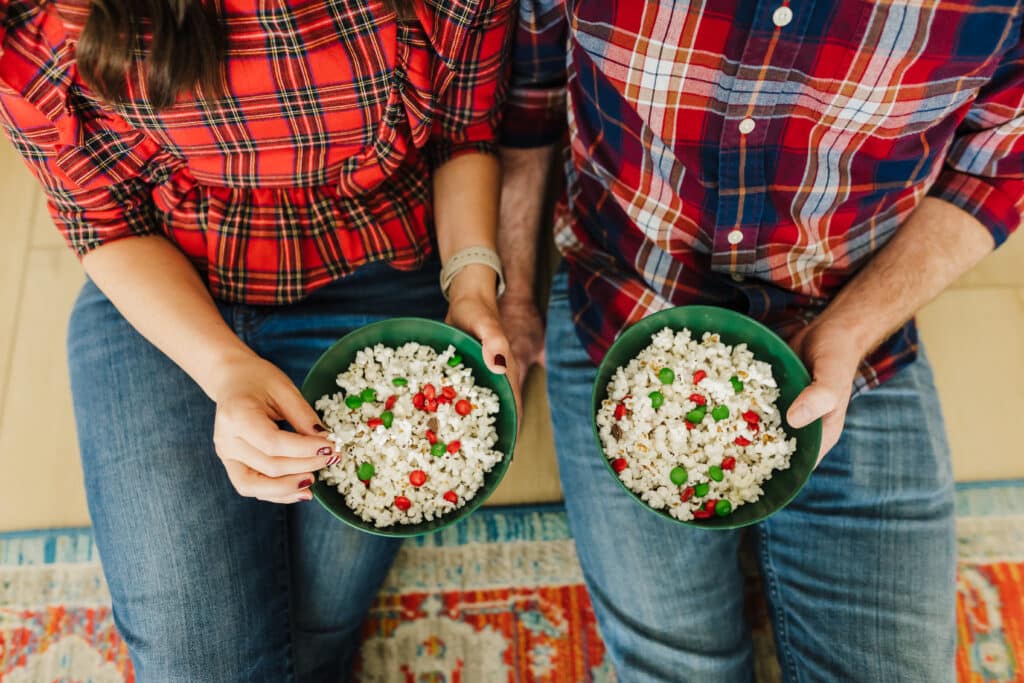 The Best Christmas Movies for Date Night
Spirited
This is one of those new Christmas movies sure to become a classic- and it makes one of the best Christmas movies for date night! This laugh-out-loud Christmas movie musical is a modern retelling of Charles Dickens's 1843 novella A Christmas Carol. Only it's retold with all the satire and humor of Will Ferrell and Ryan Reynolds. Of all the funny Christmas movies, this one may take the cake!
And yes, there's a romantic story with a love interest sure to make you smile! It may end up on more streaming services, but AppleTV is the place to watch it.
The Holiday
The Holiday is our favorite romantic comedy to watch during the holidays! Two women live in different parts of the world but are both heartbroken and in need of an escape. They decide to switch houses for the holidays.
Amanda (Cameron Diaz) is a driven businesswoman in Los Angeles who is struggling with career, relationship, and family issues. Iris (Kate Winslet) is a quiet writer in the English countryside.
After connecting online, the two decide to swap homes for a couple of weeks, and each ultimately embarks on a journey of self-discovery. Along the way they make new friends, find love (with Jack Black and Jude Law who are both so charming!), and learn to appreciate the little things in life.
Love Actually

Love Actually follows the lives of eight very different couples as they navigate their way through their romantic relationships during the weeks leading up to Christmas. The film stars an impressive cast including Hugh Grant, Liam Neeson, Colin Firth, Alan Rickman, Emma Thompson, Laura Linney, and Keira Knightley.
It follows the intertwining stories of the various couples, exploring the complexities of the human heart and the many forms of love that exist. The film ends in a joyous and heartwarming climax at a school nativity play. Love Actually is a charming and heartwarming exploration of love, relationships, and family.
We own an edited copy of this film to make it PG, and we really enjoy watching it every year!
Elf
Elf is a classic Christmas movie about a human, Buddy, who was adopted by elves as a baby and raised at the North Pole. After growing up in the elf world, Buddy discovers he is different from the other elves and embarks on a journey to New York City to find his biological father.
Along the way, Buddy learns about the differences between humans and elves, and how to bridge the gap between them. He also rediscovers the true meaning of Christmas, and how the holiday spirit can bring joy to people from all backgrounds. Elf is a heartwarming holiday movie that is sure to bring a smile to anyone's face!
And the romance between Buddy (Will Ferrell) and Jovie (Zooey Deschanel) makes it a great love story that's fun to watch for a Christmas movie date.

The Family Stone
The Family Stone is a romantic comedy-drama film about a family gathering for the holidays. It stars Sarah Jessica Parker, Diane Keaton, Dermot Mulroney, Rachel McAdams, and Luke Wilson.
The story follows the Stone family as the whole family comes together for the Christmas holiday. Their oldest son Everett (Mulroney) brings his uptight girlfriend Meredith (Parker) to meet his parents (Keaton and Craig T. Nelson). The family's reaction to her is less than warm and they do their best to make her feel unwelcome.
As the holidays unfold, secrets are revealed and romances blossom.so Meredith calls in her sister Julie (Claire Danes) for backup. In the end, the Stone family learns to accept each other's differences and come together as a family.

Last Christmas

Last Christmas is a romantic comedy written by Emma Thompson and directed by Paul Feig. It stars Emilia Clarke as Kate, a young woman struggling to make her way in the world while hiding a deep secret.
She meets Tom (Henry Golding) who helps her to see the joy in life and to take chances. Kate learns to live life to the fullest and to follow her dreams. With the help of Tom, her family, and her friends, Kate learns to let go of her past and embrace the possibilities of her future.
Serendipity

Serendipity is one of my absolute favorite romantic comedies of all time! It's a great rom-com to get you in the holiday spirit starring John Cusack and Kate Beckinsale. The story follows two strangers who meet by chance at a store in New York City during Christmas, and fall in love. They decide to return to their lives and relationships and leave another chance meeting to fate.
As they journey to find each other, they experience a series of serendipitous events that ultimately lead them to each other and true love. these two strangers discover the power of love and destiny. This heartfelt movie is one of those love stories you'll want to watch for a Christmas movie date night every year!
White Christmas

White Christmas is a beloved holiday classic from 1954 that follows two ex-Army buddies, Bob Wallace (Bing Crosby) and Phil Davis (Danny Kaye). They team up with a sister performing act to put on a show at a lodge in Vermont. The lodge is owned by the boys' former commanding officer General Henry Waverly; who is struggling with financial difficulties.
The four friends work together to put on a musical revue that brings in enough money to save the lodge and have a white Christmas. With classic Irving Berlin songs like "White Christmas," "Count Your Blessings," and "Sisters," White Christmas is a timeless holiday movie is a fun vintage watch for a Christmas movie date night.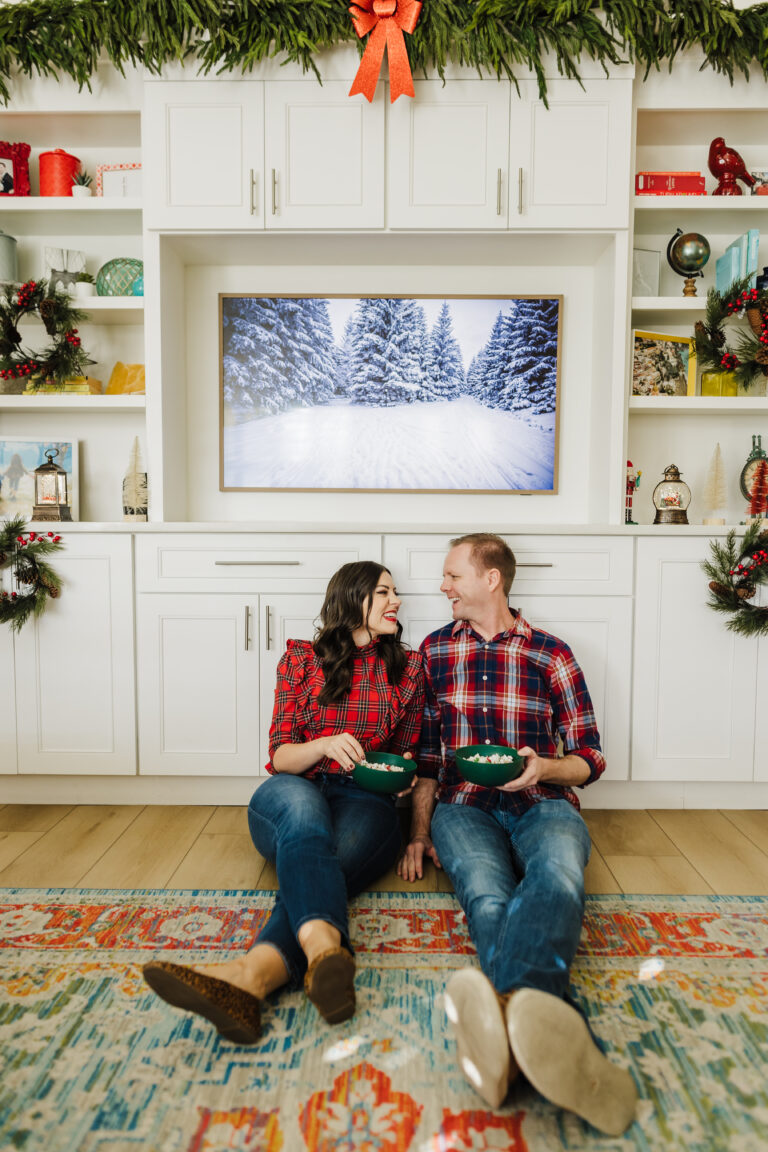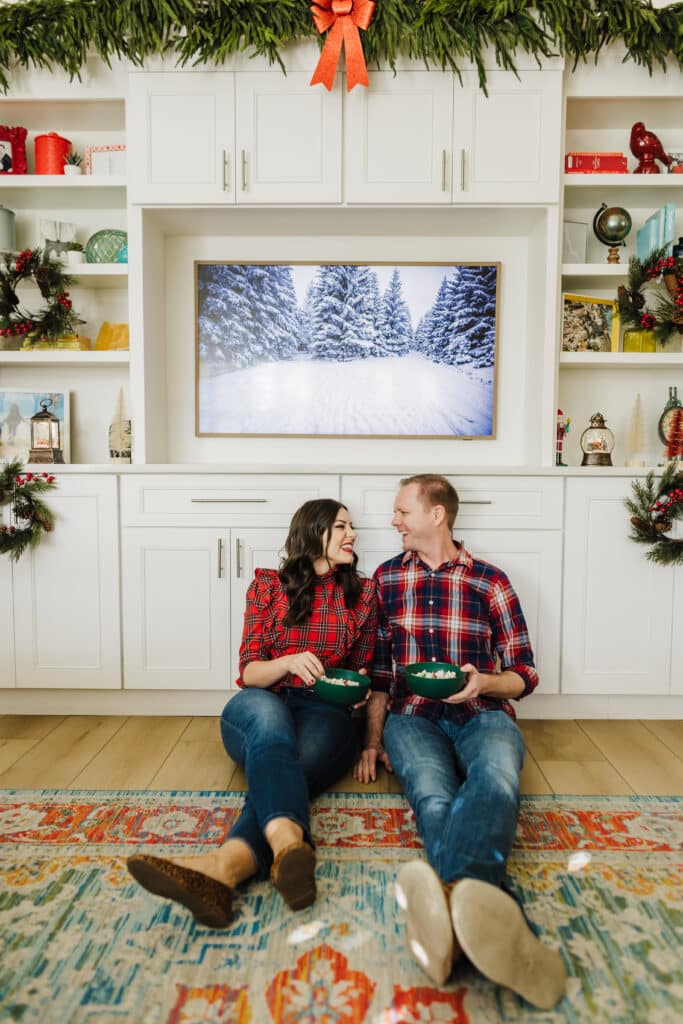 The Princess Switch

The Princess Switch is a heartwarming romantic comedy about a baker from Chicago named Stacy who finds out she has a long-lost twin sister living in a fictional European country called Belgravia. When the two discover one another, they decide to switch places for a while to experience a life completely different from their own. Naturally, they each find love, adventure, and a new appreciation for the life they have.
While You Were Sleeping
While You Were Sleeping is a romantic comedy people love to watch at Christmas time! It's starring Sandra Bullock and Bill Pullman. The story follows Lucy Moderatz, a lonely Chicago Transit Authority ticket collector who has a secret crush on a commuter named Peter Callaghan.
After saving Peter from being hit by a train, Lucy finds out that he has been in a coma and has been mistaken for her fiancé. As she spends more time with his family, she falls in love with them and gradually starts to develop feelings for Peter's brother, Jack.
Lucy must decide between the two men and find out the truth about Peter's condition. The film is an uplifting romantic comedy with a sweet message about the power of hope and love.
Christmas With You
A pop star (Aimee Garcia) is feeling irrelevant, and in need of a reconnection with her life and her fans. She turns to social media to find a teenage fan she decided to grant a holiday wish and connect with in her small town She ends up co-writing a song with the teen's father (Freddie Prinze, Jr) who happens to be a music teacher and a very talented musician. But they learn music isn't their only connection as romance blossoms between them.
Four Christmases

Four Christmases tells the story of Brad (Vince Vaughn) and Kate (Reese Witherspoon). They are a couple who have to visit all four of their divorced parents' houses on Christmas day. Brad and Kate have managed to avoid the annual family gathering by pretending to be out of the country. However, when their plans fall through they are forced to confront the chaos of their dysfunctional families.
Along the way, they must deal with the awkwardness of their parents meeting each other for the first time. But also the various secrets that have kept them apart. In the midst of all the craziness, Brad and Kate learn some important lessons about family, love, and forgiveness.
The Noel Diary
This romantic comedy is based on Richard Paul Evans' best-selling book, so you're in for a very solid plot! The main character, Jake Turner (Justin Hartley), is a best-selling novelist. He goes home to clean out his mom's estate after she passes away. There he finds a diary that makes him question things about his past. Simultaneously, Rachel (Barrett Doss), shows up with many questions about her past. The two team up to find answers together.
The acting is so excellent compared to your standard Hallmark Christmas movies. This is one of those holiday movies with a unique plot, that still gives all the Christmas and love vibes you're looking for. The balance makes it one of the best Christmas movies for date nights!
A Christmas Prince
Christmas Prince is a romantic comedy film about Amber (Rose McIver), an ambitious journalist. She goes undercover as a tutor to get the scoop on a charming prince who is poised to be king. Amber quickly finds herself at odds with the royal family's traditions and expectations.
She also finds herself torn between her loyalty to her assignment and her growing feelings for the prince. With Christmas quickly approaching, Amber must decide if she can help the prince and his kingdom, while also finding her own happiness in the process.
Just Friends
Just Friends is a romantic comedy film released in 2005. It stars Ryan Reynolds, Amy Smart, and Anna Faris. The plot follows Chris, a former high school nerd who was once humiliated by his crush, Jamie. Ten years later, Chris has become an attractive, successful music executive.
He returns to his small town hometown for his younger brother's wedding. He is reunited with Jamie and finds it difficult to keep their relationship best friend status only. Throughout the film, Chris learns to value himself and find true friendship and love in his life.
Its snowy Christmas setting makes it feel like the Christmas season while staying a true date night movie.
It's a Wonderful Life
It's a Wonderful Life tells the story of George Bailey, a small-town man, played by Jimmy Stewart. He has given up his dreams of traveling the world to stay in his hometown and help his family and neighbors.
When a desperate situation arises, an angel named Clarence comes to George's aid. The angel shows him what life would have been like if he had never been born. Through this experience, George learns to appreciate his life and decides to stay in Bedford Falls. The film is an uplifting story about the power of friendship, family, and faith. And especially about how they can help us overcome our greatest struggles.
The Holidate
Holidate is a romantic comedy about two commitment-phobic strangers – Sloane (Emma Roberts) and Jackson (Luke Bracey). They enter into a no-strings-attached agreement to be each other's 'holidate' for every festive occasion throughout the year.
Despite their initial reluctance to commit, Sloane and Jackson soon discover that their arrangement might just lead to something more. With a unique take on the holiday rom-com genre, Holidate is sure to bring festive cheer and plenty of laughs. And it's a great movie to make you think about love during the happiest season, and every holiday after it!
The Vow
The Vow is a romantic drama film starring Rachel McAdams and Channing Tatum. The movie follows the story of a young couple, Paige and Leo, who are deeply in love and happily married.
After a tragic car accident, Paige is left with severe memory loss and is unable to remember her loving husband. With the help of her family, Leo must help her regain her memory and remind her of their beautiful relationship.
You'll watch the couple's journey as they rekindle their love for one another and overcome the obstacles placed in their path. The Vow is an inspiring story of love, hope and second chances. It starts and ends during the Christmas season. So although not a traditional Christmas movie, it' a great love story to watch during the holiday season.
The Preacher's Wife
The Preacher's Wife stars Denzel Washington, Whitney Houston, and Courtney B. Vance. The movie is an update of the 1947 film The Bishop's Wife. The movie follows the story of an inner-city pastor (Washington) who finds himself struggling to keep his church open. Consequently, his wife (Houston) begins to feel neglected.
When an angel (Vance) appears to him, he must figure out how to make things right with his wife, the church and his community.
With the help of the angel, the preacher's wife learns to find the balance between her faith and her family. Ultimately, she finds the courage to fight for the things she believes in, bringing the church and community back together.
Little Women
Little Women (1994) is a classic coming-of-age drama that follows the lives of the four March sisters—Meg, Jo, Beth and Amy—as they grow up in Civil War-era New England. The cast is phenomenal in this version!
Meg, the eldest, is a romantic idealist, while Jo, a strong-willed tomboy, dreams of becoming a great writer. Beth is a shy romantic, while Amy is a talented artist.
As they grow up, they must all learn to find their place in the world and discover who they are and what they want in life. Their struggles and triumphs (including their love life) are a timeless testament to the importance of family and friendship, and of the strength of the human spirit. And it's a great family-friendly Christmas movie with just enough holiday to make it a fantastic Christmas date night movie.
Last Holiday
After she learns that she has a terminal illness, introverted saleswoman Georgia Byrd (Queen Latifah realizes she's lived an overly cautious life. Georgia withdraws her life savings and jets off to Europe where she lives like a millionaire. Naturally, the upbeat and passionate Georgia charms everybody she meets, including renowned Chef Didier (Gérard Depardieu). The only one missing from her new life is her longtime crush Sean Matthews (LL Cool J).
It's one Christmas story that reminds us all of the importance of living life to its fullest and cherishing love
When Harry Met Sally
When Harry Met Sally is a romantic comedy film that follows the story of Harry (Billy Crystal) and Sally (Meg Ryan). They meet in 1977 and develop a strong friendship over the course of the next 11 years.
During this time, they discuss their relationships and come to the conclusion that men and women can never be just friends. The film follows their journey as they face the difficulties of being just friends while still having strong feelings for one another. In the end, they realize that they are the perfect match for each other and the movie ends with their wedding.
This is another movie we own an edited copy of, and it's a great holiday season film perfect for the week between Christmas and New Year's.
You've Got Mail
You've Got Mail is a 1998 romantic comedy film and a complete classic! The story follows two business rivals, Joe Fox (Tom Hanks) and Kathleen Kelly (Meg Ryan), who are unaware that they are anonymously communicating with each other via a free online email service.
As their relationship develops, they find out each other's identities and must confront the feelings they have developed for each other. Ultimately, Joe and Kathleen must decide if their business rivalry is more important than their newfound love.
The Family Man
Nicholaus Cage gives us an amazing performance In a twist on It's a Wonderful Life. The Family Man follows a businessman named Jack who gets to experience what his life would be like if he had stayed with his college girlfriend instead of jumping into his pressure-filled career. Consequently, It's one of those movies that makes you realize the only thing that really matters, and how to appreciate the life you were meant to have and the people in it.
Love Hard
Love Hard 2021 is an inspiring romantic comedy that follows the story of two people whose lives become intertwined in unexpected and delightful ways. When Jack and Jane meet on a dating app, they quickly hit it off and find themselves falling in love.
However, as their relationship develops, unexpected obstacles threaten to tear them apart. Will they be able to overcome the odds and find their happily ever after? Love Hard 2021 is an uplifting story about the power of love and the importance of perseverance in the pursuit of happiness.
Hallmark Channel Christmas Movies
First of all, Hallmark Christmas movies (and any Lifetime Christmas movie) are known to be cheesy, and full of cliches. But they all end happily, have a family-friendly vibe, and can be a fun escape from real life. Find any Hallmark Christmas movie and enjoy the romance, or feel free to laugh at some of the cheesy tropes.
And if you like to dive into classic movies that may not necessarily be romantic, but are nostalgic, this list has your back! Make some hot chocolate and get in touch with your inner child with these animated classics and Christmas movies from your childhood.
Classic Christmas Movies for Kids You May Enjoy for A Christmas Movie Date Night
Miracle on 34th Street
Home Alone
Rudolph the Red-Nosed Reindeer
A Muppet Christmas Carol
How the Grinch Stole Christmas
Jack Frost
Christmas Classics for a Nostalgic Date
The Santa Clause
The Santa Clause 2
Charlie Brown Christmas
The Polar Express
Santa Claus is Coming to Town
The Nightmare Before Christmas (if Jack Skellington feels like a Christmas character to you!)
Jingle Jangle
Dasher
Like this roundup of the best Christmas movies for date night? Be sure to check out these posts too:
The Best Family Christmas Movies
Couple's Ugly Christmas Sweaters: Ideas + Roundup
Get 365 Date Ideas!
We want to help you have the best date nights ever! Grab this FREE printable with 365 date ideas, a date for every day of the year so you never run out of ideas!