A full list of Halloween Family Films (With Free Printable!) sorted by age group to help you plan your next Halloween movie night!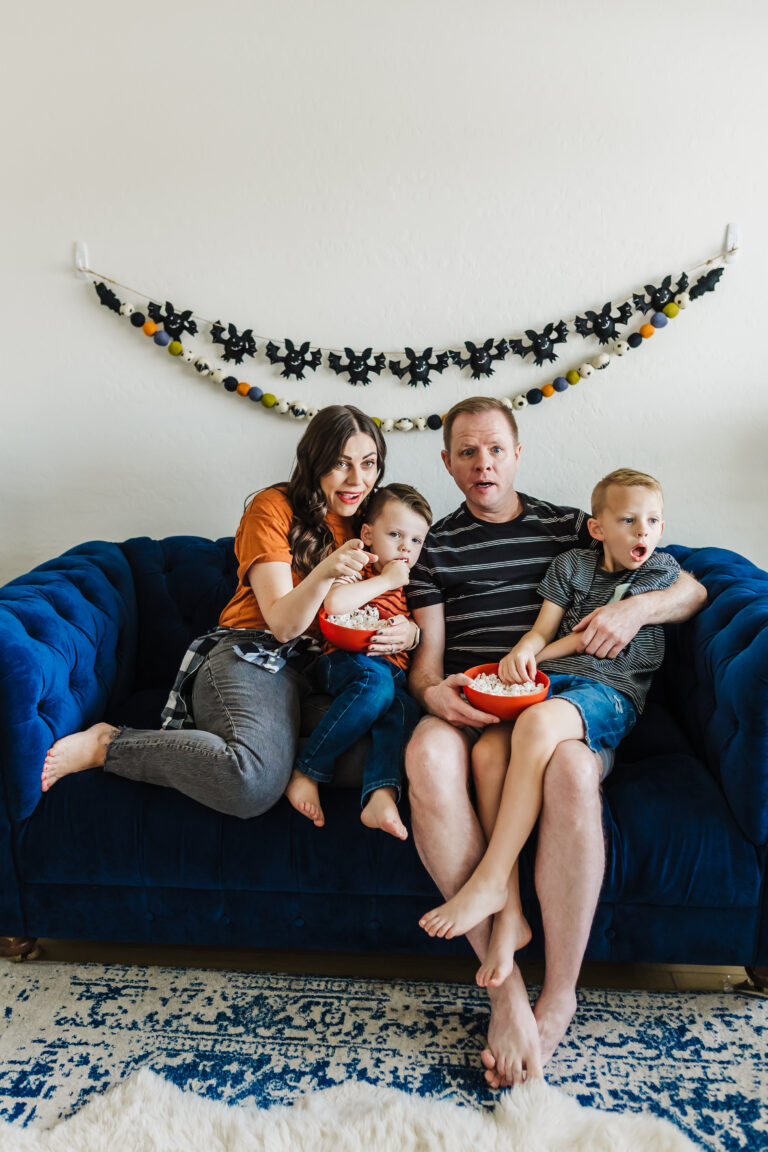 It's the month of October, and that means time to watch all the spooky movies and host some Halloween movie nights! We aren't fans of horror movies so much in our family, but we love to get in the Halloween spirit with a few family-friendly film options.
Halloween is my favorite holiday, and I've found there's a lot of fun to be had outside of the scary and more on the spooky side. We love to prep some Halloween desserts
Halloween Family Movie Night
If you're looking for a few great Halloween movies to watch with the whole family, we've got you covered! We love kid-friendly Halloween movies, that won't give kids nightmares. Here's a list of the best Halloween movies perfect for family movie night, a family Halloween party, or to watch after trick-or-treating on Halloween night.
Here's a list of Halloween family films for the perfect movie night.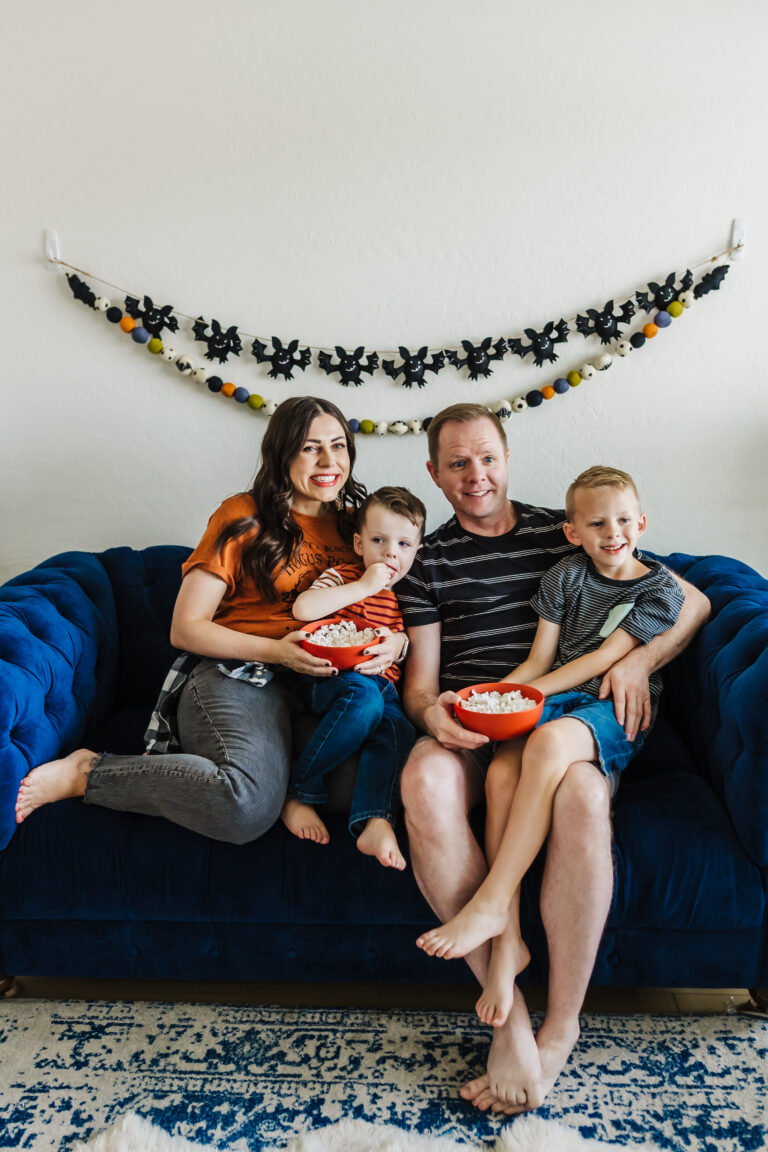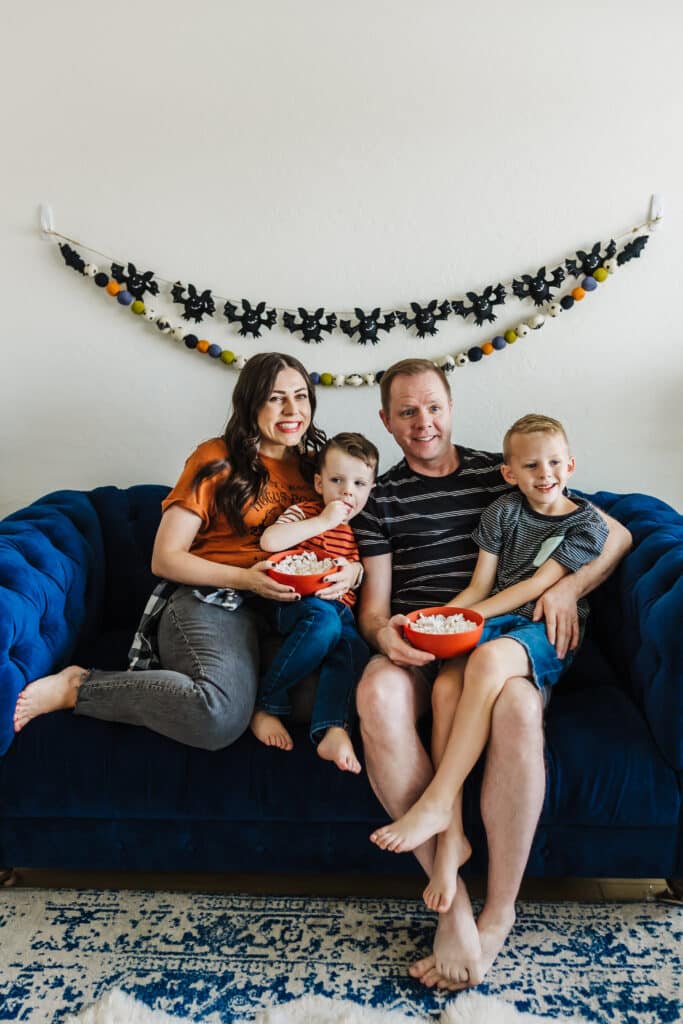 Halloween Movies for the Littlest Kids
The Room on the Broom.
This is my favorite Halloween book for kids! The movie is equally darling! It also has a great message of inclusivity and what it means to be a best friend.
Super Monsters.
These cute preschool-aged monsters live in a monster world with a few unique problems that come with their monster powers. Netflix has a Super Monsters tv show, but there's also a Halloween special film. This is a cute watch for young viewers toddlers through preschool age.
It's the Great Pumpkin Charlie Brown.
This is a classic film featuring the Peanuts characters. Linus finds out no one else believes in the Great Pumpkin, and sets out to prove and await the arrival of The Great Pumpkin by spending the night alone in the pumpkin patch.
Curious George Boofest
Pooh's Heffalump Halloween Movie
List of Movies for Little Kids
Disney Halloween Movies
Frankenweenie
Toy Story of Terror.
Toy Story fans will love the short films featuring the classic characters! This fun Halloween movie is a fun quick watch at Halloween time!
The Muppet Haunted Mansion.
The classic spooky Disney Parks rides gets muppet-ized in this cute and slightly spooky adaptation.
The Nightmare Before Christmas.
This classic claymation movie by Tim Burton features Jack Skellington, the Pumpkin King of Halloween town. He's grown a little bored with being the king of Halloween and discovers a portal to different holiday towns. He tries to take over Christmas by kidnapping Santa, only to discover his true talent is Christmas and he needs to stick to his own world.
Halloweentown
Under Wraps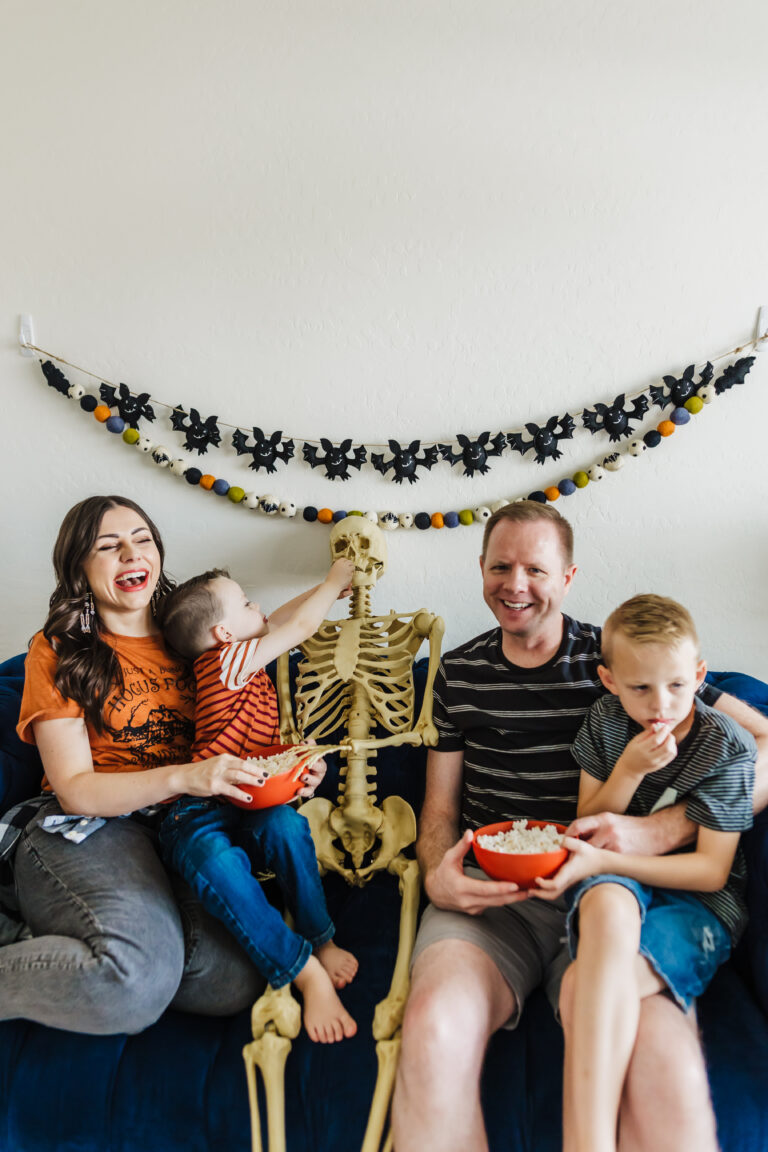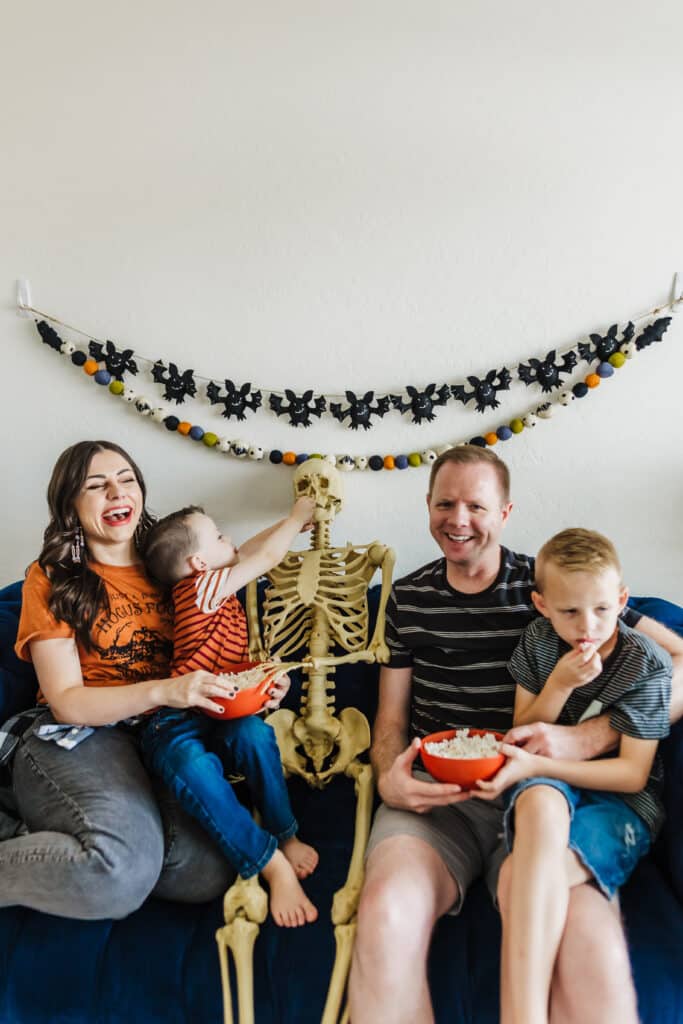 Halloween Family-Friendly Films
Corpse Bride
The Addams Family Animated Film.
If you have younger kids, the animated adaptation of the Adams Family is a great place to tart!
Casper
Based on Casper the Friendly Ghost stars Christina Ricci as a young woman named Kat. Kat and her father arrive to communicate with the spirits haunting the manor. It follows Kat's journey meeting a friendly young ghost and their budding relationship. It's more cute than spooky, but most young kids in elementary school will love this film.
Monster House
Double Double Toil and Trouble
Wallace and Gromit: The Curse of the Were-rabbit
Coraline.
This movie follows an adventurous girl (voiced by Dakota Fanning) who finds another world with sinister secrets.
Hotel Transylvania.
Count Dracula runs a lavish resort for his monster squad. But his life is turned upside down when a human boy ends up at a party and falls in love with his daughter. This is a cute and funny movie featuring Adam Sandler and Selena Gomez. It's a great slightly spooky film the entire family will enjoy watching together! and there are several sequels that are equally great and enjoyed by kids and adults.
List of Halloween Movies for Older Kids
Hocus Pocus
Bette Midler, Sarah Jessica Parker, and Kathy Najimy are a sister coven of witches who come back to haunt Salem when the legendary black flame candle is lit. To remain alive, and young, they must take the souls of human children. While the movie is mostly kid-friendly, there are a few moments of language and innuendo that are keeping me from showing my young boy this movie just yet. This is one of those fan-favorite Halloween movies with a cultic following! So much so, it got a sequel almost 30 years later!
Hocus Pocus 2.
If you liked the first, you'll like the second! It brings the same characters and nostalgia but has a bit more of a Disney vibe. It ends happier, it has a more positive message. Also, I'd be fine letting my preschooler watch this one!
The Addams Family
The 1991 live-action movie with Anjelica Huston and Christina Ricci is one of those tv shows turned feature film that follows one of the quirkiest spooky families. It's full of creepy laughs, and gentle humor that older kids will appreciate.
The Haunted Mansion.
A workaholic real estate agent decides to take his kids on vacation, and they end up at….you guessed it…The Haunted Mansion. This movie is based on the Disneyland ride. Beware of some language (it is Eddie Murphy after all), and a good scare for kids.
The Legend of Sleepy Hollow.
Follow the story of the Headless Horseman and Ichabod Crane.
Terror In the Wax Museum.
This falls in the horror genre, but it's one of those scary Halloween movies from the 70s that's a black-and-white film. It's a good amount of creepy and a little spooky, but not too much for older kids.
The Witches.
Beware of both versions of this Road Dahl classic are pretty spooky.
Ernest Scared Stupid.
This is a silly movie with plenty of goofy vibes. But in all honesty, of all the scary movies I've seen, this one bothered me the most as a young girl due to the content. Monsters/trolls hide is different areas to capture kids and turn them to stone. I looked under my bed for years after this watch!
Goosebumps Movie.
This story based on the scary stories series by R.L. Stine is party scary and part funny. Older kids will have a perfect time getting in the Halloween mood with this movie!
Non-Halloween Movies Fun to Watch During Halloween Season
Monsters Inc.
Harry Potter
Edward Scissorhands
This is one of the movies that put Johnny Depp on the map! It's the perfect amount of creepy and a great October watch!
Download a Printable Movie List Here!
We hope these help you have a spook-tacular good time enjoying several of these fun Halloween movies!
Like this roundup of Halloween family films? Be sure to check out these posts too:
Movies to Watch Before Disneyland
Halloween Couple Costume Ideas + Family Costume Ideas