Q Tip Skeleton: An Easy Halloween Craft for Kids
Are you looking for an easy Halloween craft for kids? This Q-tip skeleton craft is so simple to put together, and one that kids of all ages love!
I am all about having tons of Halloween fun with my kids! We are doing the 50 Halloween Activities BINGO countdown to Halloween and enjoying every activity!
Easy Halloween Crafts for Kids
My kids are huge fans of crafts, specifically Halloween crafts for kids. This is one area that can test my patience. I am team easy prep for parents, lots of time having fun for kids! I firmly believe it should take the kids a lot longer to do the craft than the time it takes the parent to set up the craft.
My mom is a former teacher who just retired a few months ago. She was the master of easy, cheap, and fun crafts kids love. When she mentioned Q-tip skeletons I knew it was something I could get on board with!
They are so easy, so fun, and we took the hardest part out of the equation offering a free skeleton head printable. Grab your own download at the end of the post. Follow along with these directions and you'll be all set for Q-tip skeleton crafting with little time and effort!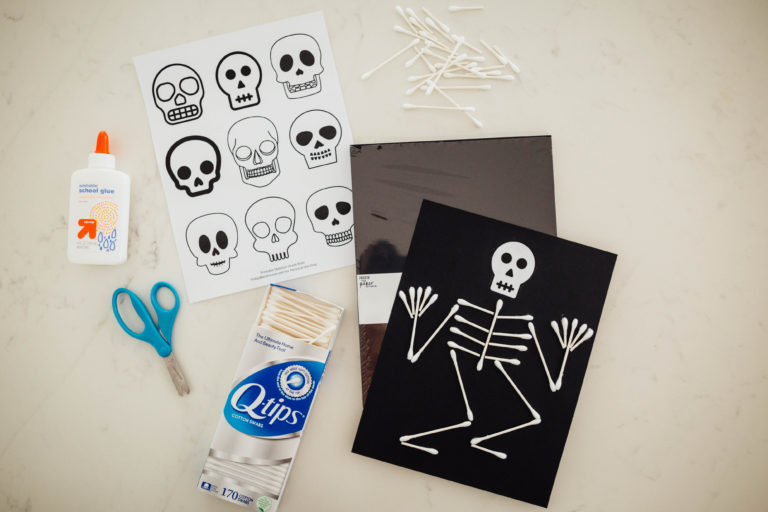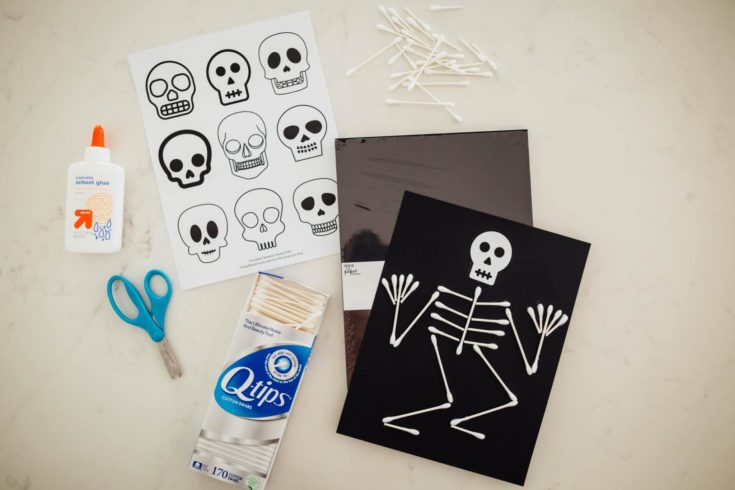 Create a fun and easy Halloween craft with this Q Tip Skeleton tutorial that includes a free printable!
Materials
- 15 Q Tips cut in half
- Skeleton head free printable
- Black cardstock or construction paper
- Washable school glue
Instructions
Download the free skeleton head printable.
Choose your favorite skull and cut out the head from the printable.
Cut 15 Q tips in half

Prepare head and Q-tips in a skeleton pattern. See images for examples how to place Q-tips to look like skeleton bones.
Glue the Q Tips and Skeleton head on black cardstock.
Let dry and enjoy your easy Q Tip Skeleton craft!
Recommended Products
As an Amazon Associate and member of other affiliate programs, I earn from qualifying purchases.
Grab your FREE Skeleton head printable here
We have some more super simple Halloween crafts for kids ideas coming in the next few weeks! Be sure to follow along on Instagram to get the swipe up links to the latest blog posts!
Photos: Chrissy Blake
Like this post? You may like these ideas too:
Halloween Box: A Fun October Box to Celebrate Halloween All Month!
Halloween Activities for Kids + Families: 14 Halloween Traditions