All the info on finding and supporting your local drive-through zoo, and why it's such a great date to do right now!
One of the most impressive things we've seen this year is how creative businesses have become! So many of our favorite date night things to do have been as creative as ever. And this includes the zoo, who has included a drive-through zoo option to enable visits from the safety of the car!
Drive Through Zoo Arizona

The Phoenix Zoo is currently doing hybrid drive-through zoo options. They have been doing a traditional zoo visit on weekend mornings. They are converting a drive-through option to Zoolights for the holiday season. A warm car drive through sounds pretty magical, so you know we'll do this as well!
We were lucky to have Toyota Hylander on loan for a week, and it was so fun to cruise the zoo in such an amazing car! We saw others in convertibles, plenty of large cars for families, and many couples out enjoying a day date.
How the Drive Through Zoo Works
Purchase tickets online in advance. They often sell out, so we'd recommend looking at least a few days in advance.
Most have set hours. Many will offer all-day drive through experiences, but most have a set block of time. Check the hours and time recommendations and get there early.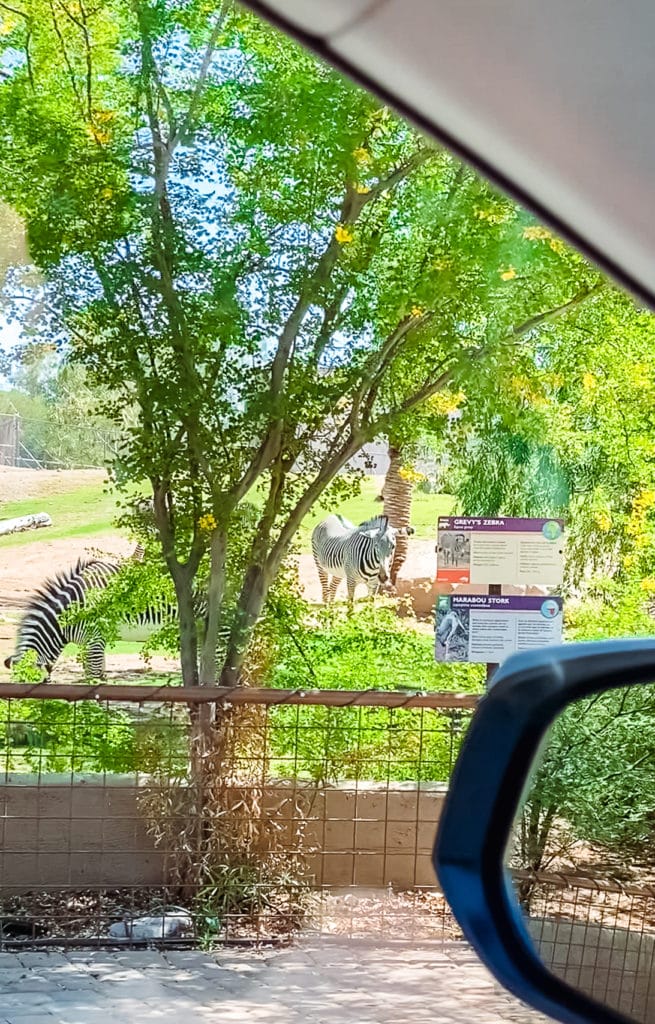 You'll wait in line to enter the zoo from a designation location. Cars go 2-4 miles per hour and literally slowly cruise through the zoo. You'll drive along a set path and see animals in their designated areas. I love that our audioguide told us "Think of it more as a treasure hunt instead of a mission to see every animal." Not all are out, and they want to keep the animals as happy and comfortable as possible.
With that said, we saw a ton of animals! I had low expectations, but there were only a few areas that the animals seemed to be asleep or just away from viewing range. We left pleasantly surprised by the number of animals we were able to see!
This Sounds Fun! How Do I Find a Drive Through Zoo Near Me?
Most zoos are offering this option right now! They need patrons to help stay open and fund operations. I'd just check your local zoos for more information. There are also zoos that always follow this business model. Bearizona in Northern Arizona is a permanent drive-through zoo-like experience.
Check with your local zoo and other zoos in your state for options.
Drive-Up Zoo Tips
Book tickets in advance
Make it a family date or double date to save money since most are pay by car
Support the zoo by buying snacks. We recommend the kettle corn at the Phoenix Zoo!

Pack your own snacks and water. The lines can be long, and it's one time you're encouraged to bring in your own food and drinks.
If you have access to an SUV or truck, you may see more animals with a slightly higher view.
Share your trip! This is helping so many zoos financially right now, help them spread the word!
Like this date idea? You may like these posts too:
Date Night Box Roundup + Promo Codes
Get 365 Date Ideas!
We want to help you have the best date nights ever! Grab this FREE printable with 365 date ideas, a date for every day of the year so you never run out of ideas!