Everything you need to know about Zoolights AZ and how to make the most of this fun holiday experience at the Phoenix Zoo (or a zoo in your area)!
Date Idea:
 Zoolights AZ at the Phoenix Zoo
Location:
 Phoenix Zoo (there are several zoos that offer these, check your area!)
Price:
 $14-$20 per ticket
Time:
Plan about 2-3 hours to see the full zoo
Website:
 Phoenix Zoo Website
Tip:
 It's far less crowded on weeknights and earlier in December. Try to go early, or wait until January and hit up the last few weeks. You'll enjoy plenty of elbow room!
Our first experience with Zoolights was a date night when we were engaged. We've always wanted to make it back for a date night or a family date night. Truly, it's great to experience as a couple. It's also wonderful with kids. Let me break down all details so you're set for your own Zoolights AZ (or Zoolights at your local zoo) experience.
Phoenix Zoo Lights
What are Zoolights?
The zoo gets a holiday makeover with lights everywhere and plenty of animal light structures to enjoy. You may see the animals awake or asleep, but you'll definitely have a fun experience seeing the animal lights.
You will experience light shows set to music, and almost every tree in the zoo is lit up and magical.
There are usually other fun things to do like reindeer encounters meeting reindeer who are there for the season. Also, a polar slide and 4D Christmas movie are available too.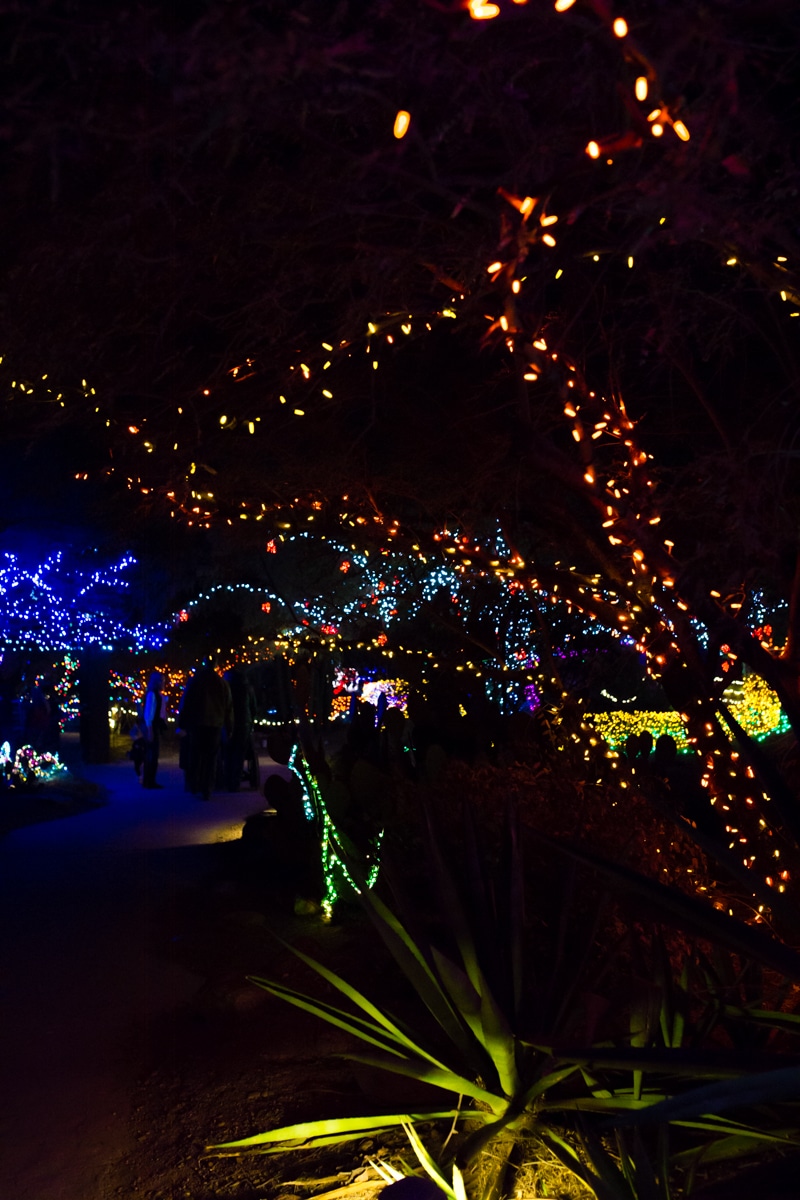 Phoenix Zoo Lights Hours and Prices
Phoenix Zoo Lights start around Thanksgiving every year, and they go into the second week of January. So if you can't squeeze it in right before Christmas, you can still catch everything the first two weeks of January. It's a great date night or family date to enjoy post holidays!
It's going to run you $12.95-$19.95 per person depending on when you go and whether you buy tickets online or not. They do value nights where tickets are cheaper. It's also a good idea to get tickets online before you go, there's an additional discount.
Zoolights AZ starts after dark, at 5:30. They close down at 10:30 each night.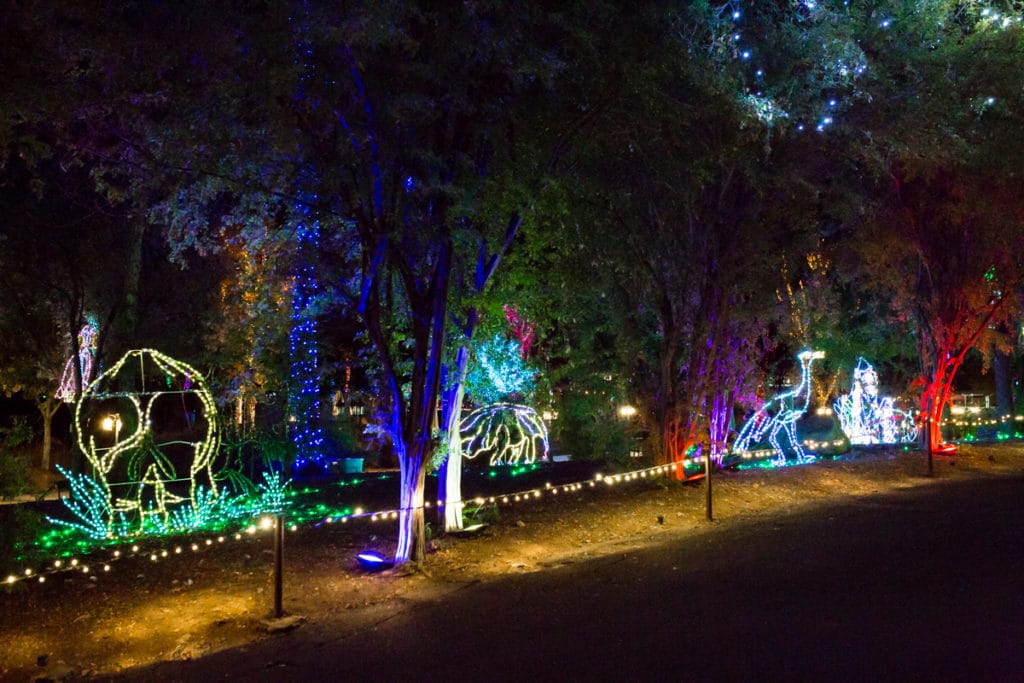 ZooLights Discount Tickets
There are a few ways to get discount tickets. First of all, buying online saves a few dollars per ticket.
Secondly, SRP sponsors the Phoenix Zoo Lights, and they often mail a BOGO Zoolights discount ticket pass in your SRP bill. Watch for it in November! They block out a few days the coupon isn't valid. But, typically you can find several nights where this is a great deal!
Sometimes the zoo runs a Groupon with deals (there's currently a great one!), so double-check there.
Finally, Fry's food stores often sell discount tickets too. Call ahead and see if you can purchase there.
Zoolights AZ
We particularly love Zoolights in Arizona because the weather is just perfect. It's a little cold, so definitely bundle up! However, you can walk around the full five hours the zoolights are open without frostbite. There's hot chocolate and treats to purchase if you want a snack. You can even reserve a firepit and have s'mores at the zoo. But you will honestly enjoy the lights just walking around.
It's the perfect way to feel festive and enjoy Christmas music and lights.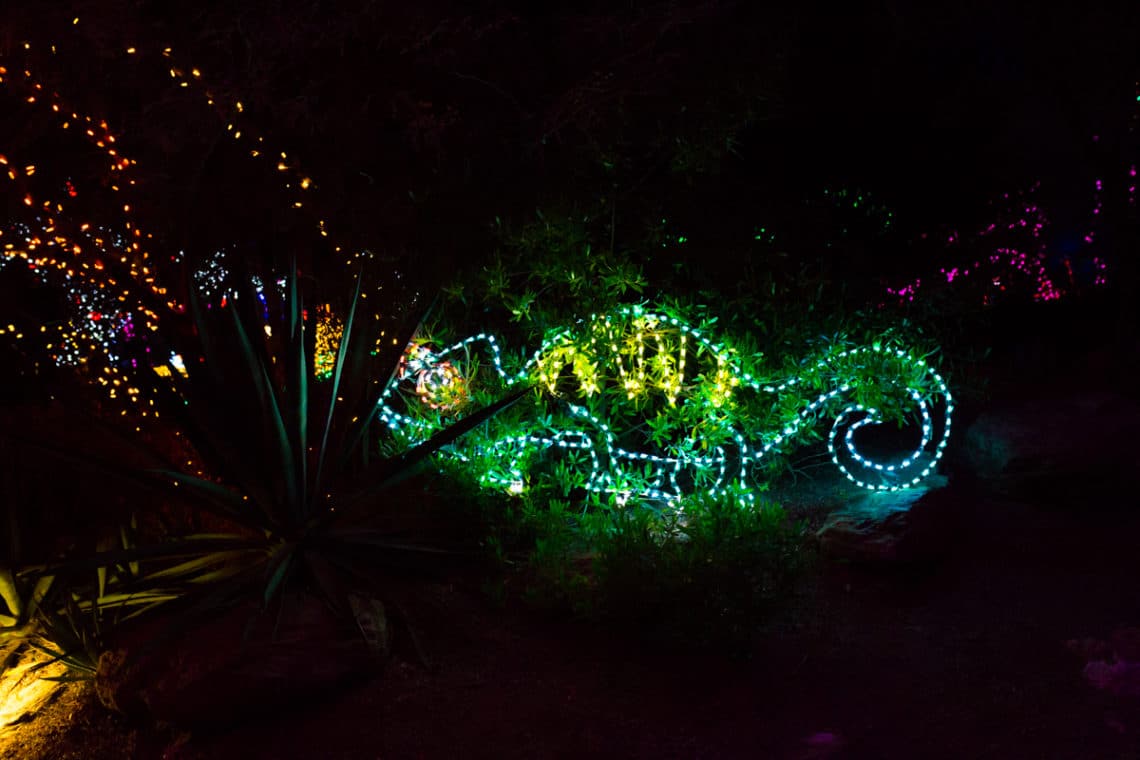 We've loved this experience as a date night. It's also been really fun to go with our kids. That's one of the greatest things about the zoo, it's a fun time for everyone of all ages!
And now we have a toddler ready to make this a yearly tradition. It's a tradition we can totally get on board with! Tons of lights, tons of fun, and a family activity everyone of all ages can enjoy!
Like this Zoolights AZ activity? You may like these posts too:
Date Ideas Phoenix: The Best Phoenix Arizona Date Night Ideas
Gifting Experiences Instead of Just Things: Experience Gifts Ideas They Will Love!
How Make Family Movie Night a Tradition You'll All Love
Get 365 Date Ideas!
We want to help you have the best date nights ever! Grab this FREE printable with 365 date ideas, a date for every day of the year so you never run out of ideas!