A classy, dressy date to see the Phoenix Symphony is always a good idea! Here are the top reasons it's a perfect date night, and tips for those who aren't typical symphony fans to still enjoy a night at the symphony.
Phoenix Symphony Date Idea Info
Date Idea: Phoenix Symphony Holiday Pops Concert
Location: Phoenix Symphony Hall (check for the symphony in your area)
Price: Check your local venues options, most run $20-$100 a ticket
Website: Phoenix Symphony Website
Tip: Occasionally there's a promo to save you money! Use Symphony promo code Camille20 to get 20% off tickets. You can also look at Groupon for occasional deals.
I've always thought the Symphony at Christmas time would be such a fun date! I was thrilled when we were gifted tickets to come to attend the Holiday Pops concert this year. We've been to the symphony once many years ago for a date night, and it was a fantastic experience! I even noted in that post if you aren't sure you'll enjoy this date, try a holiday performance because it's hard not to love Christmas music performed by professionals.
Phoenix Symphony Hall
Phoenix Symphony Hall is located right in the heart of Downtown Phoenix. And the Symphony Hall building is the perfect setting for a romantic, dressy date night. They offer so many great options for a classy date night. It's not hard to find a great show to attend!
Truly, the Phoenix Symphony does an amazing job coming up performances that entertaining beyond traditional performances. They often offer cirque de symphony performances with acrobatics performed. There's often show tunes and cinema-themed performances. We are definitely planning on attending one of their evenings where they perform the soundtrack to a movie while you watch the movie. I see Harry Potter or Star Wars at the symphony in our near future!
Phoenix Symphony Holiday Pops
I was so delighted to find the Phoenix Symphony Holiday Pops show had a full choir and two Broadway performers to help entertain. They cycled through every different type of Christmas song, and a few Hannukah too! A director from New York came to direct the event, and there's a good chance Santa made an appearance too!
We opted not to bring kids, but if you're wondering "Can I bring kids to the Phoenix Symphony?" I'd say for the Holiday Pops shows you'll be fine! A matinee may be best, but there were several kids singing along and loving the show.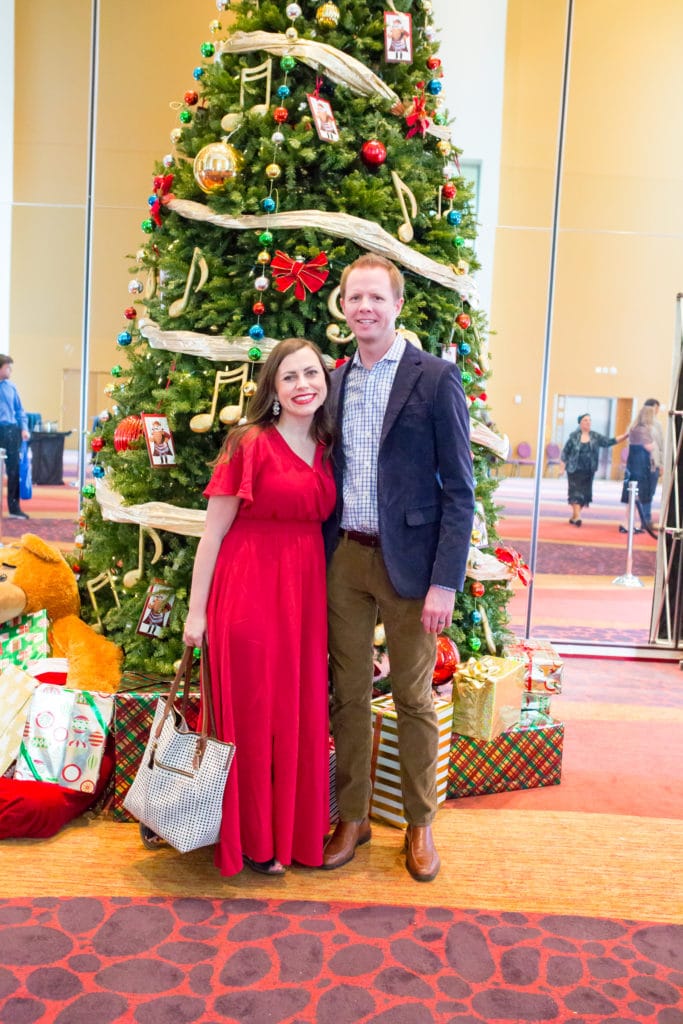 The Phoenix Symphony
Finally, I think this is a fantastic date idea for three main reasons.
First of all, it's an excuse to dress up and get a bit fancy. I love seeing people wear black tie attire down to business casual. There are so many people decked out in beautiful dresses and dress shirts. It's a great excuse to dress up, something that can add a fun twist to date night! If Jacob wants to wear his custom sports coat all the time, my eyes certainly won't complain!
Second, there are so many fantastic restaurants in Downtown Phoenix. Even if you aren't in Phoenix, this tends to be true. There's an amazing meal around the corner to make this a fun date night any time of year.
Finally, I was just amazed at how much this put us both in the holiday spirit! I felt like Buddy the Elf was telling us the fastest way to spread Christmas cheer is singing loud for all to hear. But truly, music performed by some of the top musicians in the country is never a bad idea! We are in awe of the talent no matter what they play, but Christmas music may be our favorite!
Phoenix Symphony Promo Code
And one last time, if you're looking to recreate this symphony date night, we have a Phoenix Symphony promo code. Use code CAMILLE20 to get 20% off tickets to an upcoming show.
Like this Phoenix Symphony date idea? You make like these date ideas too:
Date Ideas Phoenix: The Best Phoenix Arizona Date Night Ideas
365 Fun Date Ideas: Dates Every Day of the Year
Get 365 Date Ideas!
We want to help you have the best date nights ever! Grab this FREE printable with 365 date ideas, a date for every day of the year so you never run out of ideas!