iFly: Indoor Skydiving Date
ifly Scottsdale is one of the best indoor date ideas with one of the biggest thrills! We're sharing our ifly Arizona date experience, and why we'll definitely be back to do this amazing indoor skydiving date again!
iFly Indoor Skydiving Date Info:
iFly Indoor Skydiving
Price: Plan about $70 per person, but if you do it with a group there are group dates and there also seasonal deals
Location:
 They have tons of locations, check
their website
if there's in your area. We went the the iFly Arizona location in Scottsdale off the 101.
*This date was sponsored by iFly
One of my favorite things about this whole date night project we've now been doing for 6.5 years (what?!?) is finding these once-in-a-lifetime amazingly fun adventures that we get to experience together. I love that we're always on the hunt for new things to do and try. When we heard about iFly opening up in Phoenix we added it to our date night to-do plans. You can only imagine my excitement when they invited us to come try it. It was the fastest YES I think I've ever said!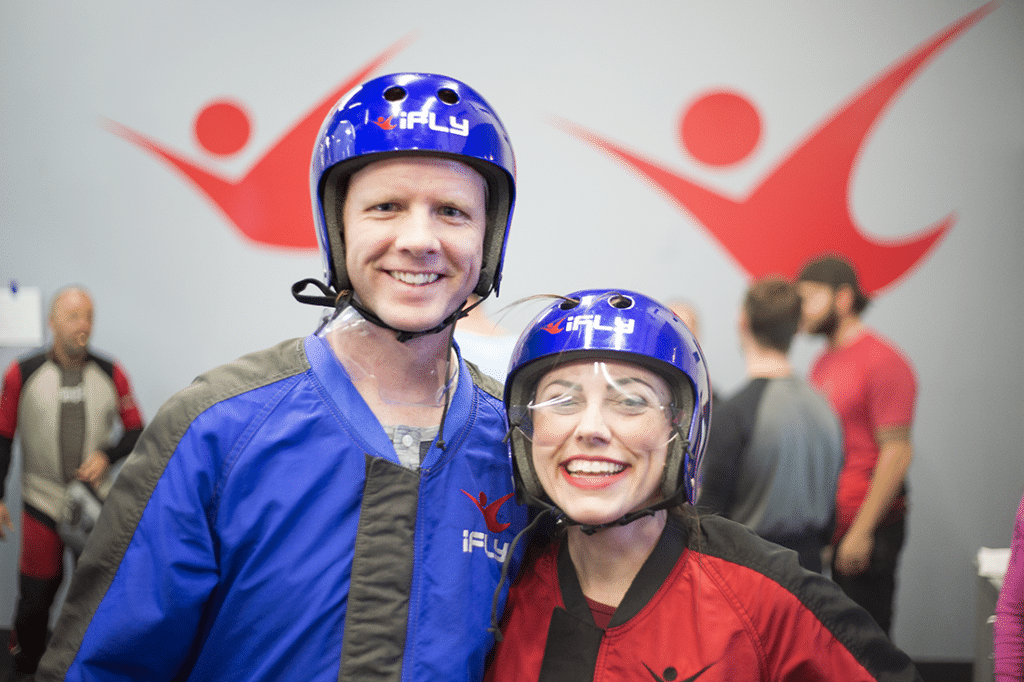 iFly Arizona
Here's the concept if this is brand new to you. Essentially you're geared up and put in a wind tunnel that's adjust to your weight so you get the opportunity to fly. It's the sensation of skydiving with a little less of the "lets-get-our-will-in-order" kind of feeling. This is actually where several skydivers train, and several professional frequent regularly. Even if you're novices like us who have just always wanted to go skydiving or even someone who has mildly been interested, it's a perfect fit for a really amazing experience in a safe place with an instructor to take you through the entire experience.
They have you watch a movie and practice hand signals and body positioning before you even go in. This means you know what to expect and do so you get the chance to actually fly! I felt so lucky that my body figured it pretty quickly. Thus my instructor stood aside while I relaxed and thought about the sensation of slowly skydiving, peacefully flying through the air. I was lucky to find my zen quickly and just really enjoy the exhilarating experience.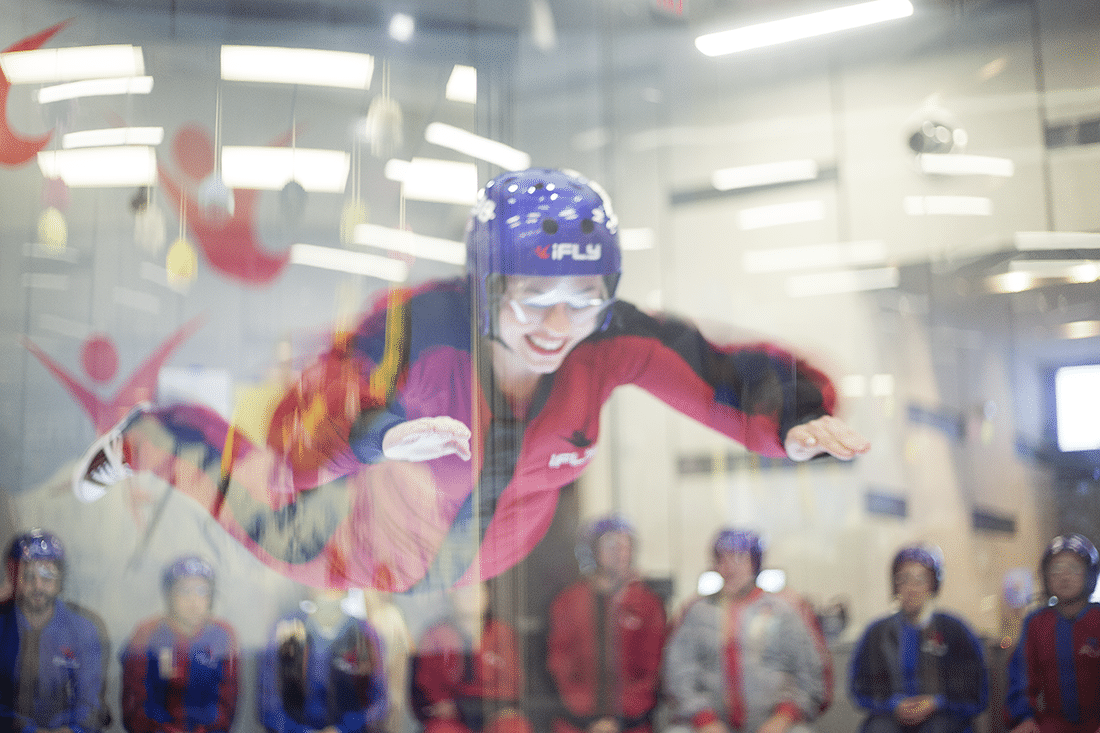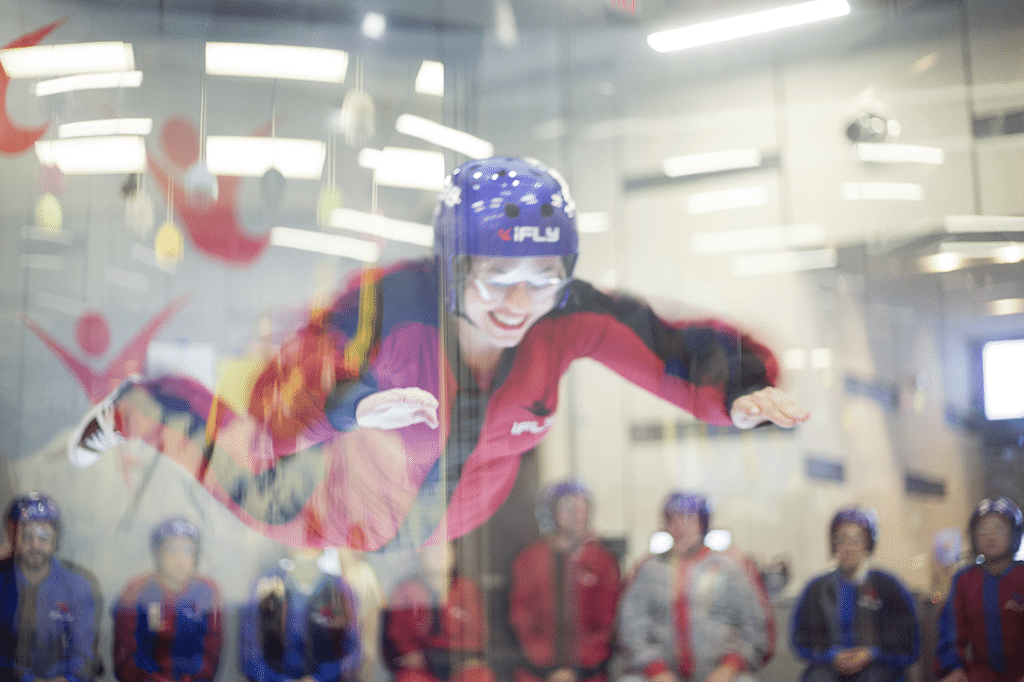 Jacob was similar, even though our bodies had completely different experiences since they are different shapes and lengths. I loved my mini physics lesson watching people of all different heights and sizes find the best way to work with the air and literally fly.
Indoor Skydiving Scottsdale
Jacob opted to do the high flight, where the instructor helps you bounce through the wind tunnel and do more adventurous flips and tricks. If you check out the top photo you can get a good feel for how high he flew rapidly going up and down and all around. And some of the people in our group kept telling me as I snapped some pics that he was clearly posing for me.
But knowing Jacob as I do, that smile was no pose and was 100% real and just pure joy shining through his entire experience. And I know he'll die that I mentioned it, but a few giddy squeals may have eked out during both his flights. Nothing like the "Weeeeeee!" we heard from other parties, but definitely enough to put a big smile on my face and let me know this was a date night winner!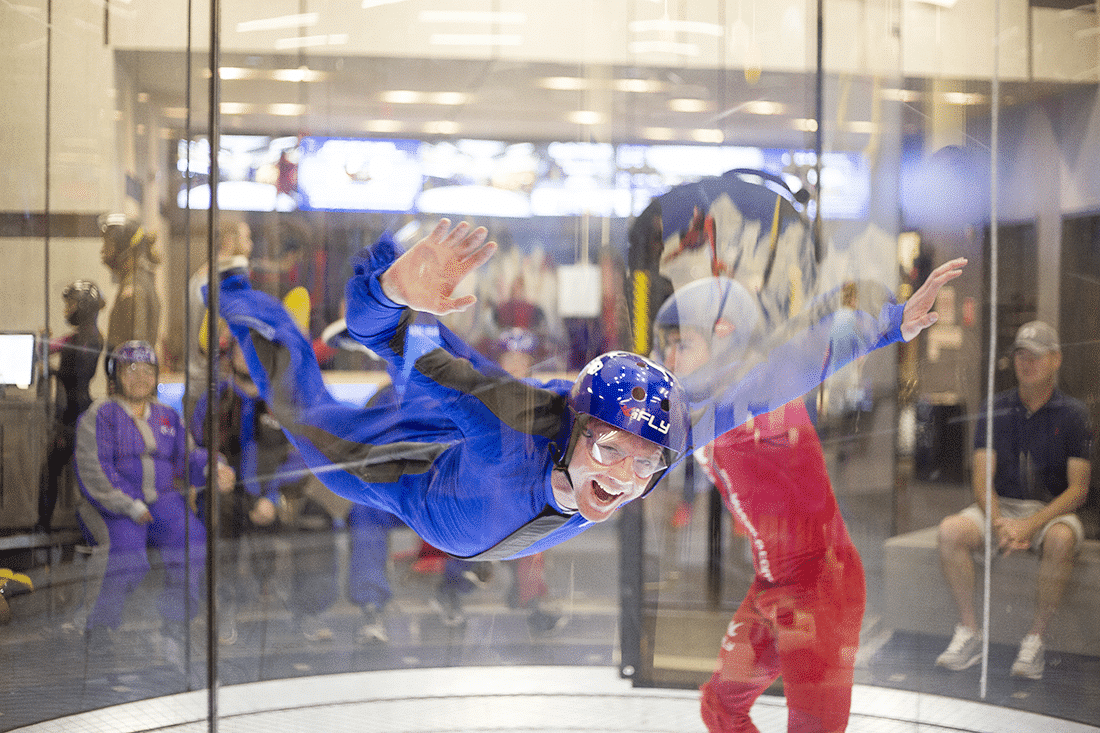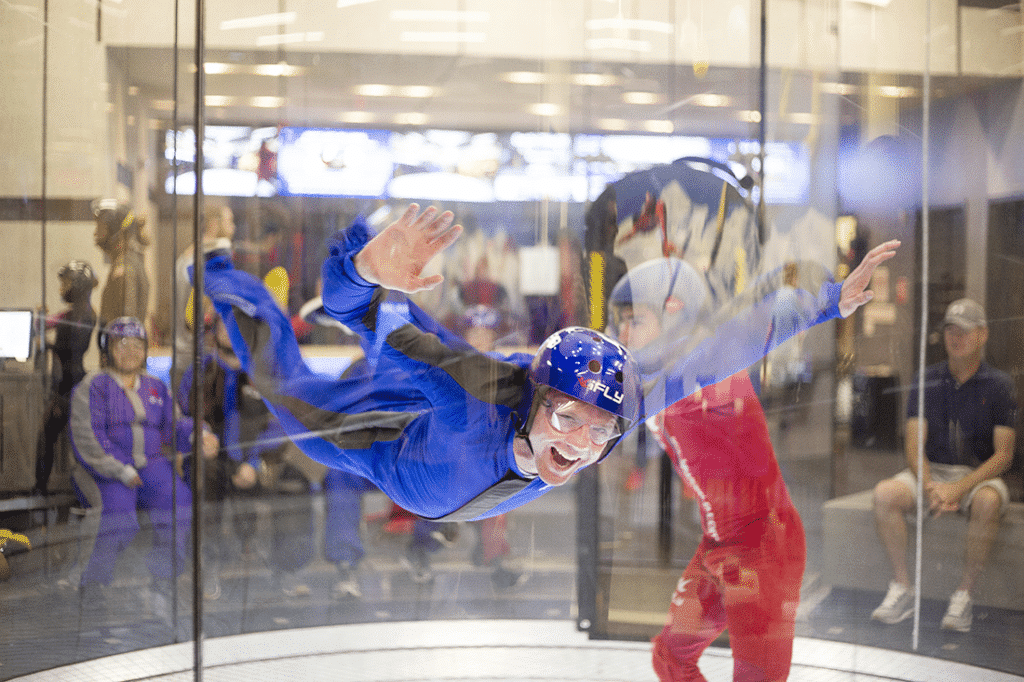 iFly Scottsdale
We both kept remarking that this was one of our favorite dates and the most fun we've had in a long time! I'd highly recommend indoor skydiving to anyone looking for something new and for a really unique date idea that you'll both enjoy. They offer classes to get to the next skill level, and learn how to do more tricks on your own, and let's just say I won't be shocked if those show up in these parts as another fun date idea in our future!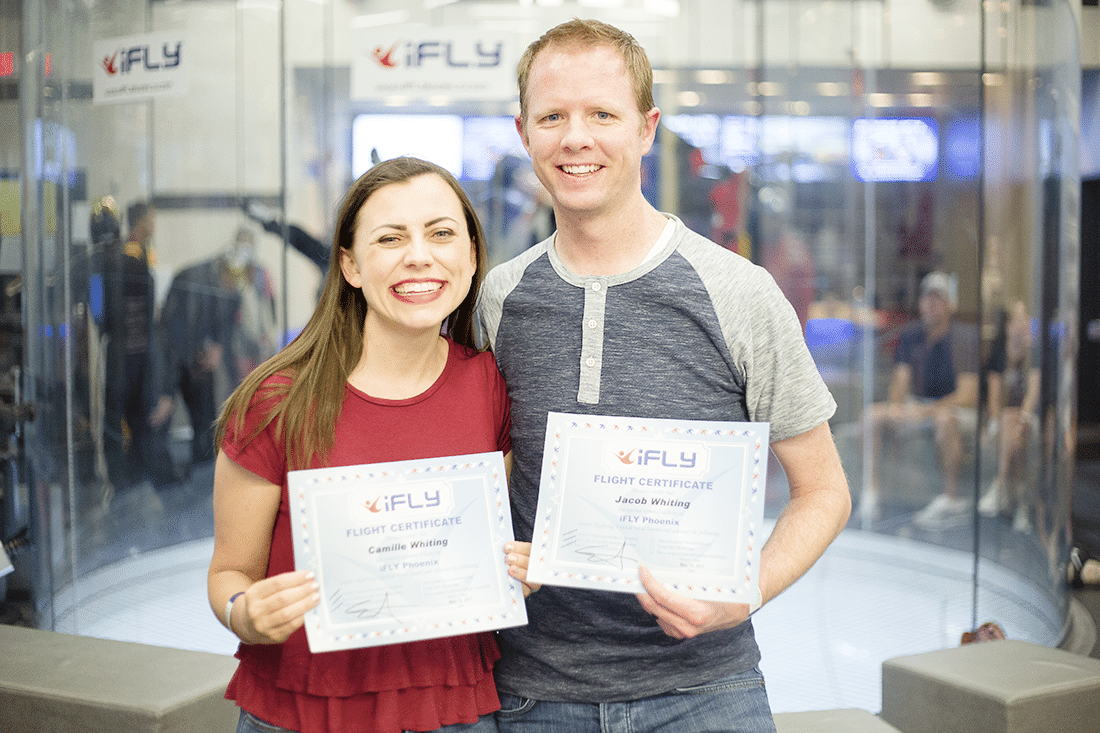 Love this unique date idea? You may love these too:
LoLo's Chicken and Waffles: The Solution to World Peace
Couple's Game Night: Eight Ways to Rock A Couple's Night In Group Date
Get 365 Date Ideas!
We want to help you have the best date nights ever! Grab this FREE printable with 365 date ideas, a date for every day of the year so you never run out of ideas!