Las Vegas Getaway: Coca-Cola Factory
Adjacent to the
M&M Factory
is the Coca-Cola Factory off the Las Vegas strip. We headed over there for what I'm going to label as a must-do date if you're in Vegas.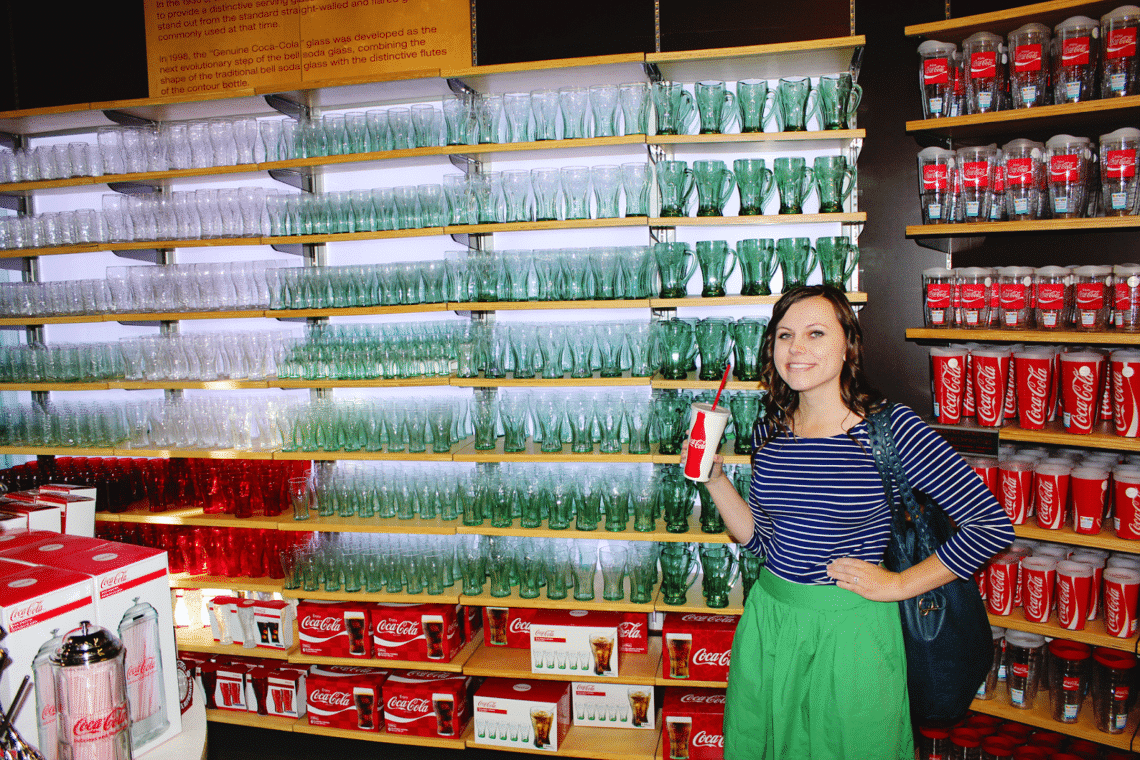 Las Vegas Coca-Cola Factory
If you were thinking "Camille, I can get a dirty Diet Coke less than 3 miles from my house" first of all, good for you! Second of all, don't worry, that's not what I was going to say. But by all means, you can do that for a
date in your area
.
The Coca-Cola Company has drinks from all around the world available to try for only $7.00. It's kind of like an adventure seeing what flavors are popular around the world, and then giving them a try. This was something we just couldn't pass up!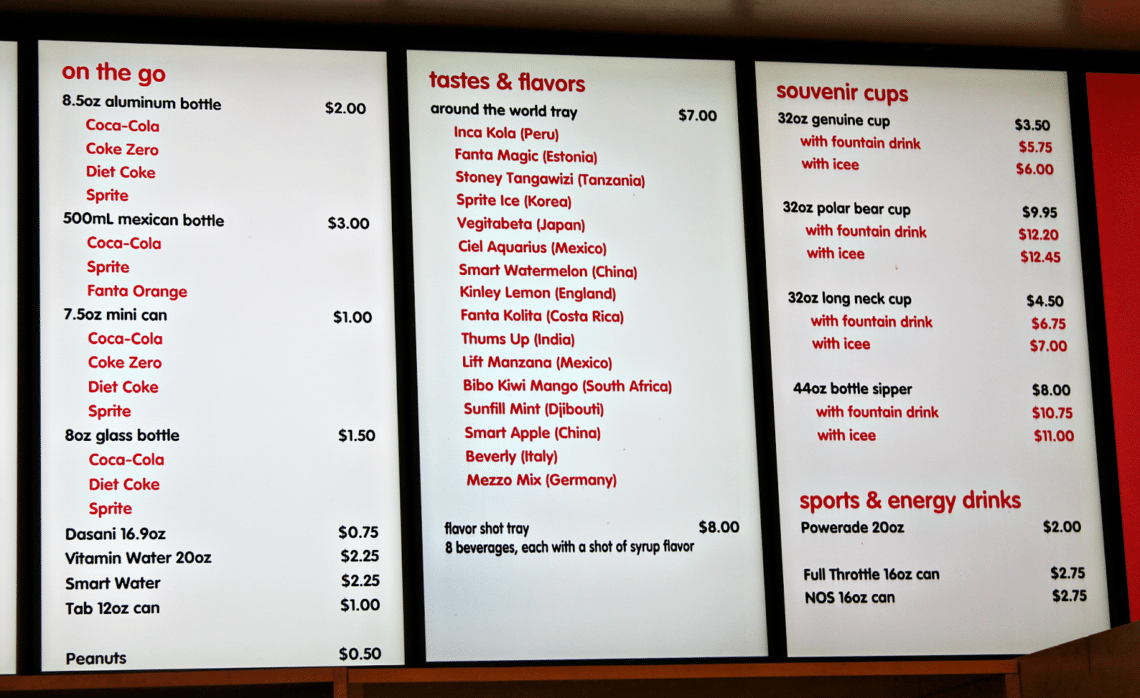 And, if I'm being honest, I saw Lift Manzana from Mexico and my heart sang. I did a study abroad in Mexico when I was an undergrad, and I lived in a very poor village with a very poor host family. The water was always questionable, and even though I was not a soda drinker of any kind at the time, I turned to this beverage to keep me alive when giardia was in question. I adore it. It's like sparkling apple cider, but in a can. The offering had me pretty quickly interested since this stuff is a little challenging to find in the U.S.
So we ordered an "Around The World Tray" and grabbed a table.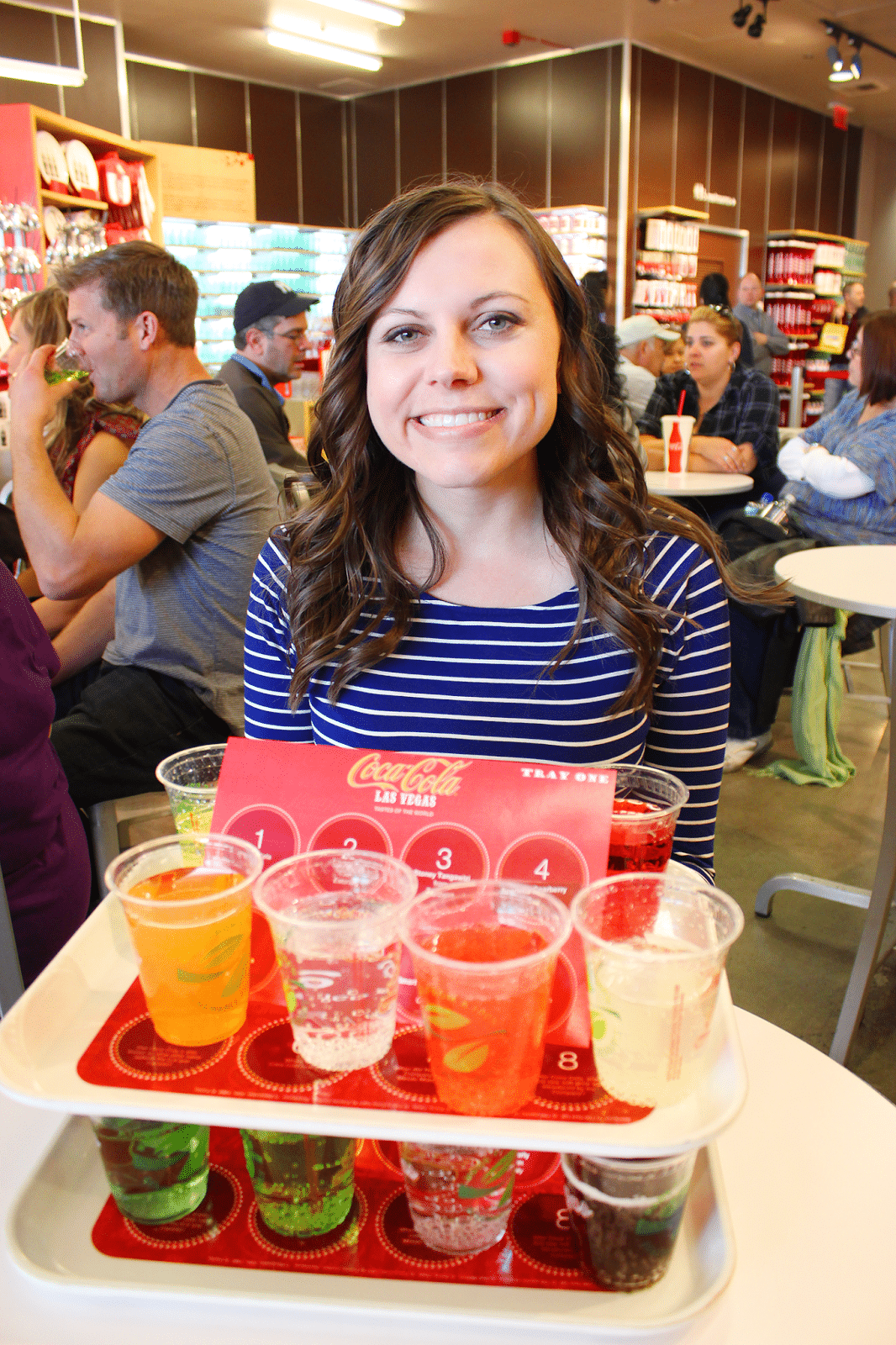 There are two trays, each with eight sampling options.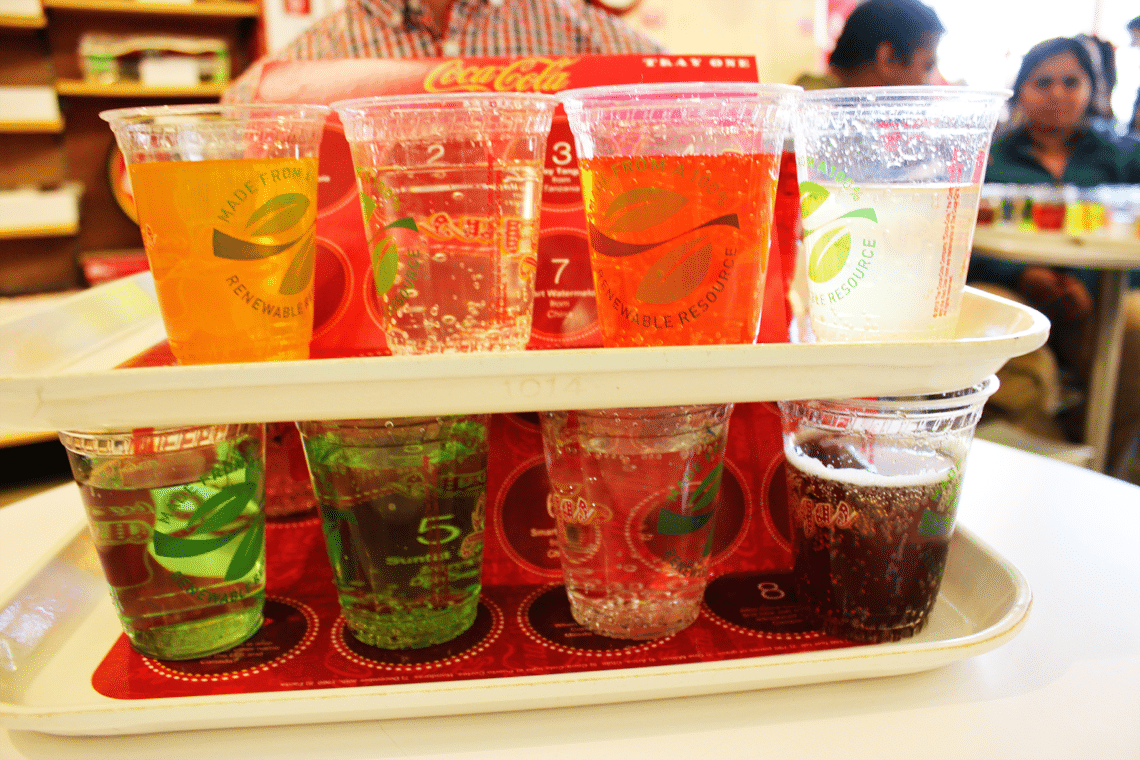 We used our key to guide us. Each of us would try one, and then trade with the other to make sure we could claim we tried them all.
This face became the norm- we just didn't know what to expect with each. Some are close to American soda, some are extra sweet, some a little bitter, and some had flavors we wouldn't think belonged in a soda!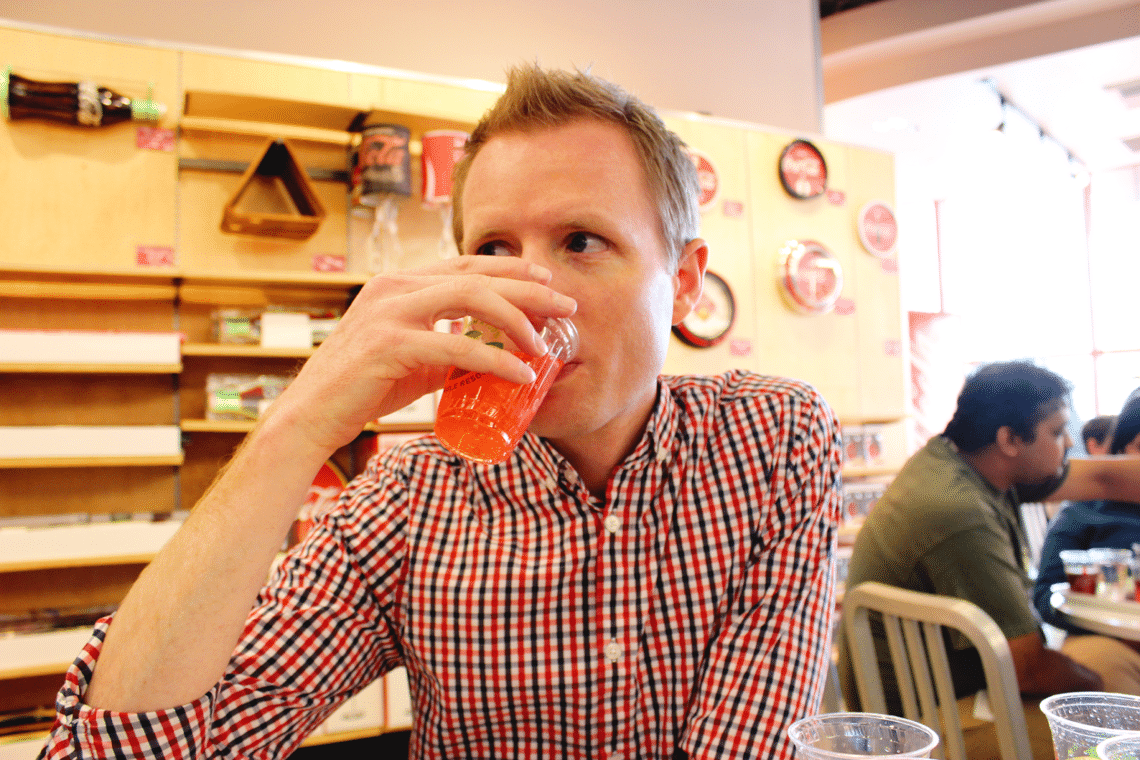 In the end, we decided we each could claim two the victor as our favorites. And surprisingly, we did not agree on this at all!
Jacob loved the Smart Watermelon from Japan and the Bibo Kiwi Mango from South Africa.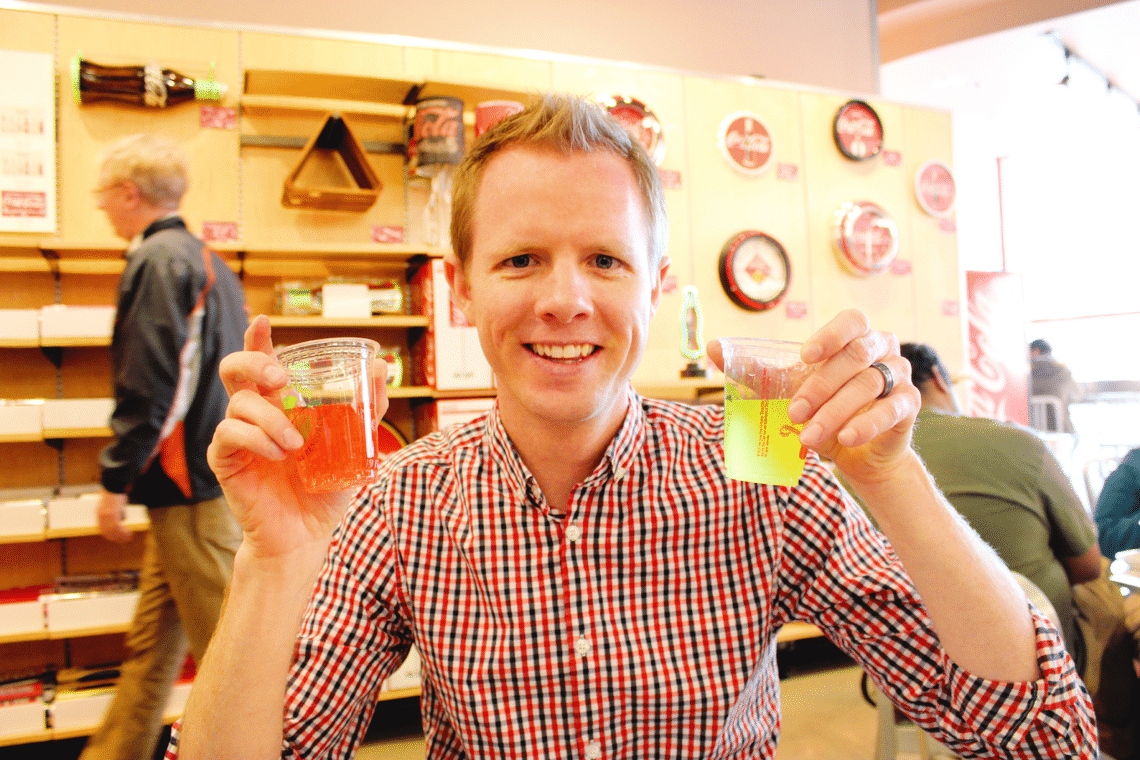 I was a big fan of from Lift Manzana from Mexico (big shocker, I know) and Kinley Lemon from England.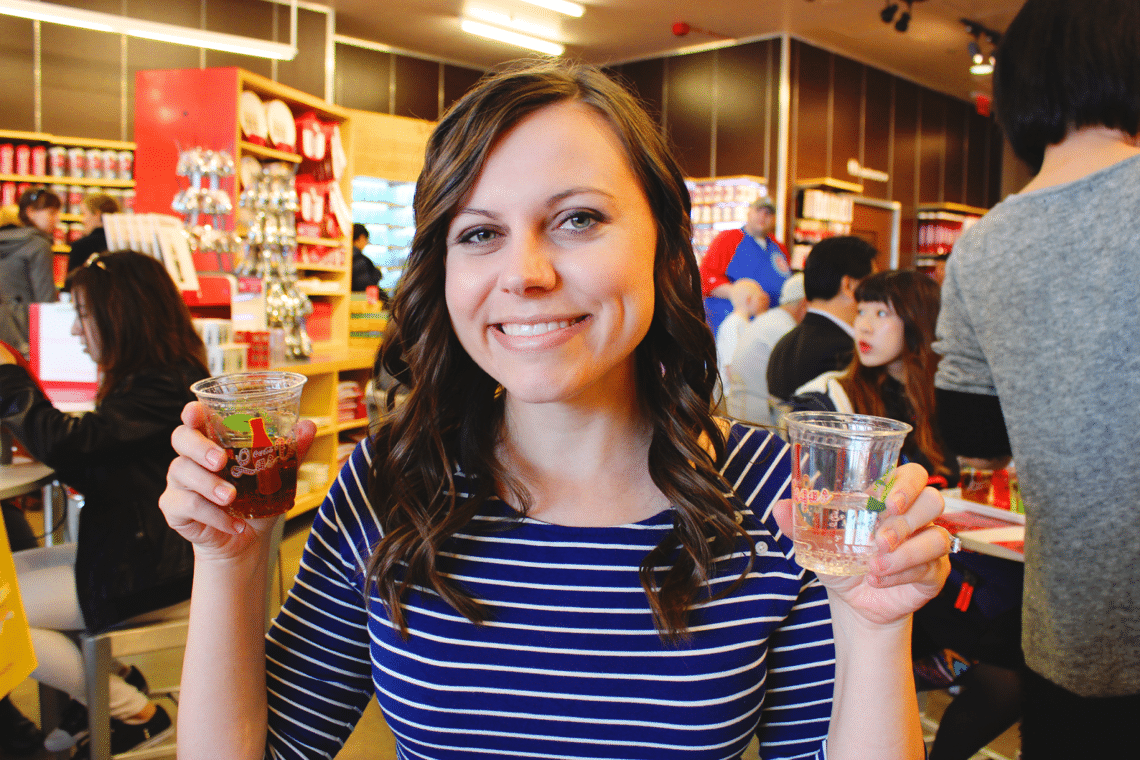 Why we put ourselves through the unknown food tastes, I can't answer. But there's definitely a reason why the Harry Potter Bertie Botts Every Flavour Jelly Beans are popular, and I'd liken this experience to that. Well, maybe this was better, I had no risk of a vomit-flavored soda. And truthfully, most were good and it was really fun to try them all.
$7 later, it's a date I'd say you really need to do if ever in Vegas!
Get 365 Date Ideas!
We want to help you have the best date nights ever! Grab this FREE printable with 365 date ideas, a date for every day of the year so you never run out of ideas!