Eating Out on Budget: 10 Ways to Save Money Fine Dining
Ready to impress your date with a fine dining meal? Eating out on a budget and eating well and coexist! Here are 10 easy ways to save money on fine dining restaurants!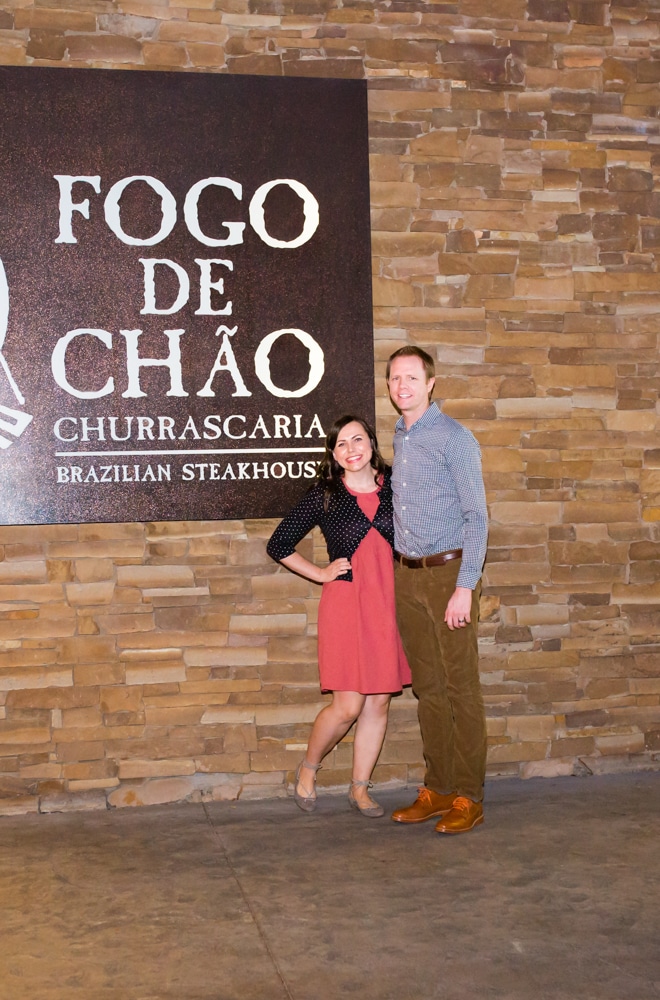 Date night last week was one of those super romantic dress up and enjoy fine dining events. Kind of the date we all dream of going on but the reality is it's one most people have to budget for.
We decided long ago that we're more about experiences than stuff. You can even see some of our favorite experience gifts and of course, our year of dates gift too. So when it comes to birthdays, spending the budget on food is completely acceptable and welcome on our book!
Eating Out on a Budget
But we love a good deal as much as the next person. And surprisingly, you can get good deals when fine dining, even at the nicest places you wouldn't expect to find deals!
This past weekend dining at Fogo De Chao reminded me it's completely possible! We paid just over half the normal price. I felt as loved and celebrated as could be for my birthday. My anemia was also thrilled at the quantities of iron consumed in quality beef cuts.
But this is a dating tip I don't want to keep to ourselves! For anyone who loves a really good meal, a really fancy date, or an excuse for the night on the town, here are the ways we find amazing deals at upscale restaurants.

How to Save Money Fine Fining
Sign up for their emails. I know we all guard that inbox closely. But most will let you opt-in for promotions and only send those. That means discounts nights, new menu preview events, special openings, etc. This is how we find most is our deals!
Call and ask. It never hurts to ask. See if they do a discount day, night, or season.
Go in January. Between December and Valentine's Day, there's typically a huge lull. Many offer rare coupons and even two-for-one specials just to fill up tables. This often happens again in March.
Check for birthday specials. Not all high-end places do these, but some do! It may mean a free drink, it may mean a free meal! But every bit helps in making it more affordable.
Go for lunch. We've dressed up in the middle of the day to celebrate on the name of a much lower bill. It's an easy time to find a babysitter. It's also a great time to enjoy your meal in well-lit daylight times.

How to Afford Eating Out at Nice Restaurants
Ask for a group rate. If you don't mind sharing the evening with foodie friends, see if you can cook a room and get a group rate deal. They do these for bridal parties often. They will be happy to do them for you too!
Hit up happy hour. Sometimes prices are lower earlier. Often there are the appetizer and drink specials. If you can't go all out, go a little out and get lighter bites with appetizers.
See if weeknight menus are different than weekends. Quite often there are lower priced items served on weeknights.
Skip the drinks. We don't drink alcohol and every time we go out with friends who do I'm shocked how much more the bill is. Even the lovely honey cucumber lemonade is typically way more at nicer places. It's okay to have drinks at home later and enjoy water.
Check out credit card reward options. We usually get a Ruth's Chris gift card each year with reward points. It's like a free meal we didn't have to budget for.
I feel the need to add remember to tip servers the same even with discounts. They work hard and deserve full price gratuity. Plan it as part of the budget.
Hopefully one of these tips helps you find yourself on a big spender date night soon!
And may the meal be just as an amazing experience for you as my birthday meal was last weekend for me!
Like these eating out on a budget tips? You may like these posts too:
Perfect Anniversary Date Ideas
Simple Date Ideas with Lots of Last Minute Date Ideas!
Romantic Valentines Day Ideas" 10 Unique, Romantic Valentine's Date Ideas
Get 365 Date Ideas!
We want to help you have the best date nights ever! Grab this FREE printable with 365 date ideas, a date for every day of the year so you never run out of ideas!