Axe Throwing: All the Info on This New Date Night Trend
All the info on the axe-throwing craze that is taking over date night! How to pull off this fun date night trend and find the try an axe-throwing place near you!

Axe Throwing Date Night
Date Info: Axe Throwing/ Hatchet Throwing: It's just what it sounds, you'll throw axes for sport in specially designed range.

Axe Throwing Price:
Pricing varies, but most will run $20 for about an hour. I'd highly recommend booking at least 90 minutes. Be sure to check for a
Groupon
in your area. You can often snag really great deals!
Location: You can find axe places near you with a quick search! Many are escape rooms with a room converted to for hatchet throwing. There are also axe-throwing bars designed for adults with drinks and ranges.
Time: One to two hours on the axe range.
Tip: Make sure you make reservations in advance! This is such a popular date night right now, and you'll want to call ahead and book a space.
I first heard about axe throwing when I had just found out I was pregnant with my second child. It was a hard pregnancy, and it was all I could do to keep food down. Needless to say, it wasn't an ideal time to make this date night happen. But it's been on our date night bucket list ever since!
For Christmas, I gifted Jacob a
year of dates
gift, which is a
date night gift
with a pre-planned date for each month of the year. I made sure I included axe-throwing early in the year. We have been so excited to include this as one of our first date nights in our
20 dates in 2020 challenge
.
What is Axe Throwing?
It's just what it sounds like! A range is set up with wood targets to toss an axe at. It may be a range, it may be a bar, but there's a set location with a set instructor. The instructor will teach you how to throw the axe or hatchet. It's quite a bit harder than one may think but with practice, it becomes a sporting event that anyone can do. It's competitive, it's funny, and there's just enough adrenaline to really make it exciting!
What to Wear Axe Throwing
Because so many people commented when we shared this date on Instagram, I have to add my two cents of what to wear axe throwing. I clearly played it up, I went with a flannel shirt and comfy jeans. You'll definitely want closed-toed shoes too since they are required. I'd recommend sneakers, jeans with some stretch, and a shirt that has enough room to give you a full range of motion with your arms. Beards and flannel are clearly optional.
What to Expect
We loved that there was not only instruction and practice time but so many games to play. We played an axe version of H-O-R-S-E, a game of darts, and tons of lightning-round competitions. It makes for one excellent group date! We went just the two of us and were paired with a bunch of other couples. They all seemed like upperclassmen (and women) and it was fun to be around a competitive group. I made the comment to Jacob that we're clearly older parents who let their toddlers win at games way too often- HA! But the healthy competition was so fun and great for us to mix up our usual date crowd.
We both kept saying how we couldn't believe how much fun we'd have! How knew throwing an axe could make for such a perfect date? Apparently a lot of people. which is why this date night craze seems to be growing in popularity, and simultaneously here to stay!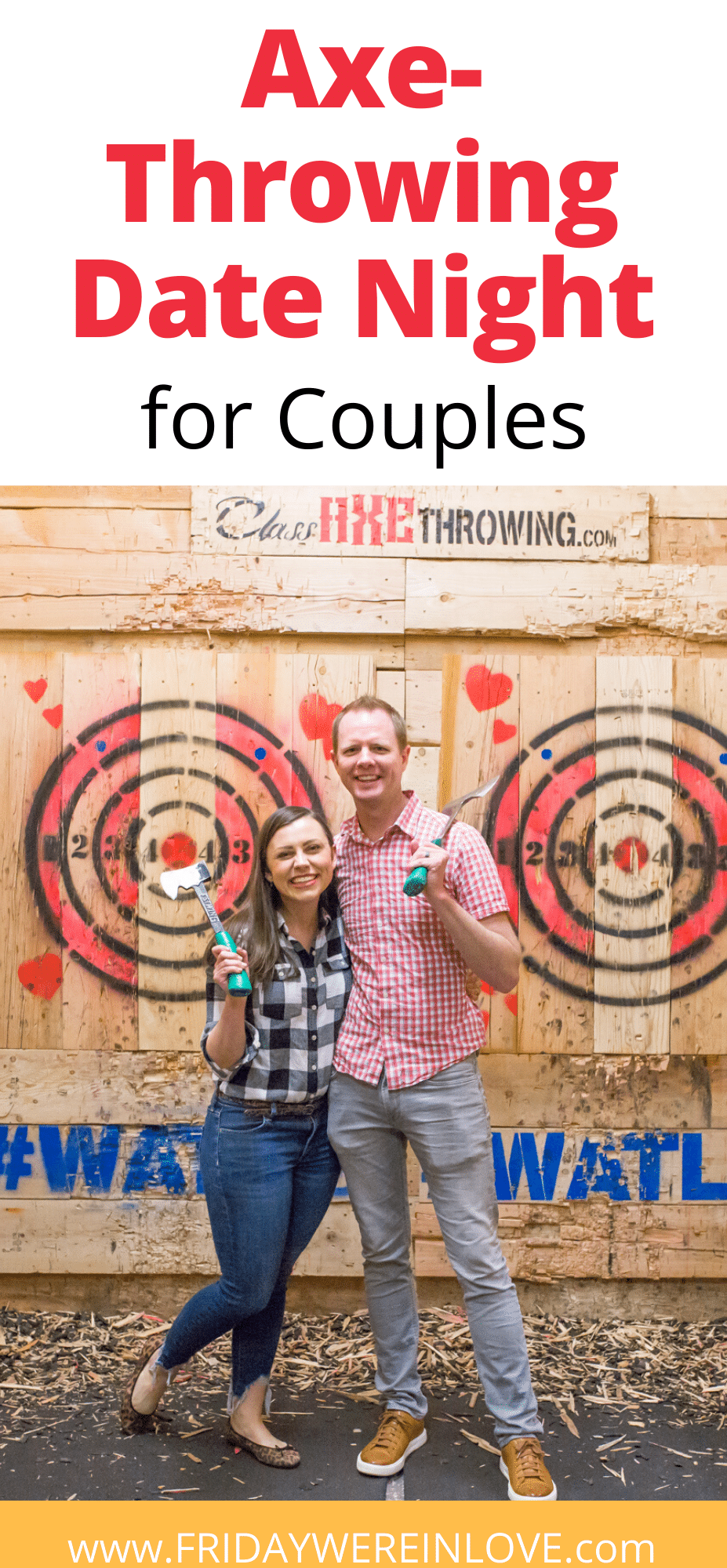 Like this hatchet-throwing date idea? You may like these posts too:
Get 365 Date Ideas!
We want to help you have the best date nights ever! Grab this FREE printable with 365 date ideas, a date for every day of the year so you never run out of ideas!