We made the big announcement yesterday, we're doing something most people only do once, maybe twice in a lifetime. We're remodeling our home! Here are all the details of our remodel plans with a timeline and specific changes our house will see this spring!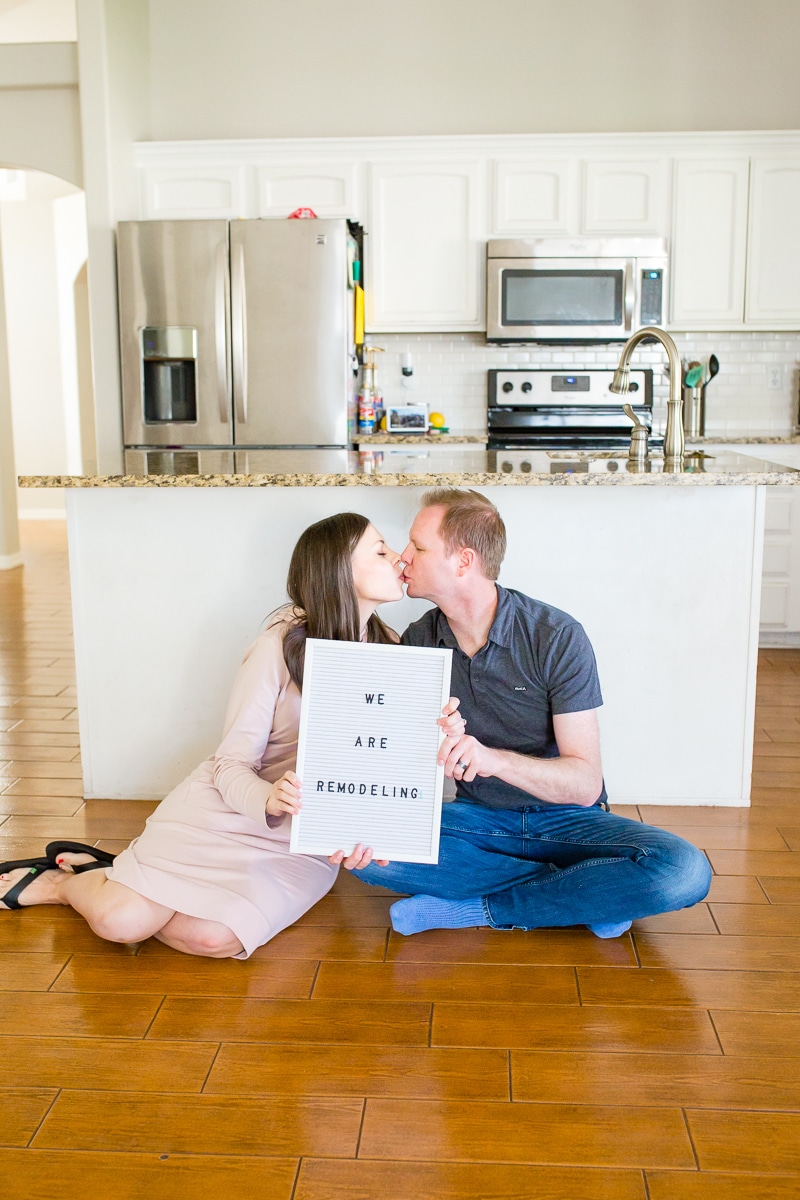 It's been a great place to live, and since we see ourselves here for many years, if not forever, it's time for some updates!
Let me share our big plans and the phase of the remodel so we can take you along on this process.
How the Remodel Plans Started
Do you see that orange hue coming from our flooring? I want to tell you I'm going to miss it, but I'm pretty sure it's the number one reason we started remodel plans, to begin with.
In fact, a year and a half ago I was lucky enough to have a sponsor ask if we'd be interested in teaming up for a flooring project. We hadn't planned on replacing flooring anytime soon. But as we started to talk about this collaboration Jacob was team let's make this happen no matter what almost immediately. It got the ball rolling!
The collaboration didn't work out, the flooring company pulled marketing funding and sponsorships just as our plans and vision came to fruition. But that didn't stop us from continuing on with our plans and dreaming of what our main living space could become! And in fact, we're kind of excited that we're going to pay for it ourselves because we've done a ton of research and it's exciting to get to pick just what you want after testing about a million flooring samples!
Remodel Plans
Remodel Plans Phase 1:
Demo day is coming and it means our entire flooring will be ripped out and our kitchen demolished.
We'll be replacing and updating our entire kitchen and living room areas from top to bottom!
The wood-like tile in a lovely shade of orange will be torn out throughout the house. That means our living room, kitchen, and bathroom areas are going to see some changes.
Remodel Plans Phase 2:
Our kitchen remodel will begin with new cabinets and counters.
Our cabinets may look good in photos, but they are in desperate need of replacement. They were painted with a chalk paint and not sealed correctly. It was clearly a "Let's dress this up to sell it!" approach. We knew from the start we'd need to update these in the coming years. But in the past year, they've really started to chip, to show their wear and tear, and remind us they are old and need an update.
There's quite a bit of worn-out spaces past repair, so new cabinets were always in the works. Even if they've looked mostly good on the outside, the insides tell a different story.
It's a first-world problem for sure, but they've never been 100% functional with some weird internal hardware and remnants of pull out shelves. They are also about 20% smaller than a standard cabinet. We're so excited to have full-sized cabinets and more storage space!
We'll be updating our cabinets with a similar layout. But our kitchen island and counters are going to see some changes! I'm so excited for some modern updates and some colors that match our style!
Remodel Plans Phase 3:
We're also going to update two of our three bathrooms. I'm so excited for some big changes to happen in our little spaces! With new flooring will come new toilets and new decor that matches the rest of the home plans.
Remodel Plans Phase 4:
New floors! Did I mention goodbye orange? Truly, it's what we're most excited about. As a photographer, I can't even wait to not have to remove orange reflections from products I shoot. We've done so much floor research and found the perfect flooring for families. Stay tuned, I'll share it all on Instagram stories and in blog posts as we update!
Also, some carpeted areas are going to get a modern update with some modern flooring and continuous flooring throughout the house. We've had a few strange carpeted areas that we're so excited will be included in our flooring update plans.
Phase 5:
Decorations. We are planning to go fairly neutral with the big expensive updates. But anyone who knows me knows I love color! We have some fun decor plans to make our house modern, but also a fun inviting home with color.

Timeline
A huge demo day will happen in early March, and we'll start with new cabinets and countertops. From there new floors will go in, and we're hoping in only a few weeks, we'll have an updated kitchen and some modern updates that feel more like us.
We have been through a remodel before, and we know to expect the unexpected and everything takes longer than planned. However, right now we have a timeline of about a week from our contractors (we aren't doing much ourselves this time). We're expecting about a month to a month and a half total. And worst-case scenario, at least by Christmas- HA!
We can't wait to show you our plans! I have so many dates we've gone on and not shared looking at floors and cabinets. There's a good chance we'll be crowdsourcing a few decisions on Instagram stories too!
Do You Know What You're Getting Into?
We have been through this once before. The picture quality wasn't great a decade ago, but a few updates are shown in the great home makeover series. I buried this in our archives, it honestly burnt us out to do so much at once and do it all ourselves. It took this long to get excited again!
And honestly, it took this long to understand our style and what we really want. As fun as trends are, I think we've honed in on the type of home and style that best fits our family.
Also, we're hiring out most of the work this time. Last time we DIY'd everything. We're older and wiser now to know our skillsets and time limits. I think we're crafty people who figure things out well, but this time around, we've planned most of the install to happen with professionals. I think it's going to make this a much more enjoyable process. And if not, at least a faster (we hope)!
We can't wait to share in real-time and to crowdsource some of our big plans! Here's to an exciting spring full of our remodel plans!
Like this post? You may like these posts too:
Blindfold Baking Date Night: A Free Romantic Date Night At Home
Get 365 Date Ideas!
We want to help you have the best date nights ever! Grab this FREE printable with 365 date ideas, a date for every day of the year so you never run out of ideas!