Blindfold Baking Date Night: A Free Romantic Date Night At Home
Blindfold Baking Date Night: this a one date night guaranteed to make you laugh! The blind baker date is a FREE, easy, romantic date night at home!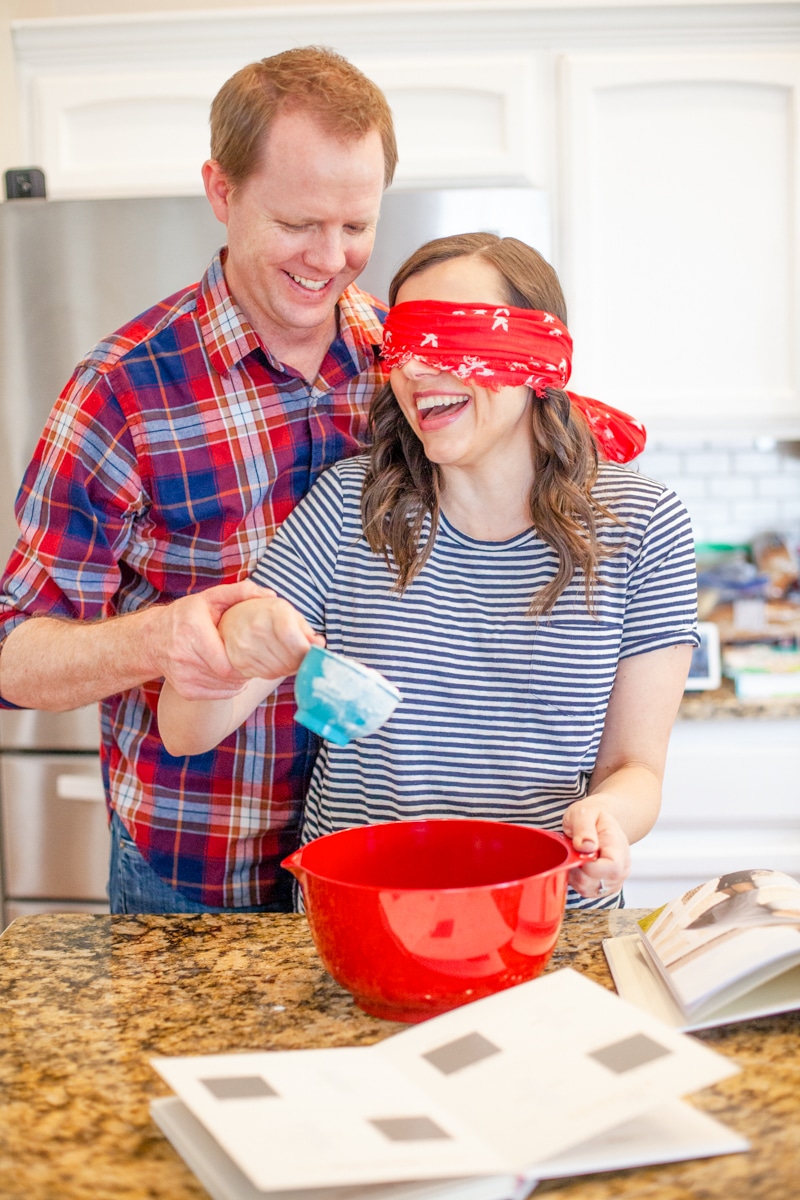 Blind Baker Date Night
Date:
Blindfold Baking Date Night
We found this date via our
Adventure Book for Couples
(You can get 10% off with Promo Code:
INLOVE10
)
Price: Free! Okay, just the cost of ingredients. But you can easily make a recipe you already have all the ingredients on hand and ready to go to keep this a free romantic date night at home!
Location: At Home Date Night
Romantic Date Night At Home
I feel like finding something that's fun, free, and also happens to be a romantic date night in can be a tall order! We can find fun and free, and we can find romantic. But when you don't have to spend a penny and you can laugh your head off with a little slice of romance mixed in, you have an absolute winner of a date!
Materials Needed for the This Date
Confession: We found this date night through our Adventure Challenge for Couple's Book. It's been providing cute date nights at home for such an affordable price! You can order your own book here and use promo code InLove10 for 10% off) I was so excited to scratch this one off and find out what we were doing. We've shared romantic cooking for two at home as a date before, which is always a classic.
Baking Together for a Date
There is something so fun about changing one aspect of an ordinary task. It takes the joy of baking something together to a new level!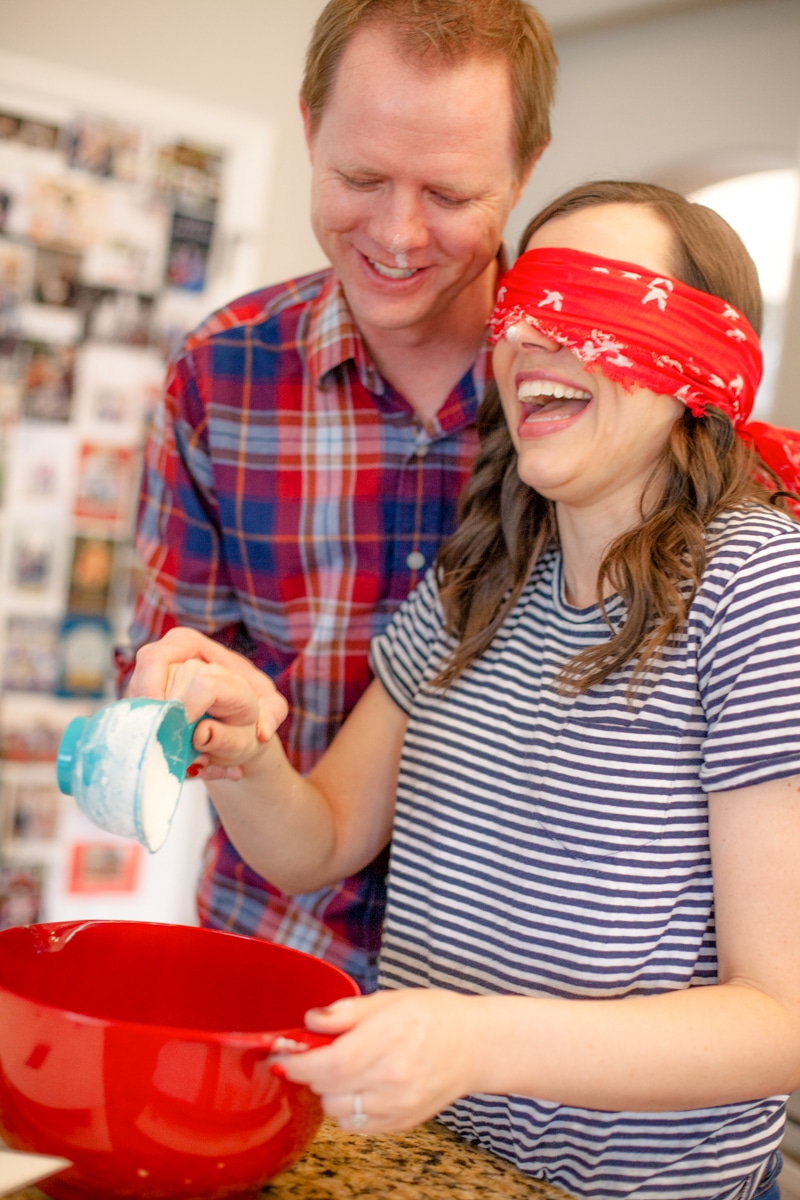 We were instructed to choose who is the least skilled baker to wear the blindfold. I'd say that's a toss-up! We both grew up in the kitchen with our mamas! I'm probably slightly more skilled simply because I do it more. But I have to confess at Thanksgiving dinner people were dishing out compliments to me on our famous family rolls I'm always assigned to bring. We often make them in tandem, but Jacob smiled and asked me to share what percentage I had made this year. The answer: zero! Jacob is so good at baking I would never discount him!
And in true blogger transparency, we had me be led because he's taller, and we knew the pictures would turn out better! Ha, how's that for a little behind-the-scenes?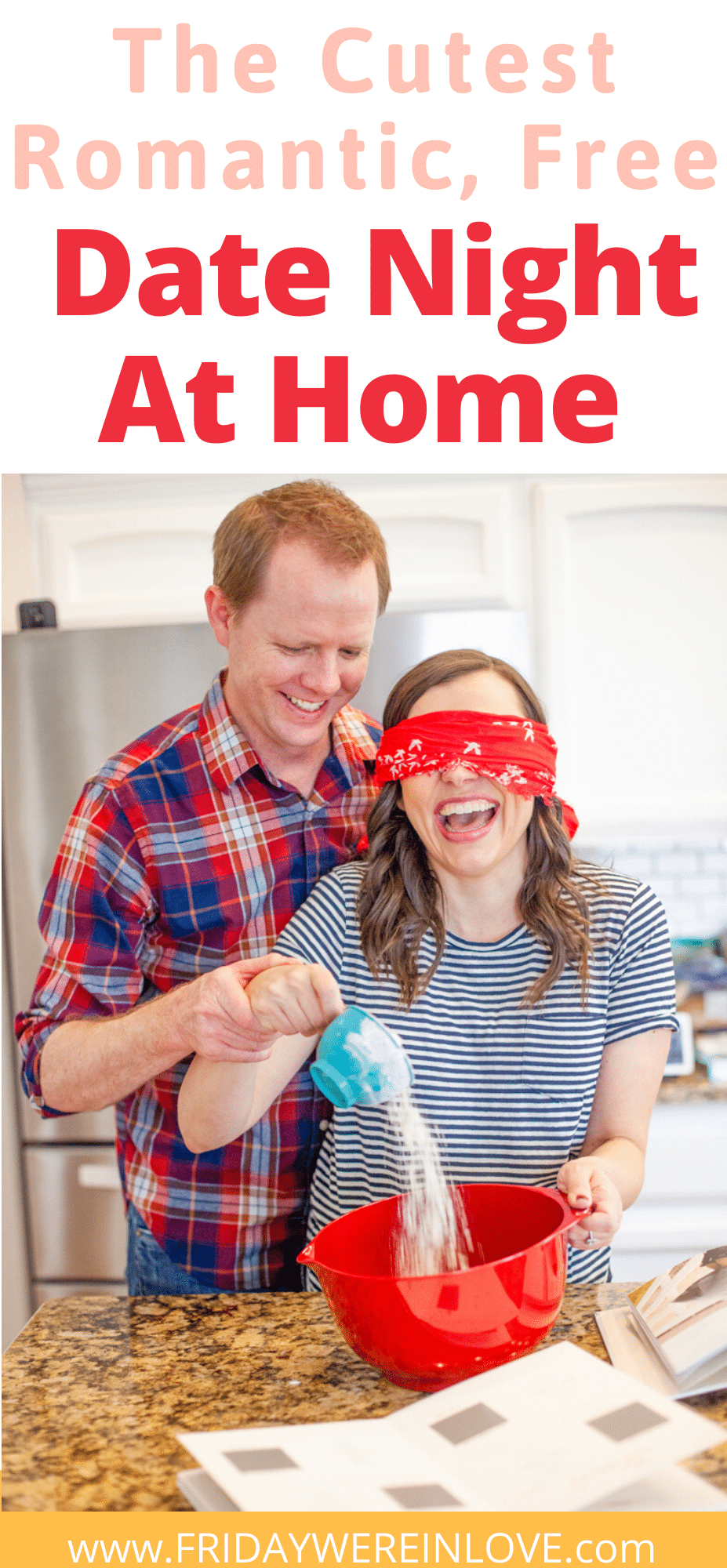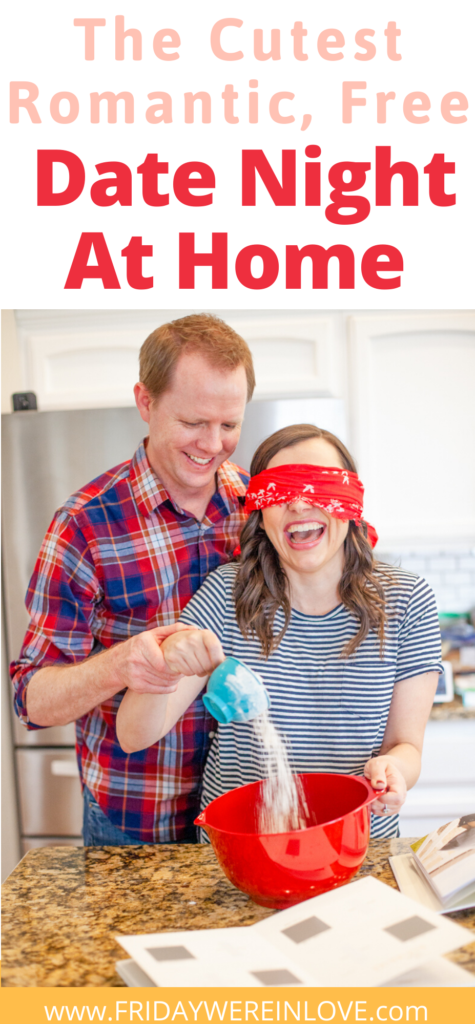 What Makes This Date So Fun
You can make a recipe you've made a thousand times, but when someone else is guiding you, it's an entirely new experience! It's like the nostalgia of baking with your mother as a small child mixed with a ropes course trust fall exercise. Which naturally, contributes to a lot of laughs. Also, it leads to a lot of flirting and maybe even some flour fights.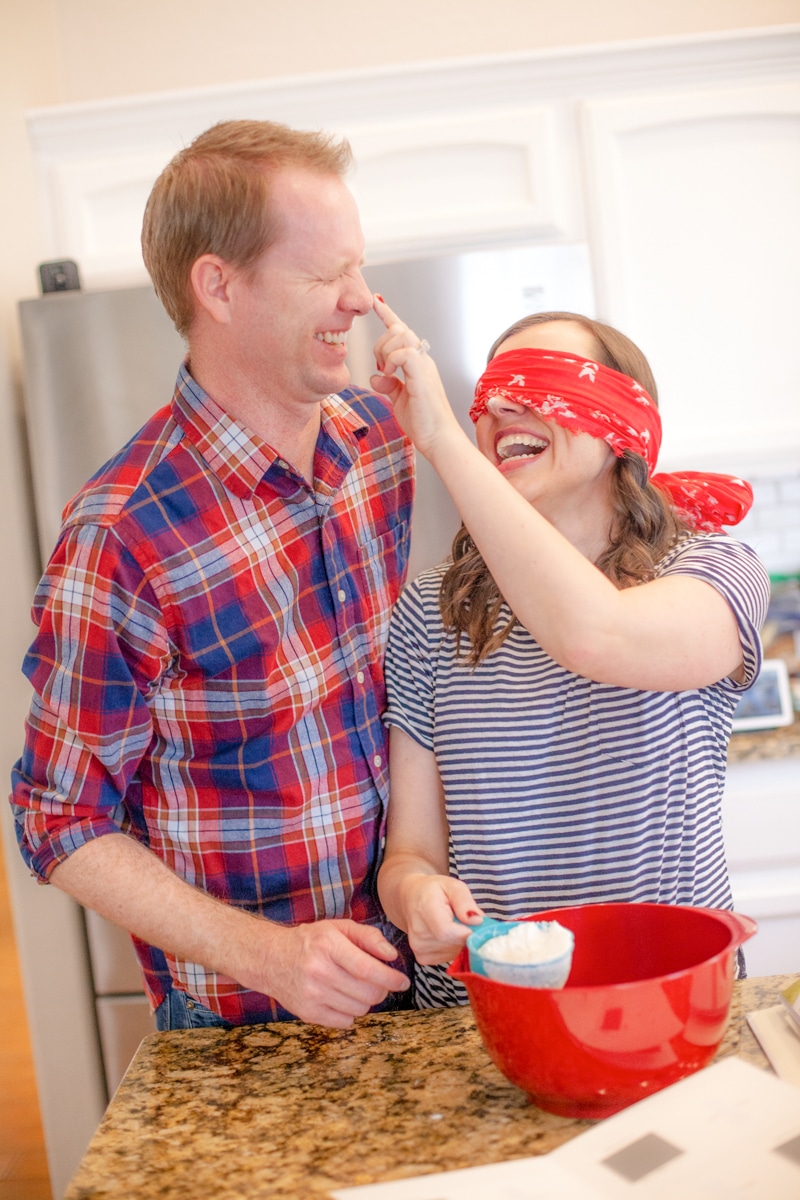 But having your significant other guide your hands and move your arms while hovering closely by you truly makes for such a romantic date! There's a subtle flirty touch that really creates a connection that's just cute and reminded me of early dating days.
Best of all, there's an outcome at the end to either enjoy or laugh about! Maybe you fumbled a few ingredients and can appreciate the imperfection. Maybe there's a fantastic culinary creation to take pride in together. But either way, there's a lot of connecting and quality time spent with one of the easiest dates you can do together!
Like this At-Home Date night? You may like these posts too:
At-Home Date Ideas: A Huge List of Date Ideas You've Never Done Before!
Date Night Subscription Box: Roundup of Date Night Box Options + Review
52 Completely Free Date Ideas to Do This Year
The Best Romantic Comedies for a Movie Date at Home
Get 365 Date Ideas!
We want to help you have the best date nights ever! Grab this FREE printable with 365 date ideas, a date for every day of the year so you never run out of ideas!