Everything you need to know about the Taylor Swift Eras Tour. From the Eras Tour setlist to timing, what to wear (Taylor Swift concert outfit ideas), and tips for the best concert experience.
After attending the opening weekend in Glendale, Arizona of the Taylor Swift Eras Tour with my husband, we both easily added this to our top 5 date nights of all time! We like Taylor a lot, we enjoy her music, and we've even been to the Reputation Tour for a date five years ago. But nothing could have prepared us for the amazing experience we'd have during the Eras Tour show!
If you're attending an Eras Tour, or just soaking it up vicariously, here's a breakdown of everything you need to know for the Taylor Swift Eras Tour.
Taylor Swift Eras Tour Timing
6:25- Opening Act Starts.
I'm going to break the concert down chronologically to show timing and walk you through the Eras in order. Brace yourself, this is 3 hours and 15 minutes with 44 songs performed at full energy with amazing set designs and 16 costumes that change through each era. Let me walk you through them all!
On opening weekend in Phoenix, Gayle was the first act. Tickets said 6:30, but she indeed started five minutes early. In fact, this set a precedence for the rest of the night, everyone went on five minutes early. She played for 20 minutes, four songs, and was done by 6:45.
6:55- Opening Act 2 stars.
On opening weekend in Phoenix, this was Paramore. They played for 40 minutes. It was a mix of new songs, big hits, and Hayley Williams talking about Taylor and what a music icon and wonderful human and friend she is.
At 7:50 a clock appears on the main stage screen counting down until midnight.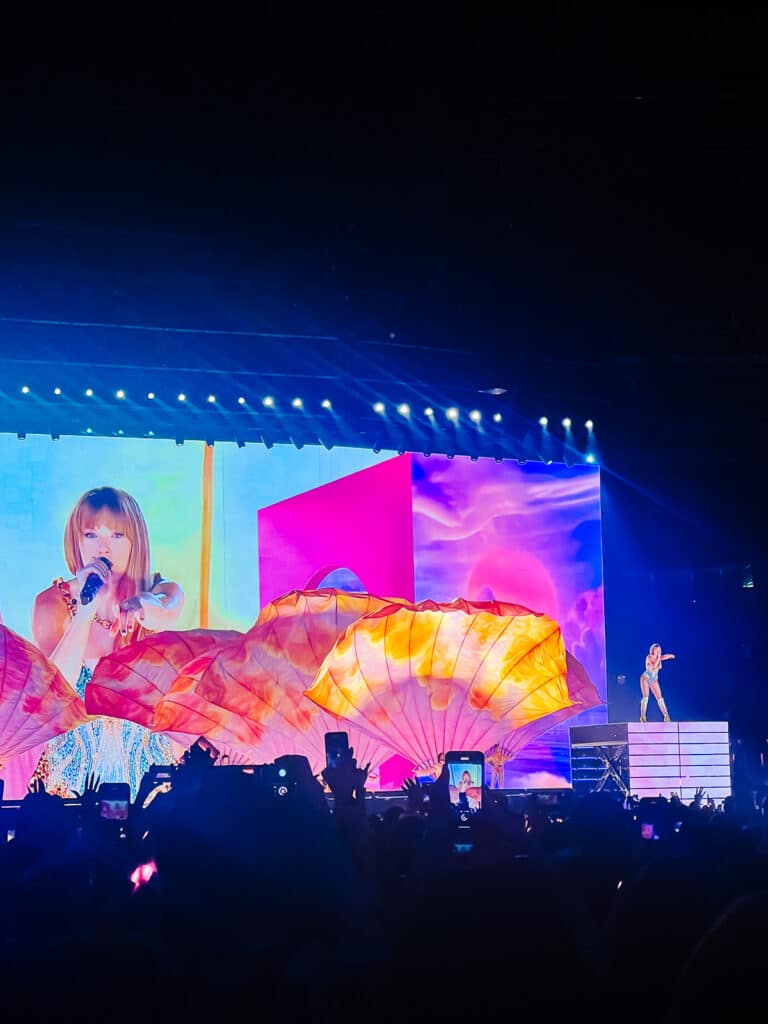 Taylor Performance Time
7:55 Taylor takes the stage
Taylor comes up in the middle of the diamond part of the stage under the giant waving fabric that looks like butterflies.
Everyone was given a wristband when they enter the stadium, and that lights up and creates different colors, moods, and sparkles through each era. As soon as Taylor takes the stage, wristbands light up and the first era begins.
Era 1: Lover
Taylor comes out in a dazzling sparkling leotard and knee boots to match. Each night the costumes vary in color, so be on the lookout for all the sparkly Lover colors and slight variations and colors on costumes.
She opens with Miss American and the Heartbreak Prince.
You'll hear six total songs from Lover during this era.
Lover Songs Performed:
Miss Americana
Cruel Summer
The Man
You need to calm down
Lover
The Archer
Era 2: Fearless
Enter all the gold, the sparkles, the fireworks, and Taylor in the shimmering golden fringe dress with silver boots. She pulls out a bedazzled white guitar that she shared her parents gluing rhinestones on the night before the tour. She looks stunning, she sounds stunning, and she's taking you right back to her country roots.
Fearless Songs Performed:
Fearless
You Belong With Me
Love Story
Taylor drops down a trap door in the middle of a giant LED guitar on stage and enters into…
Era 3: Evermore
Giant pine trees, smoke machines, and glitter magic take over the stage as Taylor appears in an embroidered maxi dress.
She'll add a cape, a moss-covered piano and a great mix of songs from this newer album.
Evermore Songs Performed
Tis the Damn Season
Willow
Marjorie
Champagne Problems
Tolerate It
Taylor drops towards the back of the stage and it goes completely black into…
Era 4: Reputation
Snakes start slithering up the stage, on the LED screen, and the pulse of ready for it with the song of clicking heels escalate until Taylor steps into a spotlight. She's wearing a red and black sequin outfit with snakes climbing up the legs. She has fully stepped into the Reputation era, and she rocks the music from this album at full energy!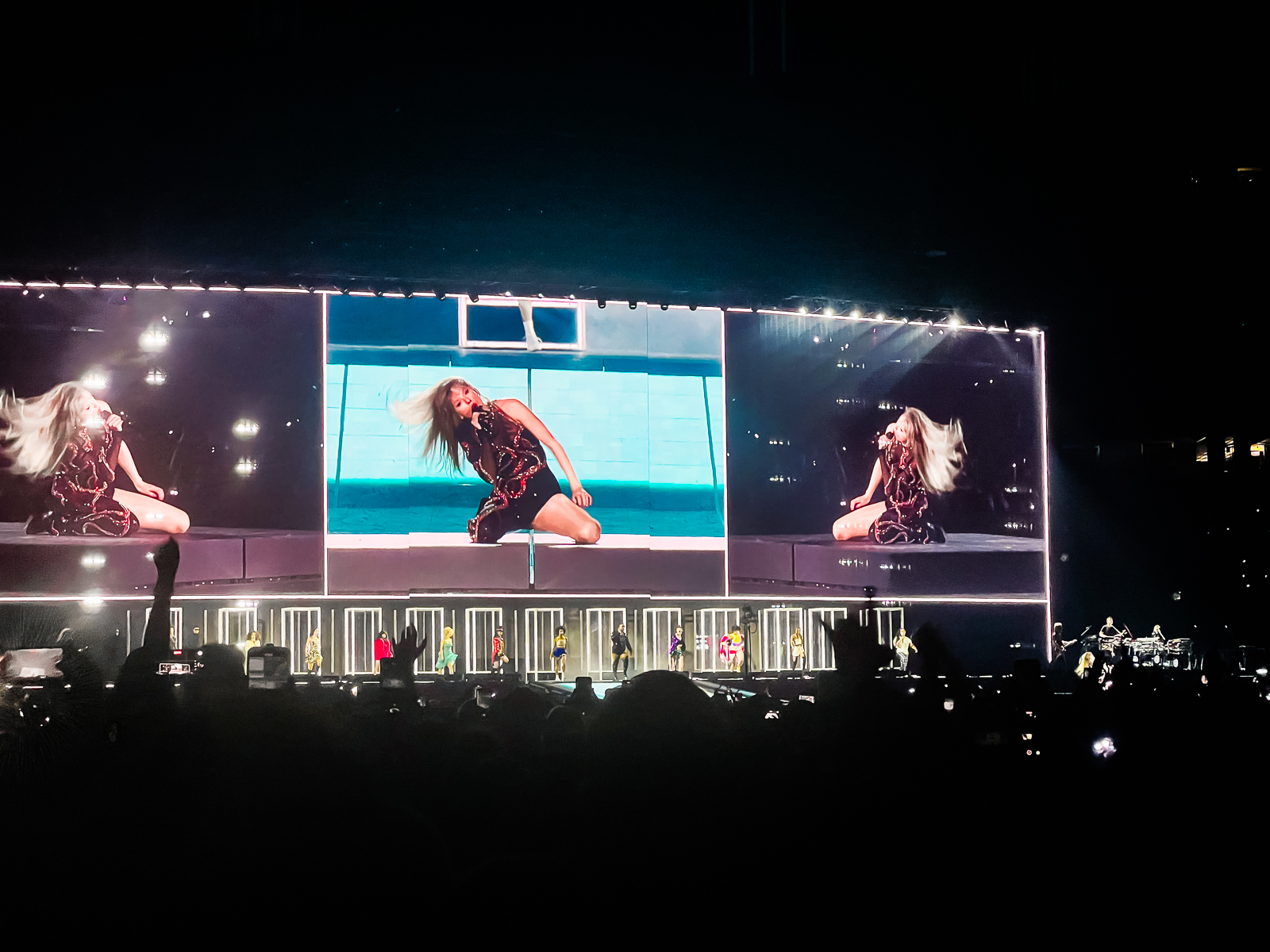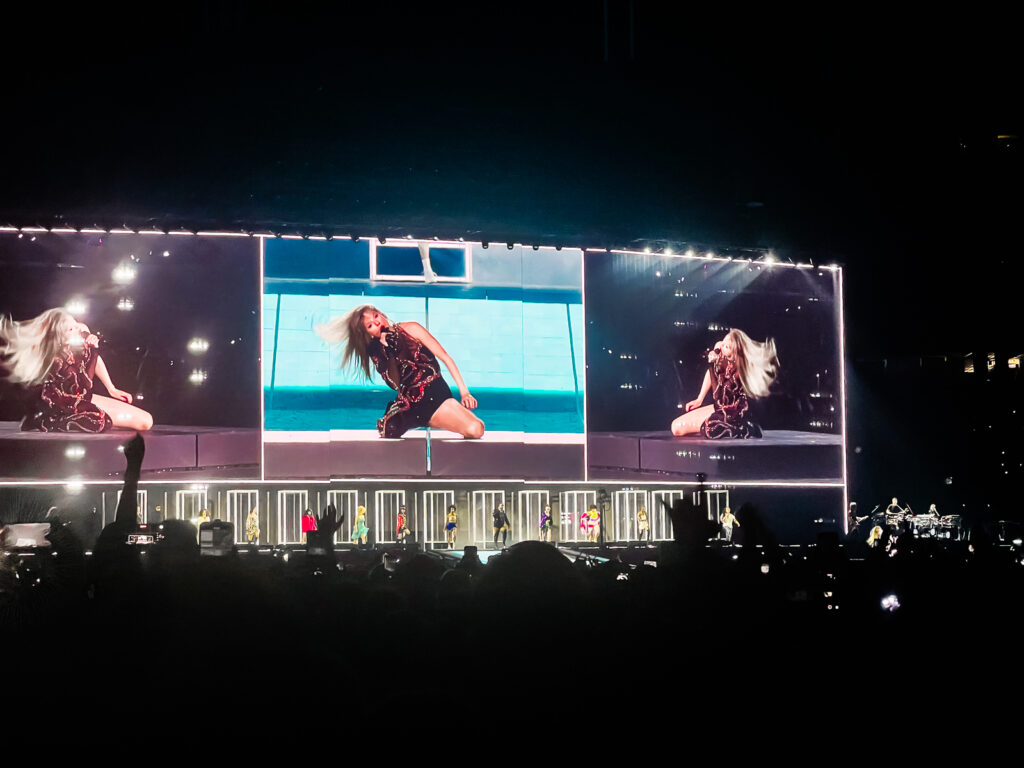 Reputation Songs Performed
…Ready For It?
Delicate
Don't Blame Me
Look What You Made Me Do
She disappears in the middle of the diamond center of the stage, and the entire ambiance completely shifts to…
Era 5: Speak Now
Wristbands turn purple and a purple fog that looks like a romantic cloud covers the stage. A beautifully haunting "Please don't be in love with someone else" starts for just a minute while Taylor changes. Taylor then comes out in a beautiful sparkling princess dress and graces us with one song from Speak Now.
Speak Now Songs Performed:
Era 6: Red
We enter Taylor's pop era full of the color red and it starts with a clown-type character playing with a box that sings lines from Red songs. Taylor emerges full of energy, just like she's 22 in a sparkly leotard bottom with a t-shirt on top. Her first night it was the "Not a lot going on at the moment" and the second night it was the "Who is Taylor Swift anyway? Eh" shirt.
She graces us with all the dancing and fun from the very famous Red Tour that won her performer on the year.
Red Songs Performed:
22
We Are Never Getting Back Together
I Knew You Were Trouble
All Too Well (10-minute version)
I have to add that the All Too Well 10-minute version alone makes the concert worthwhile! Taylor adds a dramatic sparkly robe to her leotard and pulls out a guitar to sing the emotionally stripped-down version with every shred of emotion behind the song. And you'd better believe the ENTIRE audience is belting it out with her!

It's a moment, and it shows her storytelling skills and ability to connect to an audience in a way that is nothing short or legendary.
While we're all ready to catch our breath from the emotional moment that is All Too Well (10-minute version), Taylor disappears and reappears for the next era.
Era 7: Folklore
This must be one of Taylor's favorites because she graced us with the most songs from this era. She also graces us with the log cabin from Folklore and sings in a grassy wonderland, a rainbow, a cloud, and a stage that looks like star beams are springing along in the most magical way.
Folklore Songs Performed:
Invisible String
Betty
The Last Great American dynasty
August
Illicit affairs
My tears ricochet
Cardigan
Taylor rocks a light-colored maxi dress that looks and feels like a dream. And she disappears on the stage to come back with a very different look and era.
Era 8: 1989
Queue all the dance music and the stadium literally rocking and dancing while Taylor enters in a sequin crop top and mini skirt ready to take you back to her official move into pop.
The dancers are incredible, and the effects from this era actually made people gasp.
From laser lights to people in LED boxes, to actual fire shooting through the air during Bad Blood, this may be the highest energy era. Even in a modern stadium, I wondered if the Swifties would shake it to the ground dancing to "Shake it Off"!
1989 Songs Performed:
Style
Blank Space
Shake it Off
Wildest dreams
Bad Blood
The Surprise Era: Acoustic
From all the energy to head to the edge of the stage with a piano, Taylor surprises, and delights fans with a quick set of two acoustic songs.
She adds a romantic dress on top of her sparkly outfit and thanks fans for being there. She acknowledges how hard it was to get tickets, how many traveled to come, and the costumes and outfit recreations Swifties make to turn a concert into an event.
It's a moment where a very real human bonds with other real humans for supporting her and being her fans. And she takes that opportunity to sing stripped-down acoustic songs, possibly while catching her breath. But possibly not, because she seems fine while the audience all needs a minute to sit down and catch theirs.
I'd love to give the setlist, but Taylor announced she'd be doing different acoustic songs at each show. So get ready for a fun surprise!
Night one she sang:
Night two she sang:
This is Me Trying
State of Grace
So by the time the Taylor Swift Eras Tour ends, she may perform every one of her songs!
Oh and get ready for a fun transition after she finishes the second song- you don't want to miss it!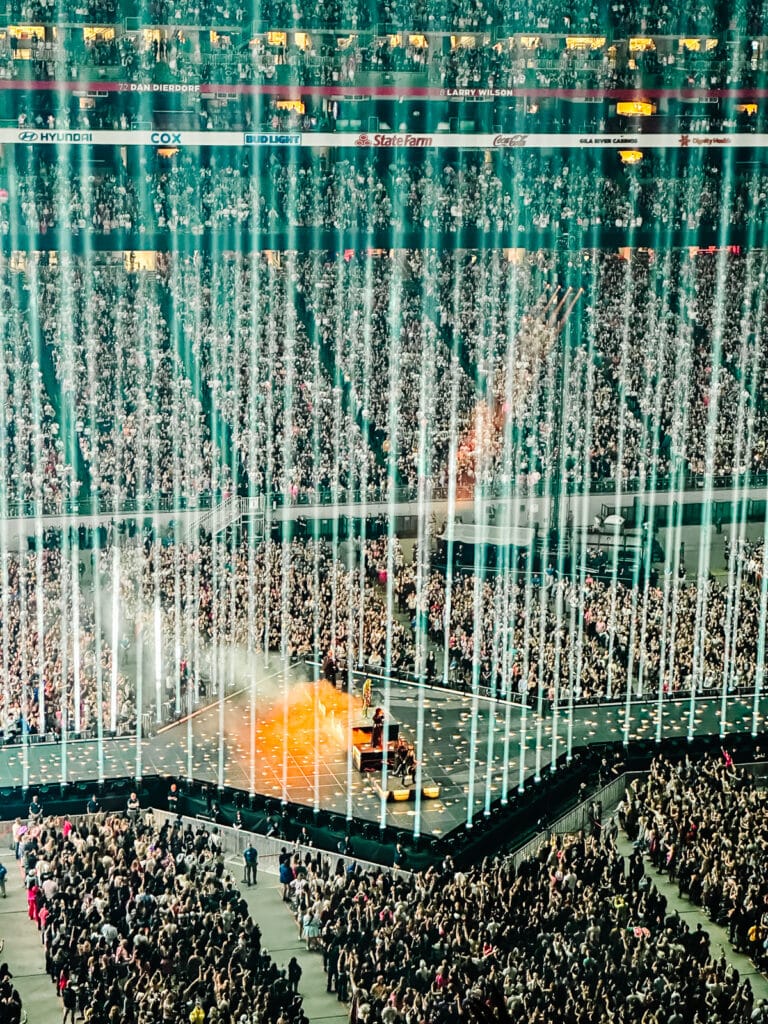 Era 9: Midnights
Taylor ends with her latest album, Midnights, and gives us seven songs and a lot of last-minute set effects and costume changes to celebrate it!
Queue the dreamy clouds and Taylor in a sparkly 1960s-style frock ready to celebrate her most recently released album. Followed by a revenge dress, and the most sparkly jacket in the world to send off her crowd with one final song.
Midnights Songs Performed:
Lavender Haze
Anti-Hero
Midnight Rain
Vigilante Shit
Bejeweled
Mastermind
Karma
A final bow at the end of Karma thanking the entire crew and team who put on the show happens with fireworks shooting throughout the arena. Just solidifying your thoughts that yes indeed, you just did attend the best concert of your life.
One would think Taylor would be tired after three hours and fifteen minutes, but you would never know it. She keeps her energy and enthusiasm the entire show, which honestly, was flawless.
As a wrap-up of the concert, here's the complete setlist.
Taylor Swift Eras Tour Setlist
Get ready for Taylor to sing and perform 44 Songs. Here's the setlist for the Eras Tour in order.
Miss Americana
Cruel Summer
The Man
You need to calm down
Lover
The Archer
Fearless
You Belong With Me
Love Story
Tis the Damn Season
Willow
Marjorie
Champagne Problems
Tolerate It
…Ready For It?
Delicate
Don't Blame Me
Look What You Made Me Do
22
We Are Never Getting Back Together
I Knew You Were Trouble
All Too Well (10-minute version)
Invisible String
Betty
The last great American dynasty
August
Illicit affairs
My tears ricochet
Cardigan
Style
Blank Space
Shake it Off
Wildest dreams
Bad Blood
2 Acoustic songs
(she mixes up the acoustic and her outfits every concert – so get ready for a surprise!)
Lavender Haze
Anti-Hero
Midnight Rain
Vigilante Shit
Bejeweled
Mastermind
Karma
Taylor Swift Concert Outfit Ideas
Wondering what to wear to the Taylor Swift Eras tour? Here are some outfit ideas to make getting ready for the concert a breeze!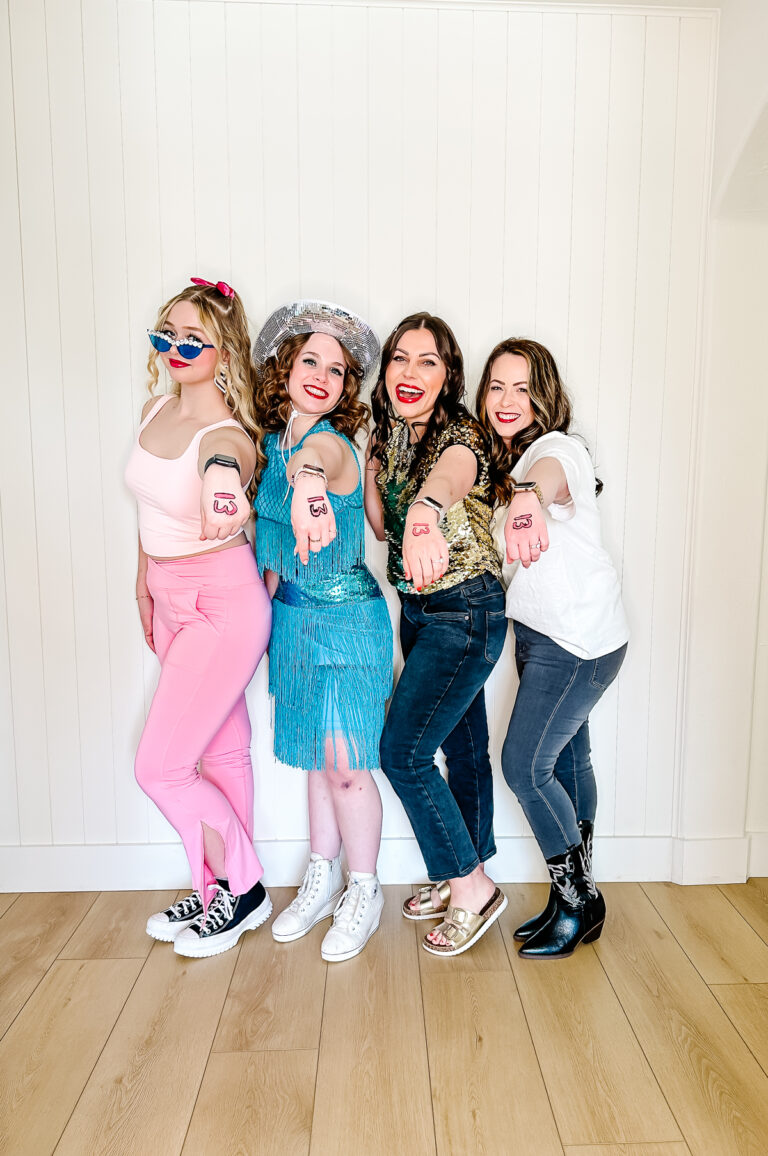 Copy one of Taylor's looks
This was one of the popular options, and one people went all out for! I saw people wearing Bejeweled outfits from her music video, ballerina outfits from Shake it Off, ringmaster costumes from her Red tour, and people in gowns from Love Story. My niece rocked the dress from the Delicate video.
An outfit inspired by one of Taylor's Eras
You can't go wrong rocking something super sparkly as she wore in 1989 and Fearless. Many people wore flannels like Evermore. I loved seeing all the cowboy boots and pretty dresses like her debut album. The Rainbow and pastels in outfits inspired by the Lover era looked fantastic.
And when in doubt, anything completely shiny and sparkly as she wears in concerts was completely appropriate!
A Taylor-Inspired T-Shirt
Etsy will be your best friend to find a great Taylor Eras tour shirt! Artists have taken her lyrics, created puns, drawn sketches, and assembled butterflies that resemble each of her albums. A cute and comfy Eras Tour-inspired shirt is a great idea!
And this Not a Lot Going on At the Moment t-shirt was a huge hit with men and women!

Did I mention sparkles? My sequin top with black jeans fit in perfectly. I've never seen that much sparkle in one crowd!
What do men wear?
Most men wore either a color of Taylor's album. or they rocked Taylor Swift men's t-shirts. Many were very funny shirts with a play on words or lyrics. A few dressed in costumes. And many bought tour shirts and wore those.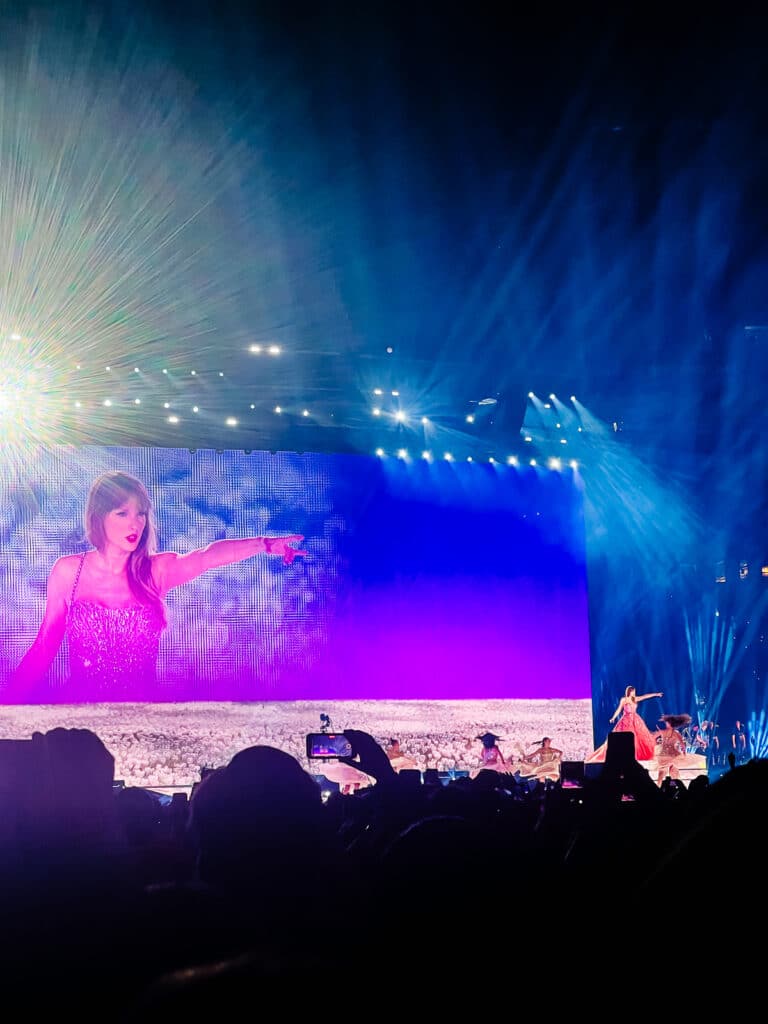 Eras Tour Tips
Get there early!
The lines are long, and you don't want to miss the show. Plan at least an hour to get through security and find a seat. And I'd plan one more for parking. Yep, at least two hours early is ideal.
You're going to need a clear bag.
You can use a Ziplock bag if all else fails, but a plastic bag designed for concerts is best.
The merch lines are long!
Many people reported waiting 2 hours to get their merch. I'd buffer more time if you are planning to pick some up.
There are many merch lines!
Go inside, upstairs, outside, etc. You can avoid a lot of the crowds looking around and finding another option.
Bring a sealed water bottle.
You can bring one per person, and they're a lot with long lines at venues.
Bring a portable phone charger.
You'll be there for many hours. There's a good chance you'll record a lot of the show. Our entire party had to charge their phone at least once. Here's our favorite phone charger that will give you two full charges from empty to full.
Plan for traffic after.
It took us an hour to get out of the Glendale arena, and another hour from our normal commute time to get through freeway traffic. I'd plan for traffic and a late night after.
Play to have an amazing experience on the Taylor Swift Eras Tour. She's an entertainer of the year often after all, and it's truly going to be the most remarkable experience!
Like these Taylor Swift Eras Tour tips? You may like these posts too:
Cute Love Songs You Can Slow Dance To
Get 365 Date Ideas!
We want to help you have the best date nights ever! Grab this FREE printable with 365 date ideas, a date for every day of the year so you never run out of ideas!