Taylor Swift Reputation Tour
Looking for info and a review of the Taylor Swift Reputation Tour? We're sharing our experience, thoughts, the setlist, and tour info to help you decide if this is the right concert for you!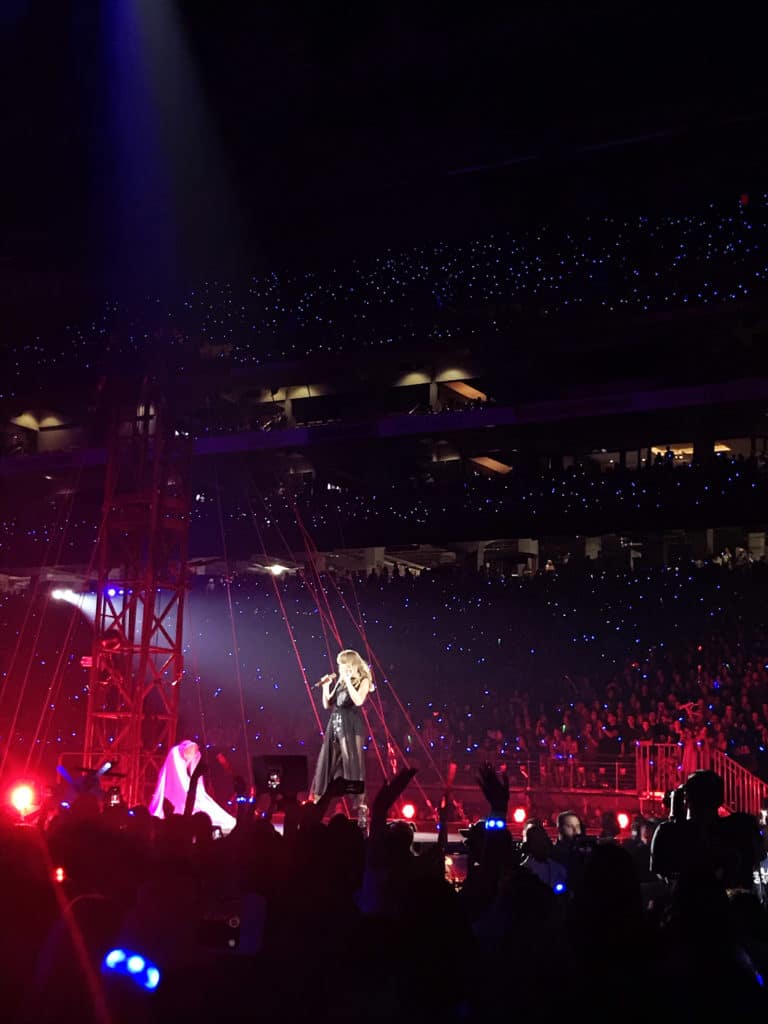 Be sure to find all the info on the Taylor Swift Eras Tour
You know you hit the jackpot when your husband buys you floor seats to see Taylor Swift in concert as she kicks off the Taylor Swift Reputation Tour! We've been looking forward to going for months! It made the perfect date night, and we both agreed it was the most entertaining concert we've ever been to.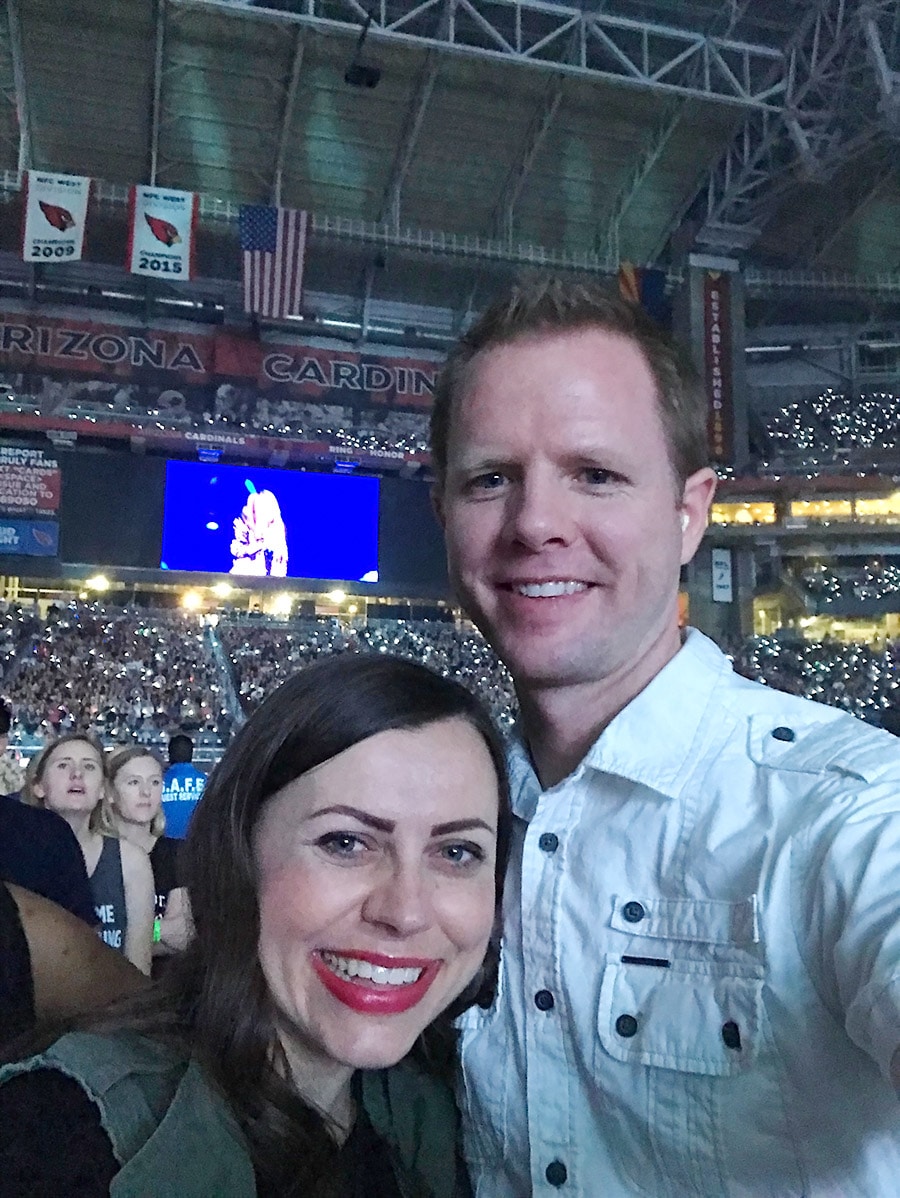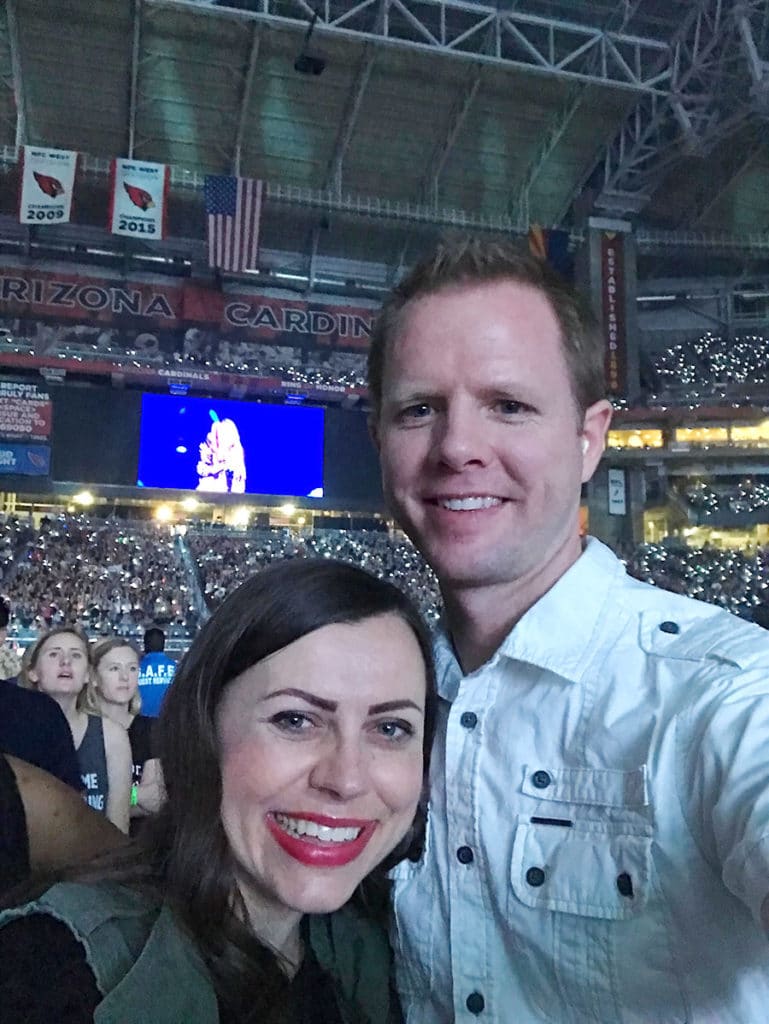 Taylor Swift Reputation Tour Date Info
Date: Concert night to see the Taylor Swift Reputation Tour
Price: Tickets range from
Location: Check out the Reputation Tour dates for your closest venue
Website:
Reputation Tour tickers are purchased online- Ticketmaster or
StubHub
to find deals is the way to go!
Taylor Swift Tour and Concert Info
Definitely plan ahead! These sell out fast, and she's been deemed entertainer of the year for a reason! Even those who are die-hard Swifties agree it's a really amazing concert and a lot of fun. The Reputation Tour is no exception, it's really fantastic!
Is it worth it to buy Taylor Swift Tickets in the Nosebleeds?
So admittedly we had amazing seats, but we had friends who bought Taylor Swift tickets in the nosebleed section and still loved every minute! The setup for the Reputation Tour includes a lot of large digital screens that can be seen from anywhere in a stadium. Even cheap tickets will give you an amazing experience with the setup!
Is it worth it to splurge on expensive seats for the Taylor Swift concert?
For the Taylor Swift Reputation Tour, I'd definitely say yes! The main stage has quite the setup, but they actually create three stages for this tour. Taylor moves around to each and does at least a couple songs on the side stages. If you can splurge to get floor tickets you'll be so close to her for at least part of the concert! The closer you are to the main floor, the better.
She really interacts and clearly wants everyone to have a good experience. It's worth a splurge ticket to be close. You'll feel close enough and see plenty even if you're far away. I think that's one of the best parts of seeing Taylor Swift Live.
Know Before You Go to the Concert
They really cracked down on bringing anything in with you. If you had a purse the size of your cell phone and credit card, you were bringing in about as much as they would allow. I watched many people upset they had to go back to their car. I don't love blogging poor quality cell phone pics, but that was my only option. Check the rules before you go so you can plan accordingly.
Okay, let's address the elephant in the room.

How Will Long Time Fans Feel About the Reputation Tour?
Clearly, Tay-Tay made some big changes to her sound and to her attitude for this album. She took her time heading out on tour. And she came right out and talked about it. As someone who really loved country Taylor, and then pop Taylor won me over too. I loved her even more for the things she said during her concert.
She talked about online bullying. There was a monologue about taking breaks and finding what makes you happy. She was sincerely giddy to back on tour and thanked everyone for still supporting her. She talked about using animatronic snakes and embracing the hurt and reputation issues she's faced.
I know girlfriend makes a lot of money and has a great life, but I took a moment to reflect on even if people have poor opinions of her I really respect how she's faced it all. She's probably been the most monitored and watched pop star in my lifetime. She handles it with grace the best she can. And I think she really is genuine about loving fans and loving music. She feels it, she has fun with it. It was really refreshing to feel like I understood old and new Taylor a little better.
She did plenty of old songs but did choose some more edgy numbers from past albums.
Taylor Swift Reputation Tour Setlist:
1. "…Ready For It?"
2. "I Did Something Bad"
3. "Gorgeous"
4. "Style"
5. "Love Story"
6. "You Belong With Me"
7. "Look What You Made Me Do"
8. "End Game"
9. "King of My Heart"
10. "Delicate"
11. "Shake It Off"
12. "Dancing With Our Hands Tied"
13. "All Too Well"
14. "Blank Space"
15. "Dress"
16. "Bad Blood"
17. "Should've Said No"
18. "Don't Blame Me"
19. "Long Live"
20. "New Year's Day"
21. "Getaway Car"
22. "Call It What You Want"
23. "We Are Never Ever Getting Back Together"
24. "This Is Why We Can't Have Nice Things"
So clearly a great mix of old and new songs. We watched young child fans and the elderly scream in delight really pleasing everyone who has loved her at different phases and continues to love how she evolves.
Attending a Taylor Swift Concert Pregnant, Elderly, and with Kids
Tickets were purchased the day before we found out we were expecting, and we decided to go with it and make the best of what could be a hard event for a pregnant person or an elderly person. I've done this once before, we went to Imagine Dragons when I was expecting our first kid.
I'm pleased to report the stage setup made it so easy to sit down and still enjoy the concert. I stood up for about two songs, and then sat down for one and I did great! I watched a few elderly people and a woman with back problems do the same.
If you're bringing kids, I'd do my best to get a seat on an edge. Jacob had a few eight-year-old girls next to him in our row, and they seemed to be having a hard time seeing stuck right in the middle. I would opt for stadium seating and snagging an edge or front row of a new section with kids. I also think Taylor kept it really kid appropriate so I wouldn't stress it if you have a die-hard fan you're debating taking.
We had so much fun, even as moderate Swifties. It's worth the experience, and it's so nice to know that Taylor is back!
Like this concert date idea? You may like these posts too:
Imagine Dragons Concert
Get 365 Date Ideas!
We want to help you have the best date nights ever! Grab this FREE printable with 365 date ideas, a date for every day of the year so you never run out of ideas!