Neuschwanstein Castle: How to Tour Tips and Travel Guide
Looking to see the castle that Walt Disney patterned Sleeping Beauty after? The Neuschwanstein Castle is a must-see if you'll be anywhere near Germany or Bavaria on your travels. Sharing a complete guide how to do a Neuschwanstein Castle tour with our best hack to make this an easy and stress-free trip with these hard-to-get tickets!
Neuschwanstein Castle
Location: Neuschwanstein Castle Bavaria Germany
Cost: € 1,80/about $20 per person
Time: It's a day trip from Munich. Even if you stay in the area, I'd still plan a full day to tour and explore the area
Tip: Tickets sell out fast! Plan in advance and buy ahead, or you can keep reading for our trick to make this a much easier and less stressful experience
Germany is such an amazing country, and the Bavarian history is truly amazing! At the top of our list was visiting the Neuschwanstein Castle, one of Europe's most visited and adored palaces.
We knew we'd be bringing our toddler, we also knew from a little research that this can be a very crowded and stressful experience if you aren't one to follow Swiss time and show up right on the hour. So we weighed our options of the best way to see the Neuschwanstein Castle and I can't wait to share the options and what we did to make this one of our favorite days on this entire trip!
*This post contains affiliate links
Neuschwanstein Castle Tickets
The reason visiting can feel stressful is the limited number of tickets each day, and the precise visit times. Tickets must be purchased at least two days in advance, and they often sell out much faster. If you're truly planning a DIY vacation, secure those quickly and note the time stamp! You need to be lined up 5 minutes before your entry, and they let you in right on the clock and close the doors immediately after. It's not hard to miss a tour if you don't diligently watch the clock.
It also takes some time to get to the castle. You can walk from the bus stop in the village below, you can get a horse-drawn carriage, and if you want the amazing views, you'll want to plan time to hike up to Marienbrücke. This is the famous bridge that overlooks the castle.
Getting the Best Pictures of Neuschwanstein Castle
The Marienbrücke is the way to go! If you're afraid of heights like I am, this may be a tough experience. The planks are shaky, and you really need to walk out to the middle or far end to get away from the crowds for pictures. I had to really brace myself and we only went so far. Jacob bravely went out to the end to get the killer shots we wanted. It's well worth building an extra 30 minutes into your trip to do.
Even if you have to hide the terror of looking below to a sudden death and fake a smile like I am.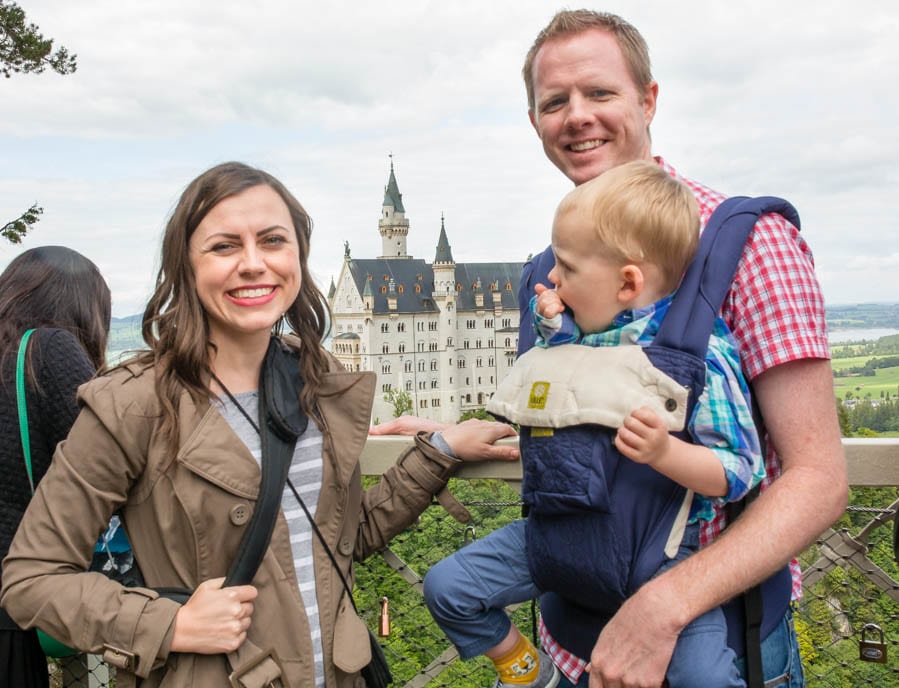 Neuschwanstein Castle Travel Tips
We found a big trick to making the whole experience way less stressful. After visiting Spain last year and thinking we wouldn't get to do the Alhambra, we found a loophole. We
booked a chartered bus tour with tickets
secured through the travel company. These are more money, but not a ridiculous amount more, and you just get to show up!
We had an amazing tour guide who told us the history of crazy King Ludwig and the world's fascination with him. These tour buses have a set amount of tickets reserved each day, and they find out the entry time each morning. They fill the trip with a few other stops, depending on the timing to make your castle tour. They took us to the best woodworking shops in the world. We saw fairytale land galore.
We also got to stop in Linderhof Royal Castle and Oberammergau. It was really cool to see another castle. It was charming to learn about the Passion Pageant and history with the plague in Oberammergau. The entire
bus tour
was charming, comfortable, informative, and easy! They had a car seat for us on the bus. We didn't have to fight the crowds on the public bus. And we enjoyed air conditioning and no stress.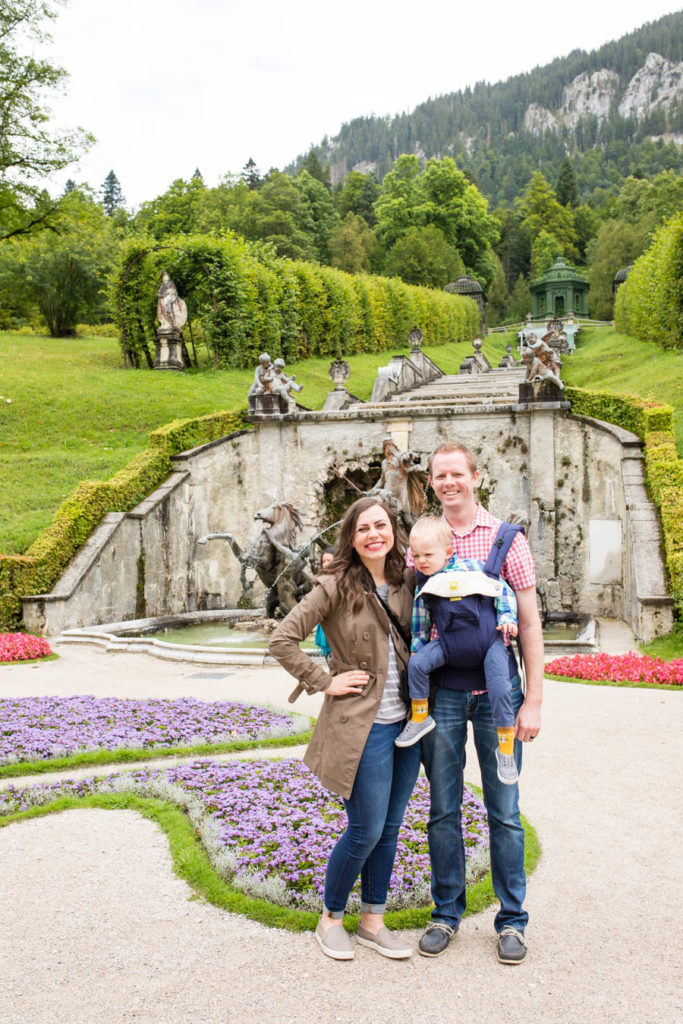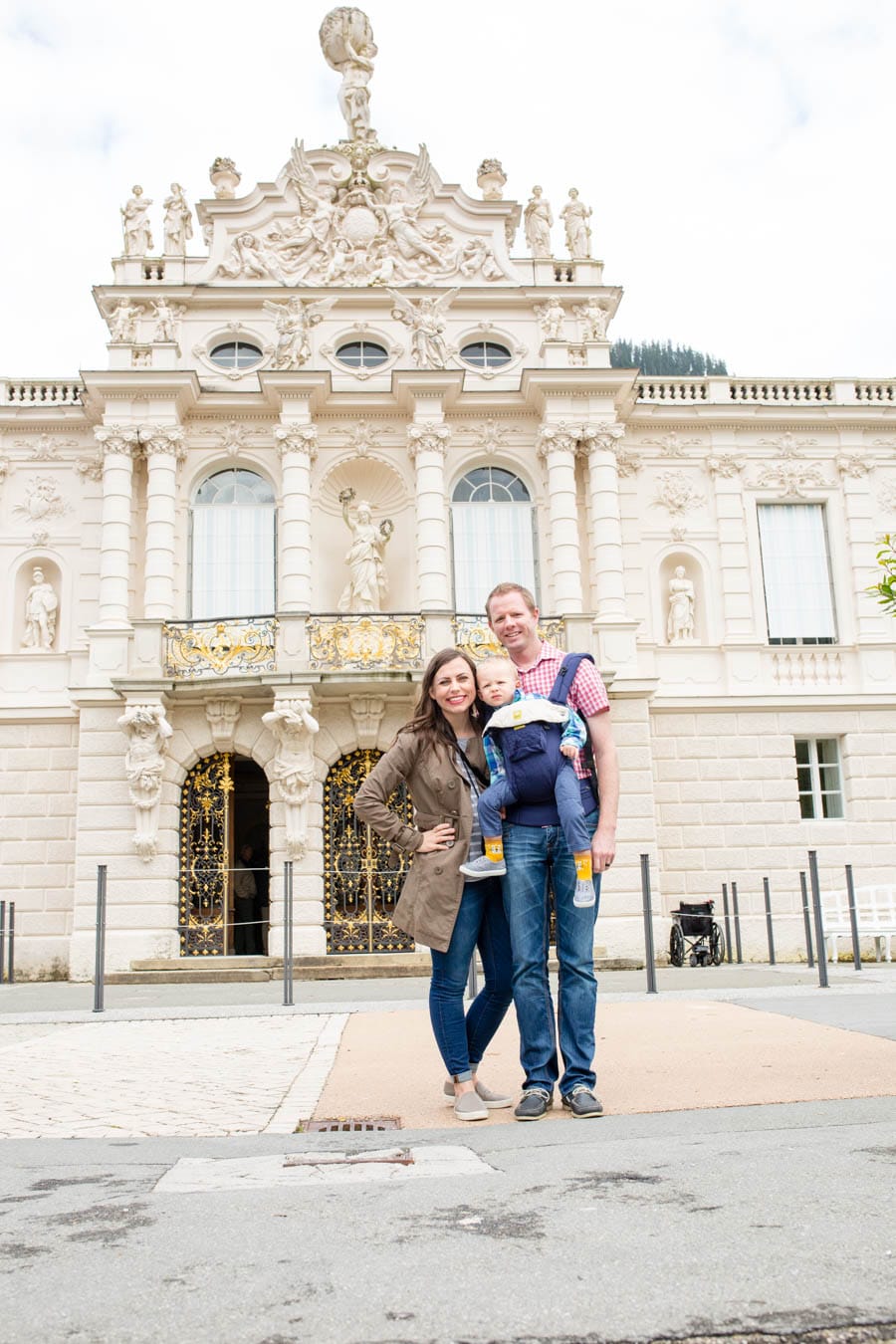 The Neuschwanstein Castle Tour
I can't recommend booking a charter bus tour enough! You really just get to show up and relax and just watch the clock to be ready to tour the Neuschwanstein Castle at your stamped time.
The tour time is layed out for you and you'll show up in plenty of time to get the pictures you want and hike to the castle. It made what seemed so stressful for everyone else such a breeze for us!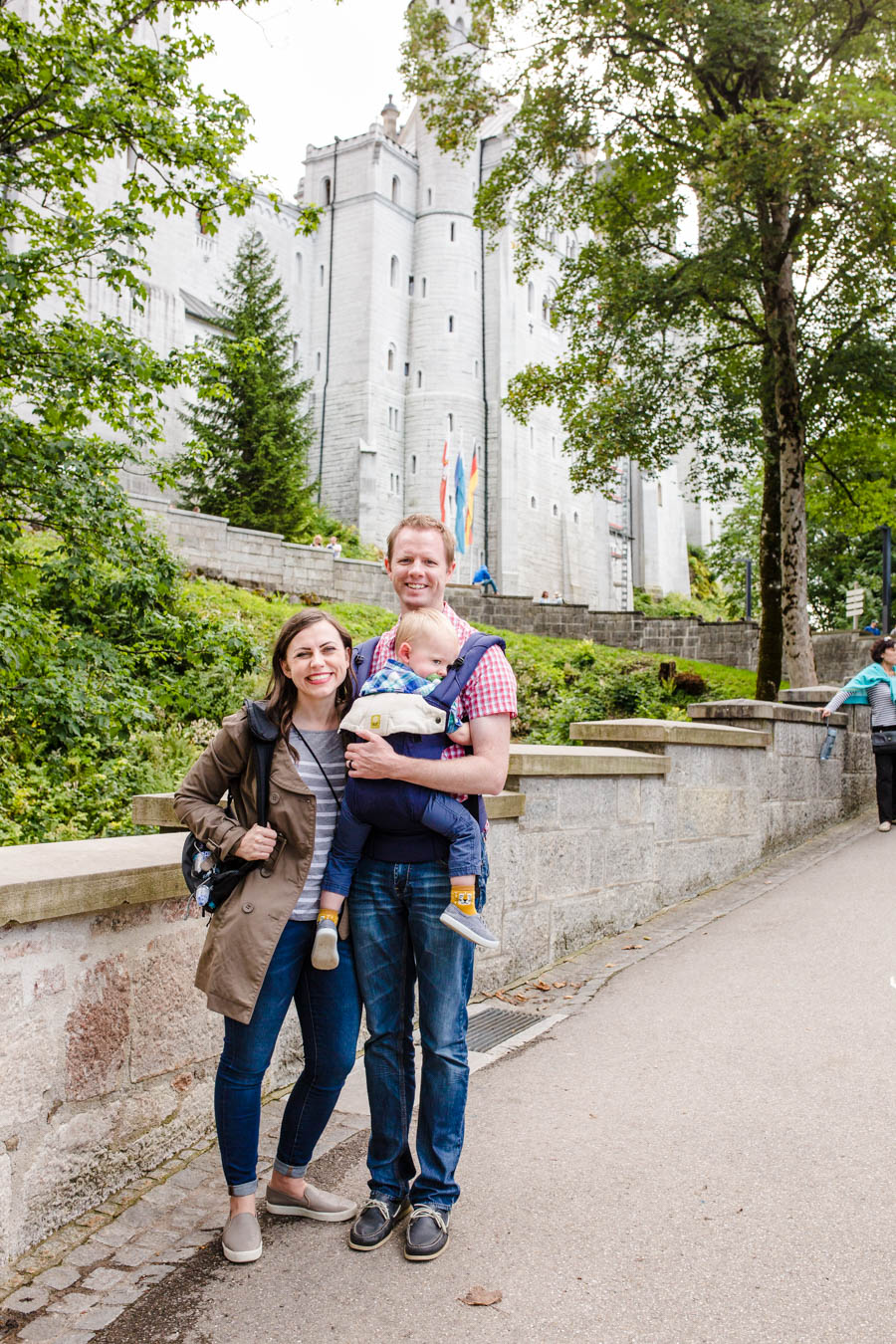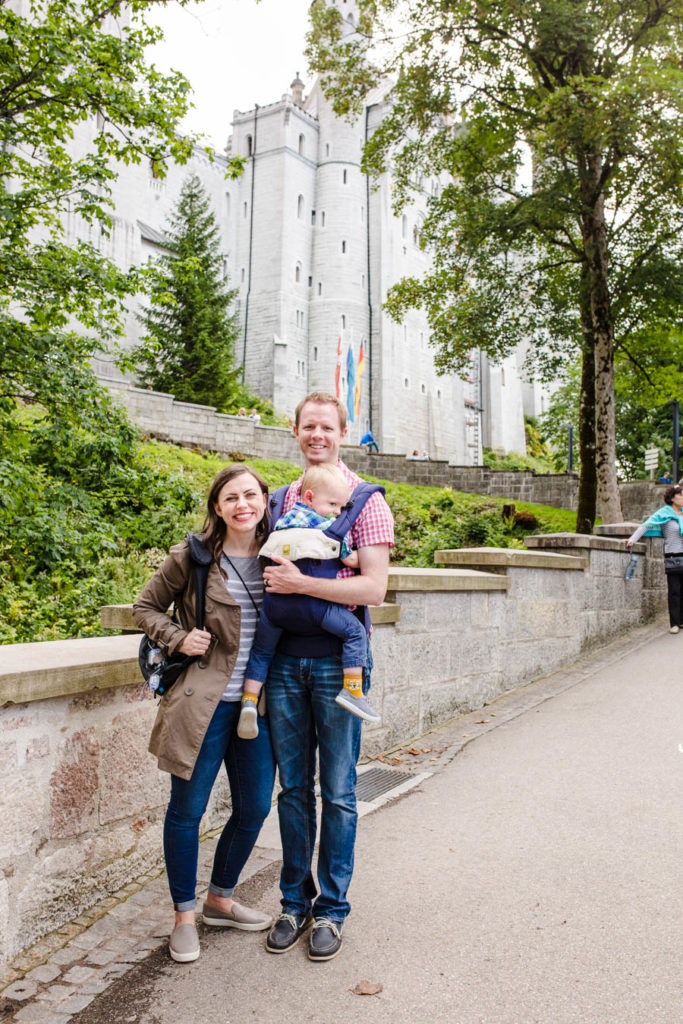 Neuschwanstein Castle Disney
The actual tour takes less than an hour, so it's a lot of time to get there and see the views before the real deal. I definitely think it's worth the money! It's the castle Walt Disney patterned Sleeping Beauty's castle after. The Disneyland castle in Germany is what many refer to it as, and you can see why it's inspired so many fairy tales!
It's full of pretty views and you can't take a single picture inside. But don't worry, there's plenty to see as you approach the castle and as you leave.
Neuschwanstein Castle Inside
But while you see the Neuschwanstein Castle inside, you can soak up a life fit for a king. A shy king who wanted to be very private. But one who appreciated art and had amazing taste. I'm so glad we got to see this amazing place that he didn't get to enjoy before his death. What a well preserved, amazing historical place!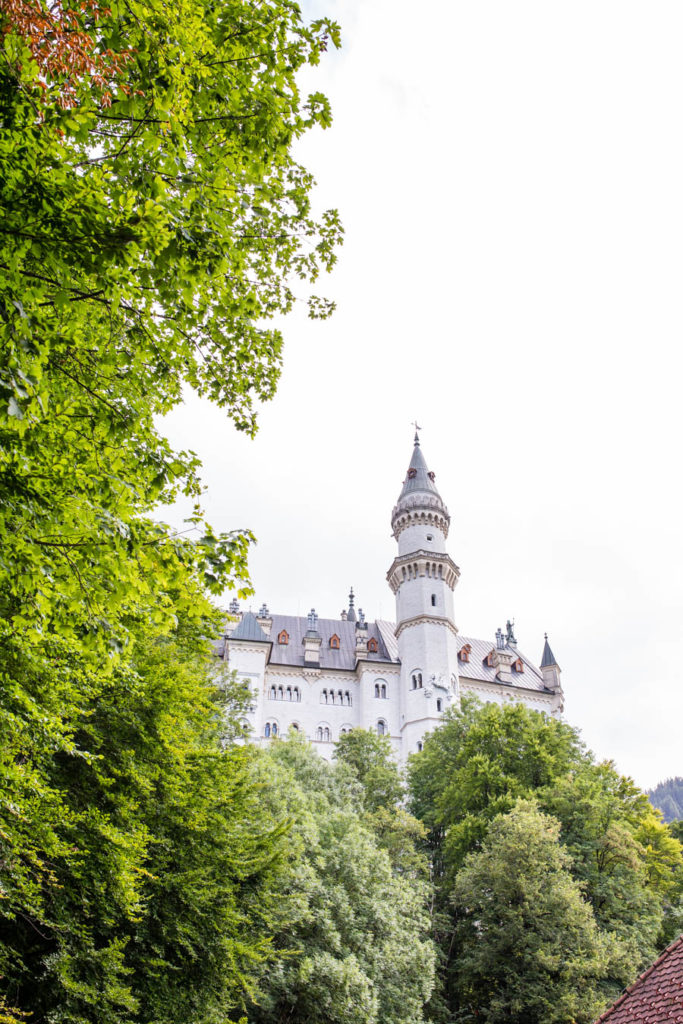 If you want to see Ludwig's mother's castle, Hohenschwangau Castle, it's on the other side of the hill. There are plenty of tours that offer this, we just happened to not book one. I don't think you can go wrong seeing as much as you can fit in on this day trip. But I also feel pretty satisfied that we saw the main attraction and spent our time there.
We had a smooth ride home where we took plenty of pictures, saw all the Bavarian colorful cities and towns we dreamed of, and took a nap. It was such a cool experience! It was so easy! And it's one we'd definitely recommend if you're planning a trip to Germany!
Like this Neuschwanstein Castle Tour information? You may love these travel posts too:
Munich Walking Tour: Day 2 Munich Travel Guide
Dachau Concentration Camp Memorial Tour: Munich Germany Day 1
7 Days in Peru: Day 4: Machu Picchu
Spain Day 4: The Picasso Museum Barcelona
Get 365 Date Ideas!
We want to help you have the best date nights ever! Grab this FREE printable with 365 date ideas, a date for every day of the year so you never run out of ideas!