Spain Travel Guide: The Picasso Museum Barcelona
Picasso Museum Barcelona: Spain Travel Guide Tips and info to visiting the modern classic Picasso Museum in Barcelona Spain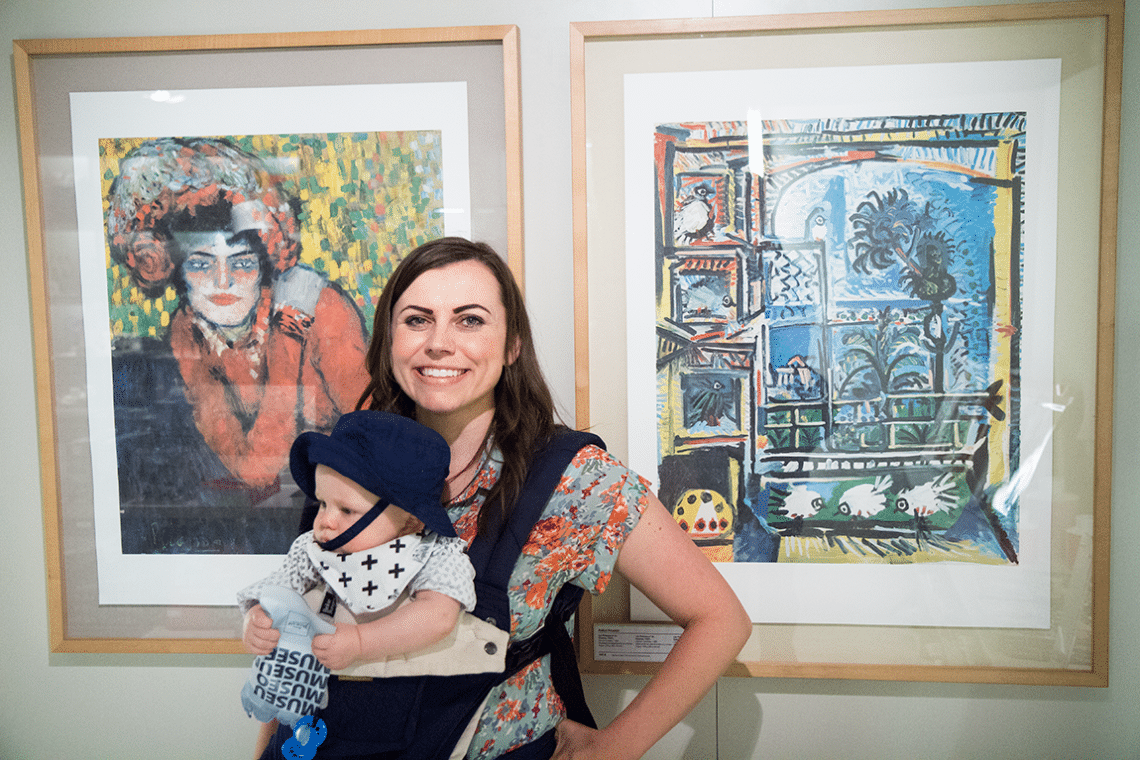 Barcelona Spain
Spain Trip Day 4:
Location: The Picasso Museum: Barcelona, Spain
Cost: €11 per person purchased in advance online
Time: Plan about 2-3 hours of touring, and possibly an hour wait to get in
Website: Picasso Museum
Visiting the Picasso Art Museum in Barcelona Tips:
1. Buy your ticket online if you can! It's a very long wait even early in the morning without a ticket, but with a ticket the wait time is very small and getting in is a breeze!
2. Study Picasso a bit before you go. You'll be shocked to learn how young he was compared to most famous artists, and you'll want to know what put him on the map as a big deal. He has many different painting styles, and this is where you'll see his younger works. Knowing history and his life will make the museum for you!
3. If you plan your trip like we did splitting Madrid up as the place to fly into and leave from, plan to see the Reina Sofia after the Picasso, the title Picasso painting will have much more meaning!
Picasso Museum Barcelona
No pictures were allowed inside the museum, so you'll just have to enjoy this cute traveler acting interested in the museum pamphlet!
The Picasso Museum is on the "Must See" list in most travel books to Spain, and I think with good reason. Picasso was ridiculously talented, and you'll be amazed to see how his classic style (which was quite impressive) slowly morphed into the modernism he's most famous for.
His family held onto nearly all his works. Thus there are enough to make a museum. There's also a huge sampling to watch his thinking and feeling evolve. He slowly becomes a political messenger during WWII through his art. As someone obsessed with history and humanities, I was shocked how little I knew until I showed up at the museum. It's really quite amazing and a side of the war you don't hear about often.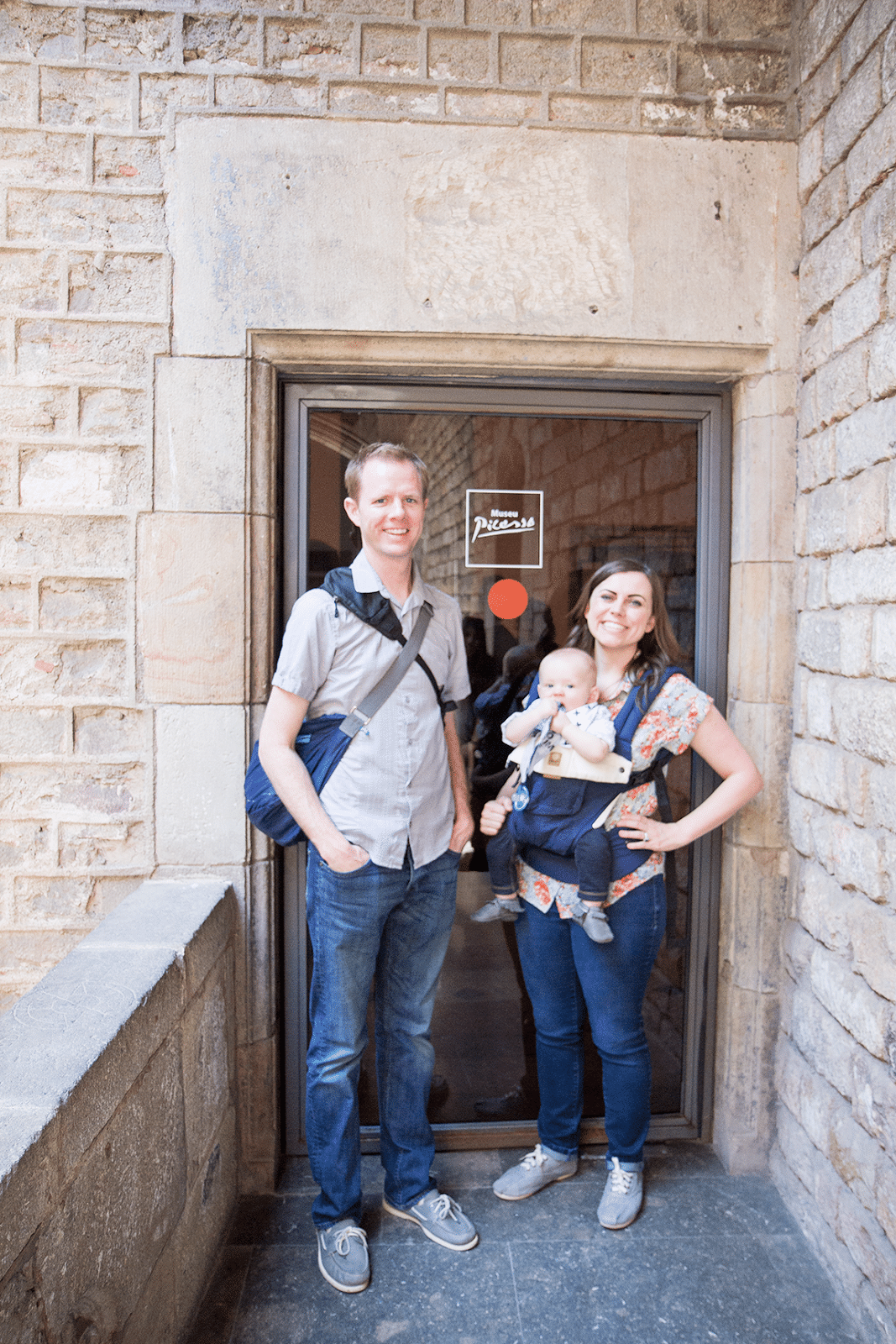 We learned so much more after we went. Jacob admitted this museum wasn't his jam, but learning more about the politics after the fact, he admitted he would have enjoyed it more knowing in advance. Thus it's one of our tips. Should you go to the Picasso Museum Barcelona, read up a bit! Be ready to enjoy more than just his beautiful works and the few famous pieces in the museum.
This was our one place our baby really didn't enjoy and refused to sleep in. Thus we went through faster than I would have liked. But I think two hours is enough time to really soak it in and read most of the history behind the paintings.
The Picasso Experience in Barcelona
We had this grand plan to create a really cool date to share and hope others would recreate the experience for themselves should they ever get the chance to travel to Spain, I mean it's themed and it involves all things, Picasso. Picasso was commissioned to paint the menu for a local restaurant in Barcelona- the 4 Cats, and it still exists today!
We thought it would be really fun to go see the original menu at the museum and then head over a few blocks to the restaurant for a themed day with an activity and lunch. I'm here to tell you I wouldn't patronize the restaurant no matter what a fun plan that may sound like.
Why I Wouldn't Visit The 4 Cats Barcelona
What I was shocked to see was the prejudice this restaurant holds! There seemed to be only white and Spanish patrons, and there was a wait to get in. We saw people of many nationalities and races try to get in, but the wait seemed to push some away and not others. Not a problem, we were willing to wait, but it seemed more and more peculiar who were being turned away.
When our time came up and I turned around with a baby the hostesses took one look and told me "No, we don't serve your kind here!"
I was pretty taken back. Those words were actually said! My first thought was pure shock. I've never had anything like that happen! It's a fairly casual restaurant with many tables on a patio, and surely a non-mobile 7-month-old in a carrier wouldn't be a trouble. We'd been to nicer places in Madrid and not had a single issue.
My next thought was maybe it was good learning experience for me. I had a small taste of what so many people experience with racism- either explicitly or by feeling unwelcome. As someone very aware there are still so many issues in the U.S. with discrimination, I have to say that day I left grateful for who I am and where I live.
Dining in Barcelona
All is well that ends well I suppose, because we moved on quickly! We were able to pull up Trip Advisor and discover 4 Cats isn't that highly recommended. We searched nearby found an amazing place down the street that ended up being one of our cheapest and best meals in all of Spain!
Get 365 Date Ideas!
We want to help you have the best date nights ever! Grab this FREE printable with 365 date ideas, a date for every day of the year so you never run out of ideas!