Valentine's Date Ideas for Married Couples
The best Valentine's Date Ideas for Married Couples to shake things up, turn up the romance, and have fun this Valentine's Day.
Celebrate the day of love with one of these fantastic Valentine's date ideas for married couples! Whether you're staying in or heading out for a Valentine date, here are 20 excellent ways to spend Valentine's Day with your sweetheart.
At-Home Valentine's Dates
Cook a Romantic Dinner Together.
Find your favorite meal for two, head to the grocery store, and enjoy tag-teaming food prep and quality time together.
Have a Candlelit Dinner.
You can order takeout, prep your own dinner, or set up your own romantic picnic. But make sure you turn the lights down and set out the tea lights or candles. It sets the mood in big romantic ways with one little item!
Do a Virtual Cooking Class
There are so many online classes available, you can even find tutorials and fun ideas for free on most social platforms. It's one of those Valentine's Day date ideas perfect for couples who love good food, a fun date, and like to avoid the crowds on Valentine's Day.
Build a Romantic Fort in the Living Room
If you want a relaxing night in, a little love fort is a surprisingly great date. Grab some blankets, get a set of string lights, and cozy up with some of your favorite snacks, favorite drinks, and/or favorite take-out for a romantic fort night in.
We love the Adventure Challenge for Couples book- it makes for 52 fun date nights! Check out our Adventure Challenge book review for all the details. You can gift this book as an excellent Valentine's Day gift, and let it double as the guide for your fun date night! And about half of the date night ideas, are perfect home date ideas!
Also, Get a bonus 10% off any order with the Adventure Challenge Promo Code: INLOVE10
Create Your Own Time Capsule
This is one of those unique date ideas you'll be so glad you did! You can create a physical time capsule or a digital one with images and screenshots. Find little things that remind you of your relationship right now.
Maybe grab some pictures, pop culture items, your favorite song right now, and elements of places and things significant in your relationship. There are tons of creative ideas you can include, and it's a good time and a fun way to document your relationship.
Watch Funny Youtube Videos.
Did you know laughter is an aphrodisiac? It is! And you can do a Free date night in sharing your favorites or using our list of funny YouTube videos.
Have a game night.
Grab your favorite board games, or try one of our favorite couple's games and enjoy a little friendly competition together.
5 Love Languages Date Night
Take the 5 Love Languages Quiz and use our 5 Love Languages Date Night printable to walk you through a better understanding of each other's love language and how to better show love to each other. You can brainstorm ways to show quality time, give gifts, do acts of service, have more physical touch, or words of affirmation. It's one of the best things you can do for your relationship!
One more thing, if you're done, and the last time was more than a year ago, it's time to do it again!
Romantic Movie Marathon
Sometimes the best romantic idea is cuddling up and watching movies that celebrate love while you avoid the crowds. Make it a new tradition to let each person choose at least one favorite romcom and enjoy a romantic movie marathon for two.
Related: The Best Romantic Comedies You'll Both Enjoy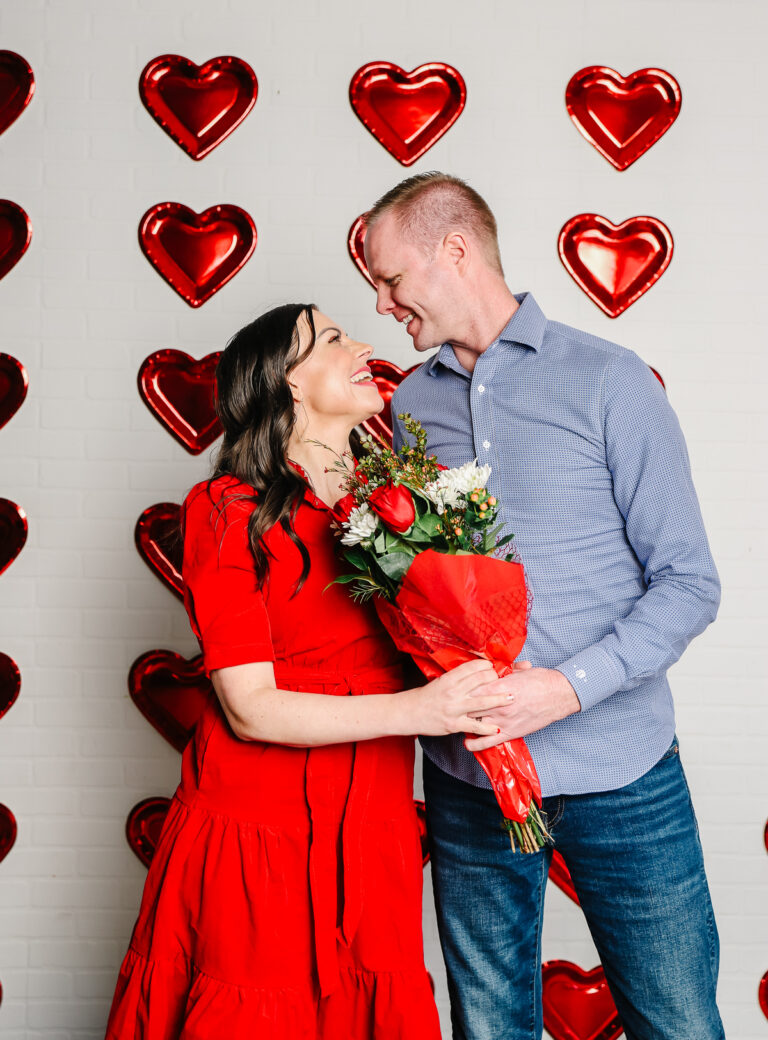 Valentine's Day Date Night Out
Weekend Getaway
Why celebrate for only one night when you can make a weekend out of it? Find a nearby area to explore; try the major cities or charming small towns in your area. Make a road trip out of it and explore new activities, and a new restaurant, and enjoy your weekend.
Related: 5 Reasons why you need a couple's getaway without kids
Book a Nice Hotel Room
There's something about a nice hotel room that is the best of the best romantic Valentine's Day ideas! If you need some great ideas to extend the hotel date, check out our list of hotel date ideas.
Do a Date Night Cooking Class.
Sur La Table hosts couples cooking classes meant to turn up the connection and quality time while you learn new things together.
Recreate Your First Date.
Is there a better way to celebrate love than where it all started? Go recreate it, or at least a close version of it if you live in a new place. You'll get bonus points for remembering those small details as you take a walk down memory lane.
Try a Valentine's Day Special.
This will likely require restaurant reservations for February 14th, but they're worth it for a romantic date night at a popular local restaurant. Many chefs design a special menu for two with multiple courses and an extra romantic atmosphere. Expect a fun evening filled with good food and a fancy dessert meant for two. It's the perfect date for food lovers who enjoy a special night out.
This may sound like a unique date idea, but it's one of those dates you'll be so glad you did! Couple pictures aren't just meant for engagements and weddings, they're something you should do often to document your love. If it's been a long time, put this day of love to good use and book a couple's Valentine's Day photo shoot. Pro Tip: many photographers offer mini sessions in studios to make this easy on you.
And if you're the stereotypical grouchy dude that hates photos, give your spouse the gift of having a great attitude and booking this just for her. I promise she'll thank you for it.
Go Ice Skating
An ice skating date is a great way to fit in an active date idea and add a little romance. Hold hands while you skate, or laugh while you attempt to skate around the ice. Bonus points for combing it with a hot chocolate date too!
Go Bowling Down Lover's Lane
It may surprise you, but your local bowling alley likely gets in on the celebrations of Valentine's Night with lover's lane packages. They often turn the lights down low, flash red and pink heart lights, and play romantic music. You'll find food deals and adult beverage deals that make for a fun day to make a bowling date night happen.
Romantic Night at the Theater
Buy play tickets. There's something about dressing up and seeing something professional that gets you in a romantic mood. This year Hamilton is touring locally, and I'm just saying I don't know many people who wouldn't be thrilled with that as their Valentine's Date date.
Get a Couple's Massage
This is so romantic, so relaxing, and really great use of a valentine's date night budget! Look for promos where many spas offer packages and romantic bonuses (like a bottle or wine or sparkling cider, fresh fruit plates, or bonus time).
Like These Valentine's Day Date Ideas for Married Couples? Be sure to check out these posts too:
60 Great Date Ideas for Couples
Romantic Valentines Day Ideas" 10 Unique, Romantic Valentine's Date Ideas
Valentine's Day Date Ideas Round-Up
Get 365 Date Ideas!
We want to help you have the best date nights ever! Grab this FREE printable with 365 date ideas, a date for every day of the year so you never run out of ideas!