Hotel Date Night Ideas for a Romantic Night at a Hotel
If you're looking to connect, relax, have quality time, and turn up some romance, a hotel date night is a great idea! Here are 50+ hotel date night ideas to make your night away even more special.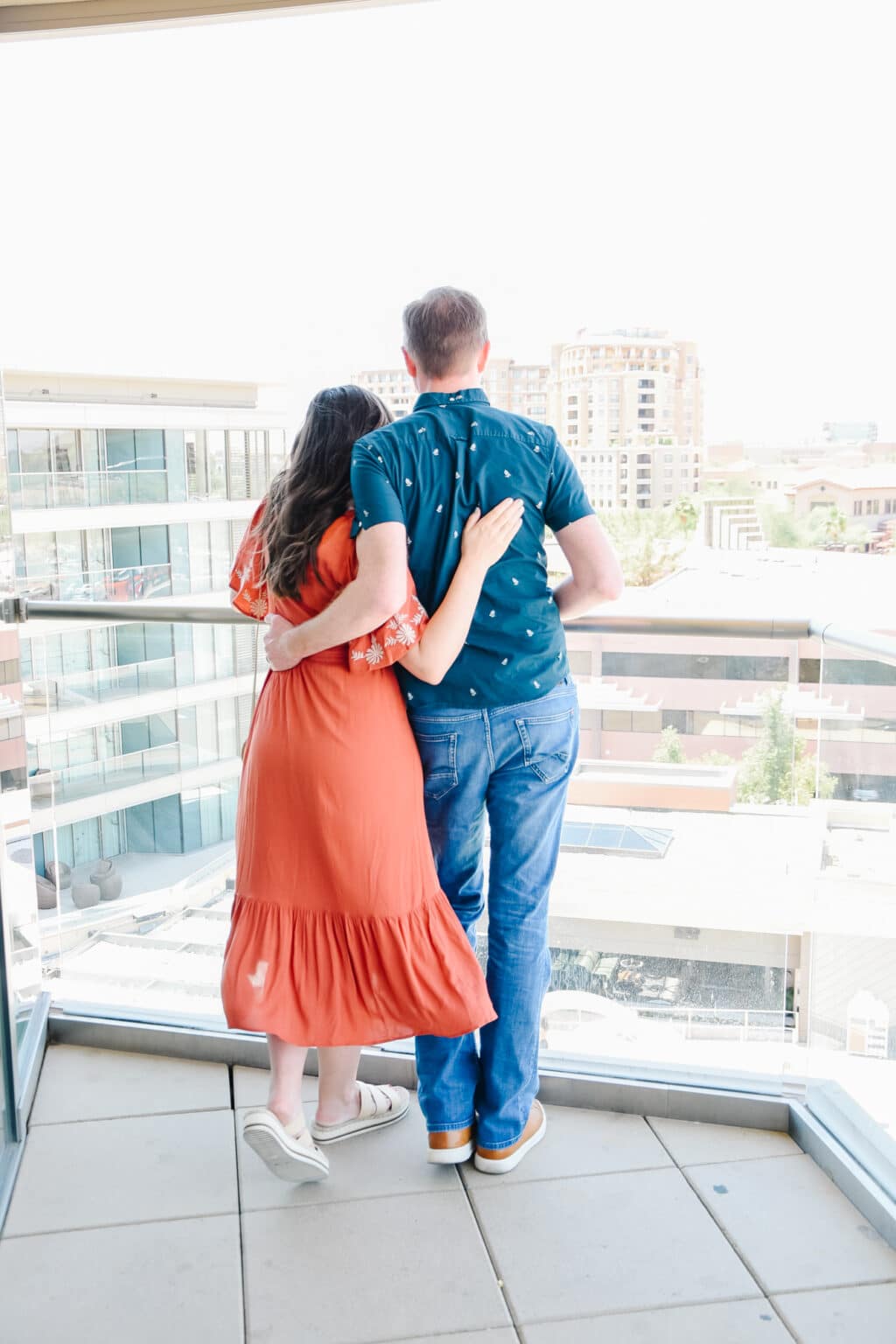 There's something so romantic and exciting about sneaking away to a hotel. Hello, a bed you don't have to make and a fun new atmosphere!
Just booking a hotel room for a night (or even a few hours) can be such a great way to enjoy quality time together. Here's how to create a special night how to have a hotel date night
Date Ideas to Do In a Hotel Room
If you're looking to spend the night in, and want more of an at-home date night idea you can do in your room, these are all the perfect way to have so much fun while staying in!
Plan a movie marathon
Watch your favorites, cuddle up, and enjoy that luxury bed you paid for! Here are some great date night movies if you need a suggestion! And a movie night gift basket is a fun addition.
Bring a Date Box to do together
We love doing a date box at home! But bringing one to a hotel would be a fun twist and feel even more special! Plus we can get you half off a Happily Box with code FridayWereInLove to help save money for the room itself!
Make a romantic dinner
Book a hotel room with a kitchen. And enjoy cooking a romantic dinner for two.
Make a romantic breakfast together
Why not enjoy the morning together and prepare and enjoy a gourmet breakfast for two?
Plan a romantic date night near your hotel
Often, there's entertainment in the hotel or near the hotel. Plan something fun without straying too far!
Complete a few Adventure Challenge for Couples dates together
These fun scratch off adventures are always so fun! You could complete multiple staying in a hotel and enjoy nearby adventures!
Also, Get a bonus 10% off any order with the Adventure Challenge Promo Code: INLOVE10
Do an on-demand Happily date experience class from your hotel room
These are fun, easy-to-do experiences you can enjoy in your hotel room! They're fantastic creative dates, and we can get you 50% Happily Date Classes with promo code: FridayWereInLove
Take online dance lessons
If you want a new location and space to dance with a little more privacy, try an online dance lesson for two!
Couples Book Club
Have a read-a-thon night for two by the fire or cozy in bed. Feel free to read together, or bring your own separate books to enjoy.
Enjoy a game night for two
Bring classic games, new games to try, card games: whatever sounds fun to you! If you need some ideas, we have a roundup of 100 couple games: perfect date night games for two!
Bring video games to play together
Pack the console, or call ahead and ask if the hotel has any to borrow.
Do You Know Your Husband/Do You Know Your Wife game
This game is fun whether you've been married a month or 50 years! It's lightweight and easy to pack for your hotel getaway too!
Hotel Date Ideas
Hotel Restaurant
Enjoy the walkability and a nice dinner centering your hotel date night around dinner at the hotel restaurant.
Rooftop Bar
Most make craft cocktails and mocktails with seasonal menus.
Hotel Bar
Feel free to live the trope of meeting and picking up on each other at a hotel bar. Or just enjoy a drink and some quality time together.
Go for a swim
Enjoy an indoor pool year-round. Also, you could find a great hotel with an outdoor pool and go when the weather is optimal.
Have a hot tub date night
Some hotels have a hot tub attached to the room, but almost all have a hot tub near the hotel pool. Enjoy time relaxing and soaking up the moment together.
Jacuzzi date
If you want something more private and intimate, a jacuzzi tub is almost always a part of most nice hotel rooms. Grab some bath salts and candles and prep for a romantic jacuzzi date.
Splurge on room service
Enjoy not having to cook, not having to dress up, and enjoying whatever you want with a room service date.
Order takeout and have dinner in bed
Chances are you don't eat many meals in bed. Make this hotel date night unique and fun enjoying takeout in bed.
Enjoy breakfast in bed
Breakfast in bed is always a romantic gesture. But it's even better when neither of you has to cook and an amazing meal arrives at your door!
Have a dessert-tasting party
Grab a bunch of desserts and taste test together in your room. You could do this with room service, takeout, or bring your own for a date like our chocolate tasting date night.
Get in a workout together
Why not utilize the hotel gym and enjoy boosting endorphins together?
People watch in the lobby
Whether you're in a fancy hotel or a cheap hotel, people watching can be very entertaining!
Book a couples massage
If you have a spa attached to your hotel, check out a couple's massage package. They're romantic, relaxing, and a great way to connect!
Take a morning yoga class
Check if your hotel offers morning yoga. It's a great way to take a premium class that's already included in your price!
Date Ideas to Do Around the Hotel
Go listen to live music at a concert or nearby venue
Enjoy a romantic dinner in the city
Plan a romantic evening exploring
Book your stay around special events in the area you can walk to
Get ice cream
Go wine tasting
Book a room within walking distance so you won't have to worry about driving.
Take dance lessons
See a performing arts show
Attend a comedy show
Romantic Things to Bring to a Hotel
Rose petals
It may sound cliche, but a sprinkle of rose petals creates such a romantic atmosphere.
Fake rose petals/flower petals
Sprinkle those rose petals, and make it even easier with fake flower petals.
Flameless candles
Tune-up the romance without the fire hazard. Most hotels ban flamed candles, so up the romantic experience with flameless candles.
Favorite beverages
Whether you love a glass of wine, a bottle of champagne or sparkling cider, or even La Croix, some of your favorite beverages are always a good idea!
Lingerie
If you haven't checked out Mentionables, you're missing out! Classy and sexy lingerie that's size-inclusive and model-free for a really positive shopping experience! And check out our Mentionables lingerie review for more info and a special promo code!
Adult games
From conversation games, to sexy board games, a hotel date night is a perfect time for some adult games! And we can get you an extra 10% off with code: FRIDAYLOVE10.
Bath bombs
For a romantic time you'll be glad you brought everything to set up in the bathroom, like a gorgeous bath bomb.
Bath salts
Try this romantic set to up those romantic hotel room vibes.
Massage Oil
A massage is one of the romantic experiences no one can say no to! Grab some massage oil and get ready for some romantic vibes.
Romantic Playlist
We created the ultimate love playlist perfect for date nights like this!
Favorite Movie
Sure you can stream and check out hundreds of channels at almost any hotel. But sometimes a movie you both love and want to cuddle up and watch is a sweeter gesture and you won't waste time scrolling all night.
Related: Romantic Comedies You'll Both Love Watching for Date Night
Sound machine
In case you need to drowned out any other noises or really want to get some quality sleep along with your hotel date night ideas, a sound machine is a must!
Bubble Bath
Turn up the romance with a bath for two! Bring some bubble bath for adults to enjoy while you're at it.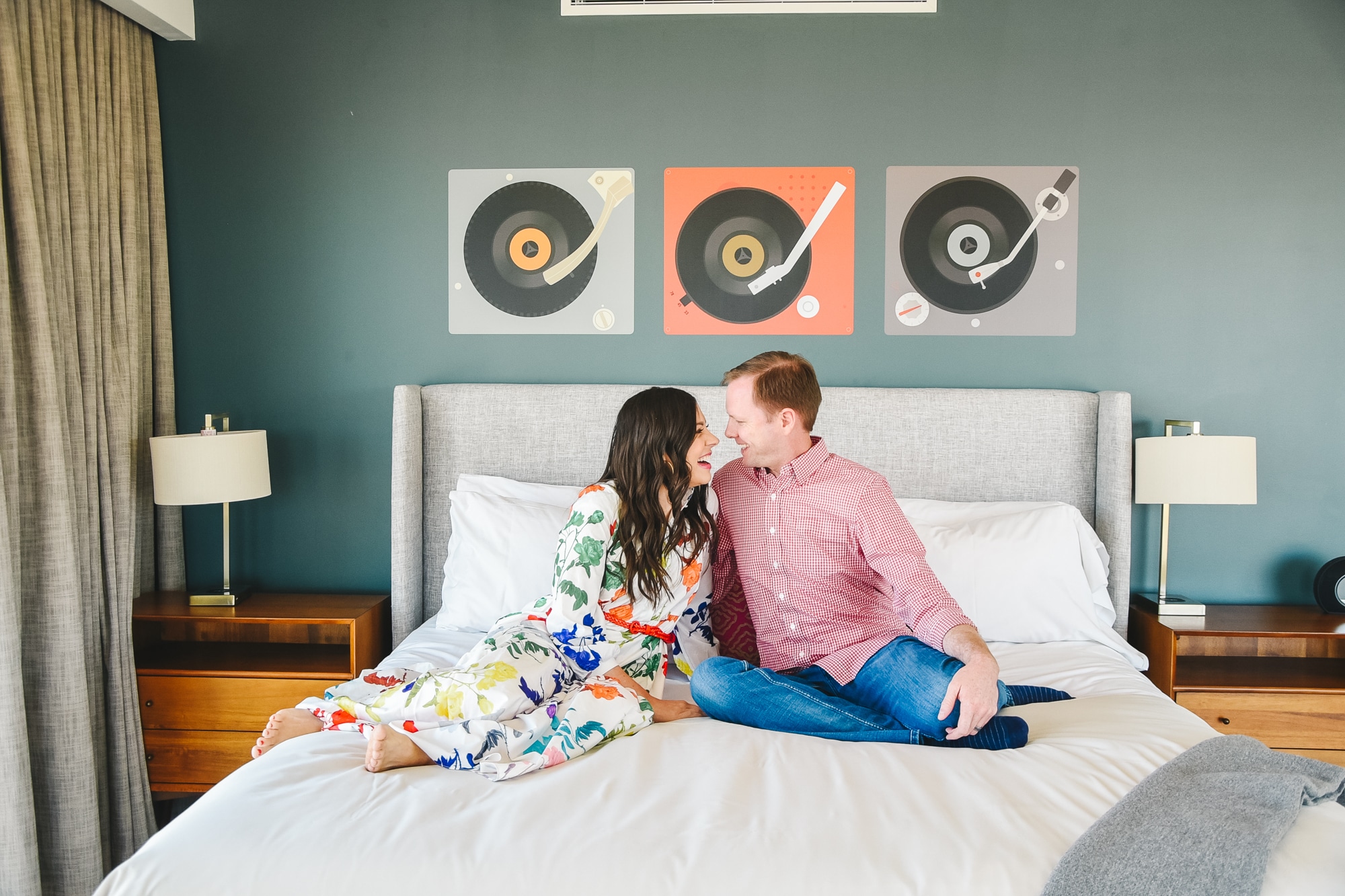 Best Date Night Hotels: Hotel rooms that make great date night/weekend getaway spots
Themed hotel rooms
Try a place like the Anniversary Inn with themed rooms and intricate sets for an entirely new vibe! It's the perfect way to feel like you got a romantic getaway in only one night.
Luxury hotels
Nothing stuns and impresses quite like the experience of a luxury hotel. Fancy hotel rooms usually feel like an extra special bonding experience. It's also a great way to impress if you're with someone with gifts as a love language!
City hotels
There are so many great date nights to do in the city! Staying in a hotel right in the city where you can walk to major events is always a fun piece of a date night.
Bed and Breakfasts
These are charming, quaint, romantic, and provide a meal with the ticket. You may feel like you stepped into your own Hallmark movie.
Hotels with Romantic Restaurants Attached
Dinner counts as a date night in itself! Attach the ability to walk to your room and you're set for a very romantic date night.
Hotels with Spas
A spa day isn't just for girls' nights, it makes a great romantic date! If you need a day to relax and unwind, find a hotel with spas you can utilize and book a spa night!
Boutique Hotel
A boutique hotel adds special features like art and unique styles to explore and appreciate. It feels more like an intentional date spot instead of a business trip.
Hotels with ocean views or lake views
Sometimes just listening to the ocean waves from your hotel balcony is the perfect romantic night. Hotels with a view make for an excellent date! In fact, I'll never forget our views from our Bellagio Hotel getaway.
Hotels with special rates
There's something romantic about splurging, and there's something even more romantic about getting a deal and not breaking the bank. Find a special deal or rate and enjoy saving some cash while you enjoy your hotel date night ideas!
Like these hotel date night ideas? Be sure to check out these posts too:
365 Fun Date Ideas: Dates Every Day of the Year
40 Cute Date Ideas to Do This Year
Couples Getaway: Why Every Couple Needs an Annual Getaway Without Kids