Easter Gifts for Wife: Easter Basket for Wife
A roundup of Easter gifts for the wife or girlfriend in your life. Plus, tips to create an amazing Easter basket for a wife or girlfriend!
While the Easter bunny makes preparations for the big day, make sure you don't forget some Easter gifts for your wife or Easter basket ideas for your girlfriend in your life!
Easter Gifts for the Wife
Wife Easter Gifts
A Date Night is perfect in an Easter basket for her!
I have an entire post on date night stocking stuffer ideas. They all work perfectly in an Easter basket too!
Stanley Cup
This has been my favorite purchase of the year! Also, remember when everyone wondered why they'd need to splurge on a Hydroflask, then bought one, and became inseparable? You're going to have the same experience with a Stanley cup!
It's the used-all-day gift she's going to love! See my full Stanley tumbler with handle review here.
Gift Card to Get Her Favorite Food
Give her the gift of one of her favorite meals that she can grab for a date or a night she needs an excuse for a dinner out.
Gift Card to Get Her Favorite Drink
Some women love coffee or tea, some love a soda, and I think all love a little indulgence. If you're stumped, Starbucks is always a good choice (coming from a non-coffee drinker)!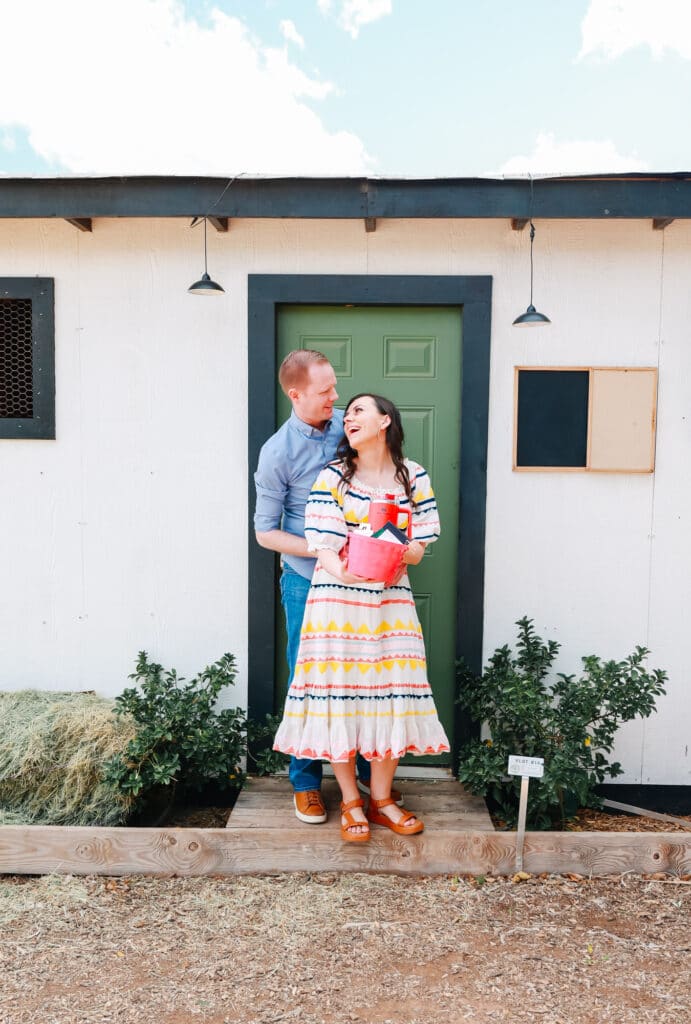 Health and Beauty Easter Gift for Wife
Bath and Body Works Gift Card
If she loves lotion, hand soap, or candles, chances are this is the perfect gift!
Beauty Easter Basket Gifts for Her
It's great for makeup beginners and makeup lovers alike!
The eye shadow pallet I use every day!

First of all, this is quality stuff that stays all day, works with sensitive skin. They have a paint-by-number system with shadows and brushes to make a flawless eye application every time!
Jewelry Wife Easter Basket Gift Ideas
New Studs
I love the minimalist studs from SHOP HEY JUNE – I own a literal dozen of them! You can get 15% off with promo code FRIDAYLOVEFun Earrings
A fun pair of spring earrings or statement earrings are always a fun Easter basket for wife plan!
Classic Hoop Earrings
Trust me, the best hoops come from SHOP HEY JUNE You can get 15% off with promo code FRIDAYLOVEPersonalized Necklace A New Ring
Have you heard of mother's rings? They take children's birthstones and bond together in a gorgeous ring. They'd be perfect for an Easter basket for her!
Headband
Find a fun spring pastel or classic headband. They're the perfect size for an Easter basket.

Practical Easter Basket for Wife Ideas
Easter Treats
Reeses Eggs
Seriously, get her what she wants most and load that Easter basket for wife full of Reese's eggs!
Compartes Chocolate Bar
This was a gift at a conference I've never forgotten! You can't go wrong with any of their gourmet chocolate bars (or shopping small)!
Smart Sweets Candy
A lower-sugar option that brings back all the nostalgia and flavors of favorite candies!
Like these Easter Basket for Wife Ideas? Check out these posts too:
Gifts Your Wife Really Wants: A Gift Guide for Her