Christmas in July: Christmas Prep Checklist for a Stress-Free Christmas
Ready for a fun holiday season without all the stress? Looking to set up Christmas on a budget? After one stressful, expensive Christmas we've learned to love Christmas in July and start prepping early. This super easy Christmas prep checklist breaks down one or two things to do each month to make December fun and Christmas prep easy!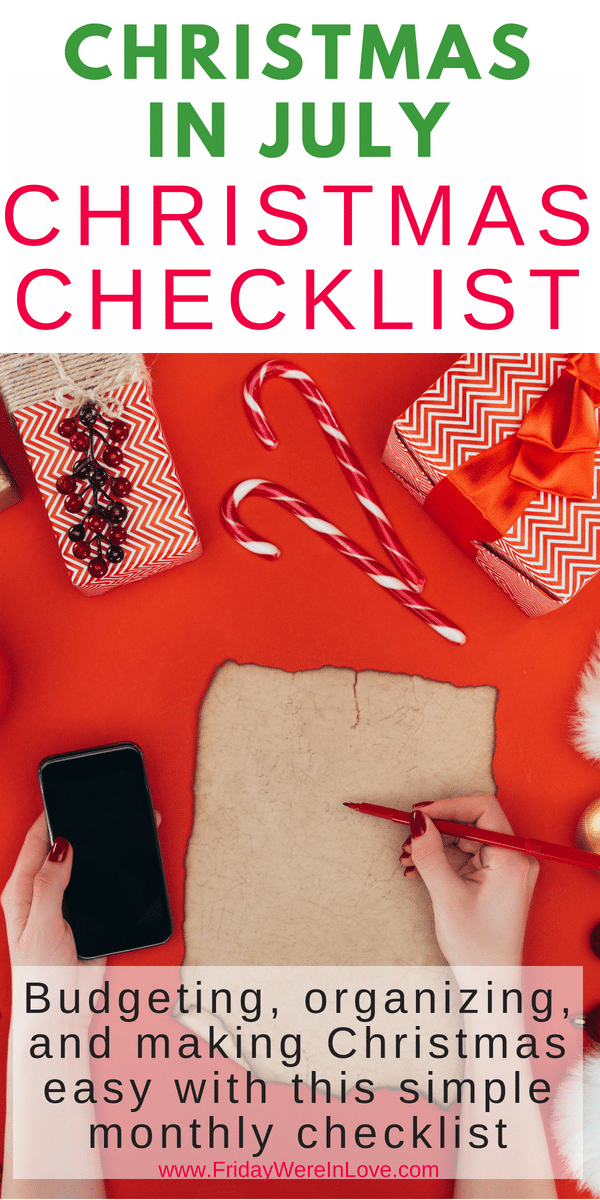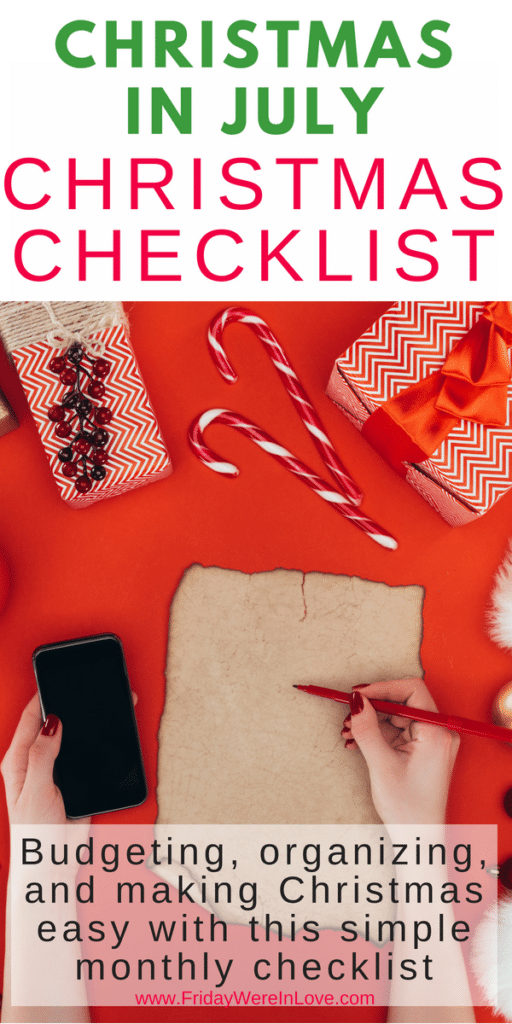 Happy July! I do think of the 4th of July when this month hits, but it's also the time I allow myself to start thinking about Christmas in July! I'm a planner and spent a long time as a project manager for long-term projects, so my brain is wired this way!
I wasn't always so far ahead with Christmas planning. But my first Christmas as a mom lead me to feel like a failure and I had so much stress and spent way more than our normal budget due to last-minute shopping. I vowed I would prep, plan, and start Christmas in July after that so we could have a really amazing Christmas, without the stress!
So here's what I do to start Christmas in July, and how I'll prep each month to make holiday prep feel easy, smooth, and help me get the best deals at the right times. I'm spilling all I've learned and what I do to help you cut some stress and get great deals!
Start Prepping for Christmas in July
This is the planning phase, with some shopping for awesome sales mixed in two.
Step 1:
I start by making a list of who I need to buy for. I typically go pretty practical here and I plan for my husband and kids. Also, I may look into parent gifts at this time. I mostly focus on my immediate family and start a running list of what I think each will love.
Grab our FREE gift planner printable here!
My list always includes:
Something they'll want, something they'll need, something to wear, and something to read. We love that simple mantra, but I admit I go a little beyond it.
I also think of some stocking stuffers, and I think of family Christmas pajamas for the family too.
The reason I love to start Christmas in July is twofold:
I can start to budget and plan for these items and watch for sales.
There are two really awesome sales in July with the lowest prices, and it's a great time to purchase some items.
Last year most of my children's Christmas came from Prime Days with Amazon. If you haven't heard of it, Amazon does its own version of Black Friday in July. It's typically even better than their Black Friday deals. Not to mention products that rarely go on sale often go on sale.
It's worth watching! Three years ago we bought my Roomba vacuum and I think every toy Santa brought during Prime Days. I'll post my picks with the best deals on Prime Day.
The second week of July also kicks off the Nordstrom Anniversary Sale. You'll get brand new products at their sale prices right as they hit stores. Hello, free shipping and returns, and amazing deals! We often get a nice pair of shoes for the family, and high-end something to wear comes from this sale too.
These two sales alone make planning and preparing in July, and then holding until December so worth it, and really do get the best sales! And if either is delayed, it's a good time to make some wishlists and watch for the sale updates.
Early Christmas Prep in August:
We prepare for Christmas by planning any travel accommodations we may need at this time.
August is also our month to purchase tickets for special events, Christmas date ideas, and experiences that sell out. And if they aren't available yet, we find out when they will be and put that date on the calendar. But I set aside the August budget to pay for it.
If we need to book anything that hasn't been booked, we go ahead and book it now to get the best deals. This is how we make sure fun things like the Polar Express Experience happen.
Often we aren't the ones traveling, but we've gifted travel to parents to go see a new grandchild or child they haven't seen in a long time. It's a great time to get flights and hotels booked.
We know the day will come we do a big trip for Christmas as our main gift, even if it's to enjoy later in the upcoming year. And we'll likely book it all in August to get the best rates.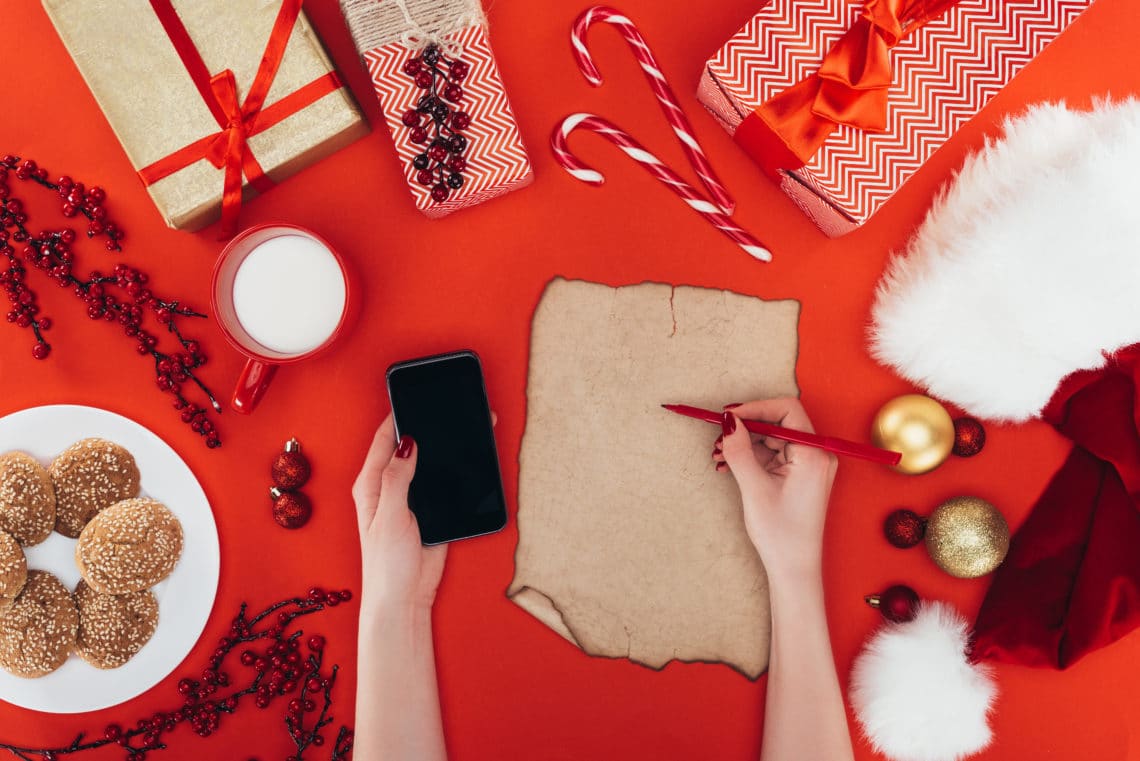 Budgeting for Christmas: What We Do in September:
We prepare for Christmas by buying a few more gift items on our lists. I love finding small stocking stuffer items around this time. I also like to think of what we'll get our siblings. We are assigned one family each year and rotate siblings each year. Both our families do this, and it makes it easy to plan and prepare a fun family gift in advance.
This is also a great time to get something to read with back-to-school sales. I like to have books in order by this month.
Getting Ready for Christmas: What We Do in October:
Holiday event tickets we couldn't get in August are typically on sale and ready to snag this month! It's a bit early for most to think about it, which is why it's the right time to get them! For those plays and concerts that sell out fast, you'll want in on the rush. It also is less sticker shock to add it to this month's budget and not try to fit it all in at once.
Holiday Preparation and Budgeting: What We Do in November:
This is the time I try to wrap up purchasing any gifts we haven't purchased, and I often grab them on Black Friday. I love to snag some neighbor and teacher gifts too. We typically grab holiday hand soaps or a candle at Bath and Body Works, they have a great holiday sale!
This is also the time to double-check you have the big wish list item for everyone. Sometimes little people change their minds from month to month. At this point, by the end of the month, we make our child lock in hopes and dreams and make sure we have it. If he doesn't know what he wants, we choose something we know he'll love and order it and hide it.
If I can be done shopping and start some wrapping in November, I'm a happy camper!
Christmas Fun: What We Do in December:
I love to spend this month wrapping, listening to Christmas music, and enjoying all the fun events! If I can avoid the gift markups that is fantastic. If I don't have to face the crowds, that's even better.
The one exception is food. I love to focus on food prep and get some holiday candy as a stocking stuffer. You'll find me out a few times, but I love that I can focus my attention on food preparation and traditions and cooking over shopping.
Cutting the Christmas Stress
And just a little bit of planning, budgeting, and slowly accumulating and hiding Christmas items makes Christmas really fun and way less stressful! I love spending time doing holiday activities instead of prepping! I love not stressing about buying an overpriced cup of hot chocolate at a holiday event.
After one crazy expensive and stressful Christmas I'm hooked- Christmas in July (and every other month until December) is totally where it's at!
Like this Christmas in July holiday prep post? You may like these post too:
Year of Dates Gift: 12 Dates to Enjoy All Year
Simplifying Christmas
Get 365 Date Ideas!
We want to help you have the best date nights ever! Grab this FREE printable with 365 date ideas, a date for every day of the year so you never run out of ideas!