Year of Dates Gift: A Folder of 12 Dates to Enjoy All Year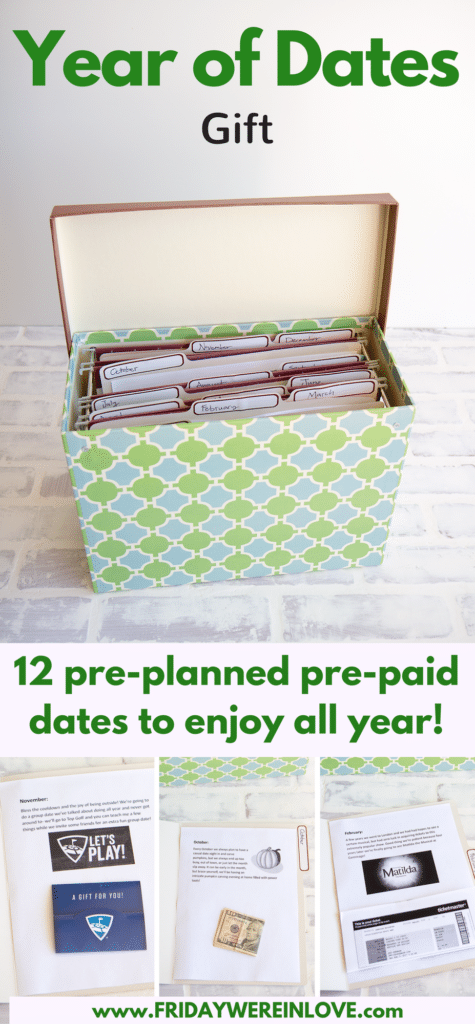 This certainly isn't my first time posting about my favorite gift to both give and receive (2011 / 2012 / 2014 / Blogged "12 Months of Dates" Dates), and it likely won't be my last, but I couldn't help but share what I gave Jacob this year for Christmas and why I did it. With Valentine's Day right around the corner I figured this was a great time to share this romantic gift idea, but really it's one that works all year long! If my husband wanted to give me dates for my birthday, our anniversary, Christmas, Valentine's, or any other time gifts are in order, I would be absolutely thrilled!
*This post contains affiliate links
Here's the concept for any hearing about it for the first time:
The giver plans 12 dates, one to do each month of the year. Then the person uses their gift budget to buy all the tickets, gift cards, or any other items needed for the dates so the recipient literally just has to show up and enjoy! I know some people plan and use a monthly budget inserting tickets or cash as they go instead so they can afford it since 12 dates all at once can be a bit overwhelming to the budget. But, I'm a fan of mixing free or inexpensive with a few big exciting dates and making it all pre-paid if at all possible.
Since we're clearly such big fans of dates, (hey that's the premise of this whole blog for a reason!) so we often gift dates and know the other person will love it. I haven't done a full year in a while, but as I reflected on this past year as parents I realized that this gift is even more meaningful for us now. We have more time to book a sitter for a specific night, it frees up more babysitting budget, and a gift like this really helps us try new things we've never done before as well as repeat some of our favorites we haven't done in a very long time that requires a little planning.
If you need some date ideas:
Good news friends, we literally have hundreds and hundreds of date ideas on ye ole' blog. If you look at the navigation above you can search for dates by price, type, season, location, etc. There are several date night lists too, including 52 dates to do this year organized by week, so be sure to check those out! I promise we have your back on this one! You may also want to reference your city's website for local events and plan with those in mind too!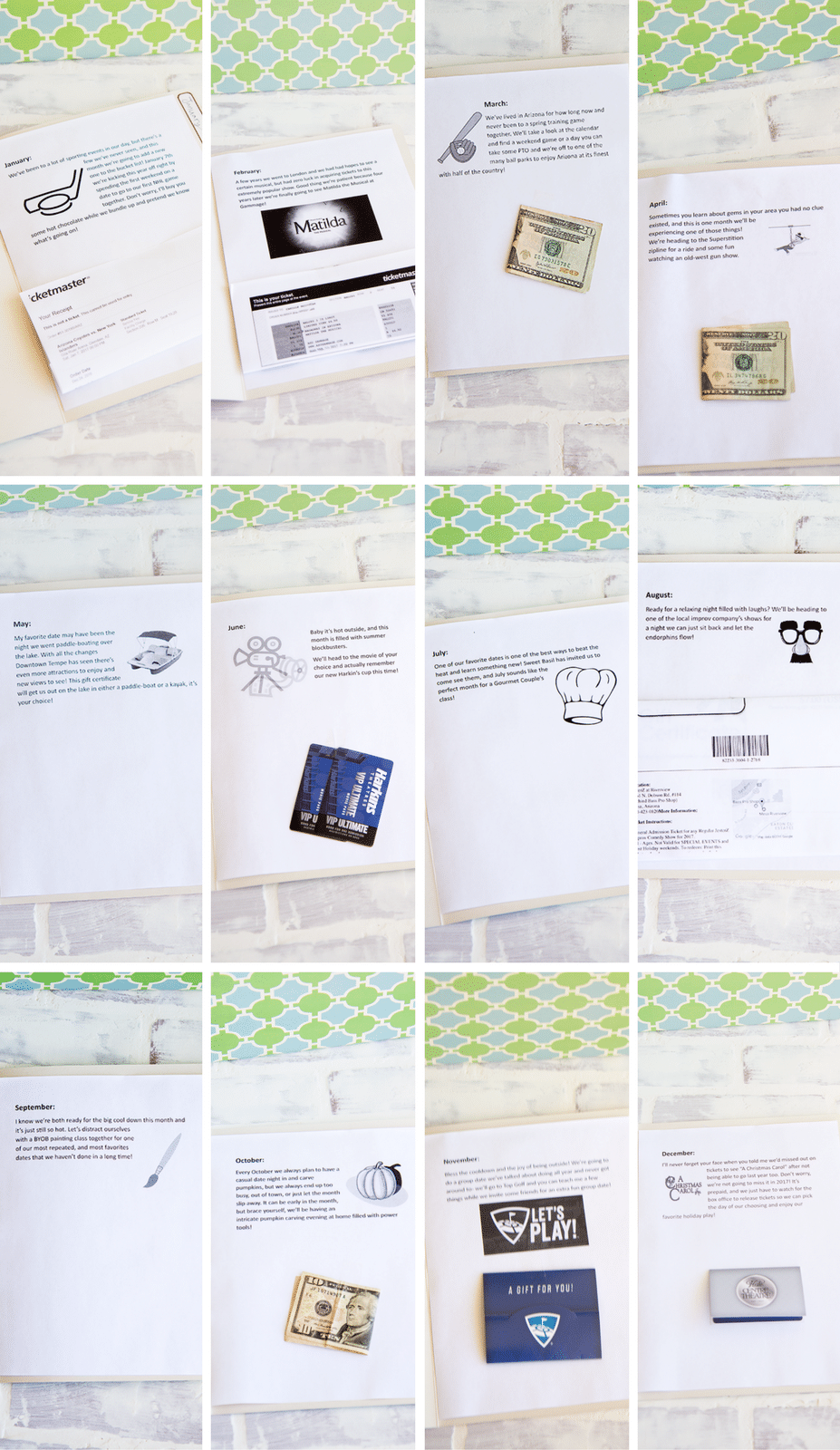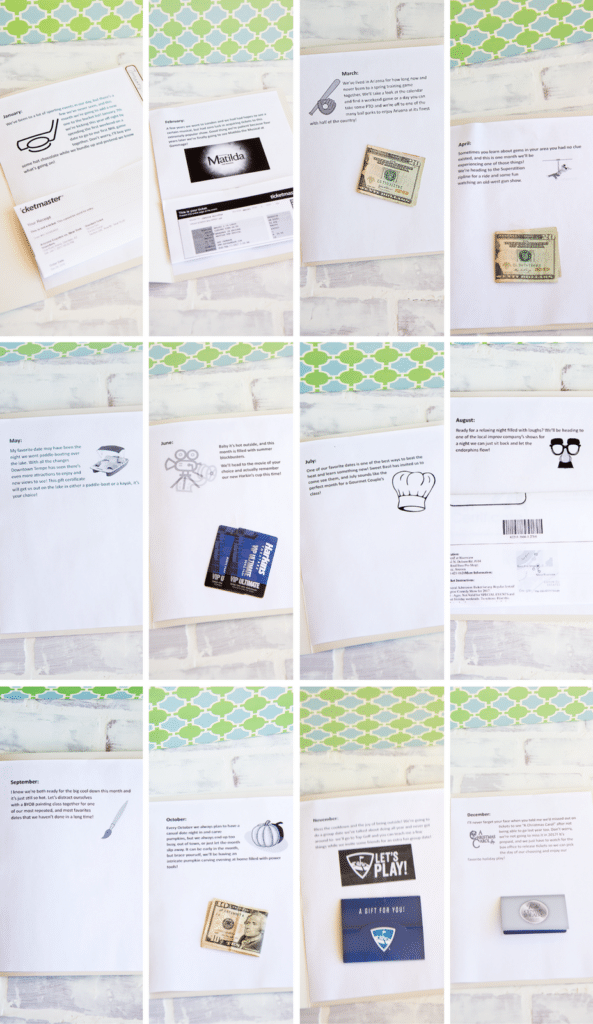 Once you know your dates and you've organized them by month, here's how to make it and what you need:
Start with a word processor (I love Google docs) and quickly type up the month and brief explanation of what you'll be doing for the date, with space to include any tickets, cash, etc. Print out your 12 months, each on their own piece of paper.
Letter-sized folders are the perfect way to present and organize each date by month. Tape/glue each printed paper inside a designated folder.
Set up your hanging file folder box with 12 hanging file folders, and add each of the folders for each month of the year arranged in the order you'd like month by month.
You could also do envelopes or can do it in a binder format in sheet protectors like I did two years ago. I'm a big fan of trying to keep it cute and aesthetically pleasing without being over-the-top girly if you're giving it to your husband. I mean unless your husband is a fan of that, but I know mine appreciates a good presentation that still feels like it was meant for him. That's why a printed file folder with printed files worked really well for us. A great design that's a little more manly goes a long way. Not to mention wrapping up one box and letting him pull out a folder at a time is really exciting and feels like a really big, really special gift. And how fun is this box, and how cheap and great is this one or this modern take, or this one or this one.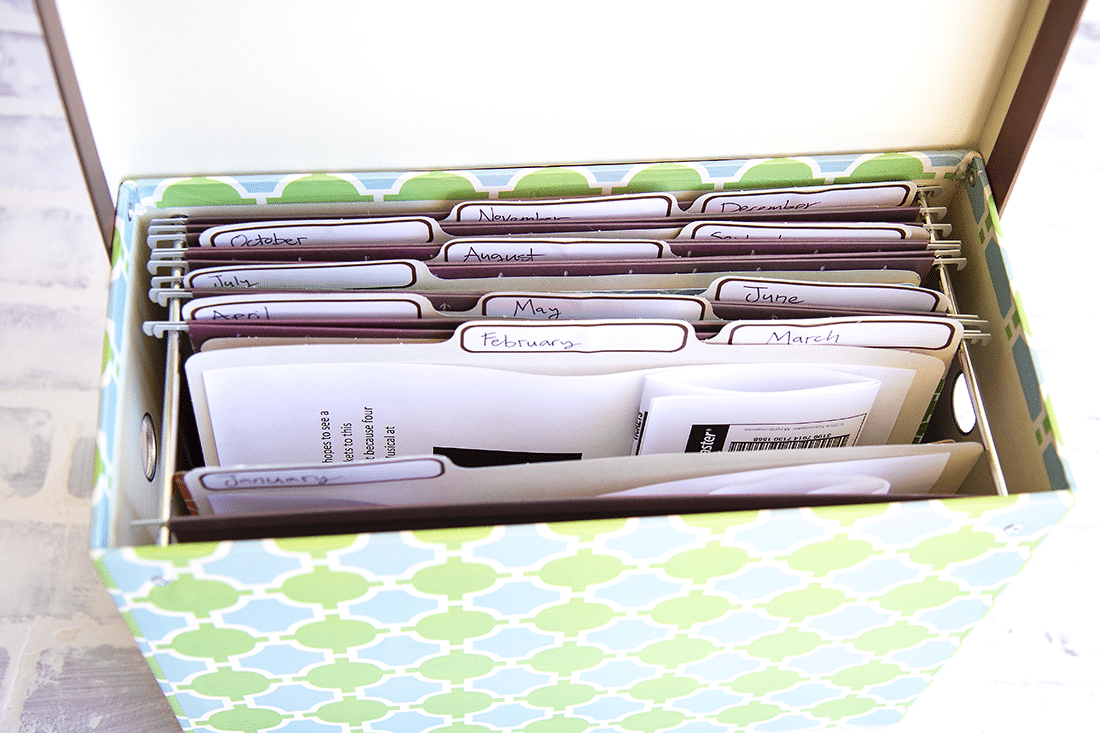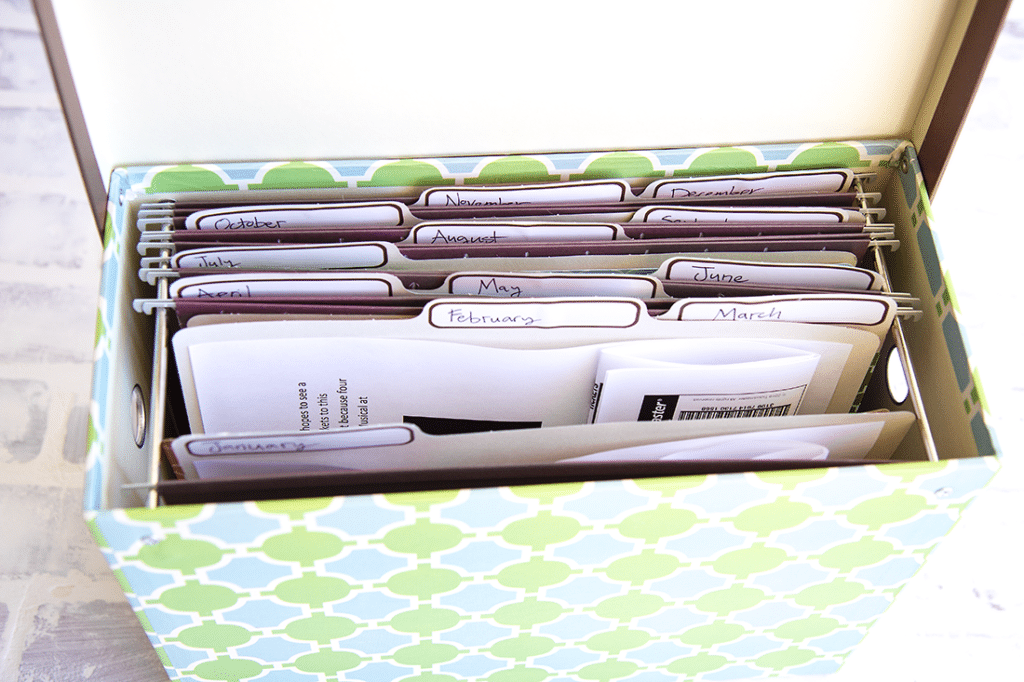 So here's my favorite part, let's talk about the 12 months of dates we'll be doing this year, and I promise I'll come back to this post and link up each one after I blog the specific date!
January: NHL Hockey Game
February: Tickets to see Matilda the Musical
March: Spring Training Game
April: Zipline
May: Paddle Boating or Kayaking- his choice!
June: Dinner and a Movie for Blockbuster Season
July: Gourmet Couple's Cooking Class
August: Comedy Club Tickets to Our Local Improv Place
September: Painting Class at a Friend's New Studio
October: Pumpkin Carving and Pizza Night In
November: Top Golf Group Date
December: Ticket to See A Christmas Carol
We are so incredibly excited for this year and for dates that we already have on the calendar! It really is the perfect gift, and it's one that never gets old now matter how many times I give it!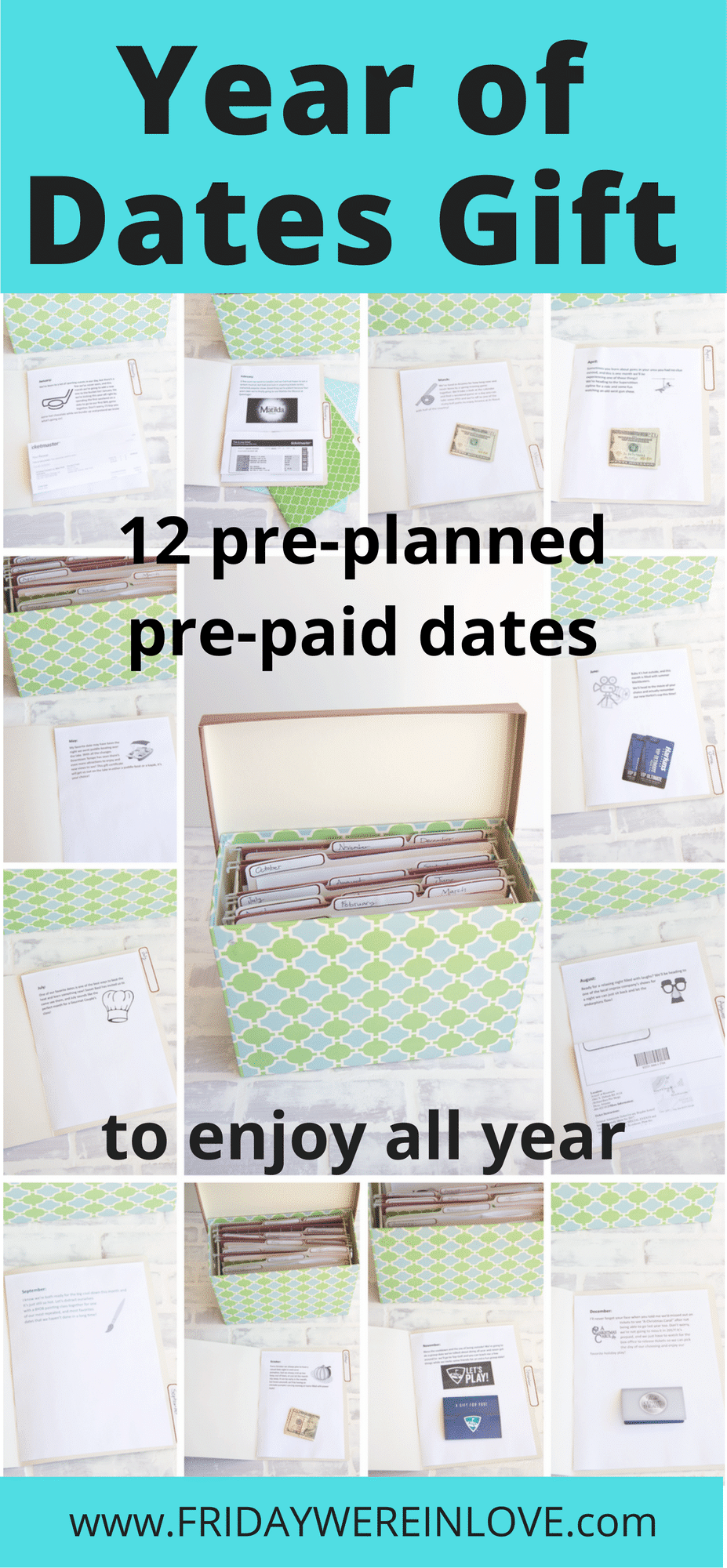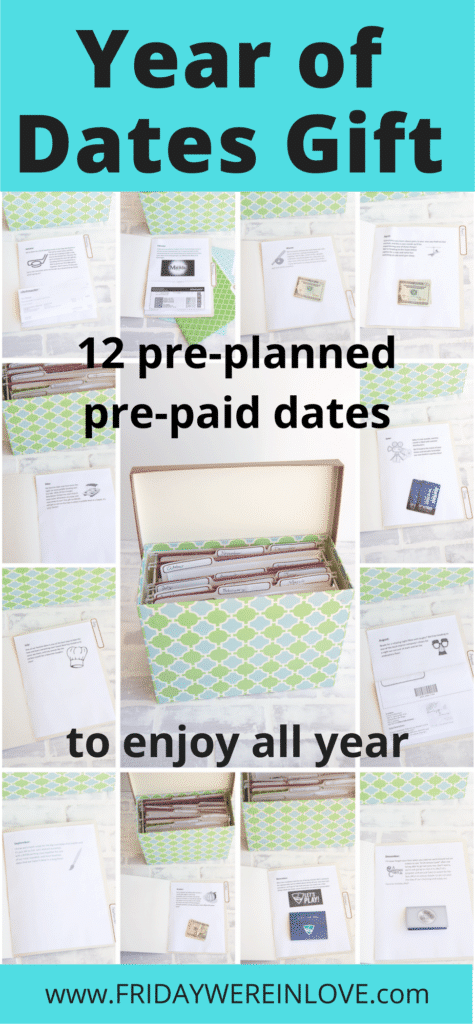 Get 365 Date Ideas!
We want to help you have the best date nights ever! Grab this FREE printable with 365 date ideas, a date for every day of the year so you never run out of ideas!