Date Info:
Company Holiday Party
Price: Hopefully free and covered by your employer!
I love bring-your-significant-other holiday work parties that take place outside of the office. I've shared so many of them as some of our favorite holiday date ideas, like this one and this one. What can I say, the past three years we've worked for some really amazing companies that really know how to treat employees well and give a big thank you and celebration! We love dressing up for them, being treated to a nice meal, and spending more casual time with a lot of really amazing people we've got to call coworkers.
This year has been a bit of different one, and I'd be lying if I didn't say a little hard for me to realize I now work for myself and really love what I'm doing, but I sure miss my work family and those special moments where they spoiled us and we all got to enjoy time together and reflect on the year. If any of my former melt family is reading this I sure love you guys and miss seeing you, particularly spruced up!
I decided it was all the more reason to take advantage of Jacob's fantastic work party, dress up, enjoy an amazing meal, and get to know the people Jacob spends most his time with.
He found his job by looking at the Forbes Best Places to Work List, and even though he initially took another job as a rocket scientist, which I will always call him and tease him about, he ultimately kept being contacted asking if he'd like to come over. Eventually, they made an offer he couldn't refuse, and this job has been such a great place for him. Even though everyone puts in a lot of hours there, it really is one of the best cultures and best places to work, and we feel blessed every day that he gets to be a part of such a great place with such great people!
You know what else was fun, to realize that a year ago this was our first date leaving our child with a babysitter for the first time. Oh, how life changes! We were checking our phones every 10 minutes, I could hardly fit into any of my cocktail dresses, and I had to hurry home to pump before I was ready to scream. This year I've dropped the baby weight and I'm losing the infertility treatment weight (no small task thank you years of fake hormones) and felt lucky that I could have my pick of dress, we were glad to have a full night together and even got ice cream together alone. I only texted the sitter once just to let her know when to expect us home and make sure he went down okay for her. For any new parents in that hard first couple months phase, boy does it get easier to get out and date!
And I'm just so glad Jacob pulls off his custom suit that was worth every penny so well! It was actually a lot less than most traditional suits, and if you sign up through
our referral
they give you another
$50 off
. If you're looking for amazing custom dress clothes, we can't say enough good about our favorite place. This isn't sponsored, I just need other people to know they can make the man in their life look amazing at an affordable, high-quality place!
I'm also grateful that velvet is in right now so I could wear one of my favorite dresses! I bought it on clearance in the summer a few years ago, but if you're looking for a subtle velvet cutout dress
here's a similar one
.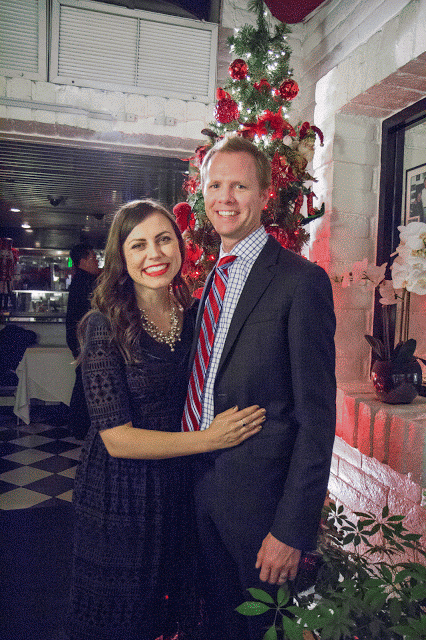 I'm feeling so blessed for this wonderful guy, for what a hard worker he is, and for his willingness to put up with and pose for cheesy prom-style pictures whenever we get a little fancy!
*This post contains affiliate links
Get 365 Date Ideas!
We want to help you have the best date nights ever! Grab this FREE printable with 365 date ideas, a date for every day of the year so you never run out of ideas!